Do you want to dress sexier for your man?
Are you wondering what outfits that men are most attracted to?
If so, you are in the right place. I have listed more than 20 fashion items most likely to drive a man wild, if added to your wardrobe.
Evolution tells us that men are visual creatures. They are attracted in the first instance by what they see. But dressing well isn't the only way to attract the right men into your life.
If you're looking for a deep and meaningful relationship, I'd also recommend signing up to eHarmony. 
eHarmony is an online dating relationship, which uses a detailed personality quiz to match you with partners based on the compatibility of your personalities.
It's clearly an effective way of doing things, because over 2 million singles have found love on eHarmony in the past. Apparently, one single is finding love every 14 minutes in the present day!
If you want to learn more, I have written a blog post on how eHarmony helped me regain faith in online dating.
Looking good will always help attract an awesome man though! So, read on for my guide on dressing to impress the opposite sex.
22 Wardrobe Items That Men Love On Women
1. Anything red
Red instantly grabs a man's attention. It is the color of sex and indicates a woman is fertile and sensuous. Why do you think women paint their lips red?
The sexiest thing you can wear that guys find attractive in a red dress. But don't forget things like a red lacy top, a bright red scarf, or even a flash of scarlet red lipstick.
2. High heels
Why do men love women in high heels? Because of the way they make her feet arch. When a woman is enjoying the height of sexual pleasure typically her feet will arch in a particular way.
High heels make the foot look like this arch and remind men of this pivotal moment during love-making. Just make sure you can walk in them, otherwise, they won't remind him of sex
3. Backless tops
There are a few rules when it comes to flashing the flesh which you should remember. These rules are the difference between a sultry, sensual look, and a slutty one.
The rules are - if you are showing off cleavage keep your legs covered, and if you are showing off your back, keep your cleavage covered. Remember, next time, don't show off too much flesh in one outfit.
4. Bodycon dress
These rules are essential with our next item of clothing. The bodycon dress is very easy to get wrong. This tight-fitting dress does all the work, without you having to have a low-cut neckline or a hem that skims your butt.
In fact, the less flesh you reveal the sexier and classier this dress looks. Let the shape of your body do the talking and leave something to his imagination.
5. Little black dress
There is nothing more flattering than the little black dress. It suits every woman, looks great, and can be worn by every woman of every shape and figure. In fact, it is one of the top items of clothing that men found to be most attractive.
You don't have to go full-on Audrey Hepburn, but a well-made fitted little black dress that accentuates your assets and hides any negatives will make you feel more confident too.
6. Skinny jeans
Guys like fitted clothes that show off their woman's body, especially tight jeans where they can see their woman's butt and hips. It goes back to that evolutionary thing again.
Figure-hugging jeans show a hint of the body underneath and this is particularly tantalizing for the male species. It doesn't matter what shape or size is under the jeans, they just want a glimpse of it.
7. Men's shirts
There's nothing sexier than a woman in an oversized men's shirt. Somehow it makes her more feminine and petite because of the size of the shirt.
Guys feel protective over their lady and women like the feel and smell of the shirt because it reminds them of their man.
8. Short skirts
There's a reason why waitresses in bars such as Hooters wear short skirts and that's because guys find them attractive. They make legs look longer.
They accentuate the hips and give a hint of what is underneath the skirt without revealing too much.
9. Sundresses
The thing about sundresses is there's usually not much else worn underneath. These are typically flimsy cotton dresses constructed with thin straps, so there's not a lot holding them up.
They could even be a little see-through as well so they could be showing a little flesh underneath. They are generally made with pretty floral or pastel colors so they are very innocent-looking.
10. Thigh-length socks
Worn with short skirts, thigh-length socks have a certain amount of sex appeal. This is because they show off the fleshy area at the top of the thigh.
They also resemble stockings, which, as we know, fellas find particularly sexy and appealing.
11. Sneakers
There's something about a well-toned, suntanned foot inside a new sneaker that is such a turn on for guys. We're talking evolution again guys!
The sneaker denotes a healthy and active lifestyle that men are looking for. It shows them that this woman is taking care of her physical wellbeing.
12. Leather jacket
Men love chicks that are edgy and a bit different. Despite the fact that girls are plumping up their lips, getting butt lifts, and dyeing their hair to look like carbon copies of one another. Men like unique women who show a little originality.
So a girl that rocks up to a bar in a pretty dress and a leather jacket in high heels is going to get noticed.
13. Oversized sweater
There's sexy then there's cute, and men find them both attractive. Imagine you are in a ski lodge, sitting by the fire, holding a cup of hot chocolate in an oversized sweater that comes over your fingers. How cute is that?
As cute as a box of fluffy kittens, that's how cute. And that is how a guy is going to see you. He'll just want to snuggle up to you and share your hot chocolate. Not to mention that they are flattering on every woman.
14. Off-the-shoulder tops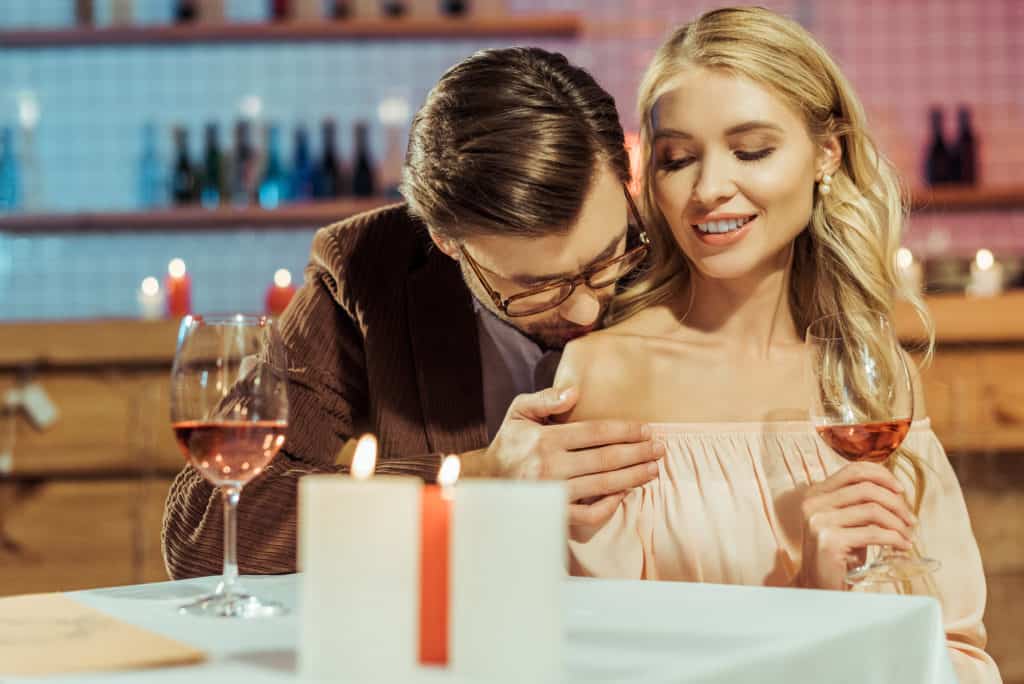 A woman's neck is one of the sexiest parts of her body. Why? Because it is vulnerable and her showing it off to a guy brings out his masculine protective side.
Don't be surprised if he spends the whole night wanting to nuzzle into your neck or stroke your shoulders. It's likely he'll be captivated.
15. Hats
Guys like women who wear their clothes with confidence, first and foremost. And it goes without saying that it takes some confidence to wear a hat on a regular basis.
You might think that men stay away from women who make unusual fashion choices but the reverse is true. So long as the woman is confident while she is wearing it.
16. Sleeveless tops
Arms are a much-neglected part of the body when it comes to sexual allure. But as well as breasts, legs, and butts, arms are also considered to be attractive. So it makes sense to wear clothing that shows them off.
Tops, where the sleeves stop at the shoulder, are best because they elongate the arms, making them look longer and slender.
17. Lace
Rather than exposing too much skin or cleavage, lace does a sophisticated job of covering up but still revealing a little. It is tempting and sensual, but not showing off too much.
A lacy camisole can be worn under a blouse or shirt to leave something to the imagination. So while all the other girls are falling out of their skimpy dresses, you are the classy one, holding something special back.
18. White t-shirt and jeans
Now we come to the basic white t-shirt and jeans combo. This suggests a casual, laid-back attitude, one that is not high-maintenance.
This implies to potential love interests that the woman wearing the outfit is fun-loving and up for the adventure.
19. Sports leggings
Men love curves in a woman, but they also like a bit of mystery. Whether it is bums or boobs, nothing turns on a bloke than the smooth, rounded curves of a woman.
Sports leggings like yoga pants can show off these curves beautifully like no other item of clothing. It doesn't matter that you don't have the body of Elle McPherson. Guys just want to see that booty.
20. Pantsuits
Two-piece pantsuits are business-like and play into the male fantasy of bedding the boss. It's a little like the prim secretary with her hair tied up in a bun wearing glasses suddenly taking them off and letting her hair down.
Men have this idea of women in power becoming submissive and succumbing to their touch.
21. Baseball caps
Baseball caps add a touch of urban chic to any outfit. They usually have the name of a sports team emblazoned on the front which guys also love.
It shows to them that this girl is as passionate about her team, which is something he can definitely relate to.
22. Rock t-shirts
My final item on this hottest outfits for guys list might surprise you but it is a rock t-shirt. This falls into the leather jacket category as it is edgy and makes the wearer look unique.
Of course, it goes without saying that the guy should like the rock band featured on the tee-shirt.
FAQs
Conclusion
What outfits does your guy find attractive in a woman? Do you have any suggestions or comments? I'd love to hear from you and don't forget to share this article if you enjoyed it.