A good and healthy relationship is built and sustained on the foundations of "love, trust, and good communication." Furthermore, a lot of energy and effort is required to ensure these intrinsic elements are administered properly.
Couples need to put a lot of thought into gift ideas and think of different ways to surprise each other.
However, we are living in times where we feel we have seen it all, various gifts for the boyfriend, date nights, and one or more weird surprises either as a birthday gift or an anniversary present. So what can you do differently? Well, I can't promise you no one has ever done any of the things listed below, but they are things your partner would appreciate. 
Just as a ''surprise arrangement'' has been identified as a key element to making a woman fall deeper in love with their men, there is no doubt that this can also work vice versa. I will, therefore, be listing 66 different surprise ideas for your boyfriend.
66 Ways To Surprise Your Boyfriend
1. Gift him tickets to his favorite movie premier
There is literally no guy who would not be excited to be given a ticket to go watch his favorite team play.
2. Write little notes on the mirror
These little notes can include but are not limited to ''I love you'' ''I miss you'', etc. Writing little notes on the mirror would surely put a warm smile on his face.
3. Waking him up to breakfast in bed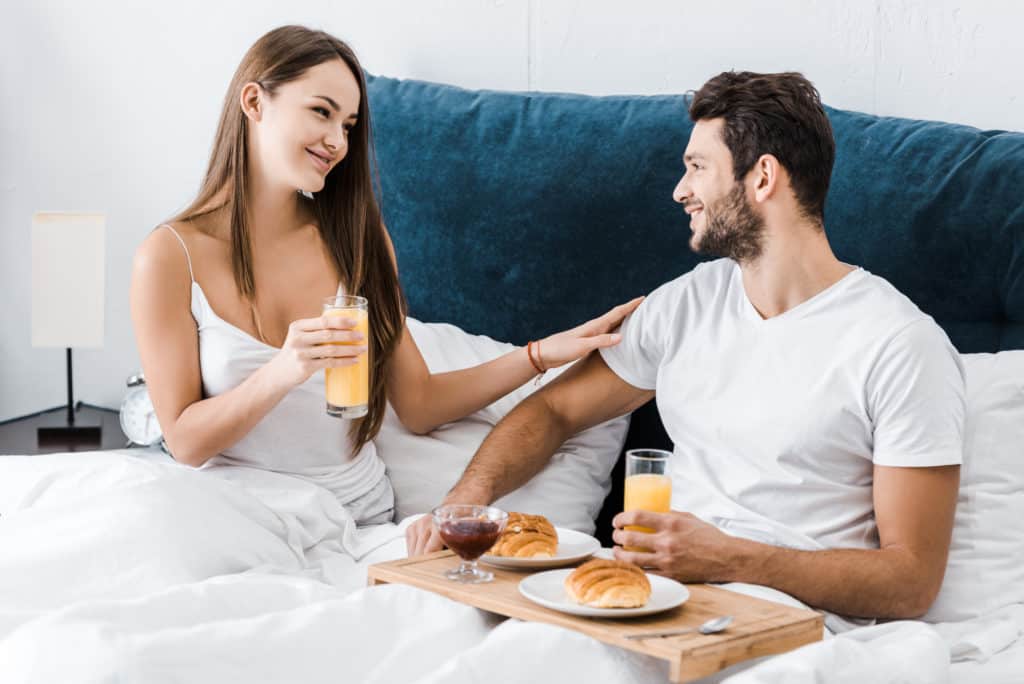 Everyone is a sucker for this very act. Women love to wake up to breakfast in bed; men love it more.
4. Planning a unique date night
Ditch the regular fancy restaurants and plan an intimate date night either at home or in a secluded area. Get away from the noise, maybe rent a cabin, decorate it, and have an intimate weekend together.
5. Plan a scavenger hunt
Things always get exciting with a fun scavenger hunt. And the best part is, it doesn't have to be outdoors. You could start by placing a note in his coat pocket so he knows what he's in for when he gets home.
6. Cooking his favorite meal
There is literally no guy on this planet that would love his favorite meal prepared by his significant other. If you can't cook, make sure you order it close to the time he gets off from work so it's still fresh and warm.
7. Have a bubble bath
This may sound basic, but it's something you can do in less than ten minutes. Just get some fancy bath salts, nice scented candles, and maybe some rose petals and you're good to go.
8. Light up the room with candles and roses
If you're not getting your body wet, you can use the same decorations to spice up the bedroom. That would create the perfect atmosphere for romance when he gets back.
9. Give him a surprise birthday
Once it's a month to his birthday, you should start planning on a gift idea. When you're giving gifts to a boyfriend you really love, you want it to be special. You can go ahead and plan something else and make sure he doesn't know about it. Get his friends and family if possible, search for a suitable theme so he'll be absolutely startled when he walks in.
10. Give him a professional massage
This would be a great way to relieve him from the stress of the day. If you want to spice things up, set up space at home then put on sexy lingerie and wear your bathrobe over it. Once he comes back, offer to give him the best massage he's ever gotten.
11. Buy him a pet
Maybe he has always wanted to buy himself a pet, this would be the right time to get him his one.
12. Plan a weekend getaway for him
A surprise weekend getaway to a romantic city of your choice might not be a bad idea.
13. Do his laundry and prepare his clothes for work
Every guy would be thrilled when he realizes that you've done all his laundry, and prepared his clothes for work.
14. Opt to run the errand he has been avoiding
Assisting your significant other to run a few errands is also a nice idea.
15. Set up a game night and have his friends come over as well
You don't necessarily have to be a part of this game night. This is where he has fun with his friends as a courtesy from you.
16. Play naughty games when you both are alone
There is no guy that would ignore you when you start doing naughty things.
17. Buy him a surprise gift on a random day
Women love to be gifted randomly, so do men. It would not be out of place if you gifted him randomly; it doesn't have to be his birthday.
18. Take him out and pay all the bills on the night out
I am certain that this act of benevolence would surely put a smile on his face.
19. Arrange a double date
Sometimes, it is nice to allow other friends to join you out on a date. A double date would be a nice way to surprise him.
20. Take him out to a beach party
Your man might be the busy type and does not have the luxury of time to go out often, take him to a beach party and give him a fun experience.
Use this tool to check whether he actually is who he says he is
Whether you're married or have just started seeing someone, infidelity rates are on the rise and have increased over 40% in the last 20 years, so you have all the right to be worried.
Perhaps you want to know if he's texting other women behind your back? Or whether he has active Tinder or dating profile? Or worse yet, whether he has a criminal record or is cheating on you?
This tool will do just that and pull up any hidden social media and dating profiles, photos, criminal records, and much more to hopefully help put your doubts to rest.
21. Get him tickets to a football game
Getting him tickets to go watch his favorite team play would be great.
22. Take him on a shopping spree with all expenses paid for
Considering how much women love this, especially when it is coming from the man, men too deserve something like this.
23. Take him wine tasting
Doing wine tasting together isn't such a bad idea if he's a wine lover.
24. Drive-in movie date
Have you both ever tried a drive-in movie date? I am sure he would be thrilled if you brought up the idea.
25. Plan a trip to somewhere nice in the summer
Planning a summer trip with your partner to a nice sunny location would be an amazing idea.
26. Sign up for a class together
You could also make him sign up for a class with you.
27. Write him a love letter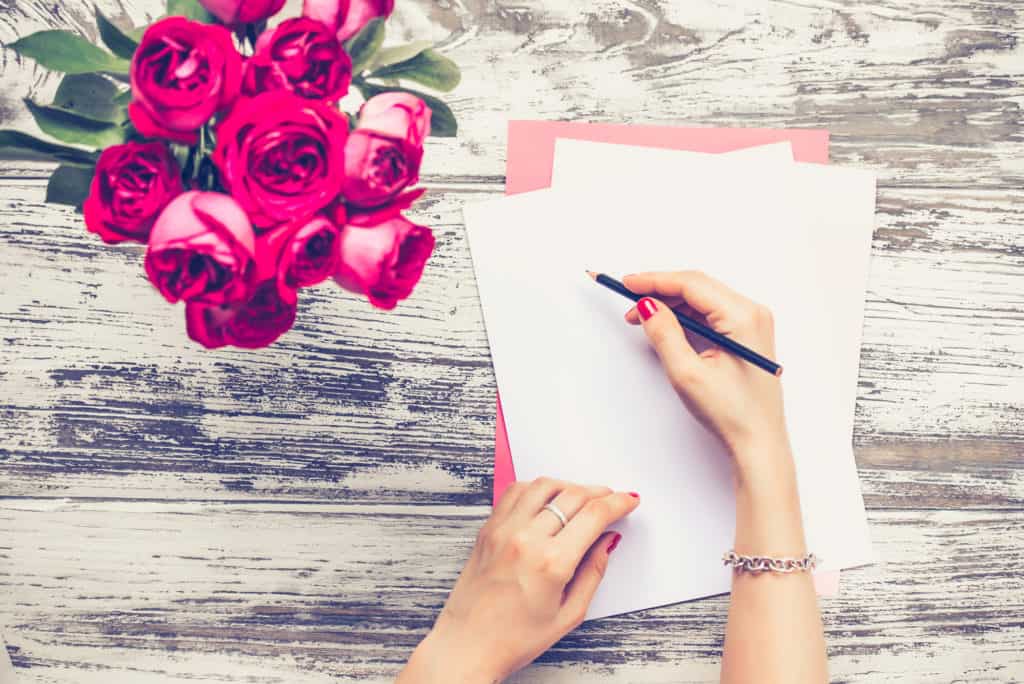 Leave it on the bed before he wakes up.
28. Deliver him lunch at work
This would make a really cute, and romantic gesture.
29. Pay him a visit
Sometimes, it would make a pleasant surprise if you visited him unannounced.
30. Have his name customized on a necklace for him
Get him a necklace with his name imprinted on it; I am certain every guy would love to wear that.
31. Buy him a special fragrance
You probably know the type of scents he likes, get one and have them deliver it to his office or his home.
32. Do not forget to send him a gift card
Getting a loved one a gift card might seem simple, but it's actually very thoughtful.
33. Stock up his refrigerator with beer
There is literally no guy who wouldn't love the idea of coming home to meet his fridge all stocked up with his favorite beer.
34. Arrange a stakeout
Arranging a barbecue party with his friends would be a great idea.
35. Play dress up during sex
This is another way of surprising your man in bed. If you know he's sexual fantasies, dress up like that nurse, stripper, or whatever he desires. He'll definitely thank you for it.
36. Put a romantically written short note in his backpack
Think about it, he'll get to work, only to open his bag and find a romantic short note from you. How thoughtful right?
37. Book a hotel room where you both can spend some quality time together
This is another way of having a romantic weekend getaway. Your man will surely be surprised when he gets this package.
38. Throw him a party to mark your relationship anniversary
Throwing him a surprise party to mark the anniversary of your relationship is a good idea too.
39. Buy him a cute valentine's gift
Maybe he's used to the chocolates or fancy dinners, switch things up and buy him something he's been talking about.
40. Gift him on Christmas and Easter celebrations
Give your man more gifts. Just as women are suckers for gifts, men get thrilled by gift items, especially if that's their love language.
41. Sign him up for a class he has been wishing to sign up for
It will be fun doing something with him, especially learning something he's really passionate about.
42. Recreate your first date scenario
Sometimes we forget how magical and beautiful it was when we started dating our significant others. Remind him by recreating the moment either at home or where the first date actually happened.
43. Call up a radio station that your significant other might be listening to and request a song dedicated to him.
This would be so nice, especially if the radio played his favorite song.
44. Take him to your favorite spot and watch the sunset together
You don't have to break the bank to put a smile on his face. If your earnings aren't that high at the moment, he'll surely understand. So when you ask him to follow you to a quiet, yet beautiful pot to watch the sunset, he'll definitely appreciate the thought.
45. Gift him a fancy jewelry item that has your name or any romantic right up on it
We love keepsakes that remind us of our partners when they are away. Getting him engraved cufflinks, or a necklace would be a lovely reminder that you love him, regardless of where he is.
46. Tell him you want this relationship to last till eternity.
If his love language is words of affirmation, hearing you profess your feelings to him would be all the joy he needs to get through his day.
More Surprise Ideas
Find out which football team is his favorite and get him a fan jersey with his name customized on it.
Your partner may likely have a bucket list of things he would like to do, find out what they are, and do one of them for him.
His favorite hobby might be playing football, basketball, or any other activity that makes up a hobby, show interest in this, and he will be surprised in a good way.
Do you ever consider how amazed your partner will be when you show up at his workplace to pick him up? That's right! He will be surprised.
Do well to compliment him from time to time, even when he is not expecting it. Women love compliments, likewise men.
Make plans for a spa day together.
You could also get him to go swimming with you.
Go over to his family's house and help his parents out.
Make a recording of a sweet and romantic message and send it to him while he is at work. This message can be about how much you love and miss him.
Help him out with a household chore that is typically his responsibility. I am certain this would warm his heart.
It is also another 'romantic wake-up surprise' if you changed his alarm to something more personal.
Take him out for a candle-lit dinner.
Go mountain climbing together.
It would also be a pleasant yet naughty surprise if you 'intentionally' forgot your underwear in his house.
Sending him some money would also pass for a romantic surprise treat. Even though he might be earning more than you, you could still do this as a way of surprising him.
You can go with him to watch a football game.
You can also go running with him. It's likely that he goes to the gym alone or with his guys, opt to go with him on this occasion.
Buy him a luxurious item such as a car, bike, or a boat if you can afford it.
Change the interior decoration of his apartment.
Get him new clothes, shoes, and accessories.
FAQs
In Conclusion
I have taken out time to mention several surprise ideas for your boyfriend. However, you know your boyfriend best and know some of the things he'd appreciate more than others. If he prefers experiences, there are several you can choose from on the list. If he is someone who likes gifts better, then getting him a thoughtful gift will definitely make his day.
If you found this article helpful, please feel free to share it with family and friends. Plus, if you have some gift ideas to share with me, I'd love to hear them.
Utilize this tool to verify if he's truly who he claims to be
Whether you're married or just started dating someone, infidelity rates have risen by over 40% in the past 20 years, so your concerns are justified.
Do you want to find out if he's texting other women behind your back? Or if he has an active Tinder or dating profile? Or even worse, if he has a criminal record or is cheating on you?
This tool can help by uncovering hidden social media and dating profiles, photos, criminal records, and much more, potentially putting your doubts to rest.