For most, sex toys are something that you feel completely comfortable talking about to your friends, but not necessarily your partner. That's because most people consider the use of sex toys for solo masturbation, but incorporating toys into your sex life with a partner can allow for enhanced pleasure and lead to many new sexual adventures.
Statistica explain "According to the results of a survey carried out in 2022, approximately 82 percent of American women owned at least one sex toy, a slightly higher percentage compared to the share of male respondents who stated the same."
The trick is finding what works for you, and the only way to do that is to experiment.
The beauty of having regular partnered sex is that we can take the time to understand how to maximize pleasure in the bedroom - both for ourselves, and for our partner. Introducing couples sex toys will inevitably make your sex life more interesting and will teach you a lot about your bodies that you didn't know before.
How Can Sex Toys Impact Couples' Sex Life and Make It Interesting?
In long-term relationships it can be easy to allow sex to fall to the bottom of our priorities; believe me, I've been there.
I could spend hours talking about the benefits of having a good sex life, but we're here to talk about how to make it interesting. If you want to improve your sex life, including sex toys can achieve an awful lot.
First, it gives you something to look forward to; that alone is a huge turn on.
POV: *After scrolling online, you and your partner ordered some nice lingerie and some new sex toys to try and spice up your Friday date night. You spend the week getting excited for the weekend, sending each other some naughty messages and imagining all the new things you're going to try, it's hot!*
Sex toys are specifically designed to add extra stimulation, increase pleasure and engage erogenous zones.
Some toys will provide anal stimulation, some will provide G-spot stimulation, extra clitoral stimulation, some will help with duration, with ease, some add pain, some are intense, some are subtle, some change temperatures or textures, the list goes on and on and on.
Including sex toys help us to fulfill our desires and fantasies, and can even introduce us to pleasure we never thought we could feel.
The best thing of all, is pushing new boundaries and learning more about your partner sexually.
43 Sex Toys to Change Your Sex Life
There are thousands of different sex toys out there, and so there is a lot to consider when purchasing.
The main factors being:
Size
Design
Durability
Material
Budget
Brand
Features
Everyone is different and will have different preferences. I would advise that if you're completely new to sex toys, starting with a beginner sex toy kit is always a good idea; they tend to be cost effective, small in size, and include a variety; perfect whilst you figure out what you're into.
Foreplay
I'm sure you want to get straight into the nitty-gritty of it, but we're going to talk about ways to enhance foreplay first.
You know why? Because you should never skip foreplay.
The number one tip to experience pleasure is to give yourself the time to ease into it, and enjoy it
1. Lube
Arguably the best addition to the bedroom.
Lube is massively underrated, yet it has so many benefits.
Lube is known to make sex more pleasurable for both women and men. It reduces friction, allowing for easy access, and it can make sex much more comfortable.
You can also buy lubes with different qualities such as warming, tingling, easy-gliding, and flavored lube.
When using lube with sex toys, it's important to be mindful of the ingredients. For example, silicone lube shouldn't be used with silicone toys as it can cause the toy to deteriorate.
Generally speaking, you can't go wrong with water-based lubricant. They tend to have fewer chemicals, and so they're less likely to cause irritation. They tend to be great for condom compatibility, and their selling point is that they have a 'natural feel'.
Looking to spicen up your sex life and build your connection with him?
One of the best ways to increase your connection with your partner is to spice up your sex life. An awesome way to do this is to bring some excitement into the mix by using toys that will drive both of you crazy.

We've partnered with LoveHoney to give you exclusive access to some of the best toys on the market. Click here to check them out, completely anonymously of course! Your relationship will thank you for it.
2. Lingerie
If you're wanting to spice things up with your partner, lingerie might be just the trick to get the ball rolling.
It will make you feel sexier, encouraging a sexy and more comfortable mood all around. If you're trying a new sex toy for the first time, it's also a little extra touch to show that you're dedicating time to make sure you and your partner have good sex.
There's nothing better than a massage before you get into some great sex.
It's the best stress reliever after a long day, and it's even better if it ends in orgasm.
4. Sex dice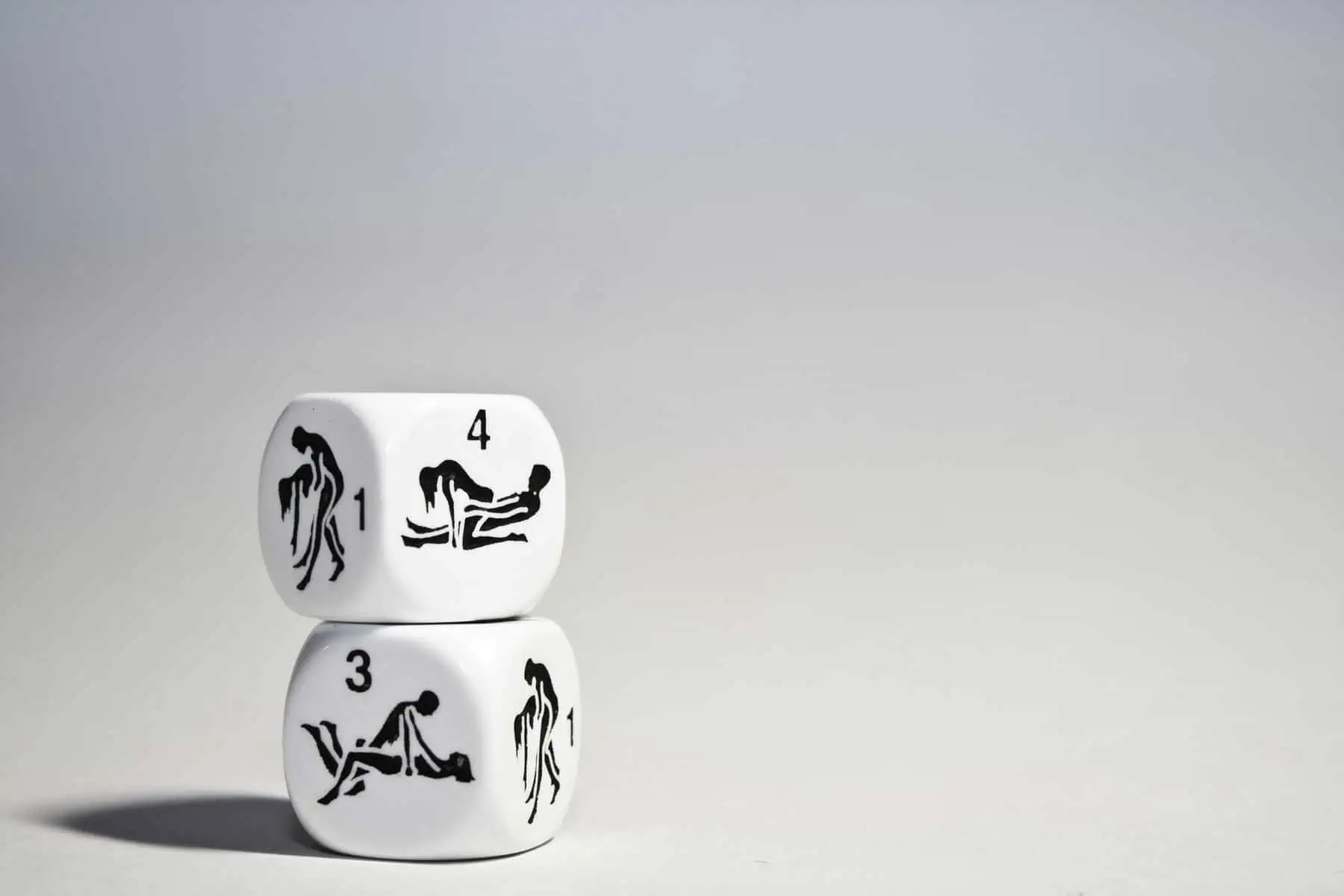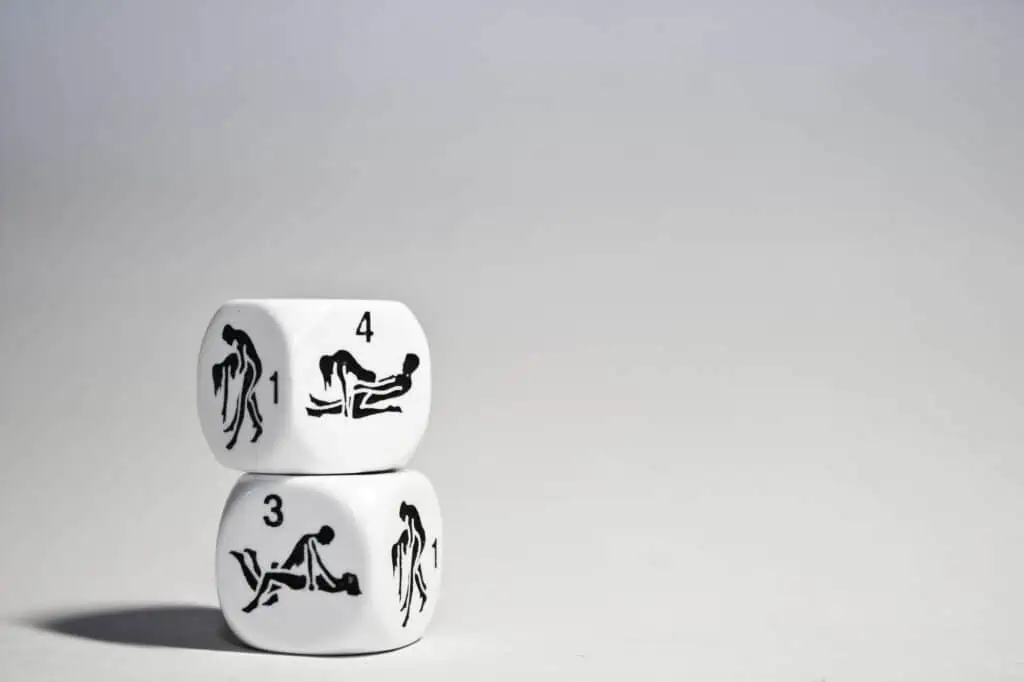 If you want to start slowly introducing toys, a sex dice could be great fun.
Depending on the dice it will determine your sex position, act of foreplay, what toy you might use, and so on. It feels like you're playing a sexy game where you both win in the end.
5. Kama Sutra
A must-have for your toy drawer! (And if you don't have a toy drawer, I encourage you to work on it.)
6. Jiggle balls
Also known as kegel balls, or control ben wa walls.
If you've seen Fifty Shades Darker, you'll know exactly what these are.
Jiggle balls have a lot of purposes. You insert them into your vagina and wear them for a few hours, or the whole day. They provide subtle sexual stimulation throughout the day, and improve your kegel muscles, making sex more pleasurable.
There's also something hot about knowing your partner is turned on throughout the day. You can even get vibrating jiggle balls remote-controlled by your partner, putting them in full control of your sexual stimulation throughout the day.
A must when preparing for anal penetration, but you can also douche your vagina too.
Anal douching involves flushing the rectum with water, cleaning it out before anal play.
Best Sex Toys for Beginner Couples
If you're completely new to the idea of using sex toys, there are some toys that are more suited for beginners while figuring out your preferences; toys that are easier to use and more cost effective.
1. Cock rings
Cock rings are worn at the base of the penis, applying a slight pressure and restricting blood flow.
They're intended to make the penis bigger and harder. You can also use a vibrating cock ring to add an extra sensation that can be felt by both partners.
2. Bullet vibrator
A bullet vibrator is typically the first sex toy we tend to buy as women, as it's small, simple and cheap.
Using a bullet vibrator with a partner can achieve multiple stimulation (if used during penetrative sex), it can be used for mutual masturbation, or it can even be used by your partner on yourself.
You don't always have to use your own body to result in orgasm for your partner. Using a toy can be easier, and also allows you the time to enjoy watching your partner as she reaches orgasm.
3. Massage wand vibrator
Wands are a huge favorite for women, but again are completely underrated when having partnered sex.
You can use a magic wand to engage erogenous zones, build excitement in foreplay and to add intense sensations and vibrations to whatever stimulation it is you've got going on.
4. Blindfolds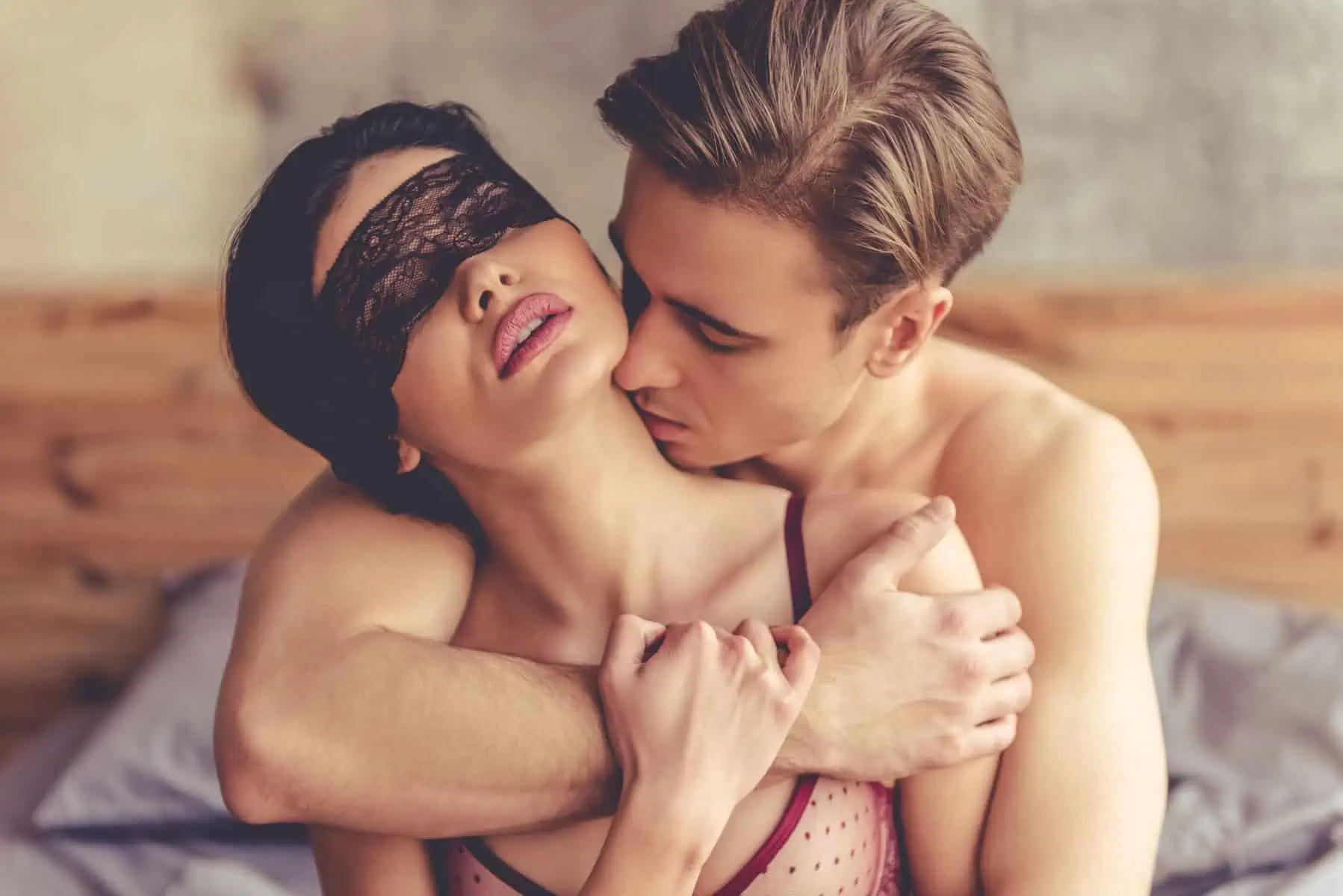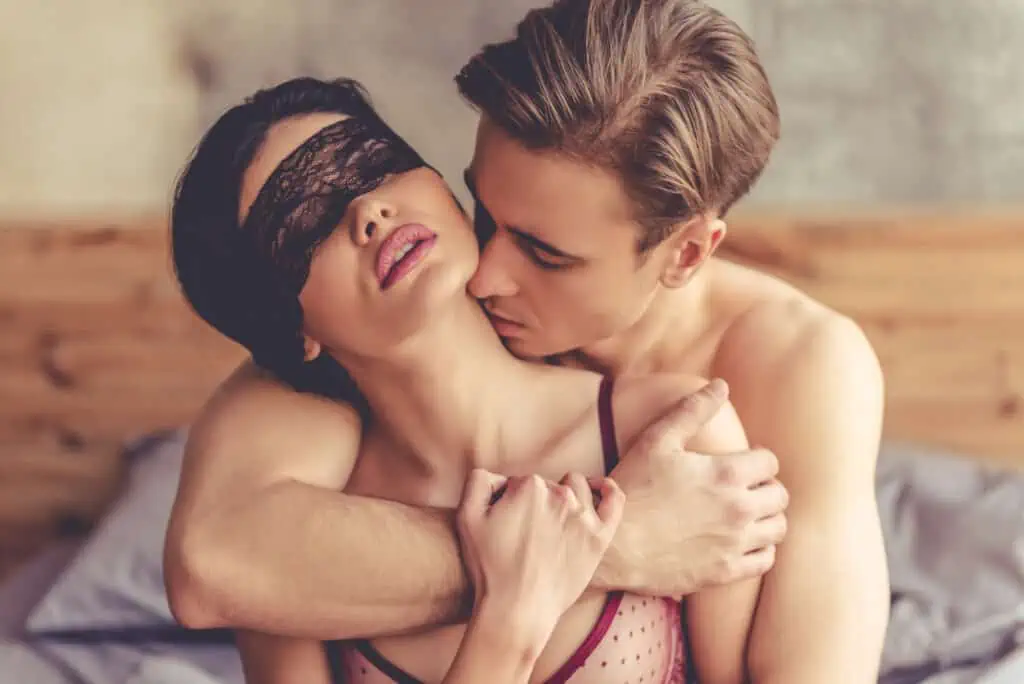 Simple but totally effective.
Using a blindfold in the bedroom is used to increase anticipation; it also enhances our senses.
5. Silicone nipple suckers
For some, nipples are the most sensitive part of our body, after the clitoris, of course.
Nipple suckers increase sensitivity and allow for hands-free pleasure.
You can also use nipple clamps but these tend to be painful and are used if you're into BDSM.
As a beginner, I would recommend trying silicone nipple suckers first.
6. Anal training kit
A big mistake made by beginners when attempting anal play is to insert the toy or the penis without any type of stretching, relaxant, foreplay, and, most importantly, lube.
For this reason, people are often scared by bad anal experiences and are hesitant to try again.
The trick when attempting any type of anal play is to ease into it, and lube is an absolute must.
The best way to do it is to use a finger, or to use an anal training kit; a kit consisting of small and affordable toys to insert in the rectum, usually increasing in size.
Vibrators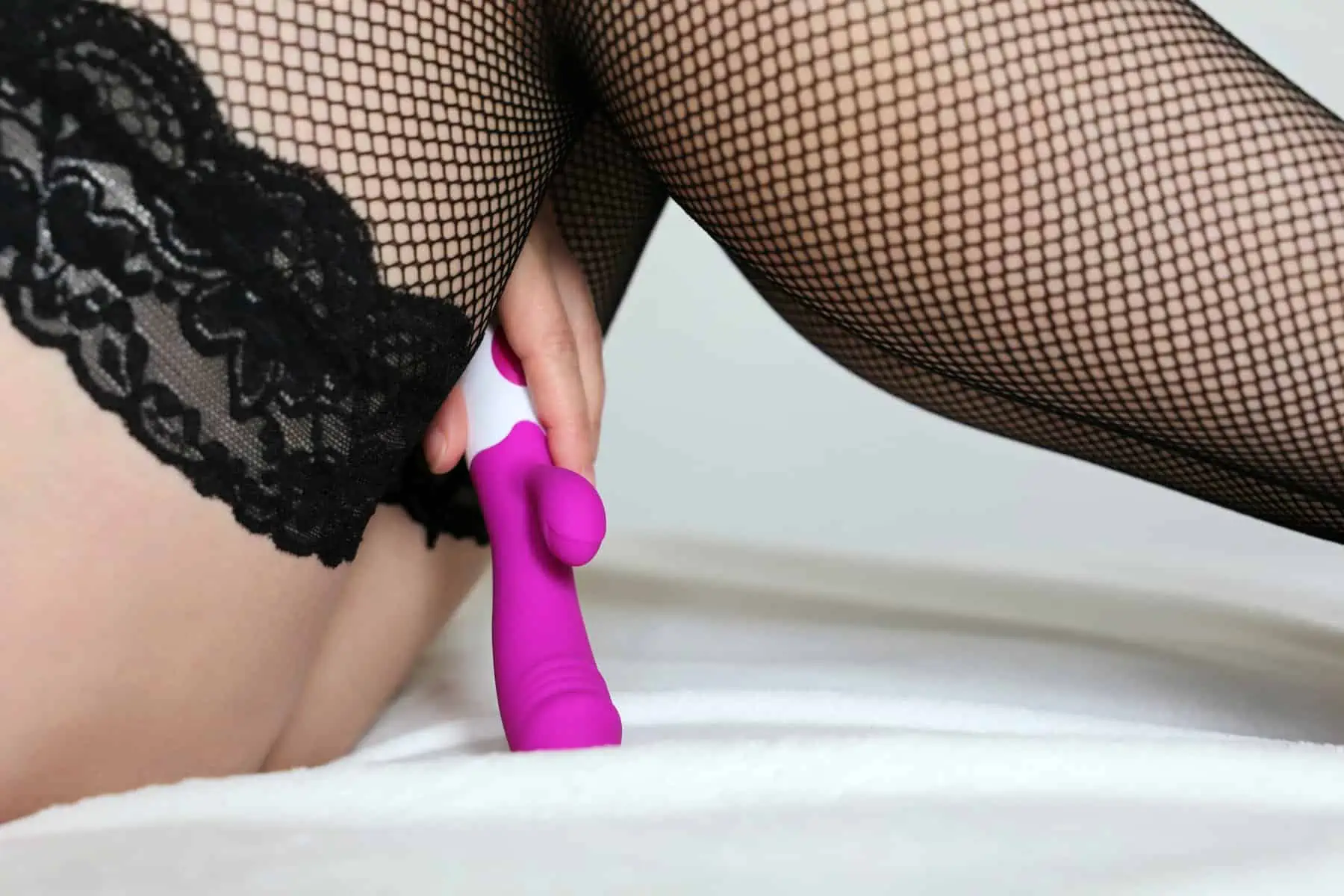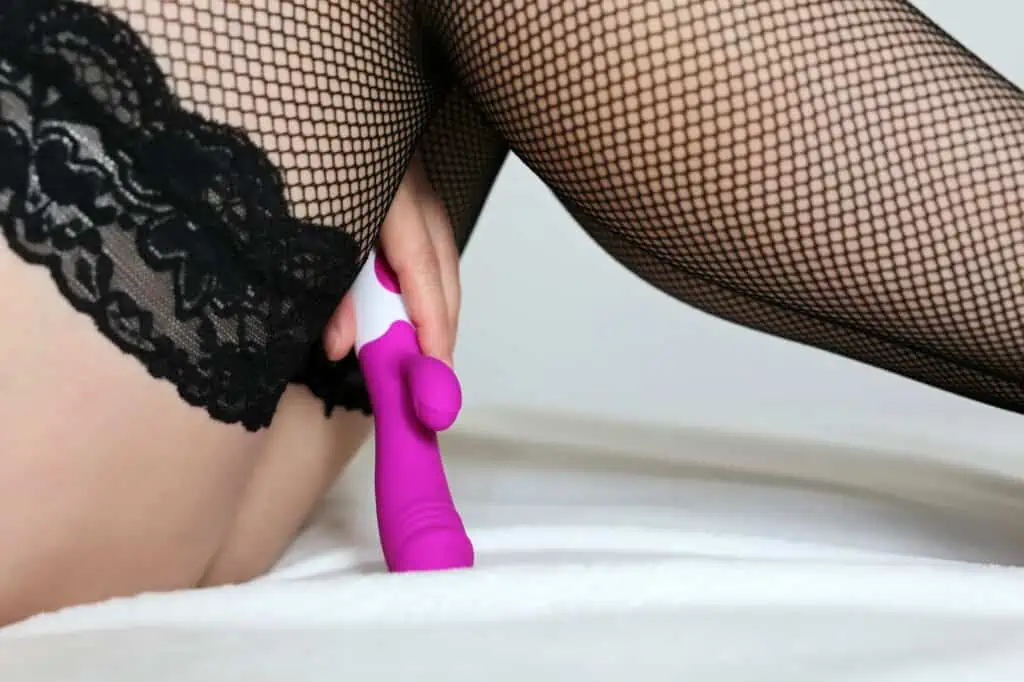 Vibrators are one of those things that I am thankful for almost every day, and I'm sure many women will agree.
Vibrators are a blessing as they're easy, quick, and they require almost no work to give you an intense orgasm.
However, they're not considered the best couples sex toy as it's assumed that vibrators are best for solo masturbation, but why?
The very best sex toys are those that are generally successful, which we know vibrators are. They can be amazing when used in partner play as it allows us to inflict pleasure that we can't achieve ourselves (even if you are really good at giving oral sex).
The things to consider when looking for the best vibrator for couples is making sure that it suits your preference or desires. You can get vibrators of different strengths, and many vibrators offer added qualities like warming functions, different textures, movements, and much more.
1. Clitoral stimulation vibrator
A personal favorite of mine, and arguably the laziest of the sex toys.
Clitoral stimulation vibrators are, as stated in the name, a clitoral stimulator. They use air pressure to generate suction force, this force results in a highly intense orgasm, achieved by simply holding it against your clitoris.
If you struggle to reach an orgasm by P in V penetration, holding a clitoral stimulator against your clitoris whilst having sex will almost guarantee orgasm(s), making the experience more pleasurable for both you and your partner.
2. G-spot vibrator
For those who are more likely to achieve orgasm by deeper penetration, a G-spot vibrator is perfect and easy to use. This is a great sex toy to try if your partner struggles to penetrate your G-spot during intercourse.
3. Rabbit vibrator
Usually a two in one, a rabbit vibrator tends to be an extension of a dildo or a G-spot vibrator.
It's a toy that has an extension reaching your clitoris that resembles bunny ears. The vibrations cause the bunny ears to stimulate the clitoris, whilst experiencing the pleasure of penetration at the same time.
4. Vibrating panties
Anything that allows for partner control is a lot of fun. There's something sexy about your partner having full control over your sexual pleasure.
Vibrating panties can be worn in public, meaning your partner can tease you when you're out and about, giving you a long-lasting subtle stimulation; not to mention the thrill.
Male Sex Toys
Male sex toys are considered much more taboo than other toys, but you're really missing out if you've not considered trying any male specific sex toys.
The whole purpose of trying new sex toys is to mix it up and to feel different sensations. Many male sex toys will be enjoyable for the both of you in the bedroom.
1. Cock extension
For those looking for a much deeper penetration, and for men looking to give it, a cock extension can be a lot of fun. 
According to Lovehoney, some of the key features of a cock extension are:
Textured sleeve has pronounced veins and a bulky head for your partner's intense internal pleasure
Can help your erection last longer
2. Fleshlight
Fleshlights, or male masturbators offer 'real feel stimulation'. 
In most cases, no matter how good you are at giving your partner a handjob, it feels better when they do it themselves; they know the exact pressure and speed required for an effective orgasm.
Using a fleshlight with your partner will enable you to give him a great handjob, without getting a tired hand.
3. Penis pump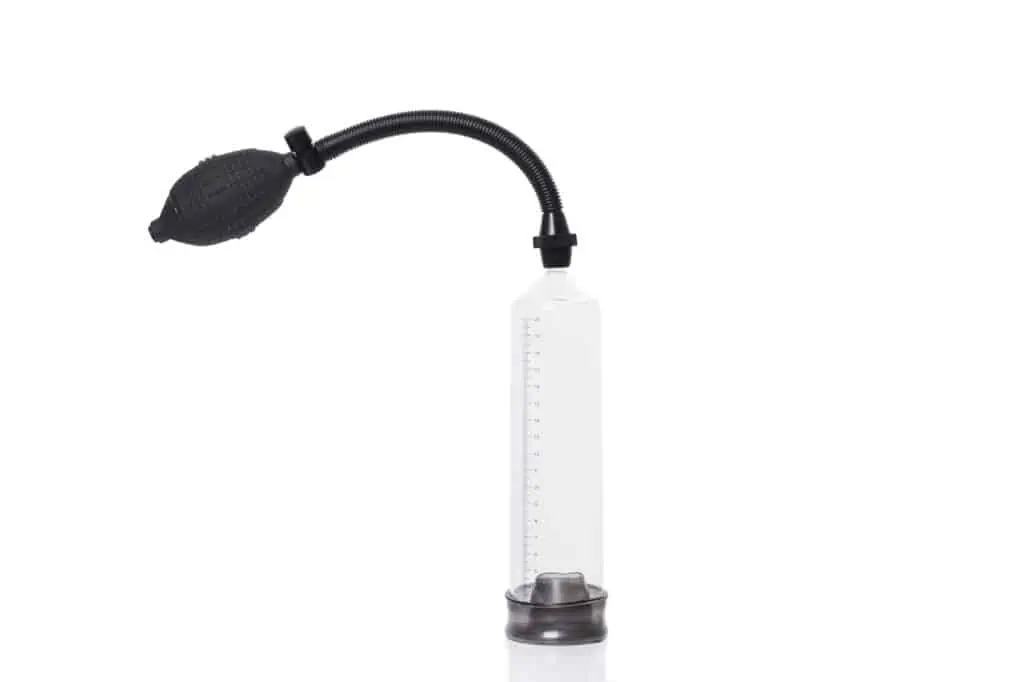 Penis pumps can improve erectile health and can increase stamina, making your sexual experience more enjoyable.
Men have a G-spot of their own, also known as the P-spot (the prostate). 
Many heterosexual men avoid anal play as it is associated with homosexuality, but there's a world of pleasure that can be enjoyed from experimenting with anal play. A prostate massager is a great place to start.
Dildos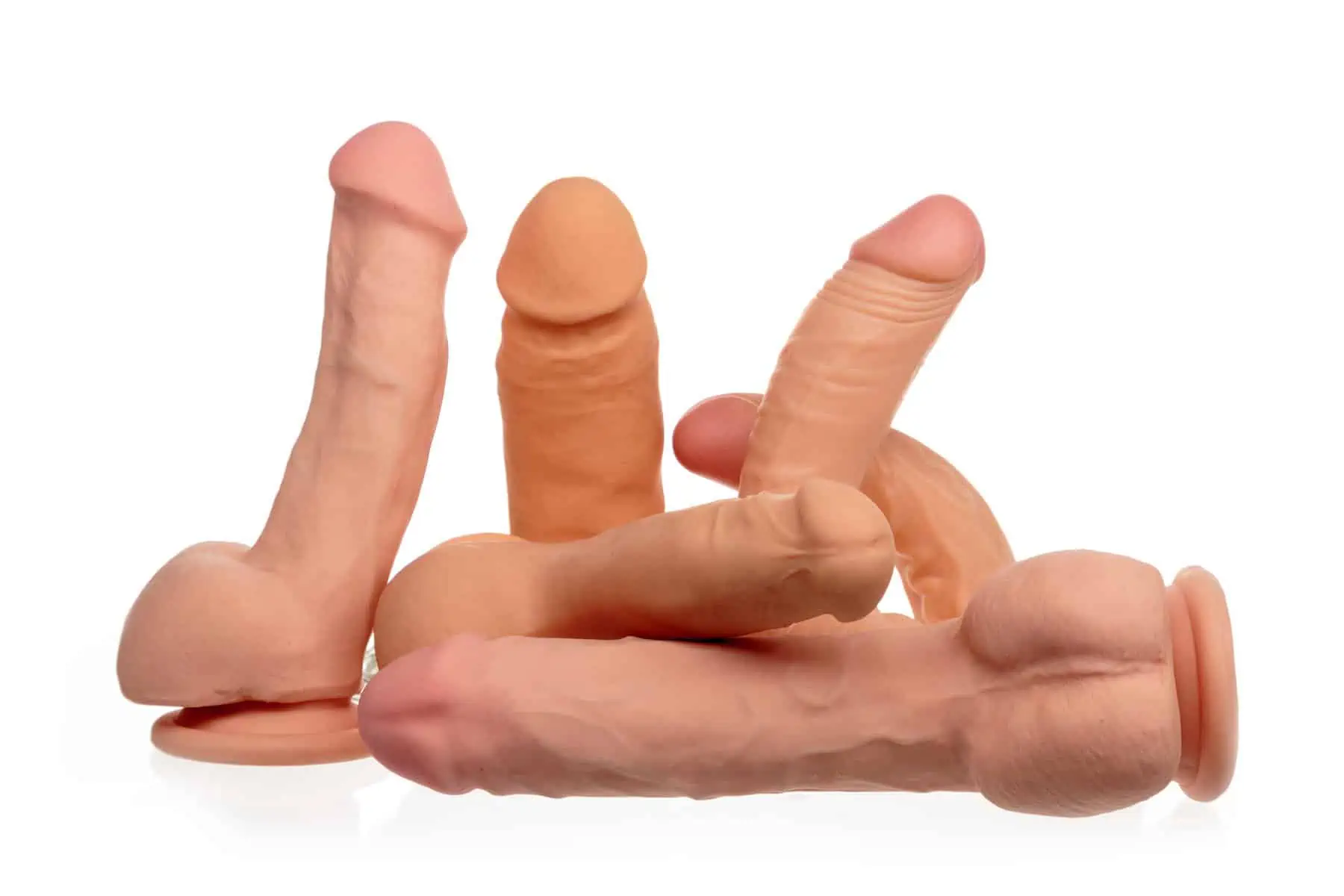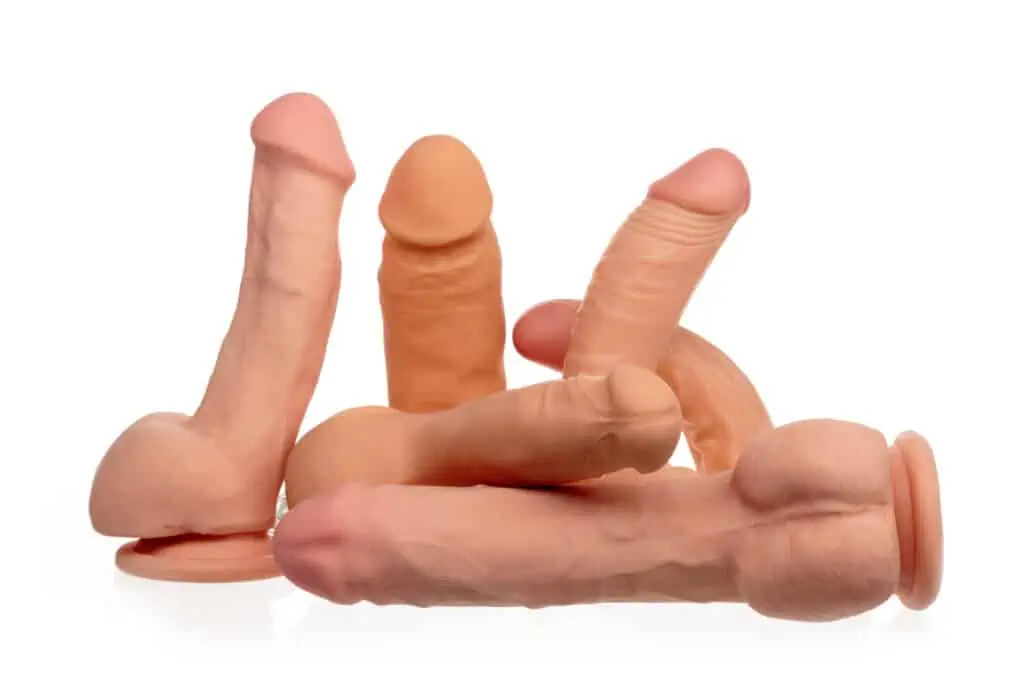 1. Strap-on
Strap-on dildos can be used for many things.
Typically, lesbians who want to be able to give and receive penetrative sex use a strap on, and also women who want to give their male partner penetrative sex in his anus.
Using a strap-on can feel incredibly powerful, and can feel just as pleasurable to give as it is to be on the receiving end.
2. Strapless strap on
You can use a strapless strap on by holding it in place with your kegel muscles inside the vagina. 
You can get vibrating strapless strap ons to enhance pleasure, and it allows you to feel more intimate than simply attaching it to your waist.
3. Glass dildos
Textured or smooth, glass dildos can be highly functional. Putting any glass material sex toy in the freezer before getting intimate with your partner will enhance pleasure in ways you can't achieve by anything else. 
4. Clone-a-willy
Perfect for long-distance couples, clone-a-willy enables you to make a dildo from an exact mold of your partner's penis.
5. Double-ended dildos
Perfect for partner play, double-ended dildos allow you to both feel pleasure from using the dildo at the same time.
Anal Sex Toys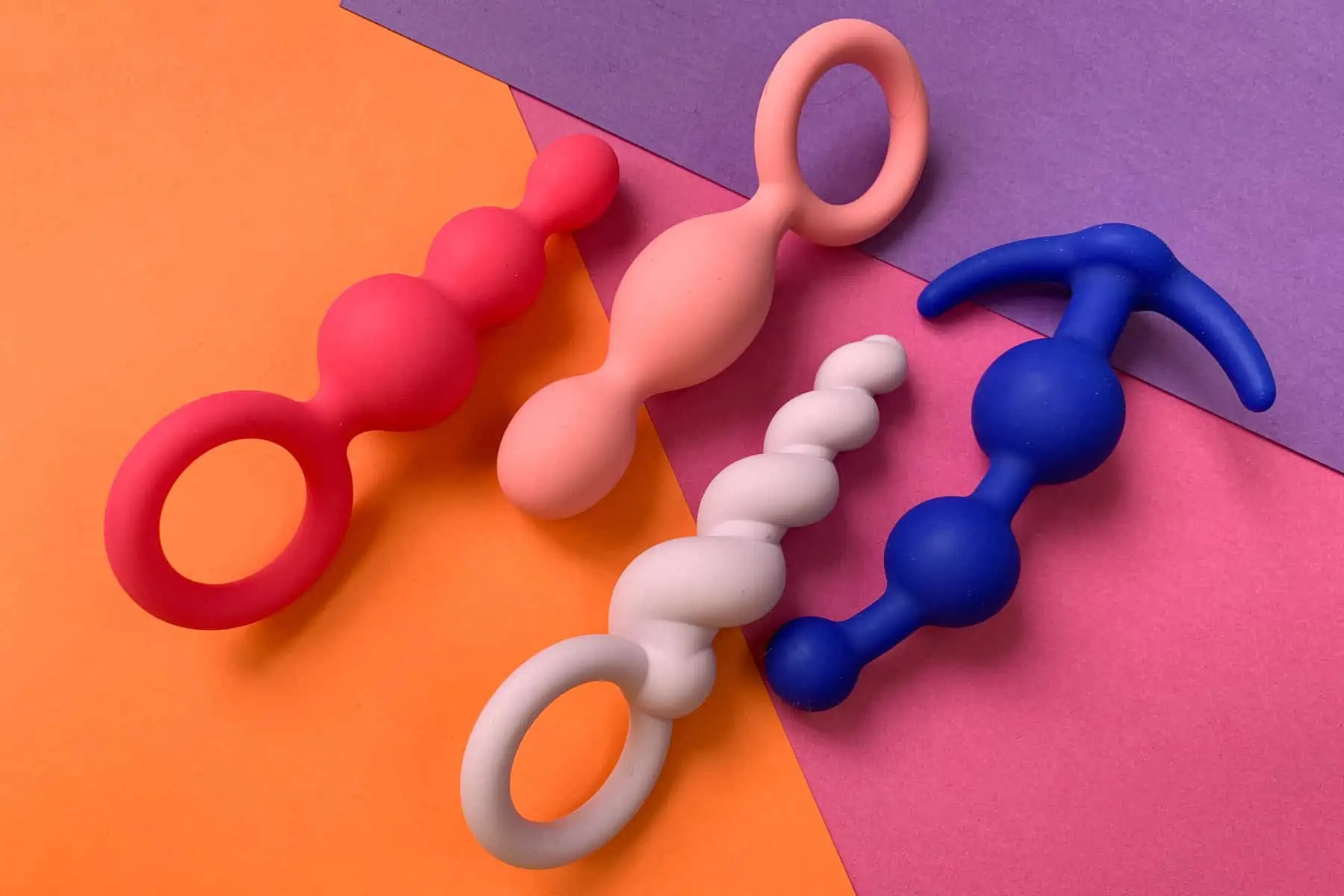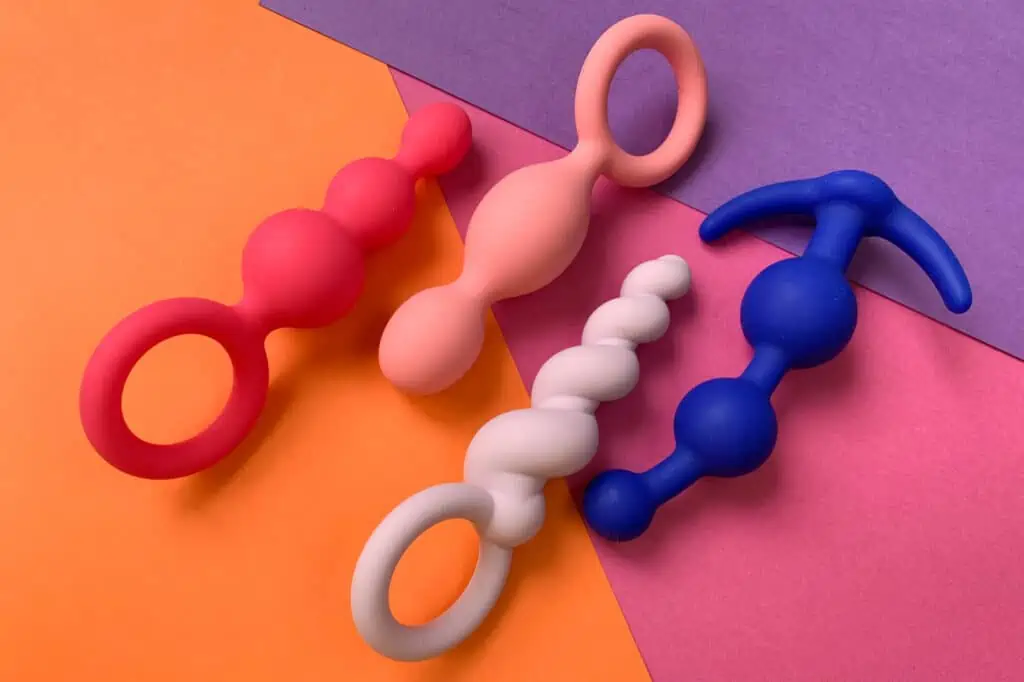 1. Anal beads
Anal beads are particularly pleasurable for men as they perfectly stimulate the G-spot.
A fast release should guarantee a very intense and satisfying orgasm, at the power of your hands.
2. Double penetrator
Double penetrators are usually attached to a cock ring.
When inserting the penis into the vagina, you would also insert the attached dildo into the anus. With each movement, both the vagina and anus will be penetrated at the same time.
3. Butt plug
Another personal favorite of mine.
Both partners can use a butt plug and feel a great amount of pleasure; especially in my opinion if you use a vibrating butt plug.
Again, you should consider different materials as you can get silicone, plastic, glass, metal, and so on. Some materials will allow you to experiment with temperature play.
Sex Accessories for Better Sexual Experiences
There are lots of sex toys to consider trying, but if first and foremost you're looking for ways to have better sex, then there are a few things that might work for you.
1. Sex pillows
Sex pillows allow you to attempt different positions whilst remaining comfortable. 
Raising your hips slightly during sex can also allow easier access to your G-spot, helping your chances at reaching a penetrative orgasm.
2. Fetish fantasy hot seat
If you've always wanted to watch your partner as she rides a dildo, then this might just be the toy for you. 
3. Sex position enhancer chair
Similar to the sex pillow, you can use a sex position enhancer chair to enable you to get frisky like you never have before. 
4. We vibe
We vibe is a sex toy brand that has been voted as the best for couples.
Most We vibe products are controlled by the We vibe app, allowing your partner to have full control of your pleasure. Popular collections are the We vibe Moxie and the We vibe Tango.
5. Orgasm gel
Applying orgasm gel increases your chance of orgasm by enhancing stimulation.
6. Kegel training set
Kegel training strengthens your pelvic floor muscles, and can improve sexual function in women, especially those who are menopausal.
BDSM Toys
BDSM can be defined as bondage, discipline (or domination), sadism, and masochism (as a type of sexual practice).
BDSM toys range from inflicting pain, displaying dominance and causing restraint.
The main purpose of experimenting with BDSM is to either be dominant or submissive with your sexual partner.
1. Bondage tape
Starting simple, bondage tape can be used to restrict any part of the body, allowing your partner to have a power dynamic when having sex.
When purchasing bondage tape, it's important to make sure that you are using body safe materials.
2. Sex swing
Sex swings allow you to try several positions with ease, particularly when standing up.
3. Bed restraints
Bed restraints are used for the ultimate power play in the bedroom. You will completely submit yourself to your partner by having both hands and legs tied down to the bed, giving your partner complete control of your body, and of your pleasure.
4. Handcuffs
Simple but effective, the ultimate beginner sex toy when experimenting with BDSM.
When purchasing handcuffs, avoid cheap metals and spend a little extra to ensure you buy good-quality cuffs.
5. Over-the-door restraints
A little less restrictive than bed restraints, over-the-door restraints take BDSM to the next level with some 'vertical loving'.
6. Flogger
Another favorite from Fifty Shades of Grey. Floggers are used to build anticipation and to inflict slight pain. 
They allow your body to become completely receptive to touch, and make you crave something more.
Floggers are great as they can be used by all levels from beginner to advanced.
7. Whip
Whips or riding crops are used in a similar way to the flogger, only they feel entirely different on the skin, and a whip can inflict more pain. 
8. Spreader bar
There's something particularly sexy and dominating about a spreader bar.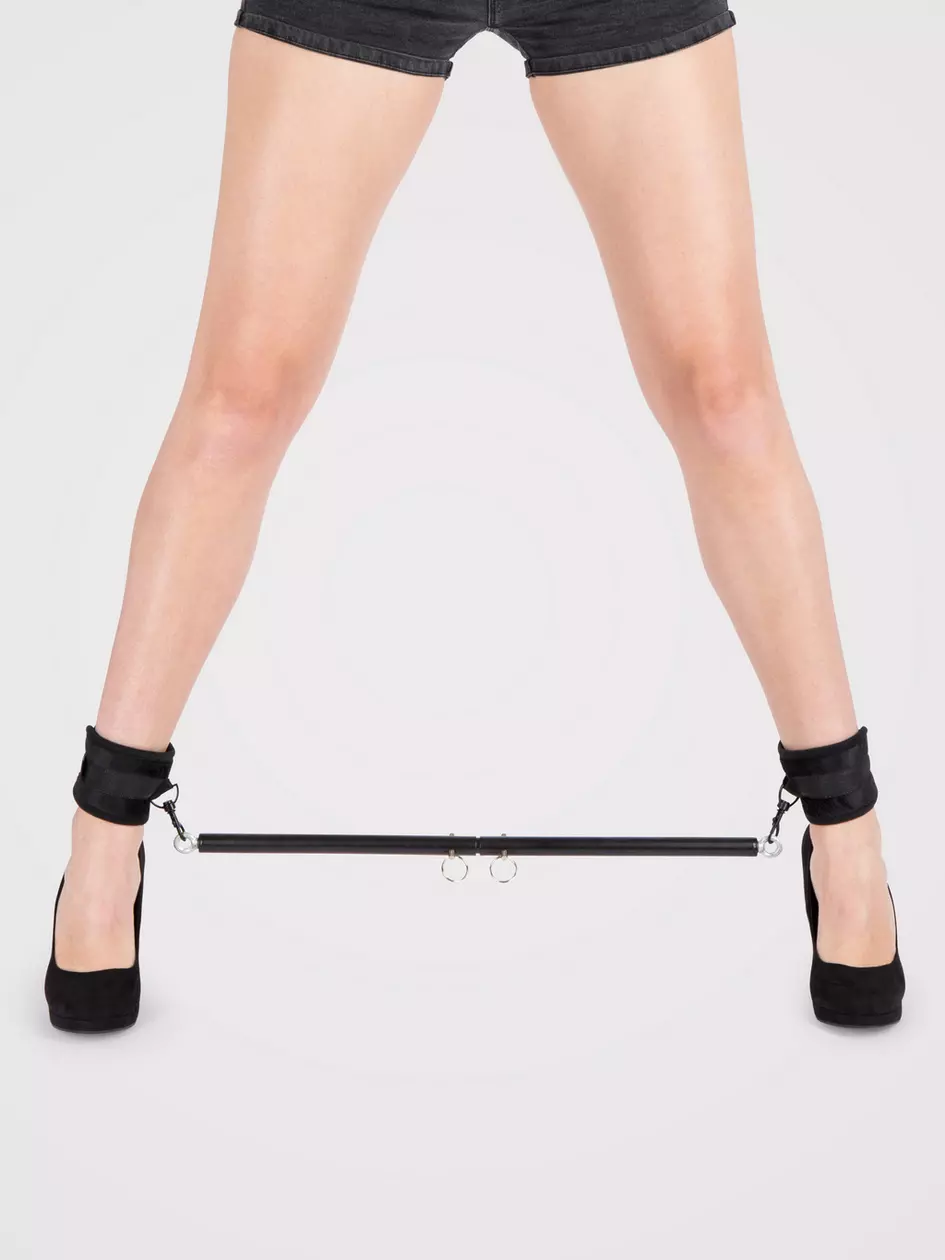 Bondage Boutique Expandable Spreader Bar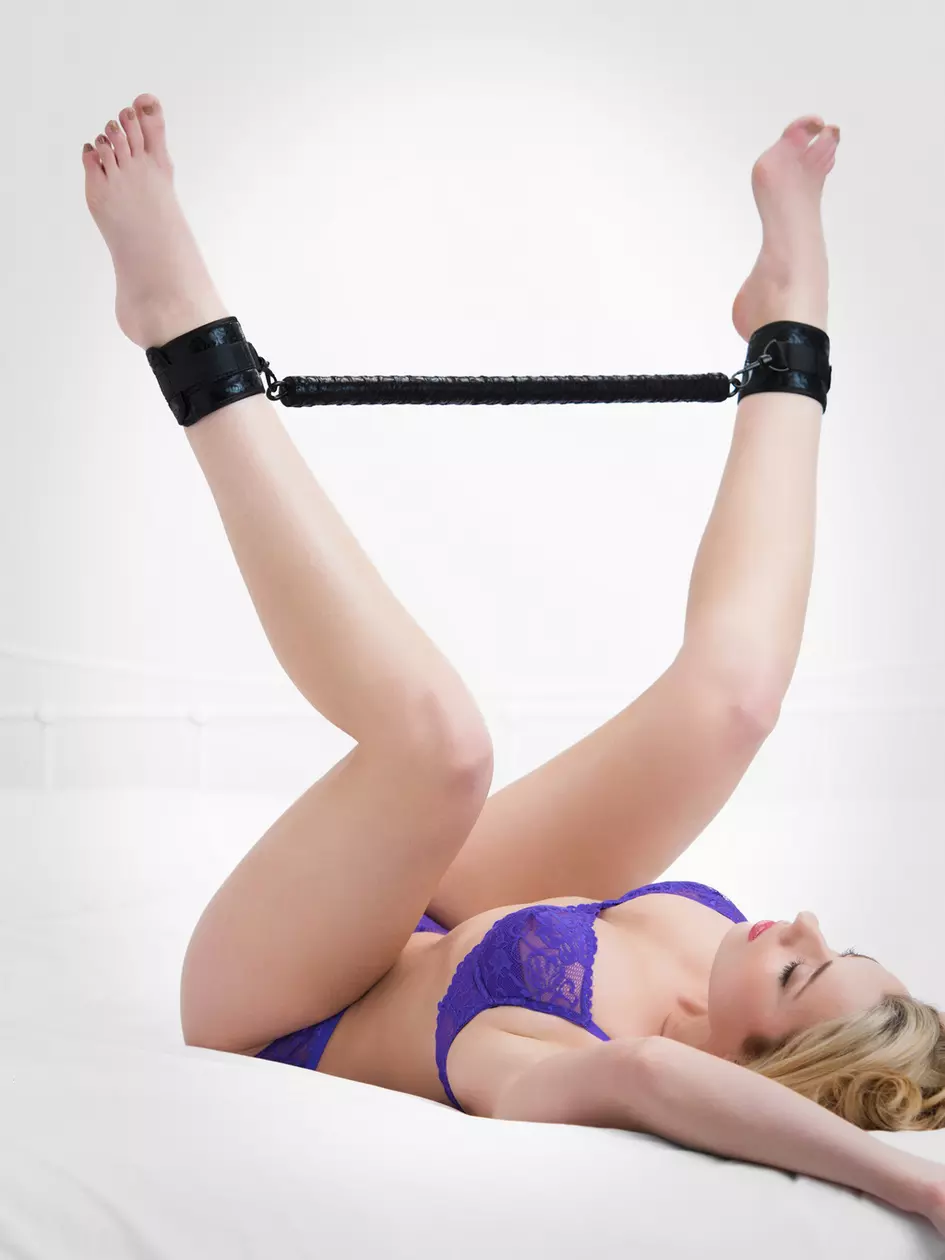 Bondage Boutique Black Rose 20-inch Spreader Bar
When we feel immense pleasure, it can be a natural response to close our legs and to tense up almost. A spreader bar forces your legs open at all times, meaning that your partner has full control of the intensity of pleasure inflicted.
FAQs
What can I do if I want to try new sex toys but my partner doesn't?
The most important part of having sex is consent, so it's important that you respect your partner's wishes. However, I would recommend that you have an honest conversation about your needs and desires, and try to come to a compromise. 
For example, if your partner feels uncomfortable using sex toys, you could suggest purchasing toys that you will use on yourself during intercourse. He doesn't need to have any involvement, and you get to experience added pleasure.
Another good idea is to talk frequently about friends' advice. For example, if your bestfriend and her boyfriend recently tried a cock ring and loved it, it might make your partner more willing to try. 
How can I clean my sex toys?
Sexperts Sammi and Nick recommend rinsing your toys with warm water before using a specific toy cleanser or toy cleaning wipe.
You could also use a mild antibacterial soap and warm water. It's recommended that you wash your toys for the same amount of time you should wash your hands, 20 seconds. 
Can sex toys cause yeast infections?
Yeast infections are technically caused when your partner's bacteria enter your vagina. This same bacteria can be transmitted through the use of sex toys.
It's always important to clean before and after sex and to thoroughly clean your sex toys after use to reduce the risk of infection. 
Conclusion
There are thousands of sex toys out there, and there are also several items that you can use at home to induce pleasure. Anything that inflicts pleasure can be used as a sex toy, so long as it's hygienic, of course.
Taking the time to advance on your sex life with your partner, and dedicating time to trying new things and exploring each other's bodies will inevitably have a positive impact on your relationship.
You might try the most popular sex toys and come to realize that they're not for you, but at least this is something that you tried and experienced together.
It can be easy to become complacent in the bedroom. The best way to get things spiced up again is to introduce a new sex toy or two (or a full drawer, ha ha!). Frequent intimate pleasure is the key to most successful relationships.
If you're interested in trying something completely new but have no idea where to start, as much as porn can be highly unrealistic, it can teach us a lot about how to use sex toys.
It's also important that we have these conversations with our friends. If you've tried a butt plug for the first time and loved it, recommend it to your girlfriends and help to eradicate the taboo surrounding sex and sex toys.
Experiencing pleasure is one of the best things our bodies have to offer, and it's something that should be celebrated and shared.
If you have any sex toy recommendations please feel free to comment, and as always, share with a friend in need who's looking to spice up their sex life.
Want to add some excitement to your sex life and create a stronger connection with him?
One of the most effective ways to enhance your intimacy with your partner is by spicing up your sex life. Using toys can be an amazing way to bring some extra thrill to your love-making sessions.
At Hernorm, we've collaborated with LoveHoney to offer you access to some of the best toys in the market.
Check them out here
in complete anonymity. Your relationship will definitely benefit from it!