People often avoid experimenting with BDSM because it's completely misunderstood. BDSM (bondage, discipline, sadism, and masochism) is a type of sexual play that doesn't need to be as intimidating as it sounds.
You can take BDSM play as far as you want to; I would always recommend experimenting to spice up your sex life. Take baby steps and see how far you can push yours and your partner's boundaries to experience maximum pleasure.
There are lots of things you can explore when it comes to experimenting with BDSM play as a beginner. Do your research, watch porn for ideas and seek advice from friends who have a little experience. You can have a lot of fun, and there are lots of sex toys to consider trying when it comes to experimentation.
Key Takeaways
BDSM isn't always as intimidating as it seems.
It's important that you and your partner are fully consensual, and have safe words in place for when you reach your limit.
Porn is great when it comes to getting ideas; finding a good BDSM scene and seeing how you could fit aspects of it into your and your partner's sex life.
Sex is all about trial and error, practice BDSM and take the time to learn about what pleasure can be had.
BDSM Tips for Beginners: How to Prepare
The most common question asked is 'how to get started with BDSM?' It can be hard to open up with your partner about your sexual desires, especially if this is something you've never spoken about before.
My number one tip when getting started with anything new sexually is to be completely honest with your partner. Sexual fantasies and fetishes are more common than you might realize. It's also never a bad idea to want to improve your sex life as it can totally spice up your relationship.
In this conversation, it can be a good idea to be honest about how far you're willing to go with this specific kind of sex play. Are you looking to experiment with soft BDSM or are you hoping to enter a full on BDSM relationship; you might not know the answer to this, and that's okay too, just as long as you're honest about where you stand for the time being.
My next tip would be to browse an online sex store. Lovehoney is my go-to, and has a dedicated category for bondage and BDSM, but there are lots of places to have a look, even Amazon.
I'm not suggesting that you purchase every kind of BDSM play sex toy, you don't even have to purchase one, the point is that you're actively looking for ideas of what to include in your sex life.
If you're wanting to start small and experiment with a blind fold, before purchasing one you can use what you have at home for the same effect. The same goes with any kind of restraints. You'd be surprised at what you can achieve with a men's tie in the bedroom.
You want to make sure that you enjoy this kind of play before you go spending any money. From there, you'll most likely have a better idea about what you're looking to experiment with; this is why taking inspiration from porn is a great idea too.
Remember, not all sex is hot sex; it's all about trial and error. You're not going to enjoy absolutely everything in the bedroom, that would be totally unrealistic, but you won't know until you give it a go. This is why it's so important to be honest and open with your sexual partner.
Safe words are a must when experimenting with BDSM. It can be any word of your choosing, as long as you're both fully in agreement that as soon as those words are uttered, you stop what you're doing entirely.
You can use safe words if you're not feeling safe, or if you feel like you're reaching your sexual limits. It would be wise to have two safe words. You may have heard of the safeword traffic light system:
Green = Go ("I'm loving this, give me more")
Amber/Yellow = Proceed with caution ("I'm not completely sure about this but I'm willing to keep going for now")
Red = Stop ("This isn't for me and I've reached my limit")
Ultimately, whatever works for you; as long as you're both fully consensual and have an understanding of each other then you'll be absolutely okay. Remember, you don't have to dive into the deep end. Start small and gauge a better idea of what you're into before you go on to exploring kink.
16 BDSM Ideas for Beginners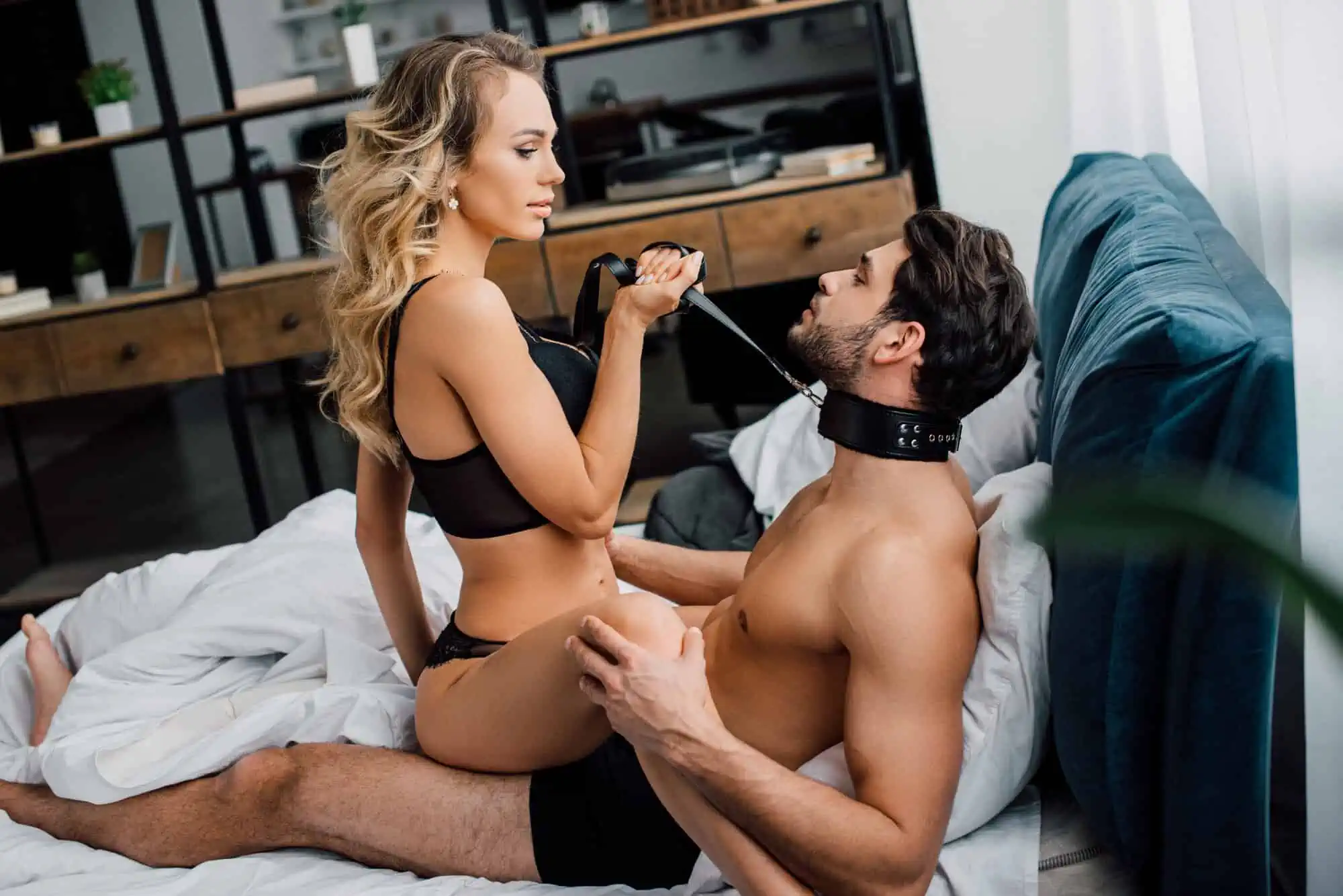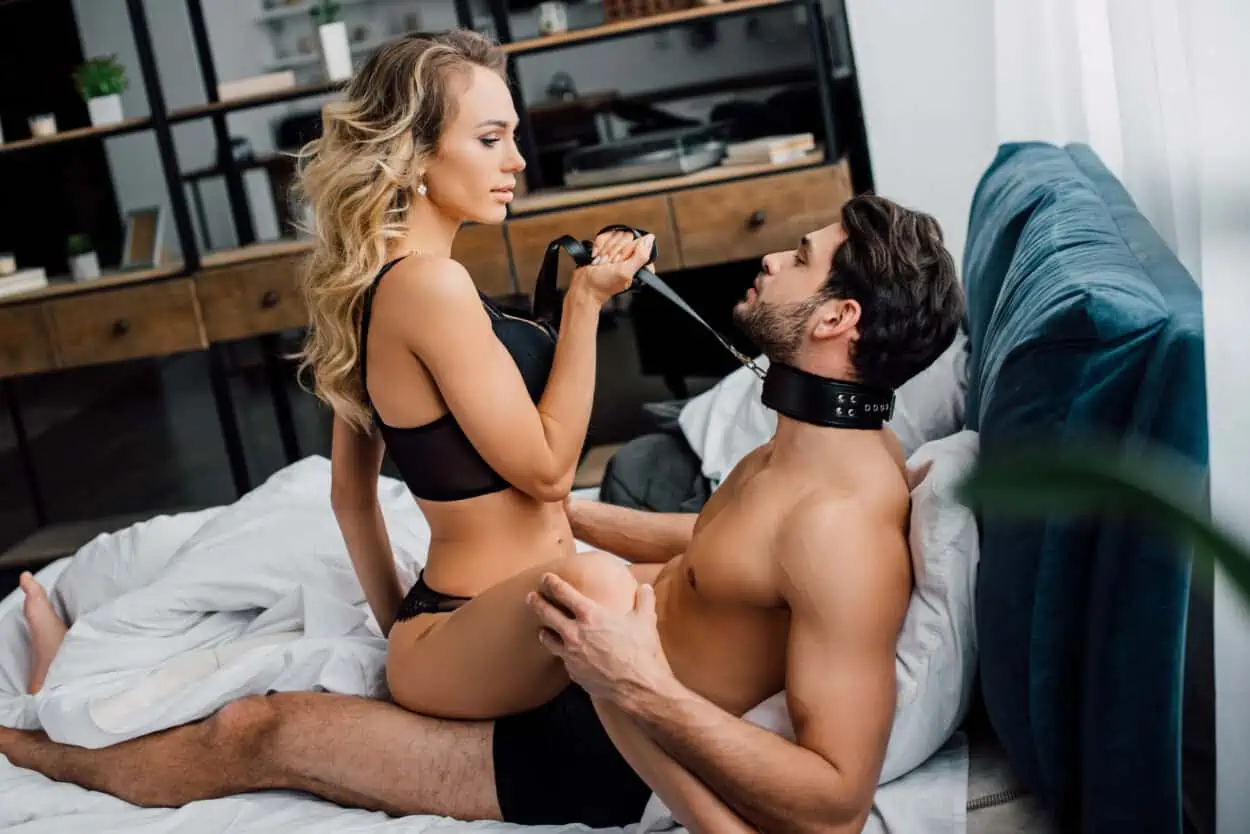 You may have no experience whatsoever with BDSM, or you may have a little. These ideas are catered to beginners in BDSM. You'll find ideas that practice restraint, dominance and submission, power play sex, inflicting pain, and all kinds of fun to be had from experimenting with BDSM.
Some ideas are a lot softer than others, but take a look and see what you could be into trying. Remember, you don't have to enjoy absolutely everything and it would be encouraged to take baby steps and start small until you have more confidence with experimentation.
1. Blindfold
The ultimate starting point for BDSM.
You'd be surprised at how much pleasure can be had from adding a blindfold to your sex life. Wearing a blindfold takes away one of your senses, heightening the rest and maximizing pleasure.
There's also something comforting about wearing a blindfold. It takes away any anxiety you might feel from how you look in the bedroom, and allows you to focus on the pleasure to be felt.
The only downside to wearing a blindfold is that it takes away from maintaining eye contact, which can increase sexual intimacy. However, it gives your partner more control over the pleasure they inflict, and can encourage a much more intimate experience altogether.
2. Bondage
You can take bondage and restraints as far as you'd like to when it comes to BDSM play. A favorite of mine is mattress restraints; they cover all four corners of your bed and restrain both of your hands and legs. Of course, you can pick and choose, mix it up and ultimately go with the flow. You may find that you prefer only your legs to be restrained and vice versa.
You can also start small and use your man's tie to tie your arms behind your back. You can experiment with role play and enjoy the pleasure of restraints.
A big favorite tends to be handcuffs, and I can certainly see why; it all comes down to preference.
3. Domination
This is where things start to get a little exciting.
Looking to spicen up your sex life and build your connection with him?
One of the best ways to increase your connection with your partner is to spice up your sex life. An awesome way to do this is to bring some excitement into the mix by using toys that will drive both of you crazy.

We've partnered with LoveHoney to give you exclusive access to some of the best toys on the market. Click here to check them out, completely anonymously of course! Your relationship will thank you for it.
Having a dominant partner, or playing this role yourself can be a huge turn on. If your partner is naturally dominant, then it can be exciting to mix it up in the bedroom and use this opportunity to have him submit to your sexual desires.
There are specific toys for domination, we'll get into that later, but it can even be something simple like calling him 'daddy' or allowing him to lead your sexual experience, giving him full control of your pleasure.
4. Whipping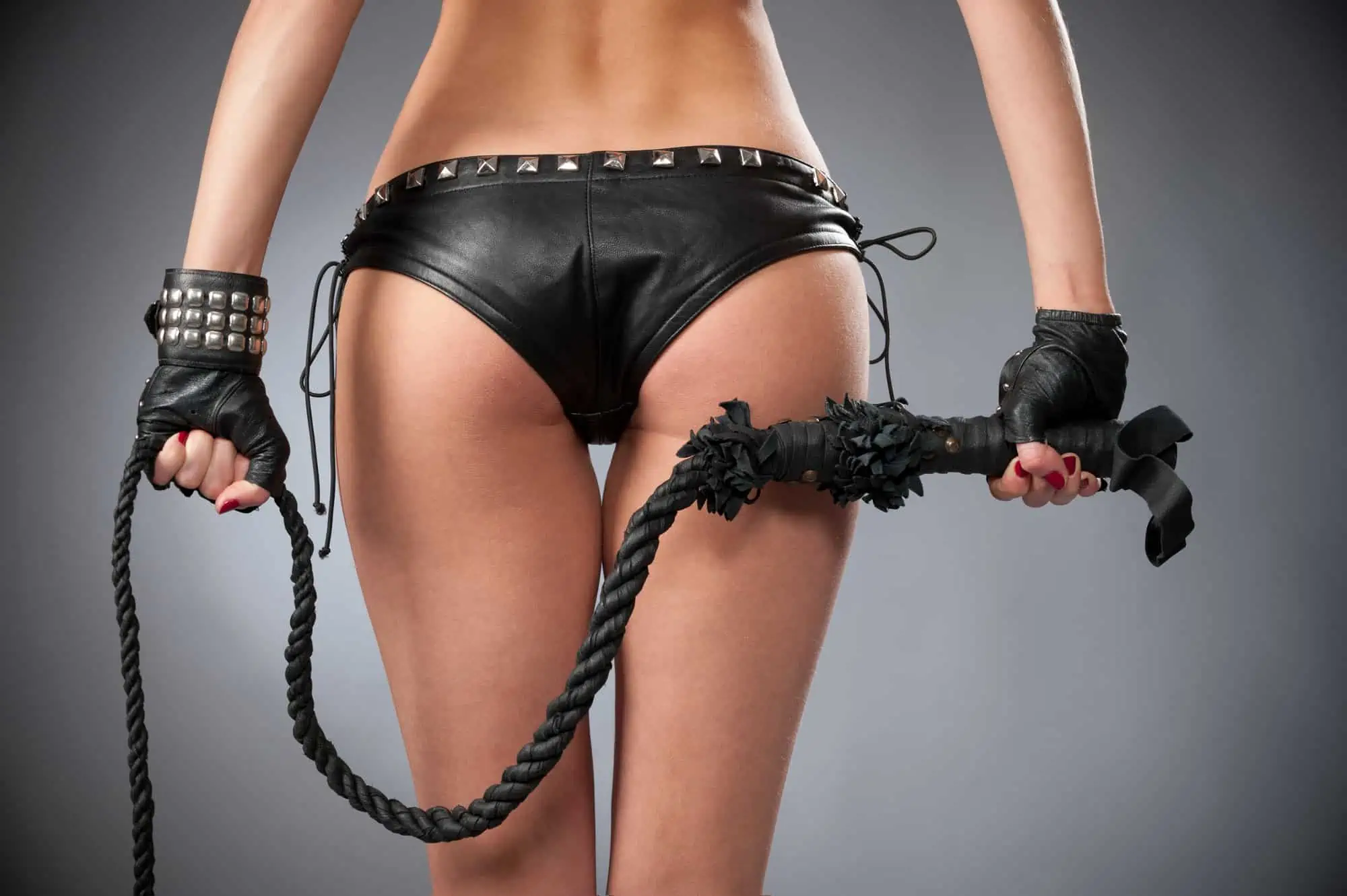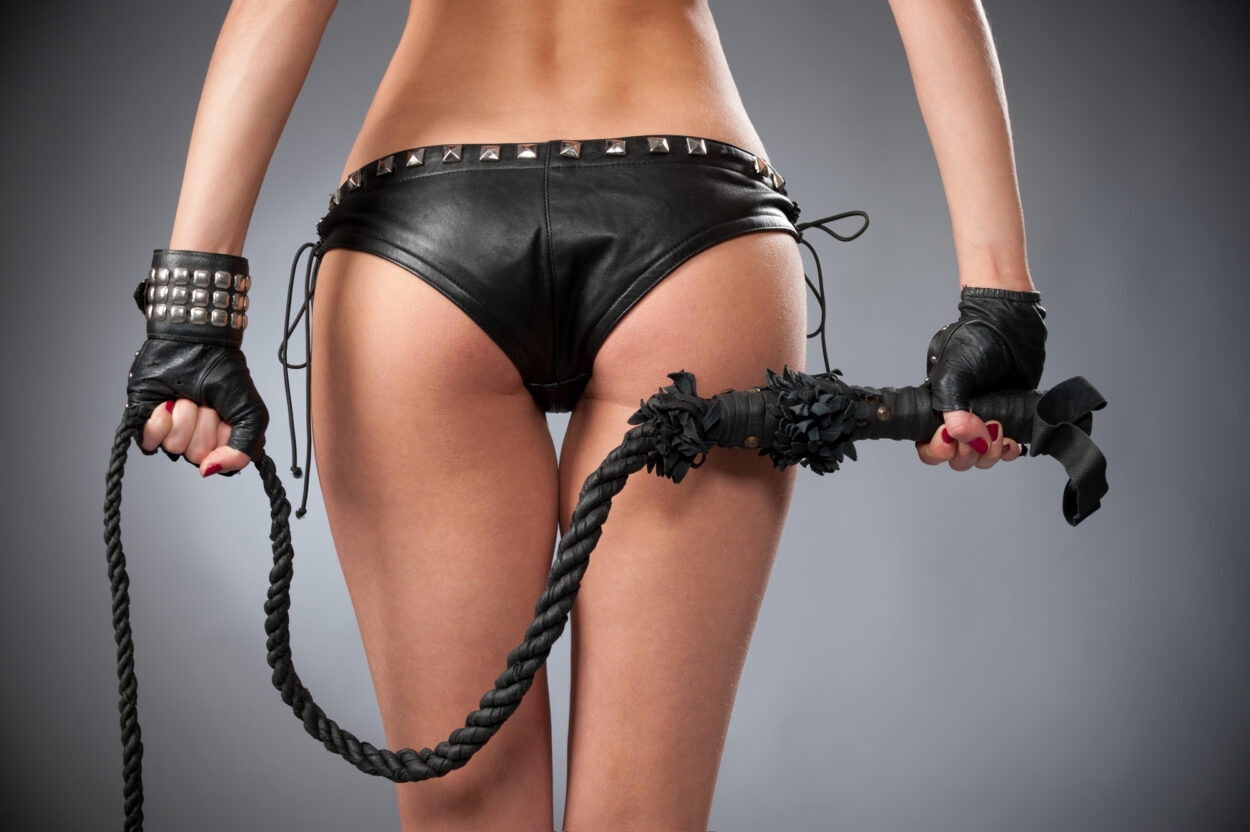 Whipping or spanking is where people generally start to feel apprehensive, because this is where you start to consider inflicting pain. It's important to remember that it can be as painful as you like, or not painful at all.
You can take a look at different materials of whips, as some will be a lot softer than others.
You can use whips to gently guide over the body and graze over your erogenous zones to induce pleasure. You can also include whipping in domination play.
5. Flogging
Flogging is similar to whipping, it allows for spanking but will add more pleasure when it comes to engaging your erogenous zones as they cover more surface area.
A flogger looks similar to a whip, but has lots of tassels on the end; perfect for guiding over your body and inducing slight pain when whipped.
6. Biting
If you're into the idea of inducing pleasure, but you're not sure enough to buy a sex toy, then consider biting. Again, you can be as hard or as gentle as you like.
A lot of women love their breasts being bitten, but you can have fun with biting and engage all erogenous zones, taking your time to pay attention to your partner's body.
I would suggest starting softly and slowly, building your way up to the most pleasurable erogenous zones such as the inner thighs, the breasts or the neck. Kiss your way along your partner's body, apply a gentle bite every now and again, even a lick, until you get to your final destination. Then, apply more pressure and (consensually) test your partners limits.
7. Nipple play
The nipples are a key erogenous zone for both men and women.
You can consider certain sex toys, such as chain nipple clamps, nipple suckers, and nipple tassles.
The nipples are a great way to induce sexual arousal, so take your time with them. If you weren't quite ready to consider sex toys, then you can bite, lick and suck your partners nipples to inflict pleasure (or pain).
8. Choking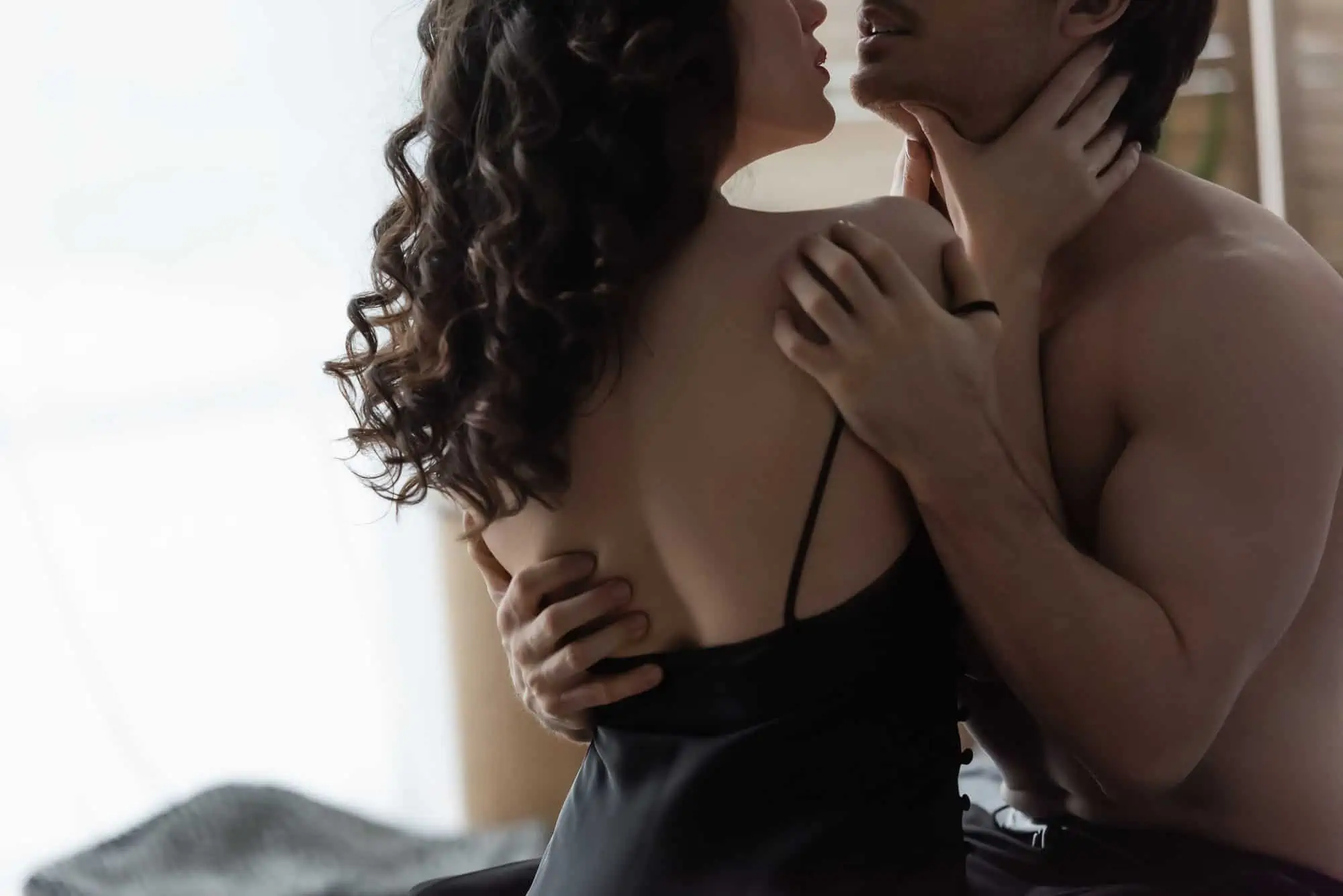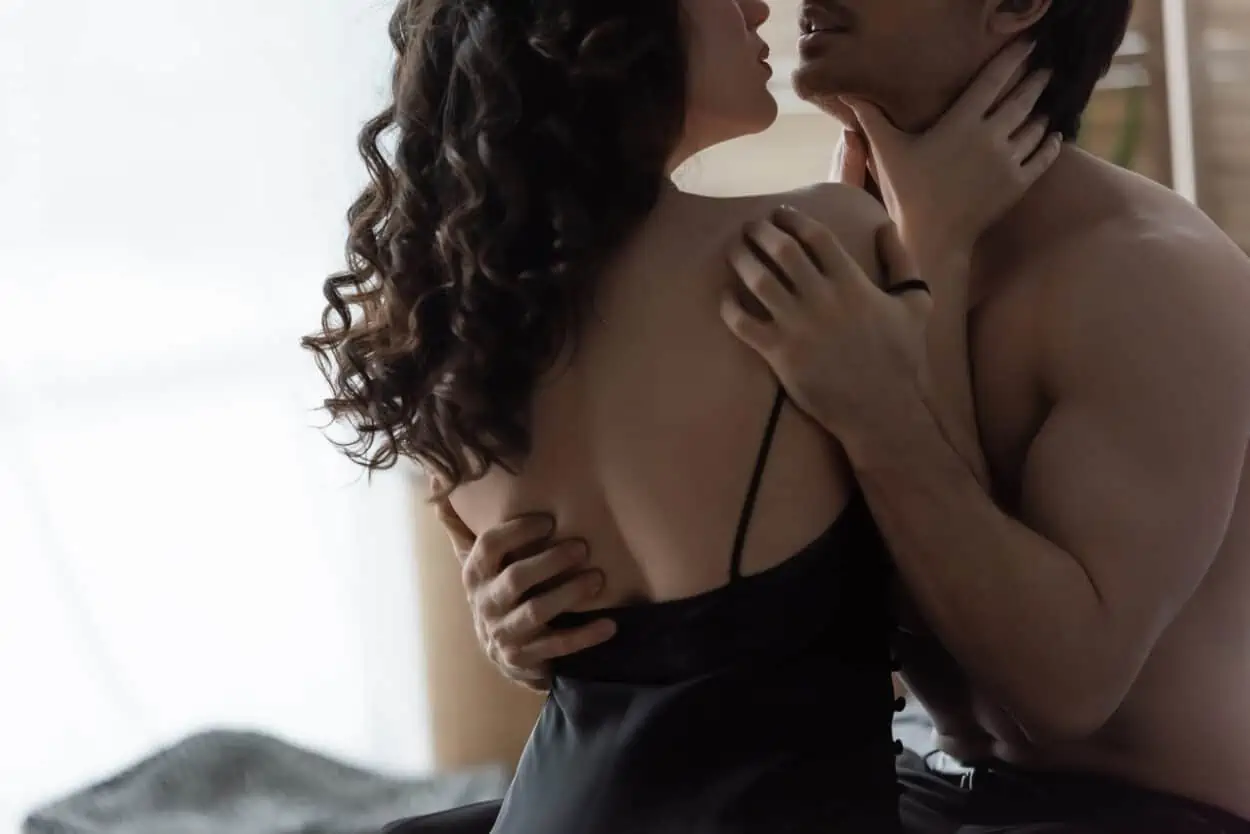 Choking is surprisingly a big favorite when it comes to soft BDSM, and it's a great power play.
According to Springer, a survey found that in response to being choked "81.7% of participants reported that they felt pleasurable sensations/euphoria (73.3% men, 85.3% women)".
Again, you can take choking as far as you want to. Some people are into erotic asphyxiation, choking to the point of passing out when reaching climax; this isn't something I would recommend trying unless you are well-researched and know how to do it safely.
If you're completely new to choking, start small and ask your partner to apply slight pressure and go from there. It's important to use safe words and to make sure that you feel completely comfortable.
9. Edging
Edging is a great way to practice control, and gives your partner full control over your pleasure.
Edging is all about prolonging pleasure. Your partner will pleasure you until you're close to reaching climax, and then either stop or stimulate another part of your body. When you do eventually orgasm, it can feel much more intense and in turn more pleasurable.
Edging is also great during masturbation, and can help you to feel in tune with your body.
10. Hair pulling
Again, you can be as soft or hard as you like with this, test your limits and see what you enjoy. Hair pulling is a great power play, and is a soft way of inflicting pain.
11. Temperature play
A favorite of mine is warming lube, it adds to the sensation and makes penetrative sex more pleasurable altogether.
You can also experiment with ice cubes (this one's on my to-do list). A great example is to have your partner place an ice cube in his mouth as he glides it along your body. He can stimulate your nipples, your clitoris, and induce pleasure in a way you've never felt before.
12. Role play
You can have lots of fun with role play. Some examples would be nurse and patient, student and teacher, kidnapper and victim. Or, if you're into a specific type of cosplay you could cater to this too.
Role playing is adventurous, exciting, and is typically a form of power play.
13. Pegging
If you're looking to dominate your male sexual partner, you should absolutely consider pegging. This is where you would wear a strap on dildo and penetrate your partner's anus. Anal sex can be really enjoyable, especially for a male as their G-spot (commonly referred to as the prostate) is in their rectum.
You can both have a great time, and it's nice to have control every now and again, especially over something that your body isn't physically capable of. You can start small with a finger, or a butt plug and take it from there.
14. Gagging
A gag is a sex toy typically used during role play BDSM. It can induce feelings of helplessness, and submission, and can allow your partner complete dominance.
15. Collar and chain
Another great toy for role-play. 
If you've ever looked into sex parties, you're probably familiar with a collar and chain; it's the ultimate addition to symbolize dominance and submission.
16. Sex swings
Another one on my to-do list.
Sex swings are great for dominance, but also for allowing easy access to positions that are typically difficult.
FAQs
Is it bad if I enjoy inflicting pain on my sexual partner?
Not if it's consensual. Lots of people experience pleasure from inflicting pain, and in turn having pain inflicted on them. It all depends if you're doing it for the right reasons. 
If you had something to worry about, you'd know it. If you're concerned, I would recommend having a conversation with your partner to ease your mind. 
How can I ask my partner to experiment with BDSM?
Experimenting with BDSM doesn't need to be as scary as it sounds. I would definitely recommend having an open conversation with your partner, but again it doesn't need to revolve around BDSM. You may want to start small and experiment with restraints or a blindfold. Browse online with your partner and see what will work for you. 
A great starting point is to watch BDSM porn with your partner. You can gauge an idea of what it is you're looking to experiment with and see how you can implement aspects of it into your sex life. 
Conclusion
You really don't have to feel nervous when it comes to experimenting with BDSM. You can ultimately take it as far as you want to.
I would always advise starting slow, testing the water and gradually testing your limits. You'll soon be open to a whole new world when it comes to sexual pleasure, and you and your sexual partner can explore your boundaries together.
The most important thing is that you have fun with it. It's exciting to mix things up regarding your sex life, as it can increase overall intimacy in your relationship.
Remember to use your safe words, and that consent and communication is key.
Please feel free to share with a friend who's looking to spice up her sex life. 
Want to add some excitement to your sex life and create a stronger connection with him?
One of the most effective ways to enhance your intimacy with your partner is by spicing up your sex life. Using toys can be an amazing way to bring some extra thrill to your love-making sessions.
At Hernorm, we've collaborated with LoveHoney to offer you access to some of the best toys in the market.
Check them out here
in complete anonymity. Your relationship will definitely benefit from it!