With advances in technology, there are many fun and interesting ways to keep the romance alive with your partner. Not to mention, ways to spice things up, too!
We understand just how busy life can get, and while it might not always be possible to see your loved one face-to-face on a regular basis, you can always pick up the phone (which, let's face it, is pretty much an extension of every millennial's arm) and have some fun together.
Texting games for couples are a great way to get to know each other better in the early days of dating, can help to spice things up if your usual texting has become boring, and drop some hints about your intentions if you're too shy to say it straight out.
19 Fun Games to Play Over Text with Your Boyfriend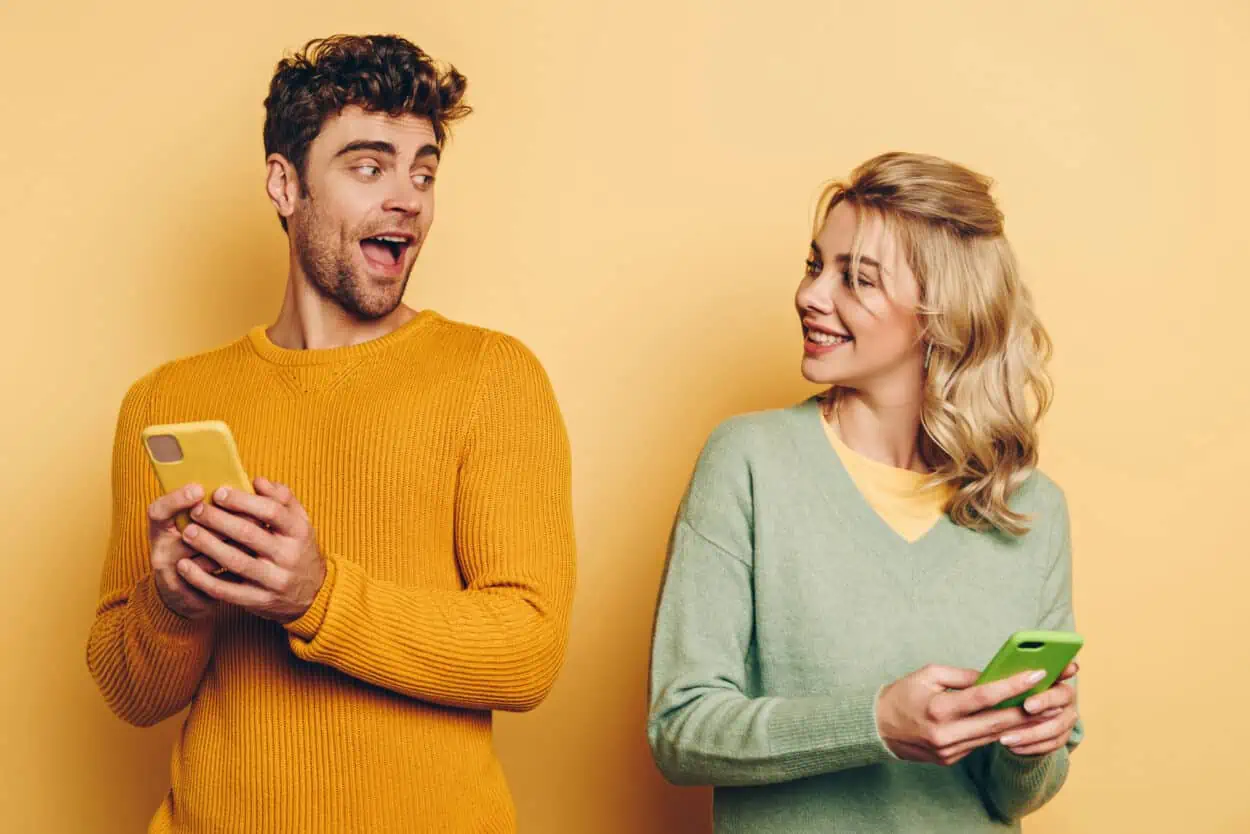 These fun texting games are ideal for couples who want to get to know each other a little better, want to add another dimension to their regular texting conversations, or for couples who are on the go and want to keep in touch in fun and interesting ways.
Many of these can also be played with friends, family members, and coworkers, if adjusted slightly.
1. Fill in the blanks
Fill in the blanks is an easy way to get to know your partner a little better or even to turn the heat up in your relationship.
Simply text something like "I love it when you ____" or "I bet you want to ____" or "Did you know ____"
2. Would you rather?
If you're looking for a good laugh, "would you rather" is a great game to play. Often played amongst friends, family members, or coworkers, this game reveals interesting facts about those closest to you. For example, "would you rather go skiing or to a tropical island?" Or, "would you rather eat frog legs or black pudding?"
3. Truth or dare
We all know the traditional "Truth or dare" game that's been played across age groups for decades. However, Truth or dare over text might get a little more interesting because you have the comfort of hiding behind your screen, so don't be surprised if the heat turns up a notch.
Making use of voice notes, videos, and texting are some of the ways this can be executed. If you'd prefer to keep things PG, set some boundaries before the games begin.
4. Story builder
Build on each other's snippets and watch how things take on a life of their own. This time around, Story builder is sure to be steamier than the one you played as a kid.
One person simply starts the story and then the other adds on. Each person gets 20 turns to complete the entire story. So, set the scene and watch things unfold.
5. 21 questions
This is one of my favorite texting games to play when getting to know someone a little better. You each get 21 turns to ask something you've always wanted to know about your partner.
Some examples of questions you might like to ask include:
What's one thing you look for in a partner?
If you could change one thing about yourself, what would it be?
What's next on your bucket list?
What are you looking for when it comes to dating?
What's the wildest thing you've done?
Who's your celebrity crush?
What's your favorite restaurant?
Ideal date night?
What's your dream job?
What's your pet peeve?
If you visualize your ideal life 5 years from now, what does it look like?
How many kids do you want?
What's your biggest fear?
What do you like most about yourself?
What attracts you to another person?
Do you believe in love at first sight?
What's your first impression of me?
What's a deal breaker in a relationship for you?
If you could go anywhere on vacation right now, with the love of your life, where would you go?
What's your wildest fantasy?
Worst date story?
6. Never have I ever
The traditional drinking game turn texting game is a fun way to uncover some dirty secrets and have some fun.
Players take turns mentioning experiences they've never had, for example, "never have I ever cheated on someone," if the other party has done it, they need to admit to it and they also lose a point. Keep tabs on your points. The loser owes the winner something… and that's up to the two of you to decide what!
7. Two truths, one lie
Another fun guessing game, in "Two truths, one lie" each person takes turns to text 3 statements (two of which are true and the other a lie), the other party needs to then guess which the lie is. If they get it right, they score a point. The winner gets to redeem their points in whatever way you two decide. Have fun!
8. Emoji translator
Almost every millennial knows that most emojis have more than one meaning… think about it, the eggplant, the peach, the water droplets… you get it. So, if you want to have some fun with your partner, send them a text made up of emojis only and let them decode your message/intentions.
9. Personal trivia/random trivia
This is a simple texting game that can be used to test your and your partner's general knowledge, or it can be a fun way to get to know each other a little better.
As a couple, you will choose a subject i.e. travel/food/personal lives/movies, etc. You will then take turns asking each other questions from the selected topic and for every correct answer, you will be awarded a point.
10. Kiss, marry, kill
Choose 3 celebrities, 3 friends/acquaintances, or 3 characters and simply ask your partner to decide who he/she would kiss, marry, and kill. Their answers might surprise you!
11. What if…
What if is one of the best texting games to play if you want to see just how into you your crush is. By asking simple "what if" questions you can establish where each other's boundaries lie as well as how much you actually like each other.
Simply start by asking your partner a "What if" question and allow them to answer truthfully. Whether or not you want to turn the heat up, is up to you.
For example, "what if I pulled into you on our next date?" or, "what if I told you I had a dream about you…"
Use this tool to check whether he actually is who he says he is
Whether you're married or have just started seeing someone, infidelity rates are on the rise and have increased over 40% in the last 20 years, so you have all the right to be worried.
Perhaps you want to know if he's texting other women behind your back? Or whether he has active Tinder or dating profile? Or worse yet, whether he has a criminal record or is cheating on you?
This tool will do just that and pull up any hidden social media and dating profiles, photos, criminal records, and much more to hopefully help put your doubts to rest.
12. The confession game
The confession game is as straightforward as it sounds. Simply, take turns to reveal something about yourself/one of your deepest secrets by texting him "I confess that…" and then allow him to follow on with one of his confessions. This game can be asdaring or as flirty as you like.
For example, "I confess that I am in love with you." Or, "I confess that I think of you more often than I should."
13. Lightning fast
"Lighting fast" is a texting game for couples that tests your subconscious. You ask your partner a question and they have to reply with the first thing that comes to mind, and vice versa when it's your partner's turn.
This game might reveal some interesting truths that you didn't even realize about yourself/what was lingering in your subconscious.
For example: "What's the one thing you like most about me?" Or, "if you could change one thing about yourself, what would it be?" Or, "if you had one wish for this year, what would it be?"
14. Deep questions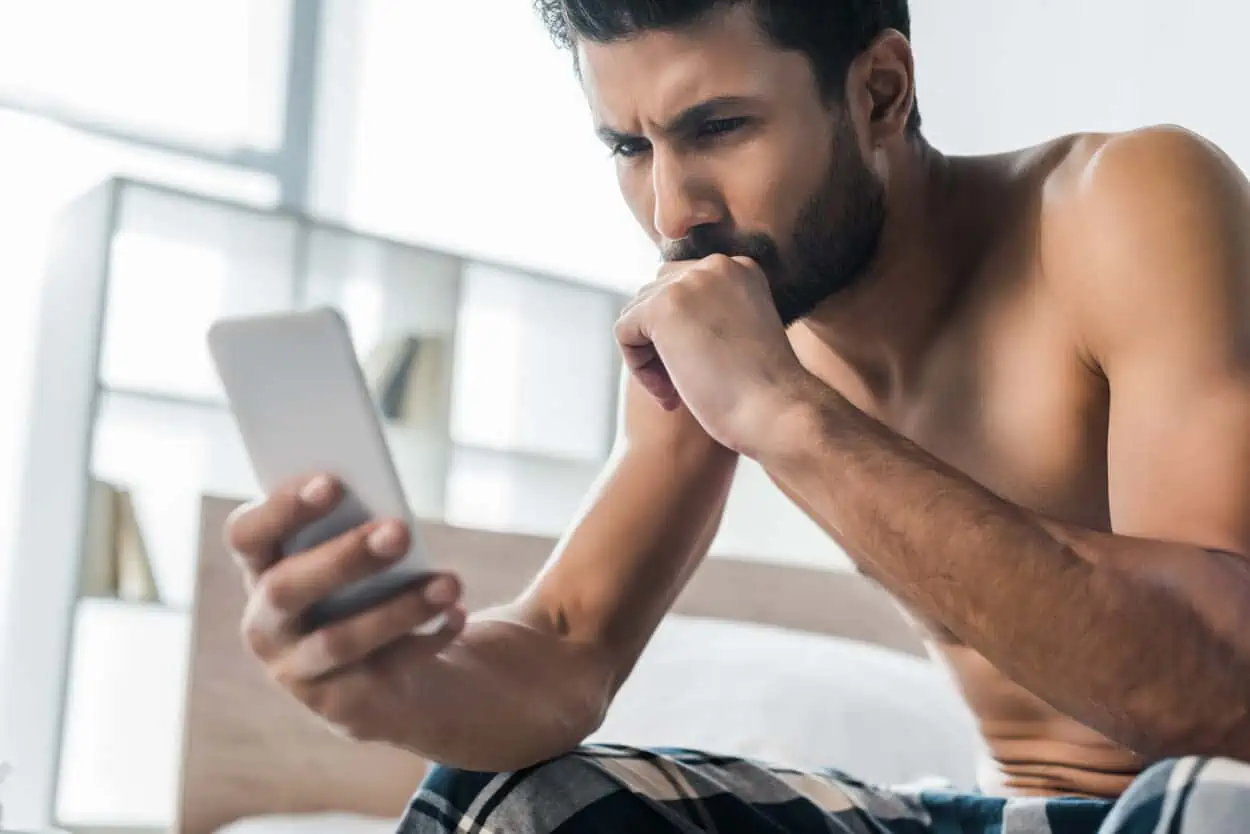 This game might help the two of you feel instantly connected on a deeper level. It generally works best for couples who've been seeing each other for a while and are ready to take things to the next level.
If you're in the early stages of dating you might want to ease into this game slowly, you don't want to scare your partner off by asking something too personal from the get go.
The only rule in this game is that you're completely open and honest with each other or else you defeat the point.
Examples of questions you can ask:
Have you ever cheated on someone before?
Do you believe there's life after death?
What are your thoughts on religion?
What's the one experience you went through that really shaped your life?
15. Yes or no
This is a simple, yet fun texting game that's sure to leave you wondering! Ever wonder if your partner has had a threesome, if he's "joined the mile high club," or if he regrets any of his past breakups? Ask him!
The only rule is that he has to respond only yes or no with no further explanation. The two of you can take turns to ask until you've had enough of the game.
16. This or that
This is a fun game that can be played using images or text. Ask each other this or that questions and answer as quickly as possible, relying on your intuition to guide you as opposed to giving a thought-through, "appropriate" answer. Again, this is another texting game that can get as flirtatious as you'd like it to.
Examples of questions you can ask:
Bathing together or showering together?
Looks or brains?
A funny partner or a smart one?
A tropical honeymoon or one in the snow?
A long-term relationship or a one-night stand?
Netflix and chill or a candle-lit dinner?
17. Riddle me this
This is another entertaining game that tests your and your partner's knowledge. Find some interesting riddles online and start asking. Each person is given a maximum of 5 minutes to come up with the answer. No cheating. Getting ready for some good laughs.
18. Where am I?
This game can be played using real-life scenarios or fictional ones. You simply give your partner hints about where you're at (in real life or in your imagination) and they have 5 chances to guess correctly before it's your turn.
19. Exciting picture challenges
This innocent game is sure to get spicy if you want it to! Start out by sending exciting pictures of your daily surroundings (this can be a particularly great way to feel part of someone's life if you're in a long-distance relationship), of food, of architecture, of your travels, or of anything else you can think of.
If you want to turn the heat up between the two of you, this can be a hot texting game for couples. Set the boundaries (or none) based on what you're comfortable with and let the fun begin. A sage piece of advice is to never include your face in any nude pictures.
12 Sex Games to Play with Your Partner Over Text
Sexting builds tension (the good kind), and desire, and keeps the spark alive. Plus, it's a lot of fun when you're doing it with your partner! For those who are shyer when it comes to intimacy, sexting might also help you express your desires, reveal some dirty little secrets, and ask personal questions you might otherwise be too shy to ask in person.
Whether you and your partner are in a long-distance relationship, are temporarily apart, or just want to have some more fun together, these games might be exactly what you're looking for…
1. Text strip poker
This texting game is not only sexy, but it also tests your knowledge. Ask each other questions, ones that relate to the two of you are best (i.e. where was our first date/when's my birthday, etc.), and every time your partner gets the answer wrong, they have to remove an item of clothing.
You might want to send pics or videos as proof you're doing it properly (P.S. remember to crop out your face).
2. Never have I ever - the steamy version
Same as the regular "Never have I ever" game mentioned above but this time it's all about sexual acts. Add a fun twist to it by giving the loser a "punishment" of sorts.
3. Time it out
If you and your partner both have very busy schedules, send each other available time slots and pick a suitable time that the two of you can block out for some fun. No doubt you'll be counting down the hours all day long!
4. Sexy song swap
Calling all music lovers - get the ultimate sex playlist going by sending each other links to songs that get you in the mood. You might also want to pay particular attention to the lyrics of the songs he sends you, there might be some hidden messages in there.
5. Choose your adventure
This game allows your partner to come on a sexy adventure with you. Start by mentioning what you're doing, i.e. "I'm sitting here, thinking of you" then give them options to choose from regarding what you should do next, i.e. "should I look at some photos of you, go take a shower, or distract myself?"
Once you follow their command, continue the game - for example, "okay, I'm looking at photos of you. Should I go into the bedroom, the kitchen, or onto the balcony now?" Watch as this fun texting game takes on an exciting life of its own.
6. The treasure hunt
When your partner leaves the house, hide some sexy gifts (it can be new underwear, body oil, a sex toy, or anything else your heart desires) around for them to discover.
Later on, pop them a text letting them know you've hidden a gift somewhere for them to find or give them some clues that'll take them on a hot treasure hunt.
7. Remember when?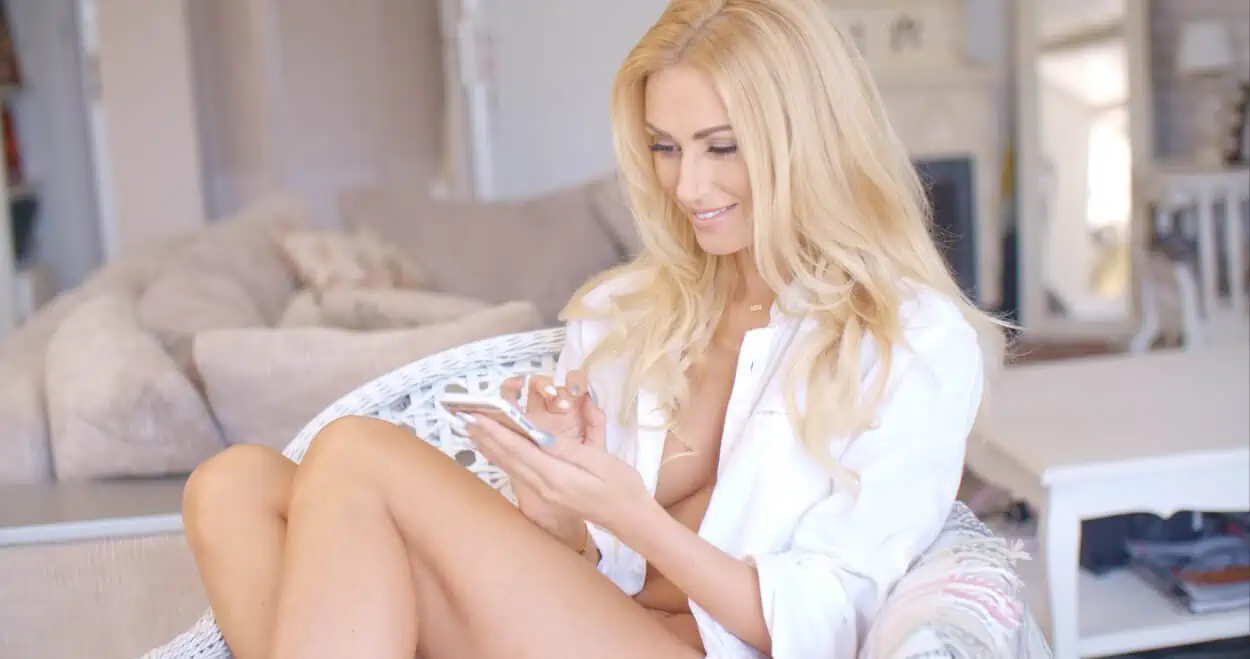 This game is a fun way to relive a particularly sexy event and is sure to get your partner in the mood! Simply send your partner a text that starts with "remember when…" and then follow on by saying what's on your mind, for example "remember when I came home from work and you were hanging around in your lingerie…"
Or, "remember when we were snuggled up on the couch at your parent's house, watching Netflix…" If you're struggling to get your partner involved, follow on by asking "what happened next?", they're sure to respond and together you can relive a steamy moment over text!
8. Sext shopping
Sext shopping is another one of the fun texting games for couples that's sure to turn the heat up a notch. In this game, you simply send your partner online links to lingerie, sex toys, or books that you think might be a great addition to your sex life. It's sure to get their mind racing, and they might even race home from work!
If you want to add a little more cheek, send them a link to your favorite item with a message along the lines of, "a gift for both of us *wink*" or, "let's add this to the weekend's shopping list."
9. Sext brainstorming
If your sex life has become monotonous and doesn't seem to venture far beyond the missionary position, this is one of the best games to play to start getting creative together.
Whenever you see or read something interesting online that you'd like to try out, send your partner a link along with a message that reads something like "thinking about trying this out. What do you think?" or, "this could be fun to try this weekend…"
10. Sex bucket list
Have fun playing together and let your imaginations run wild as the two of you come up with a sex bucket list for your eyes only. Things you might want to include:
Sex in exotic locations,
Sex toys you'd like to try out,
New sex positions,
Having multiple orgasms,
Threesomes (if that's your thing).
Include anything else that gets your pulse racing. Your only limit is your imagination.
You might want to create this list digitally and tick it off as you go!
11. Edge it out
Edging refers to the act of bringing yourself close to an orgasm but stopping just before. Edging tends to make the eventual orgasm last longer and feel far more intense. Have fun over text by controlling when and how your partner should touch themselves. This is a fun way to bring sexting and masturbating together.
12. Orgasm race
Ever had an orgasm race? Well, it's one of the fun texting games for couples that's definitely worth testing out. When your partner is home alone, send him a naughty message along the lines of, "want to have a race?"
When you explain exactly what the race entails, you're sure to have his attention. Then, let the fun begin. The first one to orgasm is the winner. No cheating!
FAQs
How do texting games improve relationships?
Texting or sexting games are a great way to improve communication, build trust, avoid boredom, and strengthen a couple's bond. For people who are shy or lack confidence, fun texting games can help them come out of their shells and express their innermost wants and desires.
What are some important things to keep in mind when playing texting games/getting involved in sexting?
Make sure you are both comfortable with the game at hand and set boundaries if necessary
Make sure you're both fully present and your batteries are charged as delayed responses are likely to ruin the moment and the fun.
If you're sending nudes/videos, it's always best to crop your face out in case, by some very unfortunate chance, the photos/videos get leaked
What if I feel uncomfortable during one of these games?
Always remember that you are your first priority in any relationship. If you feel uncomfortable at any point, speak up. You are not obligated, in any way, to engage in something you feel uncomfortable with. If your crush/partner likes and respects you enough, he/she will be completely understanding.
Conclusion
Texting games for couples are a fantastic way to keep the relationship spark alive, or make for an interesting way to get to know each other better in the early days of dating. Before engaging in any game, make sure the two of you are on the same page with regard to boundaries and expectations. And, lastly, remember to keep your relationship fun and exciting, always.
Utilize this tool to verify if he's truly who he claims to be
Whether you're married or just started dating someone, infidelity rates have risen by over 40% in the past 20 years, so your concerns are justified.
Do you want to find out if he's texting other women behind your back? Or if he has an active Tinder or dating profile? Or even worse, if he has a criminal record or is cheating on you?
This tool can help by uncovering hidden social media and dating profiles, photos, criminal records, and much more, potentially putting your doubts to rest.