Many people underestimate hand jobs, but there is a lot of pleasure to be had through skin-to-skin contact.
You either can't grasp (pardon the pun) the technique, or think that you're doing absolutely fine, it's just not a favorite of your partner's so it's not really a go-to thing in the bedroom. Each man will have their preference, but it's super important to mix things up every once in a while.
You have to remember, your partner is the only person who truly understands his own pleasure. He's probably been masturbating since he was around 13 years old, so he's got a long-standing relationship with his penis and knows exactly how to hit the spot during a hand job.
However, because of this, you have the perfect opportunity to mix things up and provide him with a different type of stimulation so he can experience pleasure in new ways.
Whether you're new to giving hand jobs, or you're looking to surprise your partner in the bedroom having mastered this old-school technique, I'm going to let you in on many tips and techniques to satisfy your man to the max.
Key Takeaways
Sexual intimacy is all about trial and error, don't be ashamed if you get it wrong every now and again.
Giving your man a hand job is the perfect opportunity to try edging – prolonging his pleasure until you allow him to reach climax (it can be very hot and dominating).
A hand job doesn't have to be 'boring', there are many ways to mix things up.
How to Give a Hand Job? 20 Hand Job Tips & Techniques
Remember, everyone is different. Some men will prefer a dry hand job over a lubricated hand job, some will prefer firm pressure over gentle pressure, some will enjoy ball play or even if you pay attention to their rectum.
The best thing you can do is to ask him exactly how he likes it, and when it comes to trying new things, remember it's all about trial and error; as long as it's consensual, and you're both comfortable enough to tell the other if you're not enjoying it.
1. Get comfortable
Let's get the obvious out of the way, the very worsssst thing about giving a hand job is getting a tired wrist.
I don't know about you, but I always feel as though the closer he gets to reaching climax, the worse my technique is.
So, it's important to get yourself comfortable. You may spend a while giving him this amazing hand job, so make sure that you're in a position to comfortably do so.
Likewise, the more experienced you are at giving hand jobs, the less tired your wrist will become; I'm sure your man will have no complaints if you're looking to get some practice in.
2. Take good care of your hands
Give your hands a bit of self-love.
Make sure you keep your nails short (you don't want to accidentally scratch him), always make sure you have clean hands, especially during intimacy and make sure to moisturize to ensure your hands feel lovely and smooth against his penis.
3. Allow time for build-up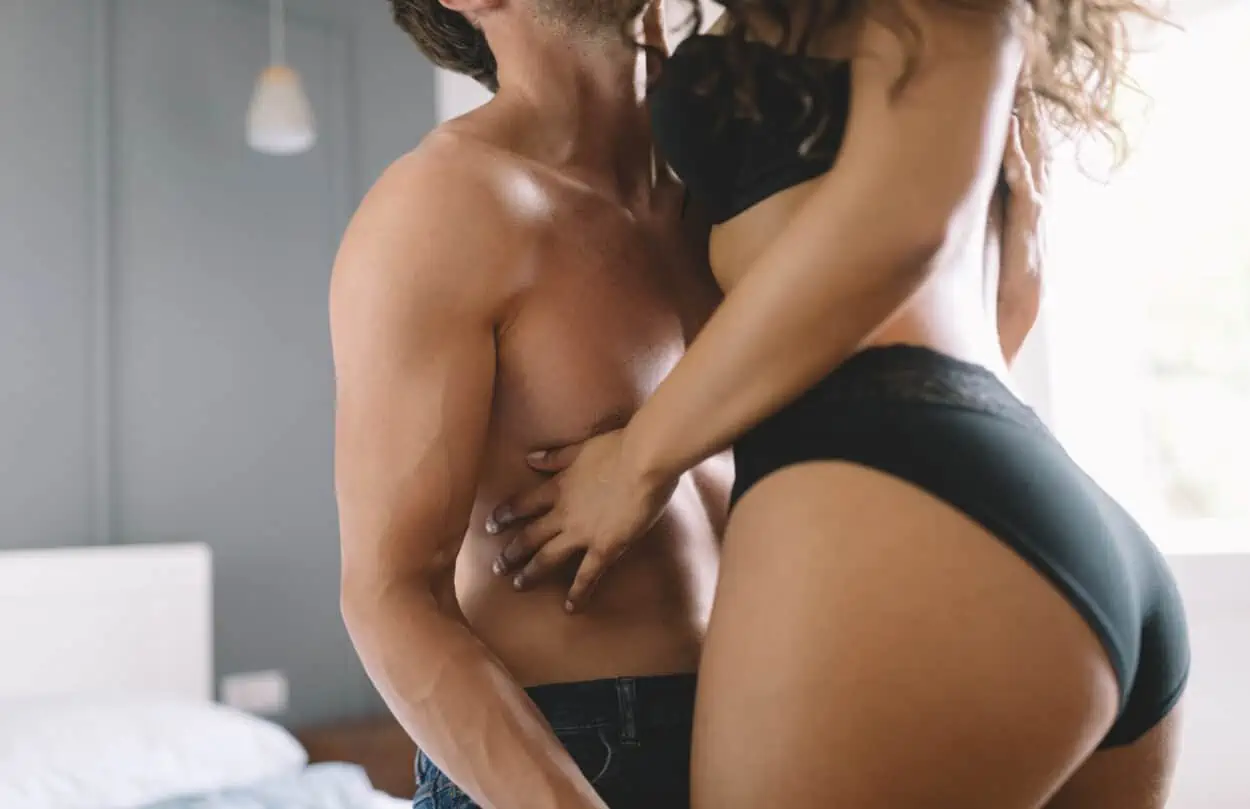 Foreplay before the foreplay.
Allow yourself the time to kiss, rub up on each other, gently caress his penis through his jeans and get him excited for what's to come.
4. Engage his erogenous zones
Giving a good hand job isn't always just about his penis. It's about the build-up and how turned on your partner is beforehand (literally).
Take your time to kiss him, touch his body, and spend time focusing on his erogenous zones such as his inner thighs, his scalp (rub your hands through his hair and gently tug), his ears, his neck; Anything that is going to induce sexual excitement.
5. Use lube
Using lube when giving your sexual partner a hand job is going to help in terms of ease of gliding.
For some men, a dry hand job can be painful as penis isn't self-lubricating like the vagina is, so adding lube to the mix is only going to improve the experience.
You can spice things up with flavored lube for that oral-hand job combination (we'll get to that later) or you can consider using warming lube (my favorite) or tingling lube to help mix up the sensations for your partner.
6. Use both hands
Using both hands can help with full coverage, and you can add more pressure to your partner's penis as you have two hands to do so.
It will provide him with full stimulation (the entire penis is an erogenous zone), it will feel tighter for him, and you may even find it easier as both hands will work together encouraging him to climax.
7. Ask him how he likes it
You should always feel comfortable enough to ask your partner what he likes in the bedroom. Likewise, you should be able to tell him if something isn't great.
I don't know about you, but I sometimes love a little debrief after sex, and it should be that way! You should be confident enough in your relationship to tell your partner that he's not very good at something in the bedroom, as long as you can guide him to getting it right, and vice versa.
Looking to spicen up your sex life and build your connection with him?
One of the best ways to increase your connection with your partner is to spice up your sex life. An awesome way to do this is to bring some excitement into the mix by using toys that will drive both of you crazy.

We've partnered with LoveHoney to give you exclusive access to some of the best toys on the market. Click here to check them out, completely anonymously of course! Your relationship will thank you for it.
Ask him what he likes, even ask him to show you or to explain why. It doesn't take away the 'sexiness' like you may think, instead, it shows your partner that you want to satisfy him to the max and in order for this to be achievable they need to help guide you.
8. Watch porn for some inspiration
I'm not a big fan of pornography, however, I will always acknowledge that it can be great for encouraging creativity in the bedroom as it can give you new ideas to try.
As long as you understand that porn sets unrealistic expectations, and you can't always expect everything you learn from porn to be as good as it looks on screen, then I see absolutely no harm in taking some ideas from porn and through trial and error, figure out what you're into.
If you're completely comfortable with your partner, I would even suggest trying this:
Explain to your partner that you want to get better at giving hand jobs. Choose a hand job porn video with him that you both like the look of, and imitate. Essentially, copy what you see on screen.
You both get the benefits of watching porn in a sexual setting so it should make you both turned on, but you also get to learn new hand job techniques and perform them on your partner as you're watching; pretty hot if you ask me.
9. Try mutual masturbation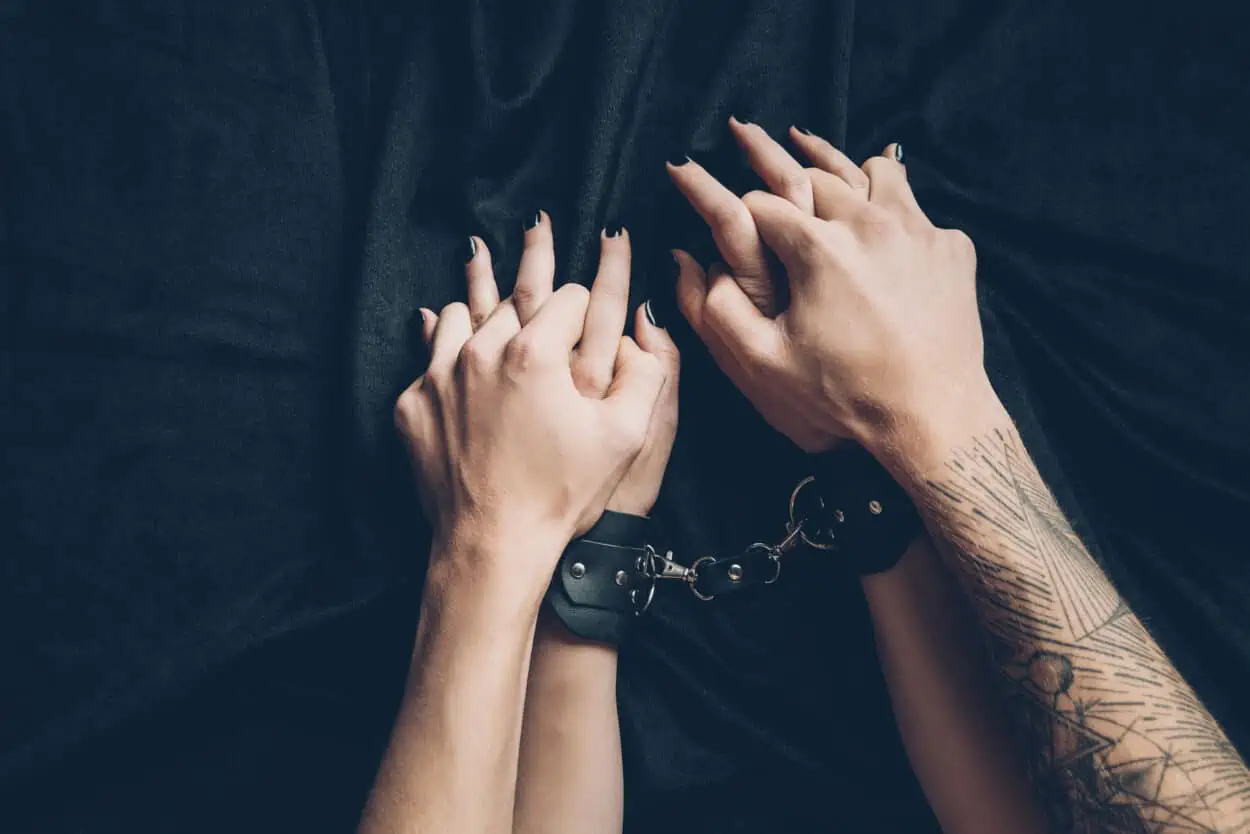 Mutual masturbation is one of my favorite things to do in the bedroom. You literally masturbate to your partner masturbating, how is that not sexy?
If you're wanting to improve at giving hand jobs, watch your partner to see how he touches himself. Learn his cues, see how he slows when he's too close to climax, watch how much pressure he applies, or when he gains speed. Essentially, learn from the master.
10. Don't be afraid to apply pressure
Nobody enjoys a weak hand job. You want to have a firm grip, but not too firm; it's about finding that balance. You can always ask him to show you how much pressure he likes, or you can mix it up throughout and see what he best responds to.
11. Pay attention to his balls
Never forget the balls.
Try gently sucking your partner's balls whilst you give him a hand job, or, use one hand to perform a hand job and use the other to gently massage his balls. Paying a little attention to your partner's balls can be a big turn-on for some guys.
The scrotum is very sensitive, and is essentially its own erogenous zone; engaging the balls will only add to the hand job. Always remember to handle it with care, it's important that you're gentle with his balls.
12. Pay attention to the tip
The head of the penis and the frenulum are the most sensitive parts of the penis. Gently rub your thumb over the tip of his penis, you can even do so in circular motions, just remember it can be very sensitive.
Don't spend too long on the tip of the penis. Focus mainly on the shaft, but keep bringing your attention back to the tip every now and again to maximize his pleasure.
13. Consider techniques
There are many different techniques for giving a hand job, here are some of the most common ones:
Stroke up and down - The simple full-handed grasping motion; simple but effective.
Traditional with a twist - Traditional stroking movement, only you twist to inflict more pleasure.
The base - Focus your attention towards a fast and firm hold on the base of his penis, every now and again gliding up his shaft, but always returning to the base.
The cross - This one is great for full coverage penetration. One hand lays flat against his entire shaft, whilst the other grips the front of his penis; moving both hands together you're stimulating the entirety of his penis.
The king - Keeping your palms flat, you will gently massage his penis moving your hands in opposite directions, slowly building your attention towards the tip of his penis.
Invite the boys - I'm sure you can guess this one… It's where you give the balls some lovin'.
The ring - Grasp your partner's penis with your finger and your thumb in a ring position, keep the grip firm and find a pace that works for you to rub him off.
Ultimately, you can get as creative as you like with it. It's mainly about figuring out what your partner is into and of course what is easier for you. There may be a technique that he's in love with but you can't quite get the grasp of it; it's better that you perfect other techniques first before failing and giving up on one particular technique.
14. Mix it up with a bit of oral
I know we're talking about how to give a good hand job, but, the best hand jobs include a bit of oral too.
Most men do prefer oral sex, it's wetter, it's warm, and it just has an entirely unique feel that can't be achieved through a hand job or penetrative sex.
Also, if you know you're a lot better at giving a blowjob over a handjob, then use this to your advantage and do both!
15. Masturbate whilst giving him a hand job
Show him you're having a good time by touching yourself at the thought of your touching him; it's totally sexy and not actually that hard to do.
Use your dominant hand (depending on if you're right or left-handed) to give your partner a hand job. As you can visibly see that he's getting close to climax, start touching yourself to really send him over the edge. Consider moaning, facial expressions, maintain eye contact, continue to kiss him, bite him; make it a whole experience.
16. Ask him to join you
If you're not completely confident in your ability to give your partner a good hand job, consider asking him to join you. If he grips his hand over the top of yours, you'll be able to learn the exact speed, pressure and technique that he's into.
17. Gradually build speed until climax
This tip seems a little obvious but I thought it important to mention anyway.
Have you ever had it when a guy goes down on you, you tell them you're about to cum and all of a sudden they get over excited, go too fast and any chance you had at reaching climax disappears, just like that?
For a woman, reaching climax and experiencing pleasure is all about consistency, whereas for a man gradually increasing speed and even pressure until climax is a good idea as it can intensify their orgasm.
18. Talk dirty
Take your sexual intimacy to the next level and talk dirty to him. Tell him how big he is, or how hard, tell him that you want him inside of you; whatever feels right in the moment, just don't be embarrassed.
19. Consider using sex toys
Using sex toys to enhance a hand job is never a bad idea. You could consider anal toys, a vibrating cock ring, or you could even perform a hand job on him using a fleshlight.
The purpose of adding sex toys to your sex life is because they provide stimulation that can't typically be achieved at the hand of you and your partner. So, why not take things to the next level and spice things up a bit?
20. Consider edging for the ultimate pleasure
Edging is a great way to practice restraint on your partner, and it can be very dominating.
Edging is where you will prolong pleasure by delaying climax. When you sense your partner is close, you stop what you're doing and perhaps move on to something still pleasurable but that's not going to induce orgasm.
Give him a couple of seconds to breathe, and return back to what you were doing, repeating the process until you've decided it's time for him to cum. It's super sexy, and can even help with duration problems in the bedroom.
FAQs
How long should a hand job last?
There is no set answer to this, it all depends on the quality of the hand job, how turned on your partner is, how long it's been, and how fast he typically cums.
If I had to give an answer I would say around 5-10 minutes, but again this is just generalizing. As long as you and your partner communicate with each other, and you both have a good time then there shouldn't be a problem. 
Is a hand job better than a blow job?
You could certainly argue the case for both, however, I think if you asked a majority of people they would choose a blowjob over a handjob. 
A lot of people don't bother to advance on their handjob technique, so it can feel pretty basic as far as sexual intimacy goes. You also have to remember, that realistically your man will have been giving himself hand jobs since he was approximately 13, so it makes sense that he'd lean towards a blowjob now he's got someone else to help him experience pleasure, right?
The two provide very different sensations. From experience, I believe if a man had to choose, he'd choose both at once. Ask your partner and see what he prefers.
What male sex toys can help to improve a hand job?
Firstly, a fleshlight replicates the sensation of penetrative sex but it is performed in a hand job-like motion. If you want to experiment with male toys this is probably one of the easiest to get the grasp of. 
You could also use a vibrating cock ring to add a slight pressure to the base of his penis and also to send vibrations down his shaft whilst you then perform a hand job or oral sex. This is the best male sex toy for adding to the sensations during a hand job. 
You could also consider anal sex toys to mix things up a little and cover all areas of pleasure for your partner. Start simple with a small vibrating butt plug and let him come to terms with the pleasure to be felt through his rectum.
Conclusion
There's no set way to give a good hand job, because everyone is different. Take the time to learn what it is that really gets your partner going, and what stimulation he prefers in order to give him an out-of-this-world hand job.
Remember, sexual intimacy is all about trial and error, so don't worry if you don't succeed straight away; sex should be fun! You shouldn't feel nervous, you should simply have a good time as you learn together.
Remember to pay attention to all areas of his penis, and his erogenous zones too. Take the time to build into it, and really be receptive to your partner's pleasure.
Communication is key in the bedroom! My number one advice in any sexual situation would be to talk to your partner about it. Ask him to guide you, and then once you're confident in one technique you'll feel more confident to go on to try different techniques.
We learn things sexually almost every single day, and our sexual partners should play a part in this. You should never feel embarrassed in the bedroom, it should feel like a safe space.
Likewise, we should be sharing tips and techniques with our girlfriends, helping to eradicate the stigma around sex; you never know who your advice is going to help out. So as always, share with a friend in need.
Want to add some excitement to your sex life and create a stronger connection with him?
One of the most effective ways to enhance your intimacy with your partner is by spicing up your sex life. Using toys can be an amazing way to bring some extra thrill to your love-making sessions.
At Hernorm, we've collaborated with LoveHoney to offer you access to some of the best toys in the market.
Check them out here
in complete anonymity. Your relationship will definitely benefit from it!