Great sex is all about experimentation, pushing ourselves to the limit, and, of course, experiencing the maximum amount of pleasure possible.
Bondage can certainly achieve all of the above, and much, much more!
We can often feel restricted sexually as we're too nervous to explain what we truly desire to our sex partner, mostly because we're embarrassed or scared of rejection.
And although we can play with some level of bondage when masturbating, it's never really the same. BDSM is all about power play, and to truly experience that you kind of need a partner, or several.
But the great thing about bondage is, it's one of those amazing things that you can gradually ease into. It's absolutely not something to be rushed, and you'll find that each time you experiment with BDSM play, you'll be left wanting more.
Where you might feel embarrassed to introduce a new toy, or to suggest watching a certain type or porn, exploring bondage play can be done in a way that's super easy for beginners, and it won't feel too drastic for you to be able to thoroughly enjoy it. However, I must warn you that once you enter the world of BDSM, you might never want to leave.
BDSM Life: Understanding If You're Ready for this
Bondage for beginners can be classed as soft play, but you'll soon learn that there's a whole world of BDSM, way more advanced than what you could possibly imagine; it can end up pretty hardcore. Some people consider BDSM a lifestyle as it can even change how you view yourself.
BDSM, or more specifically bondage play, can be a really great way to fulfill your wildest sexual desires; it may even open a few doors and introduce you to pleasure you've never even anticipated before.
The main thing about BDSM is power dynamics, and this is often interesting as it doesn't always reflect on the power dynamic in your relationship. For example, you might be typically more powerful in your relationship but you may have a dominant partner in the bedroom, making you the submissive.
In the bedroom, it's easier toforget about gender roles set up by society and to simply submit to your desires. It can help you to accept yourself, to be proudof yourself, and, most importantly, to enjoy yourself!
We know who we truly are when we engage in sexual activity as in that moment we tend to know exactly what we want, and bondage play is an exciting way to (gradually) test your limits.
However, it's important to acknowledge that although BDSM can give you an exciting adrenaline rush, it can also make you realize what you're not into; and this isn't always super fun.
You might discover that you're into pressure, but you will draw the line at pain. Some people may enjoy pain, but even they will have their boundaries.
This is why it's important to understand the full picture when it comes to BDSM, helping you to acknowledge when you've reached your limit, or even how to effectively communicate with your sexual partner so that you understand each other.
It also has many benefits, such as helping to reduce stress, contributing towards well-being and can even be a way of working through sexual trauma. If this is the case, really think about what it is you desire, and ensure that this isn't going to be triggering for you.
Everybody is different, so it's important that you fully understand yourself before you can help a partner understand too.
What Is Bondage and How to Start?
The best way to understand the world of BDSM is to learn an intro to bondage.
So, BDSM stands for bondage and discipline, dominance and submission, sadochism and masochism. You might think it's all about inflicting pain, but it's actually much more intimate than that.
Bondage is all about submitting to pleasure. Allowing yourself to feel pleasure at full control of another person. It's about teasing, enhancing the senses, engaging erogenous zones, pushing your limits and trusting your partner.
Or, as a dominant partner, it's about practicing control and taking on a dominant role that you may lack in day-to-day life. Power is sexy, and watching your partner squirm sexually while you take full control is an incomparable feeling. There are both pros and cons to dominance and submission, it will all depend on your preference and desires.
Bondage for beginners is all about starting small. Hardcore play can get, well, pretty hardcore. But, most couples who enjoy BDSM don't take it any further than the four walls of their bedroom, and they know how to communicate effectively.
Some even have their own sex room, a space dedicated to pleasure; a well known example of this is Christian Grey's red room in Fifty Shades of Grey. If you haven't read the book and you're interested in experimenting with BDSM, then this is an absolute must read!
Netflix also released a show in 2022, How to Build a Sex Room, where sexpert Melanie Rose helps couples to delve into their fantasies and helps them to create a perfect sex room for any type of sex play.
The best way to discover your desires regarding bondage and BDSM is to do your research, and to watch porn. Porn isn't the best for setting realistic standards, we know this, but it can be great for introducing you to new sexual fantasies, and can massively improve your sex life.
Looking to spicen up your sex life and build your connection with him?
One of the best ways to increase your connection with your partner is to spice up your sex life. An awesome way to do this is to bring some excitement into the mix by using toys that will drive both of you crazy.

We've partnered with LoveHoney to give you exclusive access to some of the best toys on the market. Click here to check them out, completely anonymously of course! Your relationship will thank you for it.
15 Types of Bondage for Beginners
Like with any sexual products, they will typically come in all forms ranging from beginner to advanced. Although the product might look the same and appear to have the same function, a lot of different qualities can contribute to what makes a certain product for those advanced in BDSM as opposed to those who are beginners.
For example, a silk spanking paddle will be much more suited to a beginner as opposed to a silicone spanking paddle, as the latter will inflict a lot more pain, and result in a much more intense feeling.
When trying out different types of bondage, remember to look into each form that the product comes in. That way, although you won't jump straight into advanced BDSM, you can get a slight feel for where your fantasies are taking you.
1. Blindfold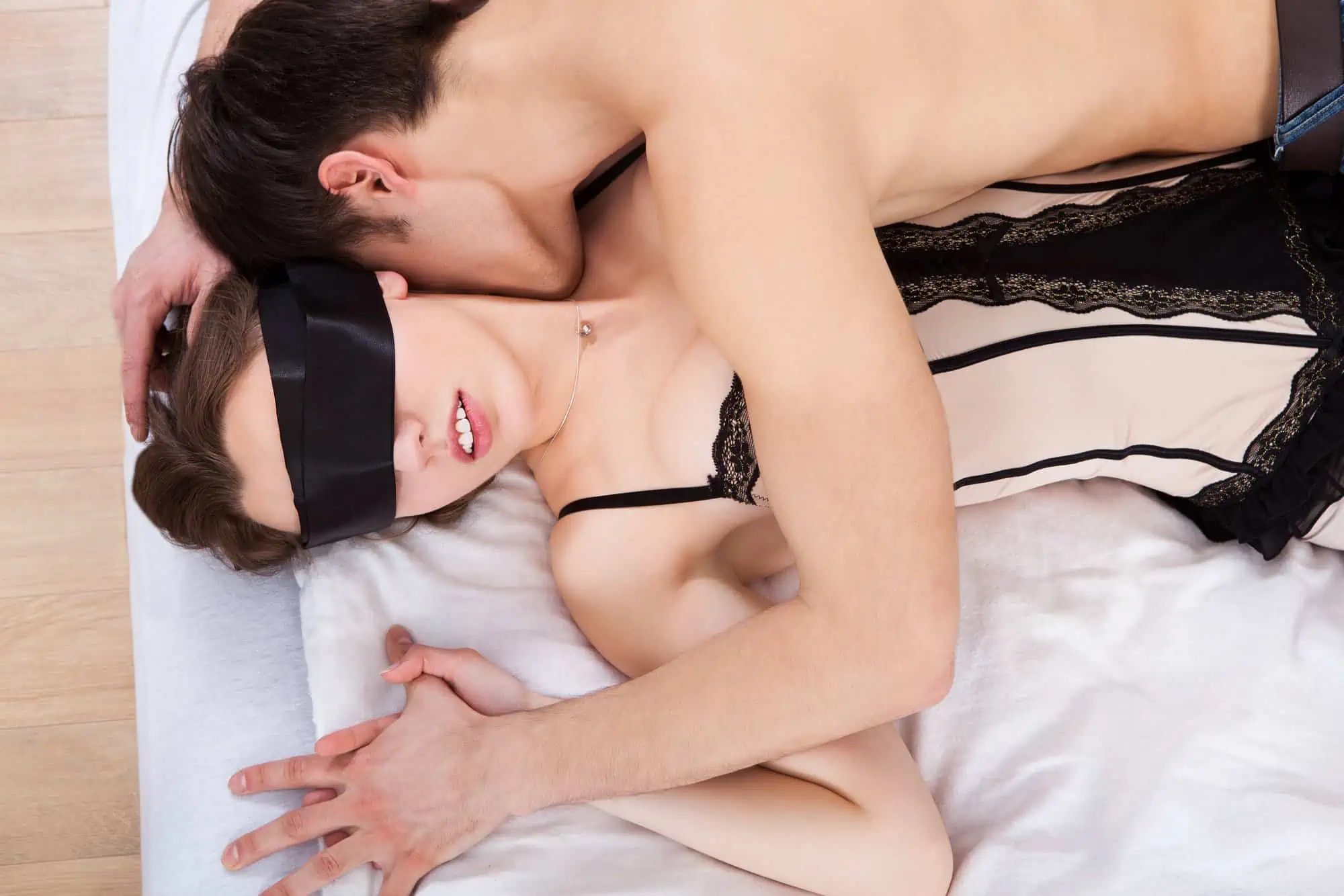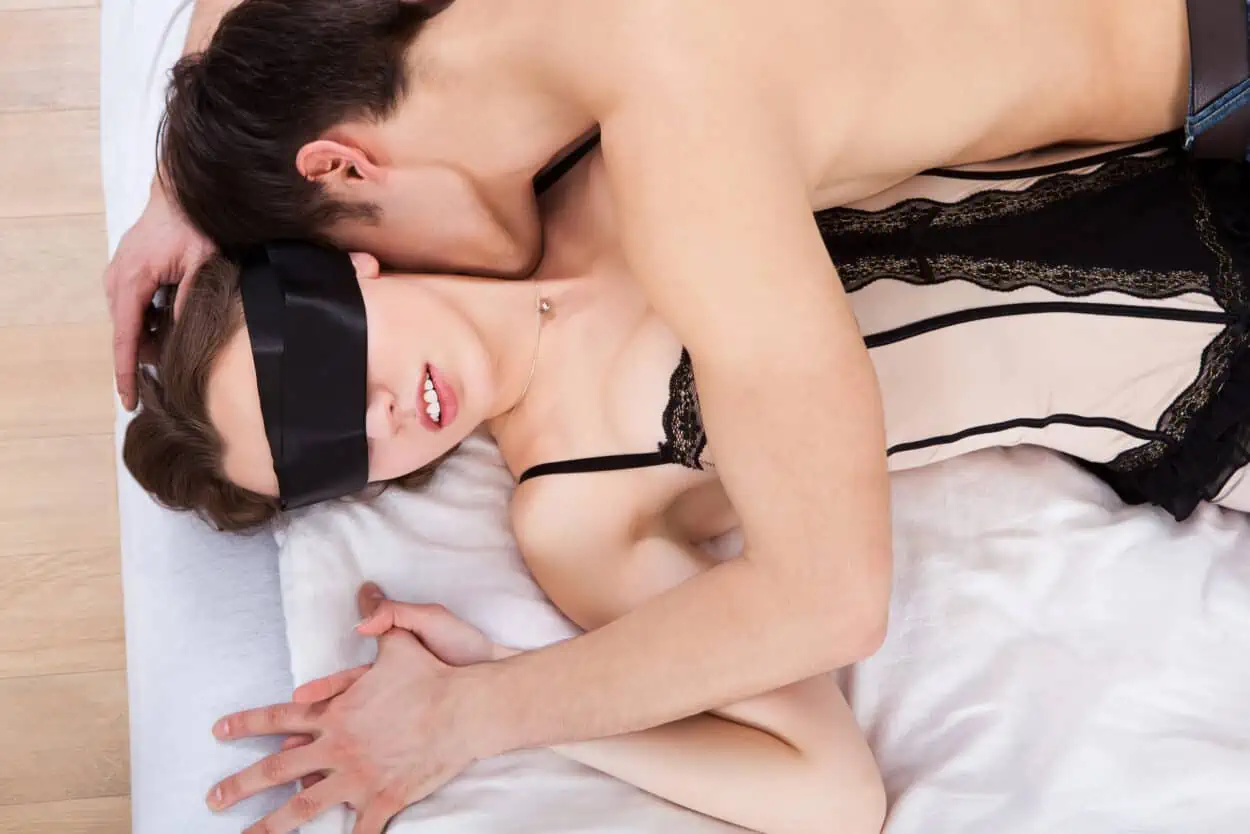 Blindfolds are great, and are one of the easiest ways to get introduced to bondage play.
Taking away one of the senses enhances the rest, and allows your partner to tease you as you never quite know their next move.
2. Handcuffs
Handcuffs are the definition of beginner bondage.
You're restrained without limiting yourself too much, so you can really get the feel if you're into bondage play.
You can purchase lots of different types of handcuffs ranging in material and quality.
However, if you don't want to spend money on something you're not sure you'll like, then there are plenty of easy ways to have your partner restrain your hands; ties, tights, long socks, different material, etc… You'll almost definitely find something in your house that you can make work.
However, if you're going for the bad cop type of role play, then I'd certainly suggest purchasing handcuffs to really experience the kink of it!
3. Ankle cuffs
Ankle cuffs work the same as handcuffs, but instead they restrain your legs.
This almost steps the game up a little, as you'll find that your partner can gain more control this way rather than with your hands being tied.
4. Bed restraints
Bed restraints come in all different forms, materials and sizes, so you'll never struggle to find one perfect for you.
One of the easier options that works for all beds are under the mattress restraints. You can adjust the size of the leads, place it underneath your mattress on your bed frame and you will have four restraints at each corner of the bed, ready for you whenever you're in the mood to get kinky with your partner.
You can also switch up what you choose to restrain. You might be pinned down by all four, or you may just be in the mood to have your legs or just your arms tied up. It's really up to you, or your dominant…
5. Over the door restraints
Over the door restraints are perfect for standing up penetrative sex. Where you would be pinned down on the bed with bed restraints, instead, your arms are pinned up against your head by your door.
6. Silk bondage
As a beginner, it's really important to consider material.
Silk is a pretty safe option, as it's silky smooth (obviously) but it also doesn't tie too tight.
7. Tape
Tape is certainly a more advanced option in the world of BDSM, as it can be slightly painful or uncomfortable.
If you enjoy the feeling of having a plaster ripped off, then this is probably for you.
When using tape in your bondage play, although it's one of the more painful options, it's important to remember that you will experience pain differently when it's during sexual practice.
Tape is one of the more restricting materials and has great durability if you're looking for a very long and pleasurable BDSM session.
Whenever you use tape in the bedroom make sure to use safety scissors, you wouldn't want an accident to happen when cutting your partner free; that will definitely put a damper on your sex life.
8. Rope
Rope has a rough texture and will add friction to your BDSM play. When you explore bondage, I would recommend trialing many different materials. Some people even use chains.
Now I'm not a knot specialist, and I was never a boy scout, but you can play with some pretty interesting knots and positions to be tied in when using rope. If you do decide to try rope bondage and love it, you should certainly research all of the creative knots to add to your BDSM activities.
9. Nipple clamps
Nipples are one of the mostsensitive of the erogenous zones, after the clitoris.
Nipple clamps will apply constant pressure to your nipples which can heighten your sensitivity and pleasure altogether, paired with other stimulation this will likely lead to a very intense orgasm.
You can even go one step further and try a clitoris clamp.
10. Whips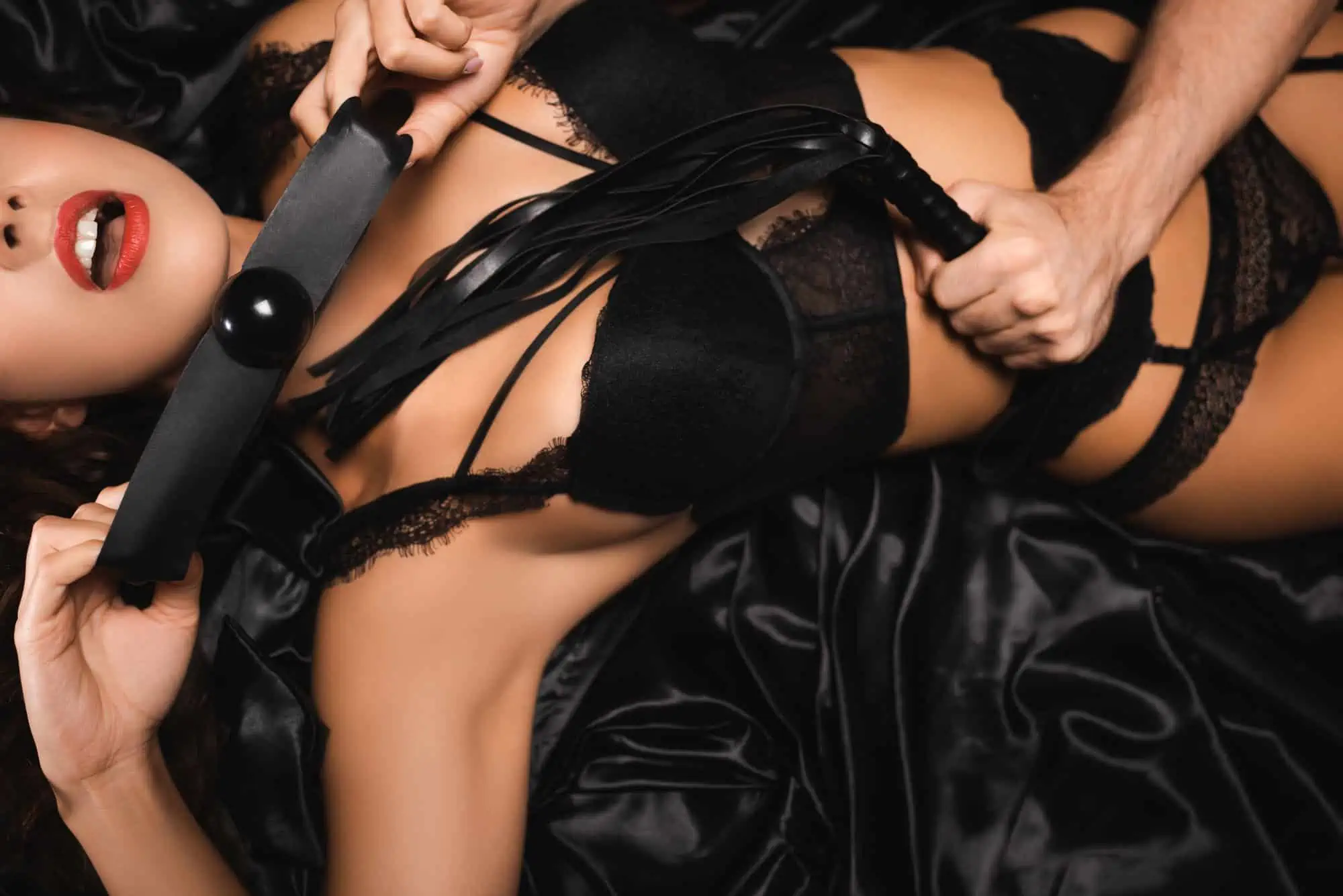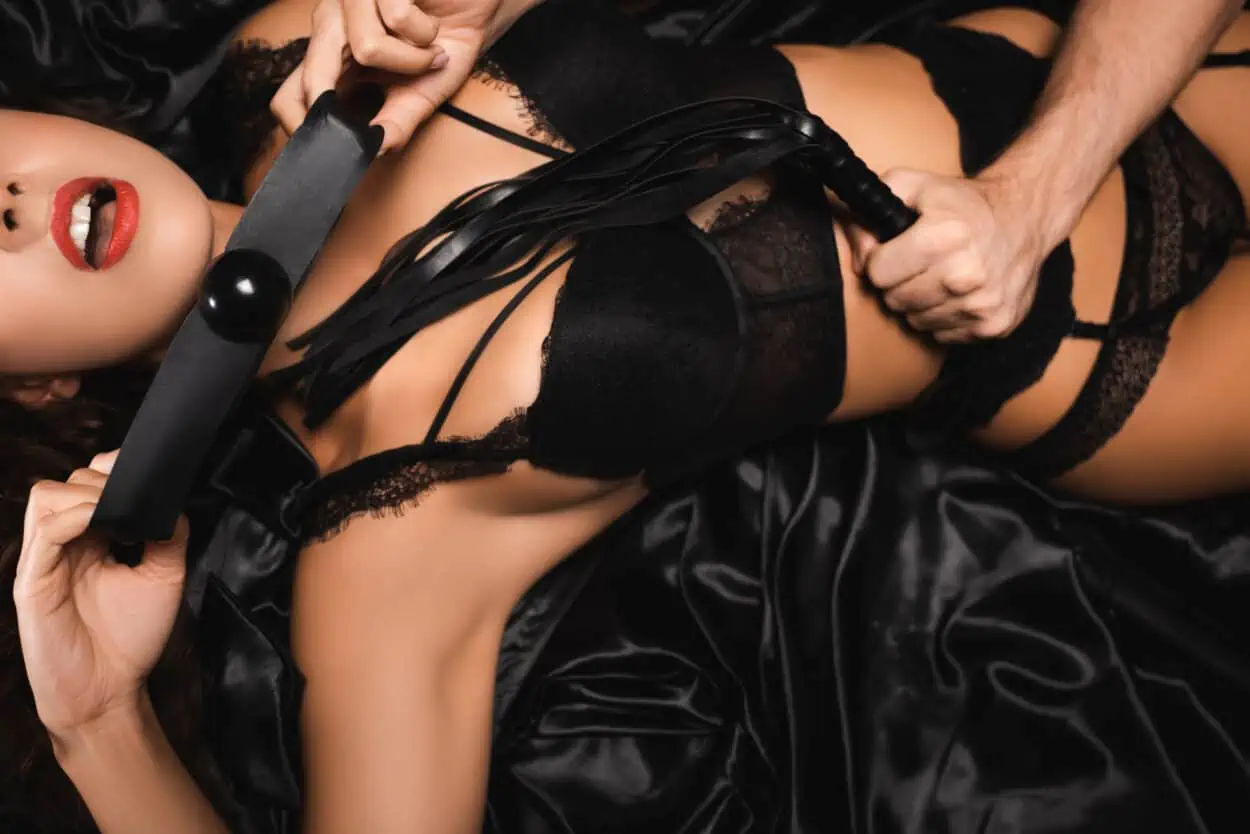 A common misconception about BDSM is that whips are used to consistently inflict pain. In fact, you can achieve a lot with a whip, especially if you include restraints too.
You can inflict pleasure, by slowly grazing the whip against your restrained partner, covering all erogenous zones, engaging the entire body and helping your partner submit to immense pleasure. Then, adding light strikes into the play will only enhance your partner's need for more.
You can really take your time with it, just as you would giving your partner an erotic massage, and work your way through their entire body.
If this is something you would enjoy as a submissive, then share this with your partner and allow them to really see what it is that you desire, and how they can help you to achieve it.
11. Floggers
Floggers can achieve a similar effect to whips, only it covers more area of the body at once.
As you advance, you can play with different sizes and materials.
12. Spanking paddle
If you love being spanked by your partner then this one is definitely for you.
Again, it's one of the easiest products for first-timers and you will find them in every sex shop.
It does exactly what it says in the name, it's a paddle to spank (or to be spanked).
13. Ball gag
Using a ball gag will introduce you to intermediate bondage play, however, you can buy them with breathing holes making the whole experience less intense and much safer.
14. Collar and lead
The collar and lead is the trope sex product of the dominant and submissive. The submissive partner would have the collar tied around their neck, while the dominant partner will control the lead.
This begins to delve into advanced play, but you can look into products that have the desired effect only they're safer and use softer materials for beginners bondage.
15. Sensation pinwheel
The sensation pinwheel, otherwise known as Wartenberg wheels, have little spikes that prick you when rolled on your skin.
As a beginner, you can purchase this sensory experimentation toy as a plastic version, resulting in less pain, but again giving you the desired effect.
That way, as you begin to advance, you'll know exactly what you're into and what you're not.
10 Bondage Tips and Positions for Beginners
1. Don't be afraid to experiment
There are plenty of opportunities to experiment and to try new things without breaking the bank. Try and use what you have at home first, in order to guide you when deciding what it is you're interested in further advancing on.
If you don't like something, you should be in a safe and trusting environment where it's easy to stop.
2. Have an honest conversation about your desires and fantasies
It's important that both you and your partner get to live out your wildest fantasies, so you have to be honest with each other about what it is you want to try, and more importantly, what it is you're willing to try.
Consent is key. If your partner suggests something that you're not entirely comfortable with, then it's a no go (and vice versa).
3. Choose your partner wisely
It's crucial that you trust your partner, BDSM won't work with just any sexual encounter; safety is an absolute priority.
4. Communicate effectively
If something feels amazing, or if something doesn't, it's important that you communicate effectively.
You and your partner might think you know each other inside out (literally) when it comes to sexual pleasure but when experimenting with new things you'll find yourself surprised to learn new ways that you can inflict and enjoy pain, pressure, and pleasure.
We are constantly changing and constantly learning new things about ourselves sexually. Help your partner to understand this too. Your sex life should constantly improve!
5. Use safe words
When safe words are uttered you should stop play immediately.
It doesn't matter what the words are, as long as they are clear and you both thoroughly understand what to do if either one of you decides to use them.
Have a conversation beforehand to ensure that you're both exactly on the same page about this; it will only make your BDSM play safer and better, knowing that regardless of the power exchange, you can stop with ease. This is why it's crucial that you feel comfortable with your sexual partner.
6. Consider different sex positions
Changing up your sex position can do so much as far as pleasure goes. Think about your intended bondage play, and the best position to be in to help you to reach the ultimate pleasure.
7. Make time for BDSM
Some bondage play can be achieved when having quick sex, but really if you're taking the time to advance in your sex lives then you should dedicate time to go the whole way.
Give yourself enough time to enjoy your BDSM session; this also gives you both something to look forward to.
8. Switch power dynamics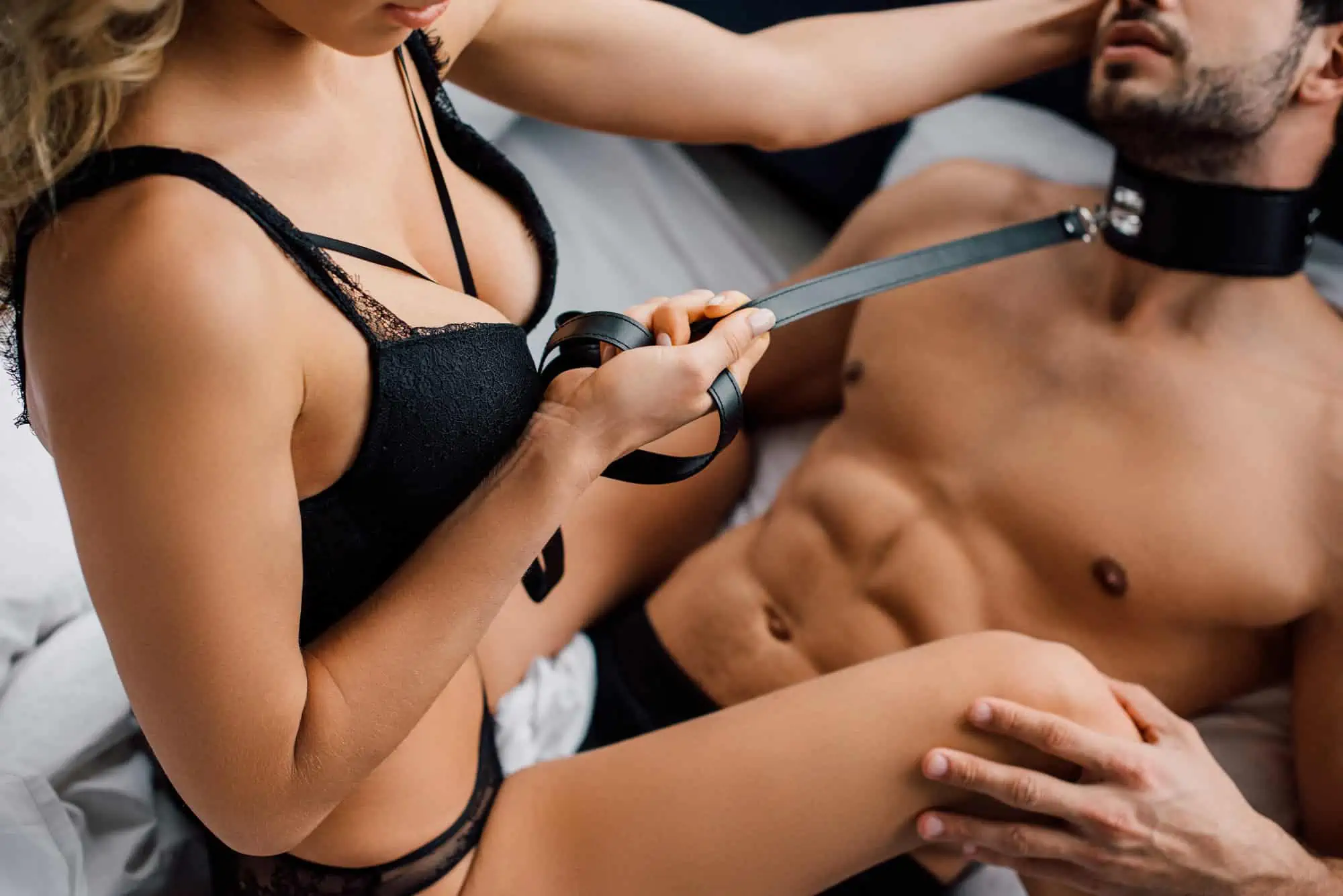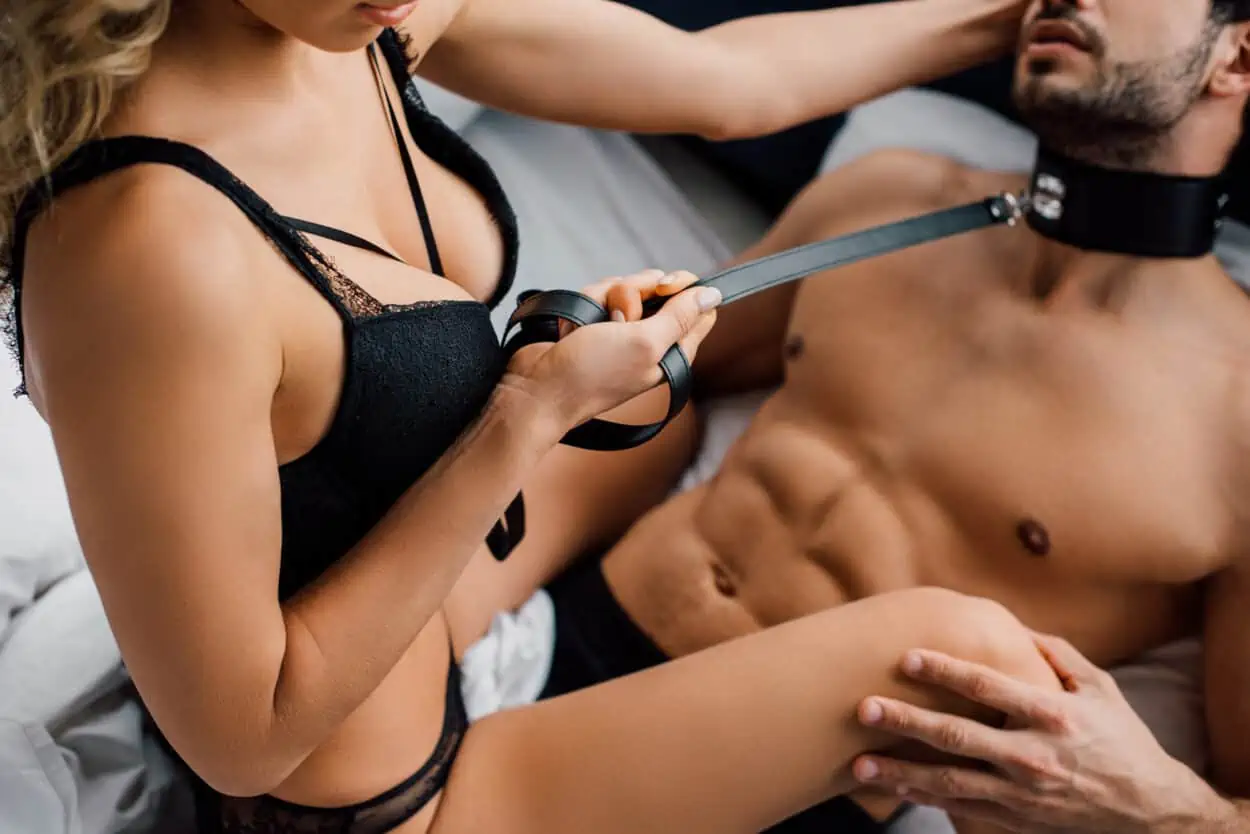 Try both dominant and submissive roles, you may prefer one over the other, or you may even be a switch.
9. Think about temperature play
Bondage isn't just about whips and handcuffs, you can include all sorts of play into your BDSM session to enhance it.
A great thing to try when restrained is temperature play, more specifically, the use of ice cubes. Your partner can guide cold ice over your body, engaging your erogenous zones and truly spicing up your session.
10. Consider how you can incorporate sex toys
For me, sex is always better with sex toys.
You can achieve the perfect stimulation or penetration while simultaneously having sex with your partner. Think about how you can incorporate sex toys into your bondage session, and allow your partner to have full control over how they use them on you.
FAQs
How to get into bondage?
Getting into bondage isn't as hard as you would think. Walking into any sex shop and having a conversation with the people who work there will instantly help you out. Likewise, you can research bondage products on the internet and watch porn to get a feel of what it is that you might be into.
Why do people like BDSM?
BDSM is all about power play, and practicing discipline. This might be an escape from real life, or it could be as simple as what turns you on.
BDSM is generally pretty popular because people are always interested in spicing up their sex lives by living out our erotic fantasies.
How can I practice safe BDSM?
It's crucial that you and your partner thoroughly understand each other. BDSM will not be safe unless you feel completely comfortable with this person, and you're both completely willing.
Using safe words will help guarantee that you are safe. As a beginner, it may even be a good idea to not jump straight into anything too hardcore and really take your time to experience soft play bondage. That way, your safety is never at risk, and you will eventually feel more comfortable to advance.
Conclusion
Bondage is super accessible for beginners, and there are plenty of different options to choose from when it comes to experimenting.
It's important to consider materials and size when choosing bondage products as these factors often contribute towards how advanced the product is.
However, there are lots of ways you can experiment with bondage play at home, without having to spend a penny. Have a think about what it is specifically that you desire, be honest with your partner and come up with a way to achieve your sexual goals.
A common form of BDSM is role play, and is a great way to get into the bondage vibe and to see how you like it.
Remember, safety and consent is key, so take all the necessary precautions and make sure that you and your sexual partner thoroughly understand each other.
If you have any further bondage tips for beginners, please feel free to comment. As always, share with a friend in need of spicing up their sex life!
Want to add some excitement to your sex life and create a stronger connection with him?
One of the most effective ways to enhance your intimacy with your partner is by spicing up your sex life. Using toys can be an amazing way to bring some extra thrill to your love-making sessions.
At Hernorm, we've collaborated with LoveHoney to offer you access to some of the best toys in the market.
Check them out here
in complete anonymity. Your relationship will definitely benefit from it!