It is hard to know where to go on a first date and it is often difficult to pick something that you know you will both enjoy. There is no need to worry as most people are unsure when it comes to picking a first date. It can often be awkward if you make the wrong decision or pick the first date that both of you don't enjoy.
Dinner dates or a drink are not always the best option, especially if you find talking to someone you don't really know well somewhat difficult. It may be an idea to pick a more casual and relaxed setting so that you both feel comfortable and at ease. Choose an activity that does not put pressure on the ability to keep a constant conversation going.
Picking a first date idea can be stressful as you want to ensure that you make a good impression. Should you just go for drinks with your date in a bar or should you go for something more exciting? Perhaps you should surprise your date with something unexpected. Keep reading for some of the most perfect first date ideas to ensure that it runs smoothly.
First Date Ideas
If you are a very confident and talkative person dinner or drinks may be a good idea, however, if you are not a big talker and you often find initial meetings a bit awkward, it may be better to come up with a more creative date idea. It is also important to consider whether a noisy and loud bar is the best place to share a conversation and really get to know a new person.
Instead, it may be better to plan a first date that suits your passions and interests better. This way, your date will be able to learn more about you in a setting that you are completely comfortable in. Consider going on to a class with your date or going for a workout at your local gym. It is important to consider a first date idea that is a little bit different if you want to impress.
If you really want to impress this person, you may have to put a little bit of extra thought into planning your first date. You want to come up with an idea that suits you both but is a little different from what everybody else may be doing. However, there is no need to worry as this list will provide you with the perfect list of first date ideas.
1. Go on a walk together
Going for a walk with your date can be a really good idea, as if the conversation gets somewhat awkward, you will always have the scenery as a sort of distraction. If things do go well you can try and find a place to share a picnic with your date. Bring a bottle of wine and a basket of food, play some music, and enjoy each other's company.
Listening to music together is also a great way to get to know someone new. You can learn a lot about a person by the music that they like to listen to. Go on a walk together to your local park, to the beach, or through a forest and you will have a peaceful and relaxing place to start to get to know one another.
Going on a walk with your date is great for nature lovers. If you are feeling extra adventurous, consider hiking up a mountain. Pack a picnic and some drinks and head into the wilderness with them. If things go well you could plan a camping trip for your second date and spend more time with each other in the great outdoors.
2. Take a class together
Another good date idea could be to take a class together. Learning something new together can be a great way to really get to know someone. Take a cookery or language class together as a romantic and unusual dating option. Some popular schools offer three to four-hour classes together at night time.
Some companies may even offer specialized date classes for two people that are getting to know each other. Some other options may include taking a dance class together. This is a great way to bond and learn more about each other while learning something new at the same time. You can combine learning a new skill with learning more about one another.
Consider the things that you have always told yourself you would do but you have never got round to actually doing. This could be the best time to go to a language class, enjoy a pottery class, or take a cooking class. This is a great way to show your interesting personality and let your date know about all of your varied interests and passions.
3. Go to a wildlife sanctuary
If you are looking for an unusual date idea consider going to a wildlife sanctuary which is a great way to get to know each other while sharing your love for animals. If you both love animals and your first date goes really well you could consider volunteering with each other at a local animal shelter. This is a great way to share a date with a fellow animal lover.
While you may not like to go to a zoo, a wildlife sanctuary is the best location for the first date for animal lovers. Learn more about your favorite animals as well as your date. You could pack a picnic and make a day of it. Planning a more unusual date such as this is a nice break from the usual and boring option of dinner and drinks.
This is an especially good option if you sometimes find initial meetings and conversation difficult. The relaxed atmosphere will remove any awkwardness that often comes with first dates. The animals will provide you with a talking point and will serve to break the ice between you and your date if it is awkward at first.
4. Go for lunch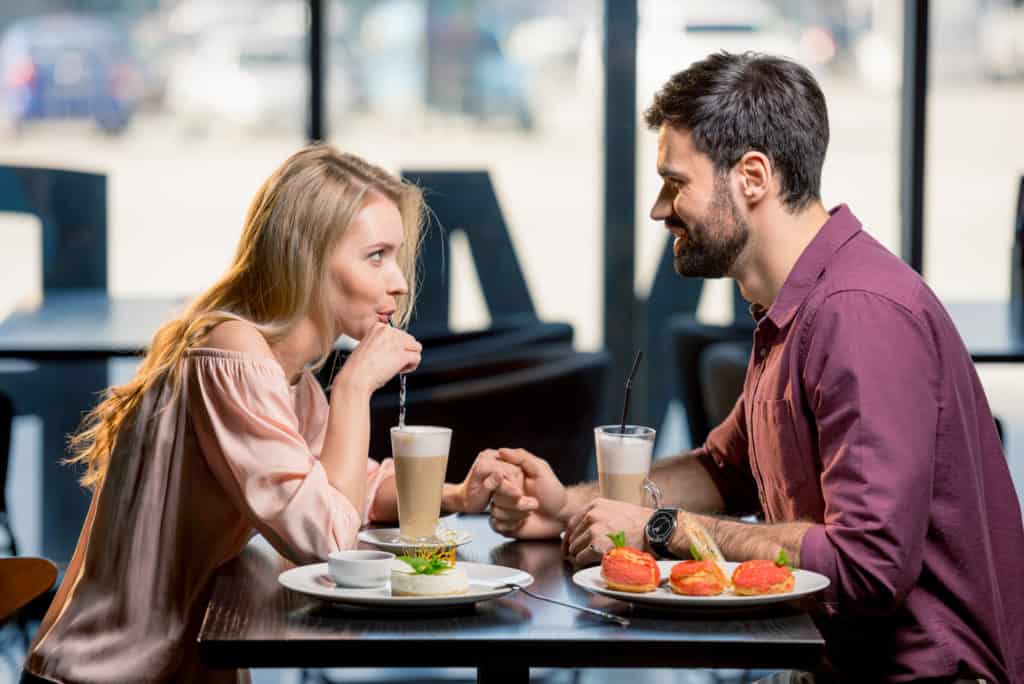 If you want a simple date idea and a nice place for a chat, pick a cute lunch spot. Choose a quiet place where you both feel comfortable and discuss your lives and shared interests. While this may seem like a somewhat boring option, it is great for foodies. Either show your date your favorite restaurant in town or try somewhere new with them for the first time.
You could also pack a picnic basket and impress your date with your cooking skills. If you know that your date loves cooking too, offer to pack the savory food items while they can provide the dessert and drinks or the other way around. In this way, you can savor each other's culinary abilities and discuss your recipes with each other.
If you decide to go to a restaurant or cafe for lunch as your first date spot, try to make sure that you pick somewhere with a relaxed and casual atmosphere but that is also quiet enough to share a conversation. There is nothing worse than getting on really well with someone but not being able to hear them because of the noisy setting you are in.
5. Go to a bowling alley
Going to a bowling alley may be one of the most perfect date ideas. It is an especially good date idea if you are competitive and you are looking for a fun date idea. You can show off how good you are at bowling but also learn a lot about your date in between each bowl. Make a night of it and order some food for you to share while you are at the alley.
This is a great option if you have never been bowling before or if you are a bowling pro as it allows players of all levels to have fun with each other. Bowling alleys often feature a food option so you can combine sharing some food and drinks with your date while enjoying a game of bowling.
If you share mutual friends with your date, a bowling alley could be a great place for a double date or simply offer a place for you to learn more about your date in a more relaxed atmosphere that lacks the pressure of a dinner date. Even if you have never tried bowling before, this is a date that ensures fun and a good time.
6. Workout together
Working out together is a perfect way to bond with your date, especially if you are both fitness fanatics. Pick a yoga class, Zumba class, or go to the gym together. The chemicals released in the body when working out will make sure that you are both in a good mood throughout your date. This is a great way to share your interests in fitness and have fun with each other.
If you both love fitness, working out with your date is the best way to break the ice and share your interests. It is known that doing something that you love will put you in a better mood, making it easier for you to relax and really bond with your date. Why go to a restaurant if you never feel comfortable in that kind of setting? Go for a run with them instead.
If you know that you both love to play a certain sport whether it is golf, football, or tennis, combine this into your first date. Doing something that you both love will almost certainly ensure that your date gets off to a great start. If you want a more relaxed setting than a restaurant, simply take your date to the gym instead.
Use this tool to check whether he actually is who he says he is
Whether you're married or have just started seeing someone, infidelity rates are on the rise and have increased over 40% in the last 20 years, so you have all the right to be worried.
Perhaps you want to know if he's texting other women behind your back? Or whether he has active Tinder or dating profile? Or worse yet, whether he has a criminal record or is cheating on you?
This tool will do just that and pull up any hidden social media and dating profiles, photos, criminal records, and much more to hopefully help put your doubts to rest.
7. Play crazy golf
Playing crazy golf with your date is a perfect ice breaker and will ensure that things get off to a good start. While you may not have played a round of crazy golf for a few years, it is something that is always fun for every age. Try not to get too competitive but have fun getting to know each other at the same time.
8. Listen to music
Listening to music with your date is a great way to get to know one another better. Consider visiting your local park and catching a musical performance there. These types of experience-based date ideas are great as it provides something for you to talk about and really bond over. Pick a beautiful summer evening and listen to some music with a bottle of bubbly.
What could be better than to sit in a park on a warm sunny evening and listen to music while sharing a bottle of wine? Check out your local events guide and look out for the next jazz night or open-air concert. Experiencing live music is a perfect way to bond with your date and really get to know them and have fun.
The casual atmosphere that a music event provides will allow you to relax and converse with your date in a way that makes you feel more comfortable than the setting of a crowded pub or restaurant might.
9. Pick a new place for dinner
When thinking of ideas for a date consider picking a new place that you have never visited before for dinner. Rather than choosing to go on a regular date at a restaurant choose a type of cuisine that you have never tried before and enjoy discovering something new with your date. This is a great way to bond and have fun with one another.
This is a great way to switch up a regular date and do something a little bit different for a change. Rather than deciding to go to your usual favorite restaurant, discover something new. Pick a neighborhood or street and try a few different places. Go somewhere for drinks and a starter and pick other places for dessert and dinner too.
By trying new and different pubs and restaurants, it will create a more relaxed and fun atmosphere for you to be able to enjoy your date without the usual awkwardness that comes with sitting at one table for hours. This also allows you to add on an extra place for more drinks at the end, if the date is going well.
10. Go to an arcade or sports pub
If you and your date are both into sports and playing games consider going to an arcade or sports pub for your first date. For those that love sports, a sports pub is the perfect place to enjoy your first date as you can watch your favorite teams play on a big screen while you get to learn more about each other. 
This location will help you to break the ice and will give you something to talk about immediately as you enter the pub. Talk about your favorite sports, what you love to play yourself, and who your favorite teams are. This is a great way to bond with a fellow sports fan in a relaxed atmosphere.
If neither of you is interested in sports, consider an arcade instead. Here you can enjoy a game of table tennis or shuffleboard. You can also play some of the fun and classic arcade games. This is a great, fun but relaxed option for a first date. Enjoy some food and drinks afterward if things are going well between you.
11. Visit a park or garden
If you are trying to come up with first date ideas, consider going to a park or botanical garden with each other. This is an especially good option if you are both keen gardeners or flower lovers. Being outdoors in nature relaxes you, so going for a date in a park or botanical garden is a perfectly relaxing and pleasurable experience.
This is a great way to share your love of nature, plants, and the great outdoors with your date. It also offers a really relaxed and peaceful conversation to share a deep conversation if things are going really well between you. You could even pack a picnic and sit on the grass and enjoy it in the sun.
Visit an indoor botanical garden, a city garden, or just your local park and connect with nature and share your knowledge of flora and fauna. It is also a great place to take some pretty pictures that you can later share with your friends.
12. Go for a bike ride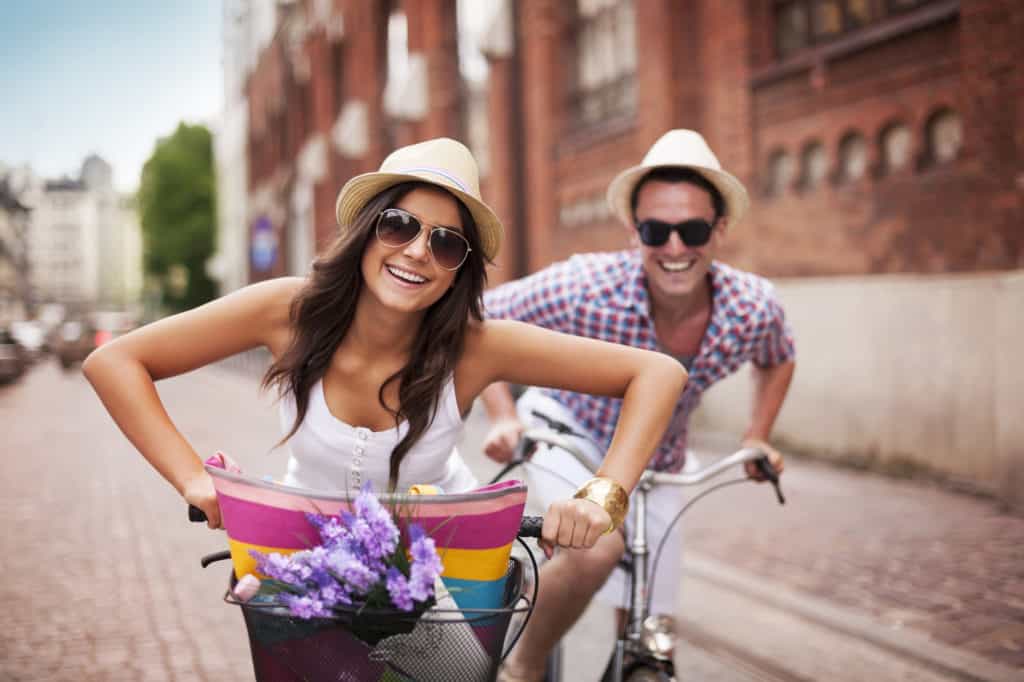 Rent a pair of bikes and explore your local park or your city with your crush. Pick a sunny evening or afternoon and stop at different places such as a park or cafe. Go for a bike ride and then take them to a coffee shop afterward for a nice refreshment. This is also a good idea if you are not sure how it is going to go and you want something a bit more casual.
This is a dating idea that offers a more casual option if you are worried about the potential for awkwardness. You will be able to tell how the conversation is going and whether you would like to see this person in the future and get to learn more about them on another date. If it doesn't go so well, it is easy to call it off early.
You also can't go wrong with cycling to a pub garden to enjoy the last of the evening sun after your bike ride. Pick a pub next to a river for extra bonus points. If you want to see this person again afterward you can suggest going for dinner in the same pub next time. Keep it casual for the first meeting and see how it goes afterward.
13. Go to the cinema
If you are both film lovers, going to the cinema could be the one idea that will really get you talking to each other. Plan to go for drinks or dinner after the movie is finished so that you can talk about it with each other and share your opinions on it. You could also go to a pub before the movie starts to get the conversation flowing beforehand too.
However, there is no point in going to the cinema if you don't both really want to see the film that is showing. Talk to your partner beforehand and ask for their input on the movie that you are going to see even if it is something that you want to watch, don't assume that they do too.
14. Go for breakfast
If you are looking for date ideas that are somewhat unusual, consider going for breakfast with them. This allows you to decide how it goes over breakfast and see whether you want to make a day of it and spend the rest of the day with that person. Enjoy your breakfast and if you want to leave it at that then say your goodbyes.
If it goes really well during breakfast, there is also the possibility of continuing your time with each other for the rest of the day. You can then stay with this person until the evening even if you hadn't planned to beforehand.
15. Peruse a bookstore
If you are both literature enthusiasts, consider starting your first meeting at a bookstore. This is one of the best ideas for a first meeting if you both share these interests and like whiling away your hours in a bookstore. If it goes well and you are getting on, you could continue the meeting and go for a coffee or an ice cream or grab lunch with them afterward.
You can discuss your favorite books over a freshly brewed coffee afterward. This is a great means to bond over your shared interests.
FAQs
To Sum Up…
Picking a first date idea is not always easy but it is usually a good idea to think outside of the box and choose a date night idea that is different from normal. You will likely impress your partner by picking an idea that is different from what they may expect. Choose an idea that suits you both and really expresses you as a person.
Let us know what you thought in the comments and don't forget to share this article!
Utilize this tool to verify if he's truly who he claims to be
Whether you're married or just started dating someone, infidelity rates have risen by over 40% in the past 20 years, so your concerns are justified.
Do you want to find out if he's texting other women behind your back? Or if he has an active Tinder or dating profile? Or even worse, if he has a criminal record or is cheating on you?
This tool can help by uncovering hidden social media and dating profiles, photos, criminal records, and much more, potentially putting your doubts to rest.