Orgasm statistics gathered from PleasureBetter tell us that "81.6% of women don't orgasm from intercourse alone (without additional clit stimulation). Only 18.4% of women report that intercourse alone is sufficient to orgasm."
Although it's nice to be reassured that most of us are in the same boat with this, it's also kind of disappointing. I mean; why is it that it's so easy (generally speaking) for men to reach climax?
You could argue that women's orgasms are better as they can be more intense and last longer, averaging from 20 seconds plus. But, it would be nice to have more frequent orgasms on offer, don't you think?
This is why it's so important that we get cunnilingus right. If clitoral stimulation is what tends to get most of us going, then it's pretty important that our partners know how to perform oral sex on us. 
If you've never had good oral sex, it's probably because your partner isn't doing it right… and that's okay! You just need to know how to guide them to do better, because it's not easy and they won't really know how to improve their oral sex skills unless you tell them that you're not enjoying it in the first place. 
What Is Cunnilingus?
Oxford Reference defines it as "Sexual activity in which a woman's genitalia are stimulated by her partner's tongue and lips. Also called cunnilinctus or cunnilinctio."
There are many many slang terms for this, none of them sound at all as appealing as it actually is. Medically speaking it would simply be described as performing oral sex.
How to Prepare for Cunnilingus?
At the end of the day, sex is all about learning. You should never feel embarrassed to tell your sexual partner how to help you reach an orgasm. Even if your partner is an oral sex god, we are constantly improving in the bedroom and should always be open to receiving advice on how to make your partner orgasm.
But there are also a couple of things to consider before jumping straight into performing cunnilingus.
1. Hygiene
It may seem obvious, but it's always a good idea to have a wash before having oral sex performed on you. It will help to eliminate any insecurities and make the experience better as a whole. 
There's nothing worse than worrying about the smell of your vagina when you're about to get intimate with your sexual partner. 
With that being said, it's important to acknowledge that all healthy vaginas have a mild odor; it's completely normal. You will typically know if the scent is stronger than it should be and this could be due to a couple of things.
You should stop using soap when washing your vagina as this can mess with the acidity in your vagina. The vagina cleans itself and has a lot of good bacteria, using soap can affect this and even result in infections such as thrush and bacterial vaginosis; an infection known for causing strong odor.
Avoid soaps and only wash with water.
2. Talk about your sexual history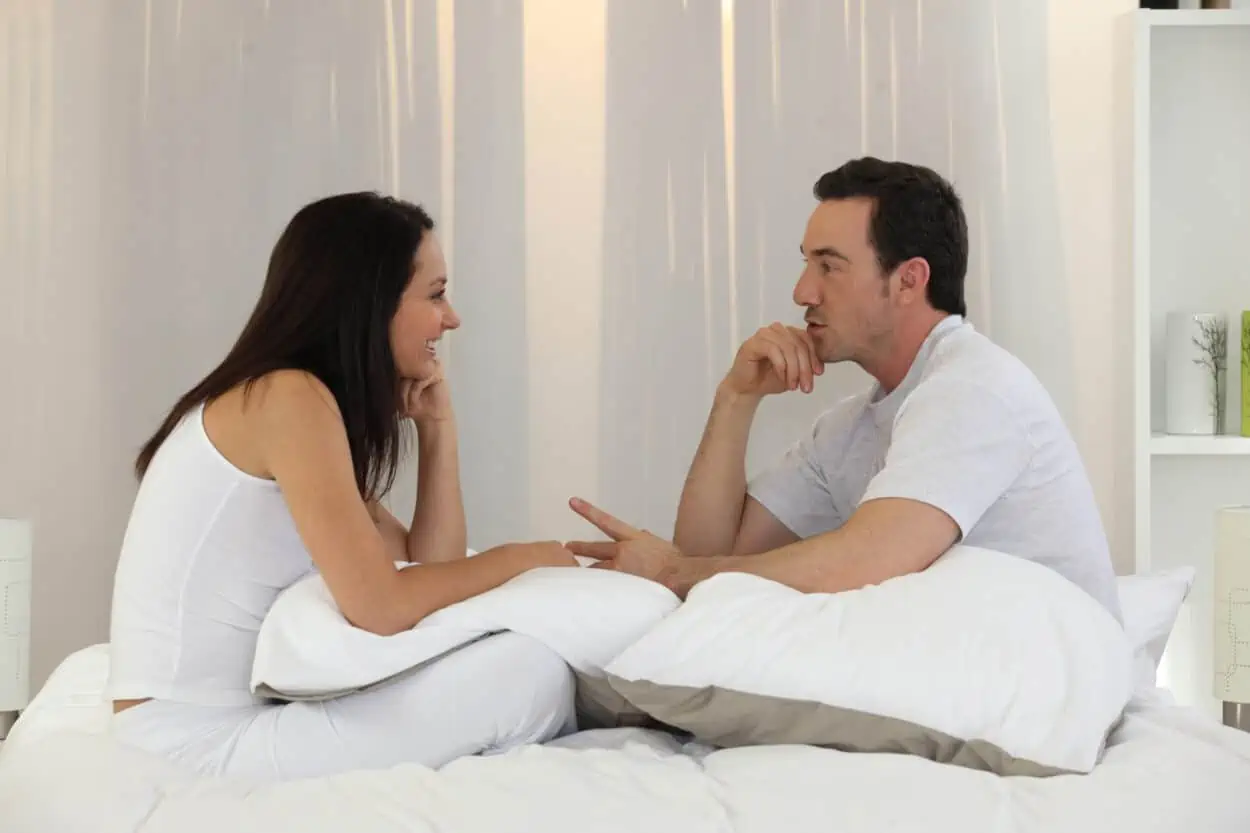 Sexually transmitted infections are no joke; so it's important that you're both honest about your sexual history when engaging in any sexual activity.
According to the NHS website, STIs commonly caught through oral sex are:
Protecting against STI's during penetrative sex and performing oral sex on a male is made simple by the use of condoms, however, there are also ways to protect against STI's when performing oral sex on a woman.
Using a dental dam is one of the most popular and effective. According to the Centers for Disease Control and Prevention, a dental dam is a "latex or polyurethane sheet used between the mouth and vagina or anus during oral sex."
Talk about what you like and what you don't
If you're having sex with a new partner, or there's something you're holding back from your current partner, share your thoughts! Talk about what you like and what you don't.
3. Be honest about your sexual experience
According to PleasureBetter, "5-10% of women have never orgasmed."
It is not something to be embarrassed about, and it's not something that should intimidate your partner either. It's simply good to be known.
Some people see this as a challenge, and want to be the one to finally give you an orgasm.
Sex, including oral sex, is not always about reaching an orgasm. Actually, the stress of trying to reach an orgasm is what's most likely holding you back. Simply enjoy your time together, enjoy the prolonged pleasure, and make sure that you and your sexual partner communicate throughout.
Looking to spicen up your sex life and build your connection with him?
One of the best ways to increase your connection with your partner is to spice up your sex life. An awesome way to do this is to bring some excitement into the mix by using toys that will drive both of you crazy.

We've partnered with LoveHoney to give you exclusive access to some of the best toys on the market. Click here to check them out, completely anonymously of course! Your relationship will thank you for it.
Female pleasure can be complicated, and, of course, every woman is different. If you've never received oral sex before, let them know. That way, you both have a clear understanding that you're both learning together. 
4. Know that there will be a taste
All healthy vaginas have a taste, the same way they have a mild odor.
The taste will not always be the same, as it changes throughout the menstrual cycle and can even be affected by your diet. Just know, if this is your first time performing or receiving oral sex, do not be concerned, and certainly do not feel self-conscious.
You will know if something is wrong, such as an infection, because you will most likely have other signs such as redness, irritation, and a change in discharge. As long as you have a wash beforehand, and don't notice anything majorly different, you're good to go.
Vaginas are amazing and any sexual partner you have is lucky to get intimate with you, remember that.
How to Perform Cunnilingus – 15 Cunnilingus Tips to Pleasure a Woman
If you and your sexual partner are either trying cunnilingus for the first time or feel as though this is something you need to work on, then there are many different tips and techniques to performing good oral sex.
As no two women are the same, neither are there right or wrong answers. Sex is all about trial and error. You experiment, try new techniques and you learn all the time.
But the best way to learn how to pleasure a woman, is to listen to her! And if she's not telling you directly what she wants, then ask. That way, you'll both end up more sexually satisfied each time you spend intimate time together.
1. Get to know the anatomy of the vagina
The vagina is pretty complicated. For starters, it's not even called a vagina, it's actually called a vulva. The vagina essentially starts from the vaginal opening, this allows for penetration and, of course, is where women give birth.
To put it simply, anything that is visual on the exterior is known as the vulva; this includes the clitoris and labia.
More importantly than educating yourself on the anatomy of the vagina… take a closer look at your partner's vagina (with consent of course). Have her talk you through it. It might seem a little awkward, but why should it be? Especially when you're about to spend quite a lot of time down there.
This is actually a really good exercise for bonding, trust, and it's always a good thing to educate yourself on your partner's body.
2. Find a comfortable position
Typically, the most comfortable and easiest way to perform cunnilingus is in the missionary position, but that's not to say it's the most pleasurable. 
Through trial and error, find what works for you.
Most women thoroughly enjoy straddling their partner's face, this way you have a little more control over their tongue penetration; it's also very sexy and is guaranteed to turn your partner on.
3. Compliment her vagina
A lot of women feel conscious about their vagina. Of course, no woman should ever feel self-conscious about her body, but that's not to say it's not very common.
If your partner is insecure, she's going to be too distracted to enjoy herself, trust me.
Hype her up and tell her that you think her labia is sexy. Tell her you love her pubic hair. Tell her she tastes good!
It's incredibly arousing for both partners and it could also help you pluck up the courage for some dirty talk – never a bad thing, if you ask me.
4. Allow time for build-up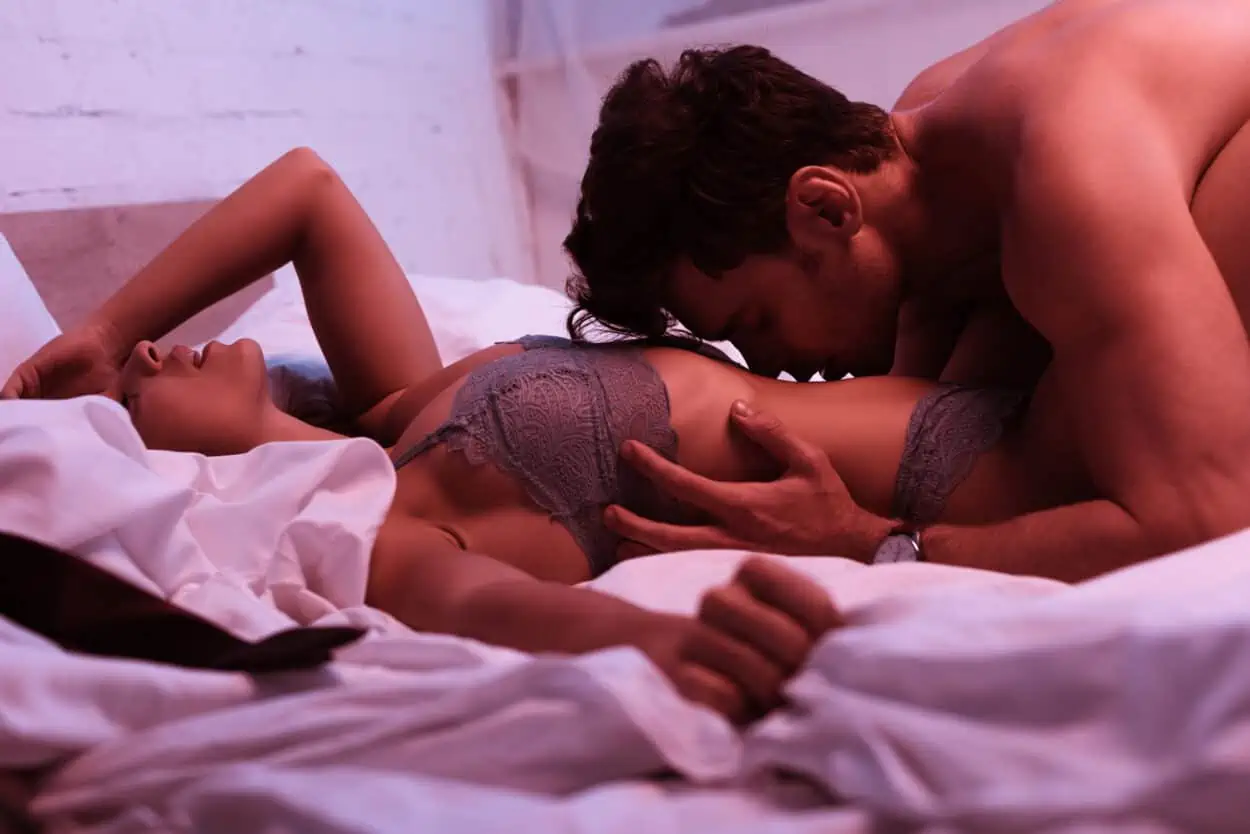 Many women take a little bit of time to feel completely aroused, so allow time for building anticipation. Foreplay is important.
5. Pay attention to her inner thighs
Before you even get to the vagina, pay attention to the rest of her body, building up to her inner thighs. This is the point right before you're going to go in with direct contact on the vagina, so take your time and really excite her for what's to come.
Apply gentle kisses, maybe even a few little bites and squeezes, and even some licking. It's not a race, and you have a beautiful body in front of you so take your time to really appreciate it.
6. Start slowly
Don't jump in with direct stimulation on your partner's clitoris.
According to Oregon Health and Science University, "More than 10,000 nerve fibers enable the pleasurable sensations created by the human clitoris." So naturally, going straight in can feel very intense and sometimes even painful.
You have a whole vulva to play with. A good place to start is the clitoral hood, this way you're applying the right kind of stimulation, only it's not as intense. Start slowly in pacing and gradually make your way to the clitoris.
7. Pay attention to her labia
Lightly sucking the labia can feel amazing, and is a perfect way to show her that she has nothing to be self-conscious about. It's also a good idea to take a little break from the clitoral area every now and again as prolonged pleasure will result in a stronger orgasm.
8. Read her body language
You can typically tell if a woman is having a good time by reading her body language.
For example, if she's pulling your hair and moaning, she's obviously pretty into it.
If she's raising her pelvis or fidgeting, she's trying to guide you to the right spot.
If you're really struggling to gauge her body language, there is absolutely no harm in asking if she's enjoying herself.
9. Listen to her
Only your partner will know exactly how you can give her mind-blowing orgasms, so listen to her advice. You should never feel embarrassed about receiving criticism, because you're both learning and working towards having better sex.
10. Find a rhythm, and keep at it
Try different techniques, and find the one that works the best.
Some techniques are working around the clitoris in a circular motion, using tongue flicks and writing the alphabet with your tongue… There are honestly so many different techniques to try.
Once you find the one that seems to be working the best, find a rhythm and stick with it. This is where most people go wrong. You can feel your partner is starting to enjoy herself a lot more, you get excited and suddenly start to go too quickly; this becomes painful and has the opposite of your desired effect.
Instead, stay in the same rhythm. When you can sense she is about to climax, then you want to apply a little more pressure and increase speed. The only other time you should increase speed is if she tells you to.
11. Include penetrative stimulation
If you really want to rock her world, then you want to include penetration as well as clitoral stimulation. The easiest way to do so is to use one or two fingers and penetrate her g-spot whilst continuing to perform oral sex.
This increases pleasure, and will ultimately result in a super intense orgasm. You can also use a sex toy to achieve a deeper penetration.
12. Don't be afraid to use sex toys
On that note, don't be afraid to use sex toys, it doesn't make you any less capable of giving your partner pleasure.
There is a sex toy for pretty much everything, and this only adds to the party and allows you to have more fun. It's also super exciting to spice things up.
13. Show her that it's turning you on
This should be something that you both enjoy, it can often feel quite mechanical as though you're performing a task.
Showing her that you're turned on will in turn make her more turned on. There's nothing sexier than having your partner moan while they perform cunnilingus.
14. Don't be afraid to edge her
Edging is all about restraint, discipline, and building up to an insane orgasm.
Edging is stopping stimulation when your partner is about to climax. It might seem impractical, but it actually prolongs the pleasure, and results in a big and better finale.
The key to edging is to get your timing right, and to not leave the clitoris unstimulated for too long.
15. It doesn't always have to end in orgasm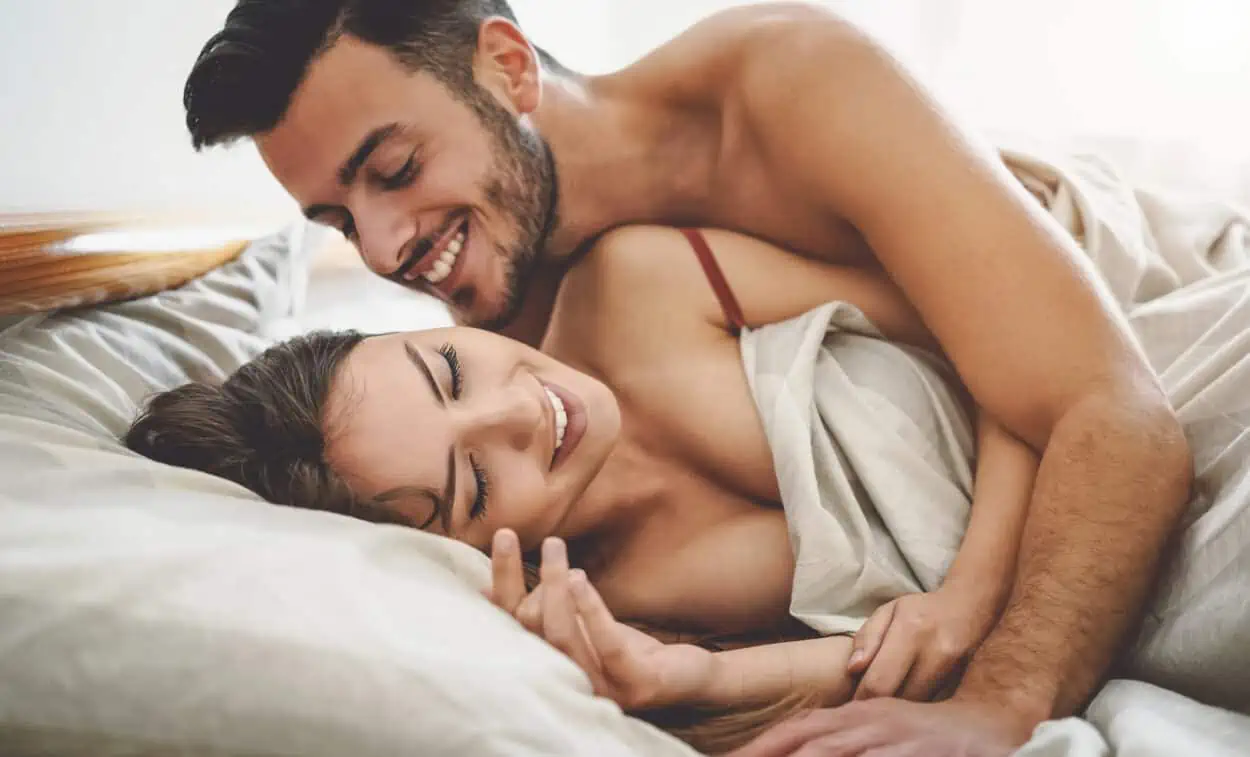 Another statistic from PleasureBetter tells us "Women who receive oral in most sexual encounters are 23% more likely to orgasm during sex than women who never receive oral."
As much as we know orgasms are more likely to happen from clitoral stimulation, that isn't always the case.
It's also important to understand that if you and your partner are learning, it could take some time before you're successful. This is why it's super important that you enjoy the journey. Taking away the pressure of wanting to orgasm might just be what you need in order to actually achieve it.
Sex should be fun. Guide your partner so you can feel as much pleasure as possible and simply enjoy getting intimate together.
FAQs
Conclusion
There are so many different tips and techniques to perform cunnilingus, but what's important is that you both have fun together.
As long as you listen to your partner, look out for her body language and even ask her when you're unsure, then you're on the right track. If you're struggling to guide your partner, take the time to have an honest conversation about what is needed to give you more pleasure.
Remember, more than one technique will work, and it's all about trial and error.
Most of the time, what stops us from experiencing pleasure and reaching an orgasm is down to our mentality. This is why it's so important that you trust your partner and don't feel conscious about your genitals. You want to feel comfortable, confident, and sexy while your partner goes down on you. 
This confidence will allow you to guide them. You also want to spend a lot of time on the build-up; the foreplay before the foreplay. The clitoris is extremely sensitive and can often need some time before applying direct stimulation.
If you have any further tips for performing cunnilingus, or any stories from your own experience then please feel free to comment. As always, share with a friend in need, you never know how much it might help them to have a better sex life. 
Want to add some excitement to your sex life and create a stronger connection with him?
One of the most effective ways to enhance your intimacy with your partner is by spicing up your sex life. Using toys can be an amazing way to bring some extra thrill to your love-making sessions.
At Hernorm, we've collaborated with LoveHoney to offer you access to some of the best toys in the market.
Check them out here
in complete anonymity. Your relationship will definitely benefit from it!