A third date is serious business.
This is when for many it's finally socially acceptable for the two of you to finally get nasty in the bedroom. If you were tempted already on your second date there must be an instant sense of relief now that your third date is finally here. 
When you agree to a third date, it means that you're close to heading into relationship territory.
The two of you are more likely to wind up in an exclusive relationship than you were on your first or second date. That's why it's important to keep making an awesome impression on the third date. 
79 Fun Third Date Ideas
By now, you've already had plenty of conversations. You should know what the other person likes, so you won't have a hard time seeing an idea and thinking of them. There are plenty of great third-date ideas that can give you the bonding experience that you want to have, too. These are some fun and creative ways to spend your third date.
1. Head to a science museum
A science museum is wonderful if you want to cater to your nerdy side, or theirs. We all have one! Learn cool facts about science or enjoy your own science experiments if you can find a hands-on museum.
2. Movie night
If you've already been on two amazing dates, there's nothing wrong with a Netflix and chill date for the third. Order some take-out and watch your favorite movie. If you're planning on having some fun in the bedroom to complete your third date experience, this is going to set the mood perfectly.
3. Go to the movies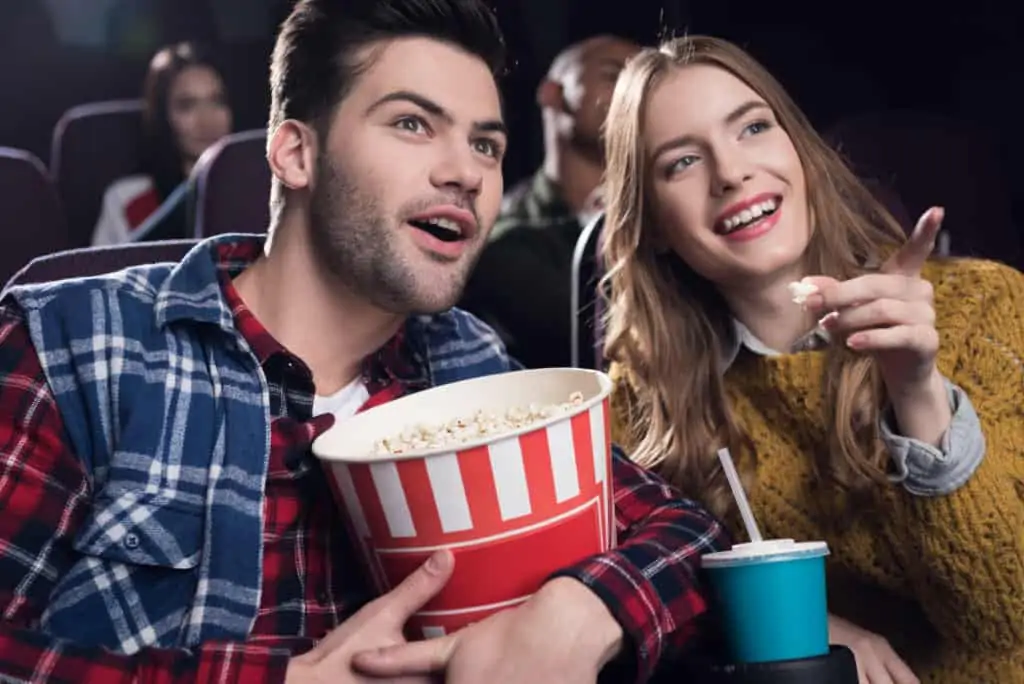 Going on a movie date will never get old. It's a great first date plan, third date idea and it can make a great date night when you've been together for years. A movie date is a great backup plan when you don't know what else to do with your date, too.
4. Wine tasting
Wine tasting is a fun way to spend the afternoon. These only last a couple of hours and the two of you can have a blast. Learning what type of wine your future partner likes is always a good idea. If you want to surprise them with a romantic date later down the road, you'll already know what kind to buy.
5. Take a class together
Learning something new is a fun way to spend time together. You can take an art class or pottery class. This will give you something to remember the third date by too!
6. Ice skating
Even if you don't know how to ice skate, it's never too late to learn! Most places that offer ice skating also offer lessons. You can both try it together to see if you would like to finish learning to ice skate. People that already know how to skate or rollerblade usually pick up on this activity quickly.
7. Order a new food
Pick a restaurant that neither of you has ever tried. Then, order some food from a restaurant and take it with you to watch the sunset. You can also enjoy some take-out while you watch your favorite movie on Netflix. Eating is always a great thing to do before an activity!
8. Visit a comedy club
A comedy club is a great date idea if you want to enjoy a couple of drinks and get in a few good laughs. The stand-up comedians usually aren't bad. If you aren't a fan of the locals, check out your favorite comedian to see if they're coming to your city soon. Then, order tickets online.
9. Go hiking
If you're interested in getting to know them a little bit better, consider a third date idea that gives the two of you more alone time. Hiking is a great activity. The two of you can enjoy the beautiful scenery while you talk amongst each other.
10. Learn a new dance
Have you ever been salsa dancing? It's an amazing combination of both fun and romantic. If you know how to salsa dance, you can teach your partner. If not, consider taking a salsa dancing class together. This activity will never get old!
11. Take a cooking class
A cooking class is a bit of a cliche third date idea, but this is one of the cutest ones. You'll get to know your partner a bit better if the two of you try to master a complicated recipe together.
12. Brewery tour
If the two of you like to drink, you'll love taking a tour of a nearby brewery. Even if you don't, you can still learn about how local beer is made. Simply decline the free samples at the end.
13. Rock climbing
If the two of you like to get active, rock climbing is a great idea. During the colder months, you can go indoor rock climbing. This is not one of the greatest date ideas if you still want to get to know the person more. You'll both be apart from one another trying to reach the top of the wall. That leaves less time for intimate conversations.
14. Horseback riding
Horseback riding can be both romantic and relaxing. You and your partner can both take horses out on the trails. Make sure to pack a picnic lunch so that the two of you can enjoy time together after you're done riding the horses.
15. Take your date to a concert
Live music is always fun! It's even better if the two of you have the same tastes in music. You can sit back away from the stage and order food for a more intimate time. If you're into live music, don't miss out on this great date idea. It will work for any date, from a first to a third date.
16. Ask them for help with a DIY project
This is one of the best creative third-date ideas. Pick a fun project, and ask them to come to do it with you. Keep in mind I'm referring to planting flowers or making paintings together. Do not ask him to help you lay down a new kitchen floor for your third date.
17. Head to the mall
This sounds a bit like it's for teenagers, but there's nothing wrong with doing this as an adult. Heading to the mall has an old-school feel to it that gives it instant appeal as a date idea. Take pictures together at the photo booth. Grab some food from the food court. You can save the pictures from the photo booth as one of your keepsake items too!
18. Escape room
Escape rooms are not as popular as they used to be, but there are still plenty of them around! You get locked in a room with each other, and everything that you need to get out of the room. Going to an escape room together will give you a chance to see how much patience they have too!
19. Go to a food festival
These are fun, and they're budget-friendly. You can sample food for free, or try some new food at an affordable price. This gives you both the chance to get to know each other better because there is plenty of time to talk, and you can also try new things together.
Use this tool to check whether he actually is who he says he is
Whether you're married or have just started seeing someone, infidelity rates are on the rise and have increased over 40% in the last 20 years, so you have all the right to be worried.
Perhaps you want to know if he's texting other women behind your back? Or whether he has active Tinder or dating profile? Or worse yet, whether he has a criminal record or is cheating on you?
This tool will do just that and pull up any hidden social media and dating profiles, photos, criminal records, and much more to hopefully help put your doubts to rest.
20. Play video games together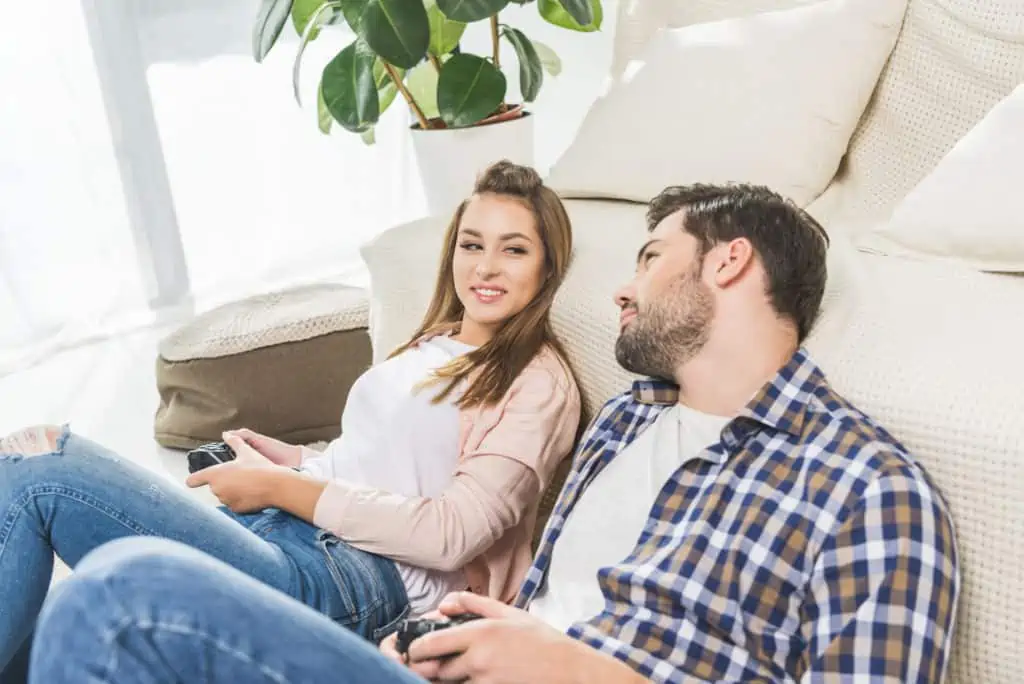 If you both like video games, there's nothing wrong with enjoying them together. Go old school and beat each other in Mortal Combat. Enjoy decorating a house in Sims together. Make sure that you both enjoy the game, pick up some snacks and settle down on the couch.
21. A cozy night in
This can be whatever you want it to be. Enjoy a movie night. Play some board games. Put your phones away for a night and pretend that there's no electricity so that you can focus on each other. Light some candles and enjoy each other's company for an evening.
22. Volunteer at an animal shelter
It doesn't matter whether you're the girl or guy in this situation, this third date idea is a huge win. If you're a guy, it shows your kind, sensitive side. If you're a girl, you get to play with cute puppies, which we all love! Usually, an animal shelter will let you volunteer for a day. They always need extra people to shower the dogs and cats with love and affection.
23. Karaoke bar
Show off your singing skills with this epic third-date idea. If the two of you like to have a few drinks, you can head off to your favorite bar on karaoke night. Then, sing the night away. 
24. Mini golf
If you're enjoying a group outing for your third date, this is a great way to make sure that your friends love your new guy. Mini golf gives you the chance to include everyone.
25. Bowling
This date idea is a bit cliche, but it's a fun third date idea. The atmosphere is casual, and you can get playfully competitive with one another. When your wrist gets sore, take a break and grab some pizza.
26. Comedy show
When you're not a fan of the drinking that goes on in bars, you can opt for a comedy show instead! You get the same awesome stand-up comedians without the drinking. Most places serve appetizers during the show, too.
27. Go to an arcade
This has a classic feel that instantly makes it a fun date idea. You can play two-player games, like shooting games. Two-player games that involve a little bit of friendly competition are the best for a third date. If there's a claw machine, you can bet that he's going to try to win you a prize.
28. Home-cooked dinner
The third date is a great time to break out this date idea. It's one of the date ideas that let him know that you really like him, and are considering him as relationship material. It slowly crosses the boundary into a new level of intimacy.
You can go over to his place or he can come to yours. One of you can cook dinner, or the two of you can come up with a cute dinner idea together. If you're the one cooking dinner, make sure that you find out what his favorite dish is so that you can make it for him.
29. Paint together
You can paint ceramic statues or pick up some canvas to make your own paintings. Splatter painting can get a bit messy, so you'll need a drop cloth. However, this is one of the most basic forms of painting that requires no talent. It makes it one of the best creative third-date ideas.
30. Yoga
Doing things like yoga together isn't ideal a first or second date idea. You're not talking to each other, so you don't really get to know each other. For a third date, it's one of the perfect date ideas. You really start to mesh with one another, and this can help you decide if you could do regular things with this person, like yoga. 
31. Skiing
If both of you love to hit the slopes, it's time to get on your gear and head to your favorite spot! Enjoy flying down the trails. Have races. Then, finish the day off by getting warm by a cozy fire.
32. Go for a drive and listen to music
This is another transitional idea, which makes it one of the perfect third-date ideas. You're showing each other that you don't always have to do something. Instead, you can simply enjoy each other's company. If you like the same music, turn it up and enjoy a relaxing drive together.
33. Pack a picnic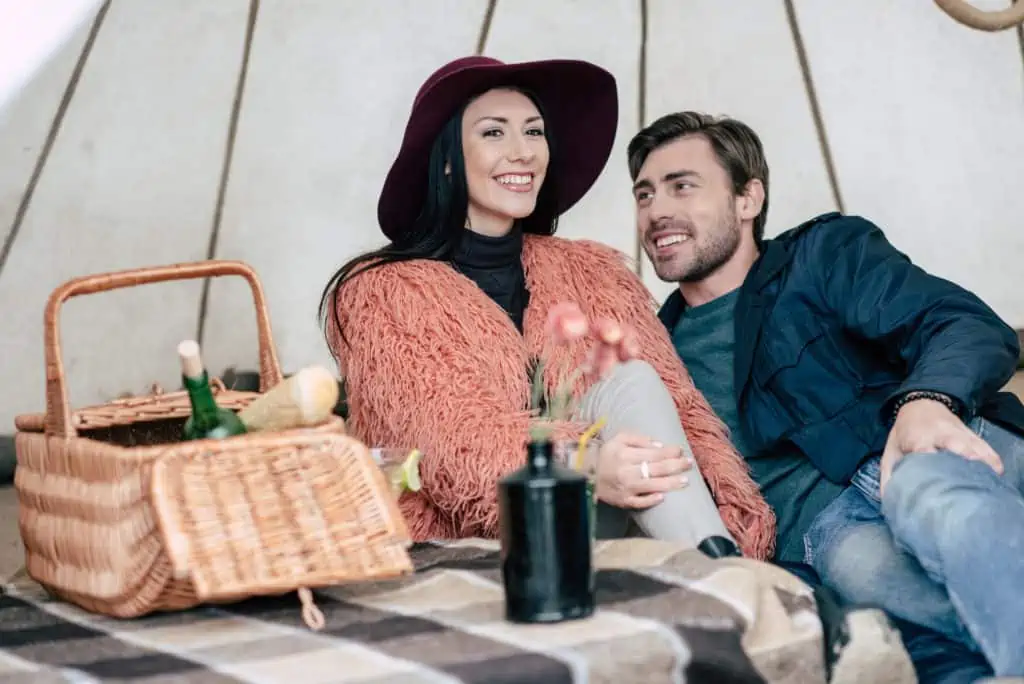 Going for a picnic is a great way to enjoy the afternoon together. However, it can get a little boring for a third date. You guys have already shared all of your favorite stories with each other. If it gets boring, it will feel like the chemistry is slowly dying.
A great way to avoid this is to come up with conversation starters beforehand. You can also bring along food that you have to prepare together. For example, a portable stove or simply pack the things to make sandwiches without putting them together. It will give you both something to do on the date to make up for the lack of conversation if there is any.
34. Art museum
If you're both interested in art, you'll love this activity. You can roam the halls of a local museum and discuss the artwork together. Keep in mind that you both have to love art for date ideas like this one to work.
35. Sports game
There are plenty of people that love a local high school football game. If you love football, that's great. Those of you that don't can still have a good time. The atmosphere is really positive, there's concession stand food, and you'll find out if you get to listen to him yell at the television in the future or not.
36. Play darts
Even if you've never played darts before, it's an easy game to pick up on. If your partner is a pro, they can give you a few pointers to help you master their favorite game. Playing darts usually happens in a bar, but you can go early before the drunk crowd takes over.
37. Shoot some pool
After you get tired of darts, head over to the pool tables to enjoy some friendly competition! The pool is similar to darts in that you don't have to have a lot of experience. You can pick up on how to hold a pool stick and hit the ball in a few turns, making it one of the best games for third-date ideas.
38. Play tourist in your city
Visit some local attractions. Check out a local coffee shop that you've always wanted to try. It doesn't matter if it's your first date or ten-year anniversary, this is always one of the more fun date ideas!
39. Check out a garden
Some zoos also offer botanical gardens. These are packed with beautiful flowers. It's relaxing, and it's one of the perfect third date ideas. At this point, you're not trying to impress each other anymore. Instead, you can just chill together.
40. Skydiving
When you both love to have some adventure, skydiving is the perfect way to do it! Get your adrenaline pumping by booking some time to do a tandem jump together.
41. Head to the beach
Walking along the sand while holding hands and watching the sunset is extremely common, but that's because it's one of the best third date ideas. You don't have to spend a lot of money, it's a bit more intimate, and it's a tiny bit romantic. This one is not going to fail.
42. Plant a tree together
When two people love the environment, this is one of the most popular date ideas. You can both save the environment together. If the third date turns into a long-term relationship, you can watch the tree grow as your relationship does.
43. Don't invite the guys
It can be tempting to find out what the guys think of your girlfriend, but, if you're a guy reading this, don't do it yet. It's too soon for the off-color humor and jokes. The only exception is if you are going out as a couple.
44. Take your date to your favorite spot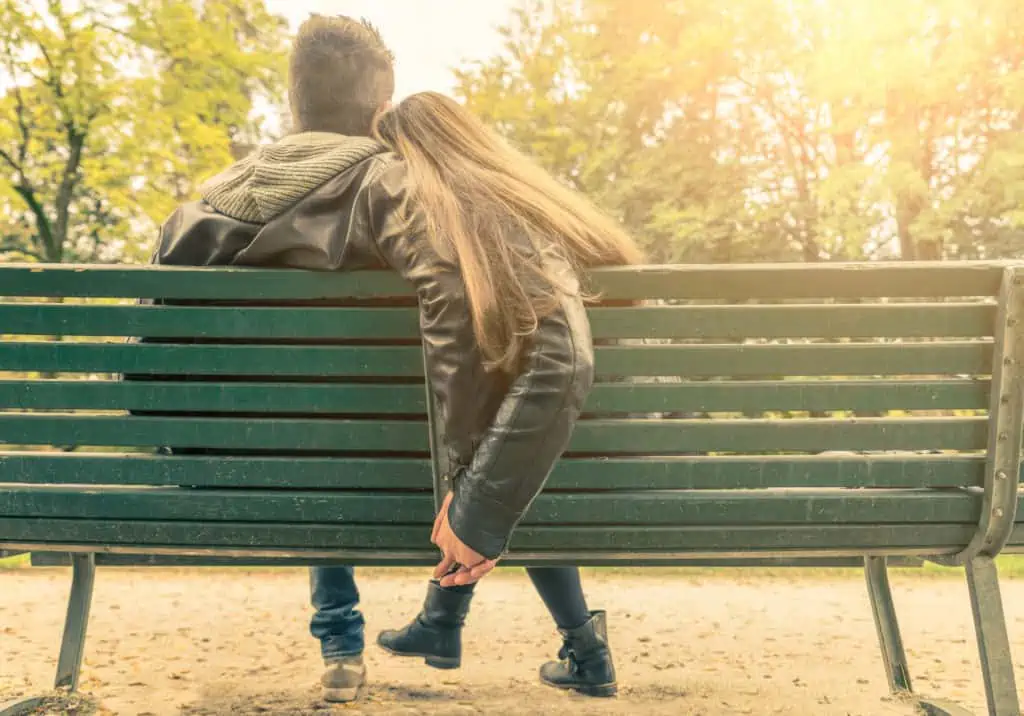 We all have a favorite spot. Maybe it's a waterfall along a hiking trail. Perhaps it's a certain shop in a city that you love. Or the top of the tallest building in town. Wherever it is, build a relationship and increase intimacy by showing him where you love to go.
45. Create a playlist together
This doesn't even have to be in person. It makes for a perfect virtual date if he's out of town on business! Make a playlist of all of your favorite songs together. Then, you can listen to it on long drives.
46. Make a bucket list
This list will serve as things you can do on future dates too! Pick a peaceful spot or go out to eat. Bring a pen and some paper. Then, make a bucket list of things to do together. This is guaranteed to be an interesting date.
47. Dinner
Dinner dates are common for a first date, but there is no rule that says you can't go out to eat on future dates. Take your date to their favorite restaurant. As long as it isn't the same restaurant you went to on your first date, it's a great third date idea.
48. Ice cream
Ice cream dates aren't just for teenagers! This is the perfect way to enjoy summer. Head to your favorite ice cream shop. For something a bit more mature, enjoy a desserts only date. You can increase intimacy by sampling each other's desserts.
49. Visit a castle
There are small castles tucked everywhere. Even Ohio has a castle! A quick online search will reveal if there are any castles in your area. If both you and your date like medieval history, you'll love this.
50. Go to a planetarium
If you love stargazing, this is an awesome date idea! You can relax, gaze at the stars, and learn about the planets. If you're into astrology, this is a fun way to enjoy learning about each other's zodiac signs.
51. Get a tarot reading
Having someone read your birth chart is pretty interesting. There are in-depth birth charts, but you'll need to know the exact time you were born. If you just know your sun sign, you can still have a professional tarot reading. Your crush can get one too.
52. Visit a fair
County fairs during the summer offer plenty of food and entertainment for everyone. You can enjoy classic rides. Your crush can play some games to win you a prize. There's nothing like an old-fashioned carnival date with a kiss at the top of the Ferris wheel.
53. Go for a hayride
This is a wholesome fall date that you can both enjoy. Usually, hayrides are with other people so that alleviates some of the pressure of dating. There are plenty of hayrides every year when the leaves start to fall.
54. Head to the zoo
Some people are going to love this idea, and some will view it as a bit more for children. Personally, I still love the zoo. Ask your date if they would like to go to the zoo if you're not sure. You can trust that if they are an animal lover they will enjoy this date.
55. Visit haunted houses
Everyone has a favorite holiday. If it is Halloween, and so is yours, this is the perfect third date for you two! Enjoy the spooky season with each other by visiting some of your favorite haunted houses.
56. Carve pumpkins
If you love Halloween but haunted houses aren't quite your thing, that doesn't mean that you can't turn your favorite holiday into a date! Pick up some pumpkins and a couple of carving kits. Or, you can do one pumpkin together.
57. Navigate a corn maze
Spend the afternoon navigating through a corn maze. You can laugh together while you find your way through. Complete the day with some fresh apple cider!
58. Go to a play
This doesn't mean that you have to go find a Broadway musical in your area. There are plenty of theaters that put on plays! A simple search for theaters near you, and see what shows are coming up. If you've never been to a play before, this is a great chance for you and him to try something new together.
59. Celebrate Christmas
If this is your favorite holiday, there are plenty of things that you can do to celebrate it together. Bake and decorate Christmas cookies together. Ask him to help you put up your tree and decorate the house. Head to a cool light show near you. There is plenty of drive-thru light displays every year that are going to amaze you!
60. Visit a farmer's market
Farmer's markets are awesome to visit during the summer. First, you can get a lot of locally grown produce on a great deal. This helps support local businesses, and most of them are not packed with growth hormones. Farmer's markets also have plenty of things that aren't produced. You can find homemade jams and syrup. Usually, these are in mason jars so they last for quite a while. You can also find homemade arts, crafts, and even jewelry.
61. Visit an orchard
This is a great way to spend the afternoon for a few reasons. There are plenty of opportunities to take pictures together. You can pick apples for the day and then go home to make something with them. Plus, most orchards charge by the basket so you don't have to worry about spending a lot of money. It's one of the cutest third date ideas!
62. Head to an antique store
Antique stores are always full of cool finds. If you like retro things, head off to the nearest antique mall. Some of these are set up like flea markets so you can see all kinds of cool things. If you're still learning what he does or doesn't like, this is a great opportunity to do that!
63. Go golfing
If you both know how to golf, enjoy some friendly competition out on your favorite green. Playing a sport together is always one of the great third date ideas. It gives you something to do outside of talking to one another so you won't have to deal with those awkward silences.
64. Amusement parks
You're never too old to go to amusement parks! Enjoy some classic fun while you watch him try to win you a prize at the carnival games. Window shop through souvenir boutiques. Ride all of your favorite rides.
65. A fancier dinner
If the first two dates were pretty casual, and you see a future together, it might be time to take things up a notch. Go out to a nice restaurant that requires your best black dress. Third date ideas are usually about doing something, but there's nothing wrong with going out to eat again.
66. Check out local events
There are always local events! A quick internet search can give you a ton of third-date ideas.
67. Canoeing
There's nothing more relaxing than gently floating down a peaceful river together!
68. Go for a walk around the neighborhood
You don't have to go anywhere. Enjoy each other's company while you go for a walk around the neighborhood. Simple things like this tend to add more intimacy to a budding relationship.
69. Rent a cabin for the weekend
If you're looking for intimate romance, consider renting a cabin in the mountains for a weekend. Get away from everything else and simply enjoy each other. Keep in mind that this takes things to a new level, so you'll want to make sure that you're both ready to take that step.
70. Go camping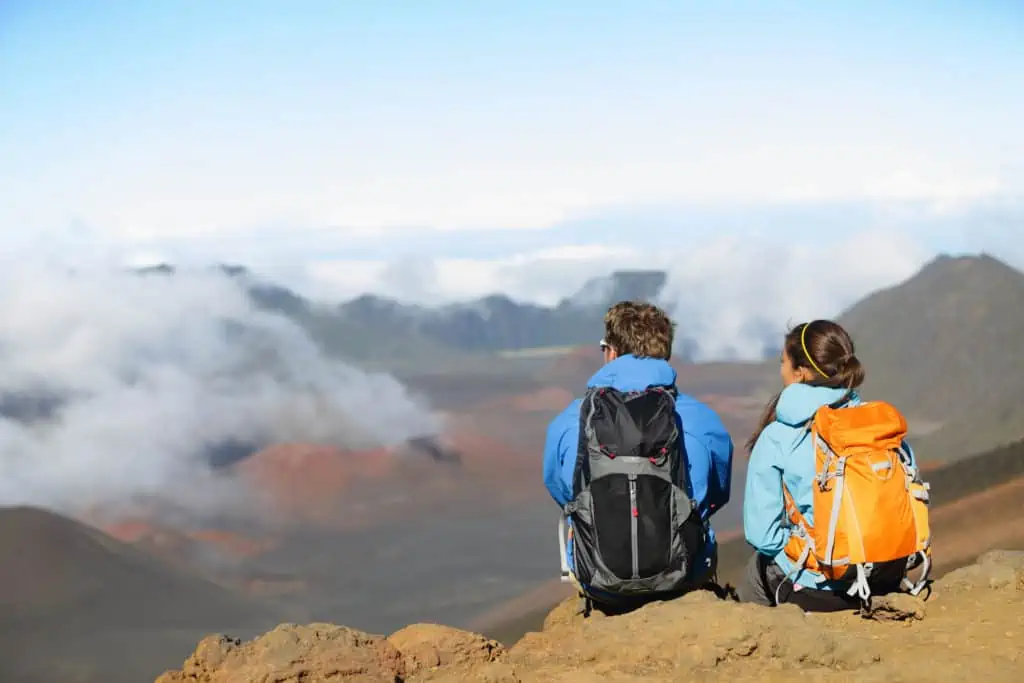 If you're both outdoor lovers, going camping is the perfect idea for a third date. You can rent a cabin, take an RV, or pitch a tent at your local campgrounds. Make sure to plan plenty of camping activities, like building a fire, enjoying a paddleboat, and stargazing.
71. Sit alongside the water with a bottle of wine
If there's a nice body of water nearby, such as a lake or a pond, sitting beside the water is a nice way to relax together. Bring along a bottle of wine or drinks to make it seem more like a date.
72. Watch the sunset
After a peaceful drive, find somewhere to park alongside water to enjoy the sunset together.
73. Snorkeling
If you live along the coast, you can definitely find somewhere to go snorkeling! This is a fun activity for a date that is only going to last a couple of hours.
74. Go to an aquarium
If you love going to a zoo, you'll probably enjoy an aquarium too.
75. Share your favorites
Do you love watching funny YouTube videos? How about prank videos? Have a favorite restaurant? Go there for a date.
76. Go to a local coffee shop
This is the perfect idea for a brunch date. Personally, I love brunch for a date!
77. Surprise date just for them
Planning a surprise date just for the other person. This will show them that you've been listening to them when they say what they are interested in. You'll also get to enjoy watching the look on their face. This can be a date with a present at the beginning. Plan the date at one of their favorite spots. Take them to do something they've always wanted to do.
78. Hot air balloon ride
Personally, I've always wanted to go on one. If they offer these in your city, it's a great date idea.
79. Window shopping
By the third date, you really don't have to impress each other. Instead, enjoy a date browsing a new mall. As a bonus, window shopping doesn't cost a thing!
FAQs
To Conclude
The third date means different things to different people. Look at how your relationship is progressing so far to determine how serious you should take the third date. What else would you add to the list?
Utilize this tool to verify if he's truly who he claims to be
Whether you're married or just started dating someone, infidelity rates have risen by over 40% in the past 20 years, so your concerns are justified.
Do you want to find out if he's texting other women behind your back? Or if he has an active Tinder or dating profile? Or even worse, if he has a criminal record or is cheating on you?
This tool can help by uncovering hidden social media and dating profiles, photos, criminal records, and much more, potentially putting your doubts to rest.