Getting a first date outfit right is one of the best ways to ensure that you have a good time on your date. While looks are definitely not everything, if you feel good about what you are wearing then you will generally feel far more confident. That confidence will shine through and make you feel like the best version of yourself. In doing so, you give yourself the best chance of making your date a success - from your side at least. 
Below, we list 13 ideas for what to wear on any first dates. What you are doing on your date will have a large bearing on what you should wear practically, but the crucial thing to note is that you need to feel comfortable. While that doesn't mean turning up to date in your pajamas, it does mean that you don't feel awkward in what you do have on. Even if you think a dress or top looks great, if you don't feel comfortable in it for any reason, it will act as a distraction and make your nerves worse.
13 Stylish Outfits To Radiate Your Confidence
1. Maxi dress
A maxi dress is a great idea on a first date as it is usually a very comfortable thing to wear, yet is always a very feminine piece of attire too. What's even better about a maxi dress is that they tend to look better when you wear flats with them too so that you don't have to put your poor feet in heels that make your feet hurt by the end of a night.
2. Jeans and heels
Of course, heels do make your legs look longer and they are invariably very sexy too. Plus, they can give you some much-needed height that can be a great confidence booster for some. Putting jeans with them means that you also have a laid-back look so that your outfit is sexy without making you look like you've tried too hard. 
3. Little Black Dress
A little black dress can be a fantastic idea to wear for a first date. Black tends to be a color that flatters everyone as it is very slimming as well as being naturally quite sexy at the same time. Plus, what's great about a little black dress is that you can dress it up and down depending on what you need for wherever you are going. If you're going to a sophisticated restaurant you could really dress it up with some heels, whereas if you have low key activity in mind, just some sneakers can look cute.
4. Leopard print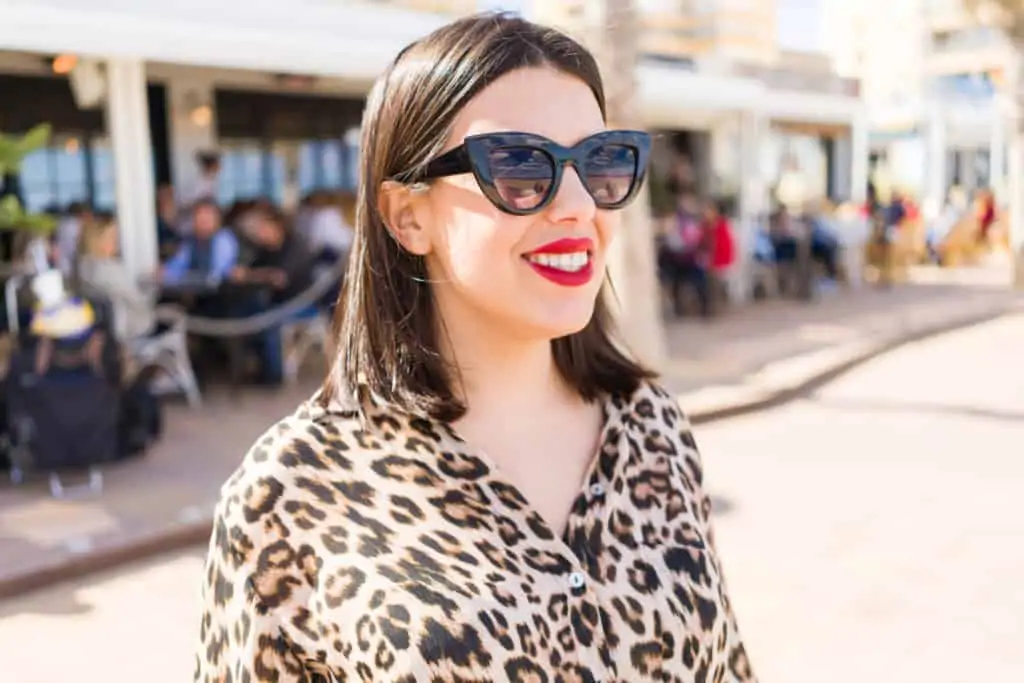 Leopard print has long been championed by fashionistas as a neutral. While some may not strictly agree with that, there is no denying that it's great for helping unleash that inner rock chick in you. It gives you an edge while being sexy which can be very attractive to your potential lover. Give it a go with a pair of jeans or as a dress. Pair it with a red lip and you're set. 
5. Pretty top 
A pretty top is one of the most feminine things you can wear on a date which is great news for those that like to make the most of their womanly curves. Plus, a pretty top is another one of those fantastic outfit choices that you can either dress up or dress down depending on what you are doing on your date. You can make it a bit edgier by wearing it with jeans or a biker jacket, or you can wear it with a skirt to show off your legs.
6. White shirt and boyfriend jeans
A white shirt and some boyfriend jeans is such a classic, pared-back look that will make both you and your love interest relax. Make sure your shirt is ironed and wear it with the collar up to style it well. Better yet, have a button or two undone to show off your décolletage so that your boyfriend jeans still make you look sexy and feminine.
7. Floral dress and biker jacket
This is such a chic, modern look. It's great for a first date too as the floral dress can be so flirty while the biker jacket gives the whole look an edge that makes you look trendy - but without trying too hard. It can be worn on so many occasions too depending on what activity you have both chosen.
8. Mini skirt and top
Sometimes, it's great to get your legs out and show the person you are dating your sex appeal. However, it's important only ever to show off one feature at a time, so make sure that you don't wear a top with a mini skirt that shows off your cleavage at the same time. It will be too much and it can come over a little trashy.
9. Leather skirt and camisole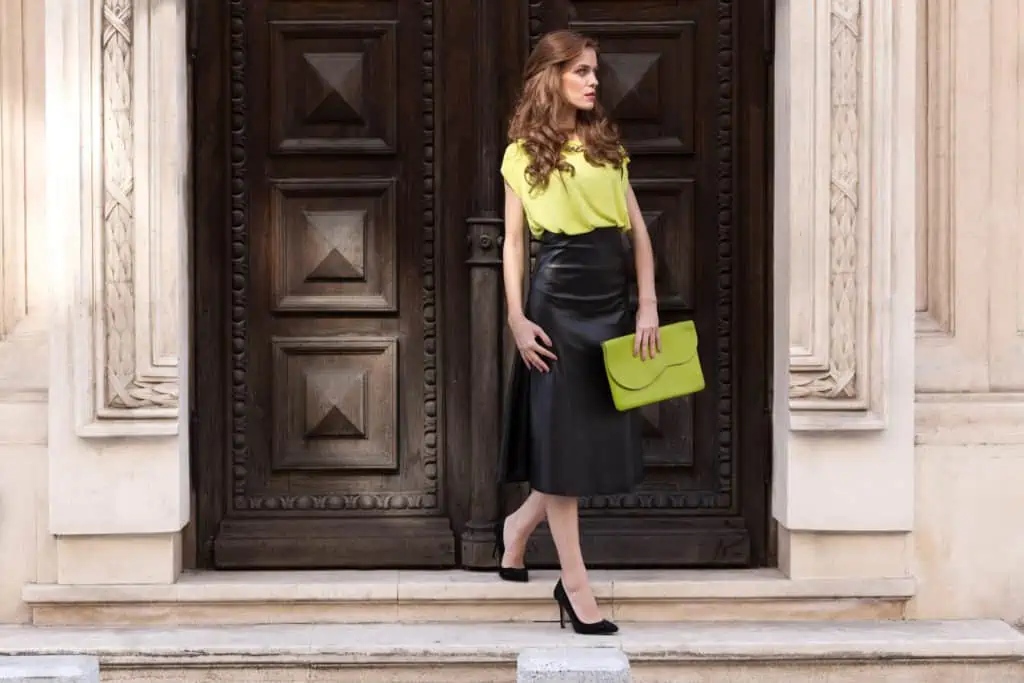 A leather skirt is a great idea to wear on dates as it looks great, is eternally flattering, and, if you get one with a good fit, can be really comfortable as it does become like a second skin. Stick to skirts that are made of buttery leather and you won't actually want to take it off! Keep it feminine with a pretty camisole on top. 
10. Trouser suit
If you're coming from work, it can be a good idea to wear a pair of trouser suit. It means you can look smart for your day in the office, but look put together for drinks or dinner later too. You can change your shoes as well if you want to vamp it up a little when meeting your potential lover.
11. Jumpsuit
A jumpsuit is such a fantastic idea to wear on dates as it needs minimal styling. It is the ultimate outfit that you can just throw on and look great in. Again, they can also be dressed up or down depending on what shoes and accessories you wear so they can be worn to all different locations.
12. Little red dress
The LRD is a brilliant alternative to the LBD if you want to wear some color on your first dates. Depending on how sexy you want to go will depend on what type of fit you wear, but it is an outfit choice that is far more wearable than originally thought. Plus red is the color of love so great to wear on romantic occasions.
13. Silk shirt and jeans
A silk shirt is not only really sexy, but it's also very comfortable to wear. Plus, if you pair it with some jeans, you have a great outfit that balances elegance with an edge. Your jeans can be edgy, while the silk shirt smartens you up immediately. It's a great option for those dates where you're not entirely sure what the dress code will be if you're going to a bar or restaurant for dinner or drinks.
FAQs
Outfits For A Date Night - Final
Getting your outfits right for a date shouldn't be important, as looks shouldn't come into your romantic life - but the reality is, we all like to be as attractive as we can be. Therefore thinking about outfits for date night with your new guy or even a long time partner can really help us have a good time. Feeling good about ourselves makes us feel confident and as a result, we relax more. When we are relaxed, we are able to have as good a time as we can without any nerves getting the better of us.
First dates in particular can often make us feel like we are very anxious. Getting a first date outfit right can therefore really help us feel like the best that we can be and as a result, you are far more likely to have a successful date. Thinking through outfit ideas so you look great is key as is thinking about what you are doing on your date so that your outfit is appropriate. First date outfits are bad when you spend your time feeling self-conscious as your date outfit doesn't fit in with what you are doing or it simply doesn't fit you properly.
Bearing all this in mind though, remember that you also need your potential love interest to be interested in you for you. While looking great can help encourage the first seeds of attractions, there needs to be a deeper connection than just your looks to make your relationship go from strength to strength.
Utilize this tool to verify if he's truly who he claims to be
Whether you're married or just started dating someone, infidelity rates have risen by over 40% in the past 20 years, so your concerns are justified.
Do you want to find out if he's texting other women behind your back? Or if he has an active Tinder or dating profile? Or even worse, if he has a criminal record or is cheating on you?
This tool can help by uncovering hidden social media and dating profiles, photos, criminal records, and much more, potentially putting your doubts to rest.