Finding a great vibrator can be hard.
Finding a great and affordable vibrator can be even harder. But, it doesn't always have to be.
People often avoid buying vibrators on a budget as they can be seen as 'cheap', they might 'break easily' or may not be considered intense enough to induce pleasure.
Pleasure is what you make it. If you can induce pleasure from your hands, which believe me you can (it's all about the mentality), then adding a vibrator in the mix is certainly not a bad idea.
According to Statista, "in a survey carried out in 2022, approximately 82 percent of American women owned at least one sex toy."
This surprises me to be honest, as I would have expected the figure to be a lot less. But I want to highlight 'at least one sex toy'. This implies that it could be a go-to sex toy, which is great! But it could also imply that if a woman only has one toy it may not be used that frequently.
You don't want to buy a sex toy that gets forgotten about in the bottom of your bedroom drawer. You want to find the perfect vibrator for you, one that makes you feel excited about having some alone time; and finding one that's affordable is even better.
How to Choose a Cheap Yet Good Vibrator for You?
It would be wrong of me to tell you that all cheap vibrators are good, I'm sure you wouldn't be surprised to learn how many cheap vibrators can be rubbish. This is why it's super important to look into reviews, and make sure that you spend time choosing the perfect vibrator for you.
Having a great vibrator can be just like having a friend to lean on when you're down. I'm always talking about the benefits of masturbation. Masturbating isn't just about pleasure. It's about stress relief, having quality alone time, encouraging better sleep, encouraging confidence and self love!
So, it's imperative that you make the right choice. People often think that you have to spend a lot of money to find the perfect vibrator.
Believe me when I tell you that I own a lot of sex toys, yet my all time favorite cost me £30 (approximately $37 USD). I use others every now and again, but this one is so good that it stays under my pillow at all times; just in case;) Of course I had to include it in the list below, it's so good that it would be wrong of me to keep it all to myself.
There's a lot to consider when choosing a sex toy that's right for you. You want to think about materials and whether the material is compatible with your favorite lube, would it be more beneficial to have a waterproof vibrator? How could it fit into your sex life with a partner? Essentially, what do you want to get out of a vibrator?
Do you prefer clitoral stimulation or penetrative? Do you like intense vibrations or softer vibrations if you're sensitive down there? Is color important to you? Ultimately, you want a vibrator that looks visibly appealing.
When looking at cheap vibrators, you want to ensure that they're durable.
There is absolutely nothing worse than when you're masturbating, having the time of your life and you're about to reach climax, and your vibrator dies on you. Having a vibrator dying and then having to start again is absolute worst. I mean, it's basically involuntary edging (which isn't so fun when you don't have a say, especially if you're on a time crunch).
Buying a good vibrator should feel like a treat. You don't want to feel like you've wasted your money, which is typically why a lot of people look for affordable vibrators. But, if it's no good then you've wasted that money anyway.
Choosing the right vibrator for you is important because it should be an investment. Sex toys should last for years and years, so ideally, you want to get the most value for your money.
16 Best Affordable Vibrators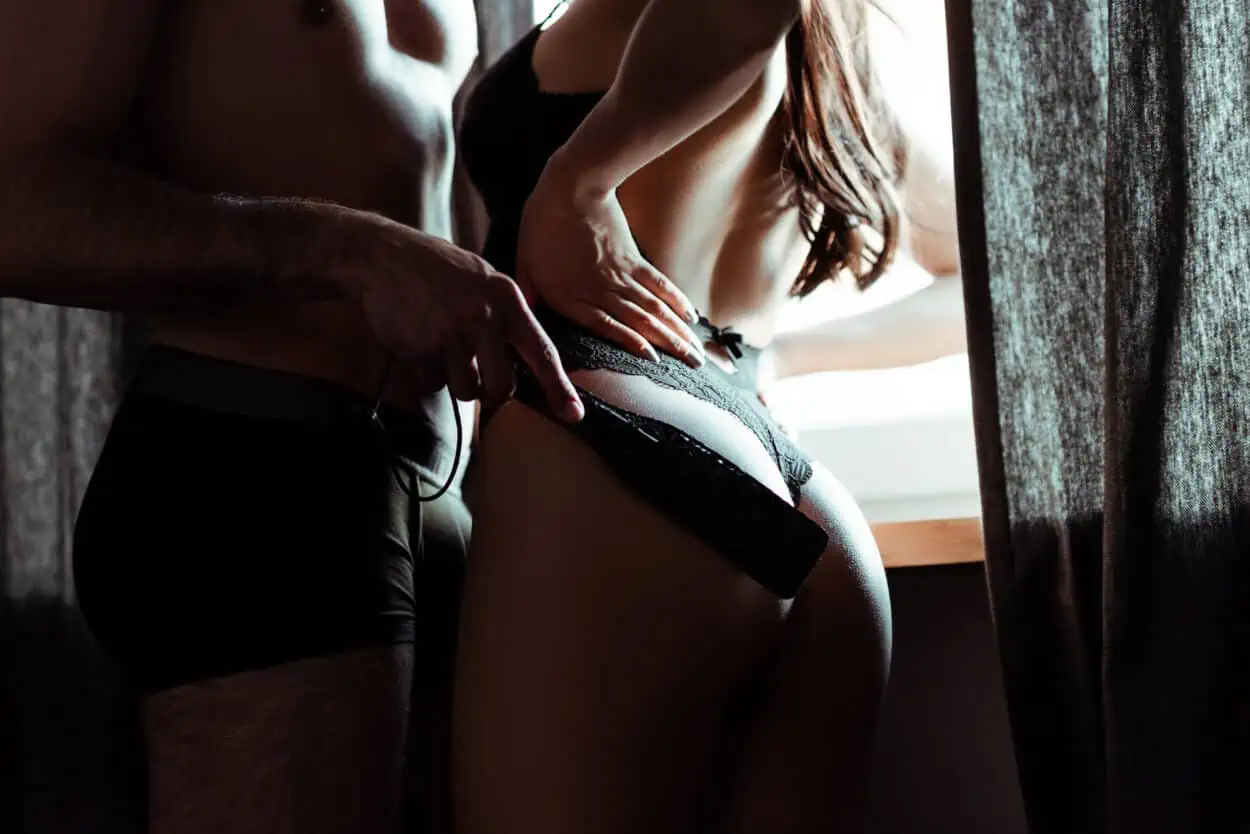 I have found the 20 best affordable vibrators on Lovehoney, one of the best online stores for sex toys and lingerie.
Now, it's important to acknowledge that affordability is subjective. What one woman may consider affordable may be entirely different to someone else. I have maxed the budget at $50, but that's not to say that all of the vibrators below will cost $50. The most affordable one on the list costs $11.69.
There are so many vibrators to choose from, so I've done my best to cover all bases. If there's a particular toy that you're looking to try and it's not on the list below, feel free to comment below, and I can answer any questions that you may have to the best of my ability.
It can be difficult trying to determine if you'll like a new toy, especially if you've never experimented with anything like it before.
The ideal affordable beginners toy for those of you who love G-spot stimulation.
You can buy this cheap vibrator in pink and purple, and it's currently on sale from $12.99 to $11.69.
You definitely get what you're paying for with this toy, as it's made of plastic and is a single speed product. However, if you're just looking for something simple to target your G-spot then it may be perfect for you.
Looking to spicen up your sex life and build your connection with him?
One of the best ways to increase your connection with your partner is to spice up your sex life. An awesome way to do this is to bring some excitement into the mix by using toys that will drive both of you crazy.

We've partnered with LoveHoney to give you exclusive access to some of the best toys on the market. Click here to check them out, completely anonymously of course! Your relationship will thank you for it.
If you're a complete beginner I would personally recommend starting with clitoral stimulation, as this is where most women achieve orgasm. With that being said, it's a great and affordable way to experiment with penetrational pleasure for the first time.
Rating 4 out of 5 ★ (764 reviews).
A toy that targets both internal and external stimulation is the way to go, as you get a 2-for-the-price-of-1 toy.
This ladyfinger classic vibrator comes in both blue and purple, and also costs $11.69 currently reduced from $12.99.
If you're looking for a cheap vibrator, the key things to look for is the strength of vibrations and whether it's multifunctional.
This somewhat replicates a bullet vibrator, but then allows you to experiment with internal stimulation as well, it's kind of perfect for a beginner in that sense.
It has a slight girth that can help to replicate the feeling of penetrative sex. You can mix between internal and external stimulation in one to get the most out of your masturbation session.
It's also waterproof, allowing you to have a little bathtime fun (the best kind of fun in my opinion). I'd highly recommend pairing this classic vibrator with shower head clitoral stimulation. You're then getting to experiment with temperature play (the heat of the water), clitoral pleasure and G-spot stimulation all in one. What better way to enjoy a nice and relaxing bath?
4 out of 5 ★ (459 reviews).
This pink clitoral vibrator has 4 different head attachments, perfect for experimentation with clitoral pleasure.
I've personally never used a toy with such specific clitoral stimulation (particularly with different attachments), and would be interested to hear any feedback if you go on to purchase this sex toy.
I will say, it doesn't have the best design and it is quite 'cheap' looking. But, having a toy that targets your clitoris in 4 different ways sounds pretty good to me, especially at such a low cost.
It costs $11.69, also reduced from $12.99.
4 out of 5 ★ (1011 reviews).
Most people are a little afraid of a dildo vibrator when looking at beginner sex toys, but actually it's the perfect way to experiment with penetration, and to replicate the type of pleasure you can expect to receive by having sex. Especially with a toy like this that has a veiny texture for authentic stimulation.
If you haven't yet had sex, it's a great introductory toy to learn about how you experience pleasure personally, and it's also a great way of preparing yourself for girth; for some women it can feel intense or even painful when you first experience penetrative sex for the first couple of times.
I love the color of this one, it's a deep purple, firm in flexibility, and 5 inches is the perfect size for a beginner.
I've used a toy very similar to this, and found it really pleasurable. It also doubles for clitoral stimulation. Anything that can be used internally, can also be used externally, as you can massage your clitoris and experience the benefits of the vibrations through clitoral stimulation.
It costs $15.29, reduced from $16.99.
4 out of 5 ★ (49 reviews).
Such a perfect cheap vibrator, especially for couples play.
You can get this toy in blue and purple, and it's basically a vibrator attachment to your finger, enabling you to get more control over the pleasure you're inducing.
It can also be great for your partner to graze over your body, engaging your erogenous zones; the perfect subtle foreplay allowing you to focus on specific areas.
Some of the reviews mention weak vibrations, so this one is ideal for those who have a sensitive clitoris and are looking to experiment with subtle vibrations.
It costs $15.29, reduced from $16.99.
3 out of 5 ★ (29 reviews).
Anything anal and I'm sold.
I think anal play can be so much fun, and it's such a shame how many women shy away from experimenting with anal. If, like me as a beginner, you're intrigued by anal play, this 5 inch anal dildo vibrator could be perfect for you.
It has multiple vibration settings, and is a gorgeous light purple.
Remember, when using any anal toys, it's important to use water based lubricant, ideally anal based.
4 out of 5 ★ (61 reviews).
I think it's safe to say that most of us love the sensation of oral sex, this toy strives to achieve these sensations.
The beauty of it is that you're in complete control. Oral sex isn't always easy to get right, so what better way to experience this stimulation at your own hand. You can control the pressure, the vibrations, the speed, and guide yourself to reaching orgasm without having to teach a sexual partner how you like it.
It's multifunctional with 9 functions, and has a removable bullet so you can mix things up every now and again.
I love a rechargeable sex toy. There's absolutely nothing worse than when your batteries run out of your go-to sex toy. It has a run time of 90 minutes so unless you're planning to make a day of it, you've got absolutely nothing to worry about.
Some reviews mention that it's too powerful, this could be considered as both a positive and a negative depending on what you're into. It's probably not the best toy as a beginner, but as you can remove the bullet it's certainly not a bad idea if you're looking to experiment with stronger clitoral pleasure.
It's currently $17.49, reduced from $34.99.
This is a very simple affordable sex toy with one purpose, to stimulate your G-spot.
Remember, anything that can be used internally can also be used externally, but the bulb-shaped head will really be best for targeting your G-spot over experiencing clitoral stimulation. 
A lot of women are very hit-and-miss with G-spot stimulation, and I think this is because it can be difficult to achieve through penetrative sex. Most women can only reach orgasm through sex in certain positions such as cowgirl (where a woman would ride a man). This is because this position allows for easy access to your G-spot, encouraging orgasm. 
Experimenting with a toy specifically targeted towards your G-spot should help you to learn more about the pleasure to be had through your G-spot, and will help you to learn about your own body in ways that you possibly haven't before.
It comes in black, pink and purple, costing $17.99 reduced from $19.99.
4 out of 5 ★ (627 reviews).
We love a rabbit vibrator!
There's just something about a rabbit vibrator that sets your mind at ease; you just know it's going to hit the spot.
This particular toy is meant to be enjoyed in and outside of the bedroom, as you can leave it in your panties as you run errands or go to a dinner and can experience the pleasure throughout.
It is however only rated a 3 out of 5 for quietness, so you may have to be careful where you decide to turn it on.
I think this has a super cute design, and is great for simply getting the job done with ease.
It's definitely at the high end of affordable, costing $44.99, reduced from $49.99. But this is the kind of toy that could definitely be seen as an investment, especially if you know that you're into the sensations that can be enjoyed through the use of a rabbit vibrator.
Just like a rabbit vibrator, but this toy takes the game to the next level.
There were a lot of affordable rabbit vibrators to choose from, but this particular toy resembles one that is very valued in my personal collection, and it had a whopping amount of reviews that I simply couldn't not choose this one to share with you.
I would argue that this is the best kind of cheap vibrator you could buy, especially if you're looking to find your 'go-to' toy, as it's so versatile and can help you to experience pleasure in many different ways.
It's got a really cute design, you can get it in pink, silver and black, and it's literally designed for maximum pleasure, targeting a lot of areas.
You obviously have the rabbit attachment (simple but effective), but it also works as a vibrating dildo and is textured to induce internal pleasure. It's fully waterproof and subversive, and is a great toy for couples play if your partner likes the idea of fucking you with a toy.
The rabbit ears have 3 speeds and 7 patterns so you can choose the type of stimulation that works for you, and the dildo has 3 speeds and even has reversible rotation so you can make the most of the texture.
It currently costs $35.99, reduced from $39.99 and is practically guaranteed to make you reach climax.
4.5 out of 5 ★ (2392 reviews).
Typically, I'm not the biggest fan of a cock ring, but a cock ring with a vibrating rabbit feature has definitely piqued my interest.
That way, you and your partner can experience the pleasure to be had and both receive the benefits of a singular toy.
It has two ring attachments, one for the balls and one for the penis, a removable bullet vibrator, and a rabbit attachment. What's not to love?
You can get this toy in both black and blue, and it costs $17.99 reduced from $29.99. It's a great beginners toy for couples play, and you can even benefit from the bullet vibrator when seeking solo pleasure.
4 out of 5 ★ (365 reviews).
I certainly wouldn't call this a beginners toy, but it's great if you're experienced with anal play and are looking to experiment with double penetration.
This is a cock ring that has an attached dildo for anal penetration at the same time. So, whilst your partner is thrusting into your vagina, you can experience the pleasure of the vibrating rabbit head on your clitoris, the benefits of penetrative pleasure from your partner's penis, and the added sensation that is anal penetration all at the same time.
It's not the kind of toy you'd whip out for a quickie, but if you're looking to spice things up in the bedroom then this could be a great idea; it also has a removable bullet vibrator for solo play.
This double penetration vibrator costs $35.99, reduced from $39.99.
4 out of 5 ★ (110 reviews).
Similar to the toy listed above, but made for solo play, this is a double penetration dildo vibrator so you can experience double penetration without the need for a sexual partner.
This is certainly a better option for a beginner looking to experiment with double penetration as the vibrations are less intense and you have full control over your own pleasure. It also has an anal beads texture to maximize pleasure in your anus.
It costs $22.49, reduced from $24.99.
4 out of 5 ★ (90 reviews).
Remember I mentioned my all time favorite toy? The one that I literally keep under my pillow… Well, this is it.
It's so simple, so affordable and SO effective. It will help you to achieve the laziest orgasm, which is probably why it's such a favorite of mine. I actually have this toy in orange, but I must admit that the purple design is a lot cuter.
A clitoral suction stimulator is the way to go, especially if you know you like clitoral stimulation and you're looking for a nice and easy toy to help you achieve your goal and fast. It has multiple options in terms of strength of suction, I personally never go past 2 or 3 as it can be quite intense as it is.
I don't mind sharing that I recently went traveling and stupidly decided not to take my go-to toy with me. When I returned home, I was so surprised by the intense feeling that this toy can induce that I reached climax in seconds (I promise that that's the whole truth; it's very intense but so delightfully good).
It costs $31.99 reduced from $35.99 and is a must have for your collection, trust me.
4.5 out of 5 ★ (1796 reviews).
A massager wand vibrator is another great beginners toy, with a very simple design.
It can be used in couples play to engage erogenous zones, or simply for clitoral stimulation.
It has five colors, white, black, pink, green and purple, and is very simple and easy to use, especially if you add your favorite lube to the head to encourage easy gliding.
It costs $44.99, reduced from $49.99.
4.5 out of 5 ★ (1178 reviews).
If I had to pick my second favorite vibrating sex toy, it would probably be this. A vibrating butt plug is a great way to spice up your sex life, you can experience pleasure from both the pressure and the vibrations, and it's also a great way to introduce you to anal play.
Both partners can use this toy, as we know that the male G-spot is in their rectum, and sometimes it's just sexy knowing that you're trying something different.
It currently costs $16.19, reduced from $26.99.
4.5 out of 5 ★ (497 reviews).
FAQs
What are the benefits of owning a vibrator?
Owning a vibrator can add a lot to solo play or even couples play. Vibrators increase blood flow and induce relaxation helping you to reach climax with such ease. 
You can also use a vibrator to engage erogenous zones, helping with foreplay and essentially preparing you for a stronger orgasm. 
How much does a vibrator cost?
The costs of vibrators really do vary, especially depending on where you're looking. For example, the most expensive vibrator to be found on Lovehoney US is $1709.99, but this is an extreme toy; a riding sex machine. The cheapest vibrator to be found on Lovehoney US is $8.99; a simple yet effective vibrator. 
Where can I find the best cheap sex toys? 
Again, it kind of depends where you're looking. My go-to is either Lovehoney or Anne Summers (a UK brand). 
A great place to find affordable sex toys is on Amazon, and this is officially beneficial when ordering online as it's discreet packaging. Womanizer and LELO are both well known brands but these can be on the more expensive sides, especially in comparison to Lovehoney and Amazon.
Conclusion
Fingers crossed you now have an idea of what to look for when trying to find a good and affordable vibrator.
There's so many to choose from, and it can be quite daunting making sure that you find the right one for you.
Sometimes, we learn about the best sex toys through word of mouth, so I encourage you to share this knowledge with your girlfriends so that we can all get the most out of our masturbation sessions, or even adding things to our sex lives.
Like I said earlier, if you're still unsure, or if there's something that you've thought about buying that isn't specifically listed, then feel free to comment below and I am more than happy to share my knowledge to help you make the right decision.
Likewise, if you have any recommendations then feel free to comment and share your own thoughts. As always, share with a friend in need.
Want to add some excitement to your sex life and create a stronger connection with him?
One of the most effective ways to enhance your intimacy with your partner is by spicing up your sex life. Using toys can be an amazing way to bring some extra thrill to your love-making sessions.
At Hernorm, we've collaborated with LoveHoney to offer you access to some of the best toys in the market.
Check them out here
in complete anonymity. Your relationship will definitely benefit from it!