Making the first move on a guy can be pretty intimidating, but it can also make you feel incredibly powerful.
Why shouldn't we make the first move? If you're into somebody, we should have enough confidence to pursue that, right?
Thanks to gender roles in dating, some of us are conditioned to wait patiently for our dream guy to show interest. When actually, some men find it pretty daunting to make the first move too.
Nobody likes rejection, but should that be something that scares us when it comes down to taking your future into your own hands?
Don't allow the worry of rejection or the feeling of embarrassment stop you from making the first move. Here are 39 tips on how to make the first move on a guy, you never know what could come from it, so put on your big girl pants and get yourself out there!
Should I Make the First Move on a Guy?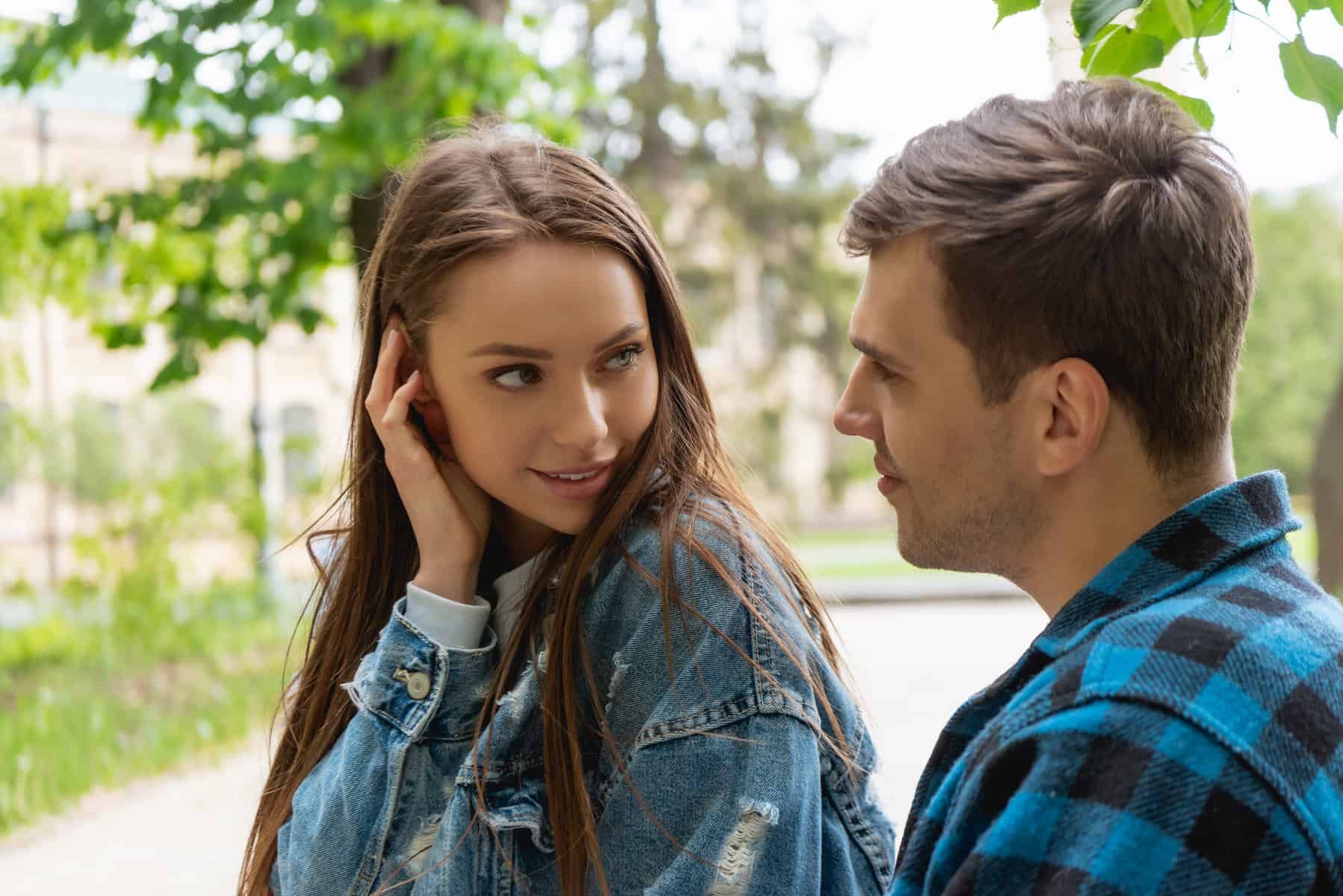 Okay, so there's a couple of things to consider before rushing in and asking him out on a date.
Of course, it's important to feel confident and unafraid of rejection, but with that being said, there are a few precautions we can take to avoid it.
1. Make sure he's not in a relationship
It can be difficult to tell if someone's in a relationship, mainly because most people will still have a harmless flirt even if they're with a partner.
The tell-tale signs that somebody is in a relationship are if they consistently talk about one person, as it's likely to be a partner, or if they post a lot of pictures with the same girl on social media.
Of course, you could always ask him if he has a girlfriend, or you could even say something suggesting that he does, hoping that he'll correct you. Something like, 'So, where's your girlfriend tonight?' or if he's a guy from work you could ask 'Did you and your girlfriend do anything nice this weekend?'
2. Try and gauge if he's emotionally available
The next step after discovering that he's single, and probably the hardest of them all, is trying to discover if he's emotionally available.
For example, if he's just gotten out of a relationship, he's probably not ready to start dating again.
You can usually tell if he's emotionally unavailable, as he'll act a little cold towards you and won't allow you to get to know him.
3. Look for the signs
Okay, so he's single, he's emotionally available, now you want to know if he's flirting with you.
If he's too nervous to make the first move, he'll at least be flirting whilst trying to discover if you're into him.
Read his body language, think about your conversation together, is there any physical contact? Is he nervous? Is he flirting? Is he playing hard to get? Or is he simply being friendly?
4. Find a good opportunity
Now you've decided you're going to pluck up the courage and make the first move, you want to make sure you find a perfect opportunity.
If he's talking to you about what he's planning on buying his mom for her birthday, it's probably not the right time.
Think of how you can segway into it smoothly. For example, if he's talking about his favorite restaurant, ask him to take you there, if he's talking about his favorite film, suggest that the two of you go and see a movie together.
Gauge his body language, his smile, and most importantly gauge the vibes. If the vibes are there, shoot your shot!
5. Ask for his number or social media
If you barely know each other, or you're not quite ready to ask him out on a date, it's usually a good idea to get his number or his social media first. It's not too forward of you, and it allows you to assess the situation a little further.
Then, you can slowly develop a connection online, helping you to find the courage to ask him out further down the line.
17 Tips on How to Make the First Move on a Guy Over Text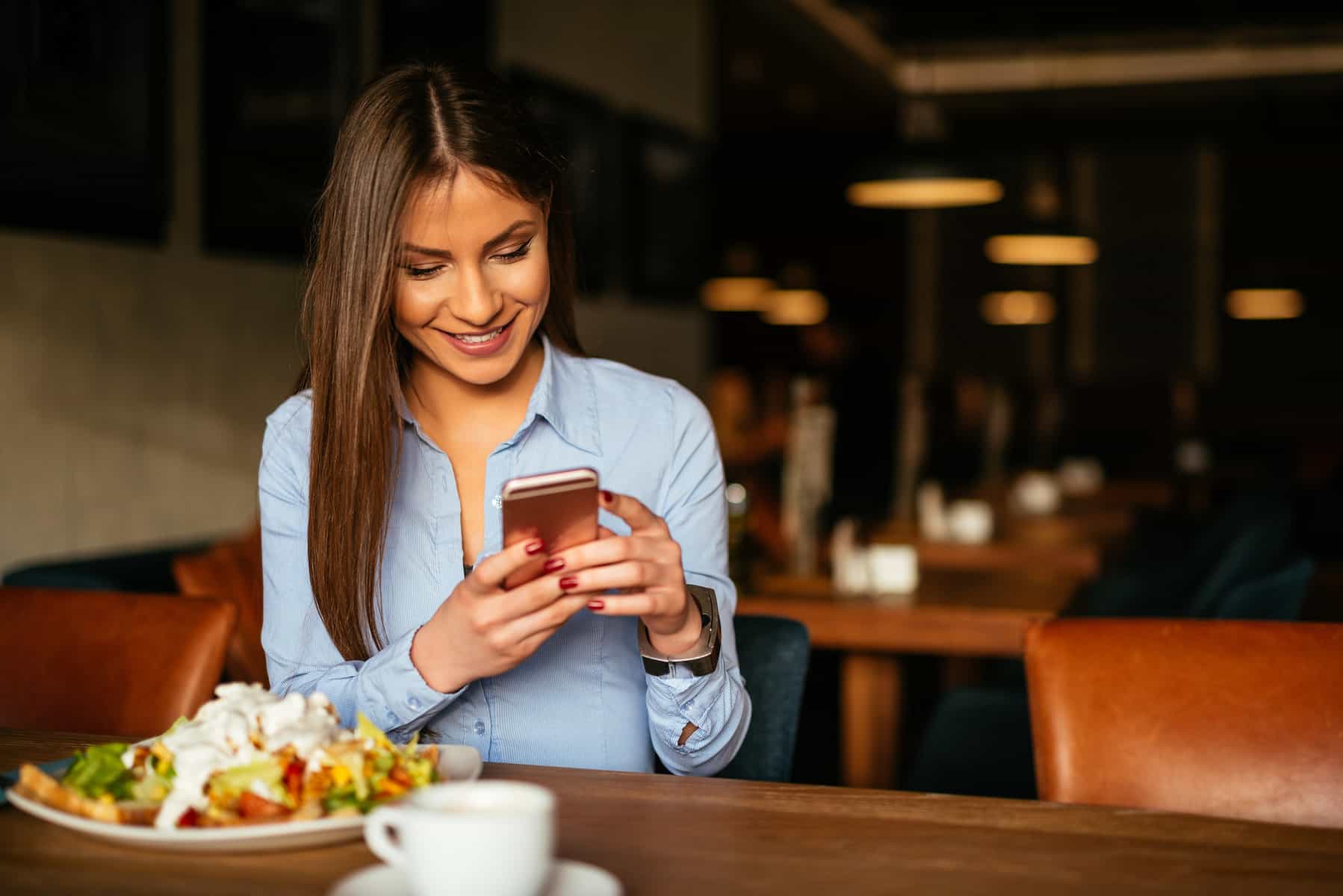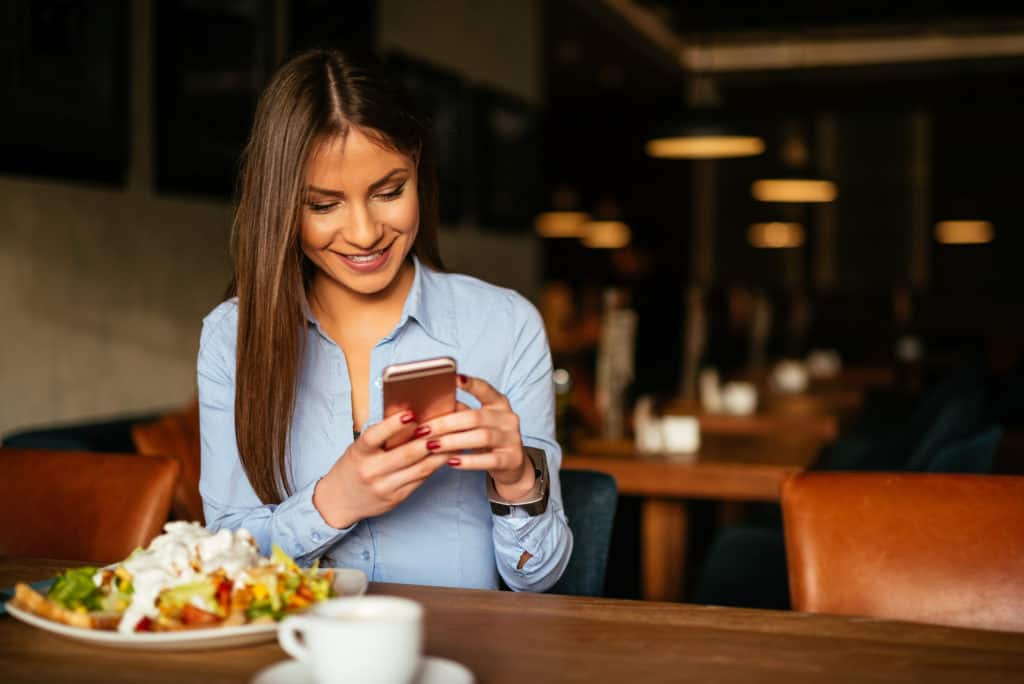 You might be a little nervous in person, and that's okay! I want everybody to feel confident enough to pursue the person they're into, and if that means using social media or texting as a slight protection against the fear of rejection, then by all means, I encourage it.
There's a few tips I have when learningabout how to make the first move on a guy online to help improve your chances of success.
Is it like pulling teeth getting him to spend time with you?
The key to solving is understanding men on a much deeper emotional level. The number #1 factor that causes men to behave this way is actually relatively easy to change with a few subtle things you can say to him.
Take this quick quiz to see if he actually likes you!
1. Wait until he's online or active
To help you understand where you stand with him, first you want to know is the guy online?
If he is, you'll be able to tell a lot by seeing how quickly he responds to you, and it also helps your chances of getting a reply.
For example, if he's had a super busy day at work, he may get home and go straight to bed, leaving you feeling a little anxious that he's not replied for 24 hours.
2. Reply to his stories
Or, message him about his latest post. It's a great opportunity to start a conversation.
3. Start the conversation late at night
Listen, people are generally flirtier at night. I don't know why it is, it's like we get in bed and all of a sudden we're horny.
There's no shame in taking advantage of that. I'm not saying message him dirty talk, unless of course, you're bold enough 😉 But messaging late at night helps to spark the romance. 
4. Think of a great conversation starter
If you're into him, you want to make sure you're having good conversations and keeping it interesting.
The best way to achieve this is to think of a great conversation starter, something that will mean the conversation will go on all night. Don't just message him about work or something generic and boring. Keep it entertaining, for your sake and for his.
5. Don't allow too many texts to go ignored
I'm not against multiple texting one bit, but there's definitely a limit when it comes to allowing texts to go ignored.
Sending at least a couple of texts instead of a big paragraph at one time is absolutely fine, but if after an hour he's still not replied, maybe take a step back rather than sending another one as it can sometimes come across a little desperate. 
You want to play it cool, and not make a big deal out of him not replying for a little while. If he doesn't reply for a few days without an explanation, then it's probably a good hint that it's not worth your time.
6. Don't let the conversation die
Keeping the conversation flowing, just like you would in person, is one of the key parts of online dating. It allows us to get to know each other better without having to deal with the nerves of dating in person.
7. Feed his ego
Give him a compliment or two, obviously, play it cool, but let him know that you're making a move on him.
Guys love it when you boost their ego too.
8. Ask him questions about himself
A major tip when learning how to play it cool. When we get nervous we often word vomit and talk about ourselves too much.
Instead, ask him questions about himself and spend time getting to know him.
9. Try and find a common ground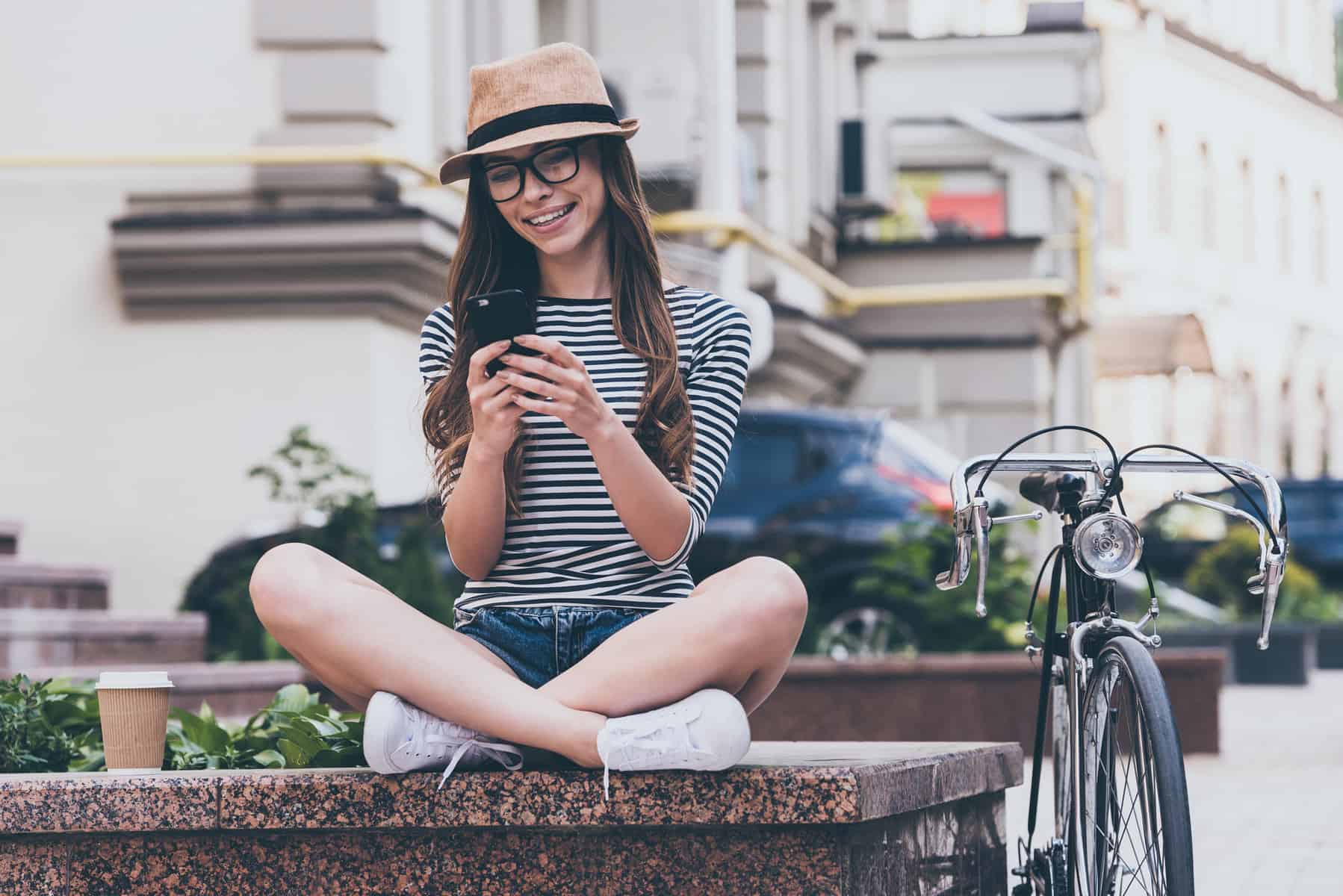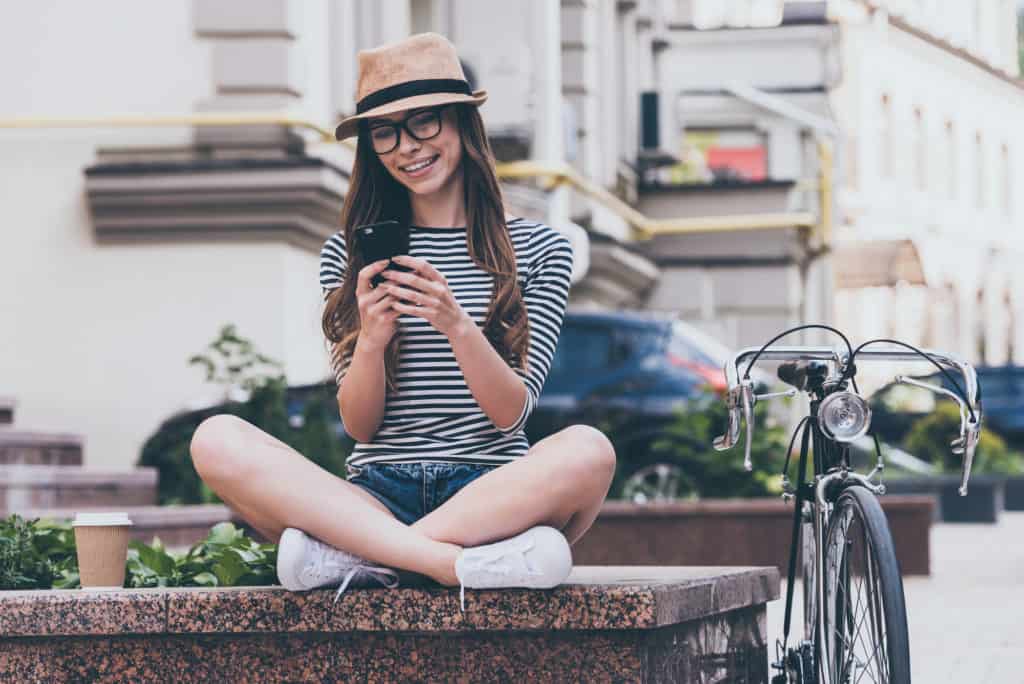 Figure out if there's something you're both into. This will help when it comes to asking him out on a date.
10. Suggest something specific to do together
If you're too scared to outright ask him on a date, suggest something specific that you could do together, without the official label of a date.
For example, if he tells you he loves seafood, tell him about your favorite seafood restaurant and say 'We'll have to go sometime'.
11. Don't be overly forward
Don't make it all about romance, and don't be overly forward about your intentions. Enjoy the early stages of getting to know each other, help push things forward but slowly.
12. Be confident and flirty
Always! Texting or messaging online is such a great device that allows you to be more confident than you'd usually be in person too. Take advantage of that.
You've already made the first move, so own it! Who knows, he might love your confidence.
13. Try and gauge his schedule (to preempt a date)
You don't need to know what he does every second of the day, but there's no harm in becoming familiar with his routine in order to suggest a date at the best time.
For example, if he goes to the gym every night after work, you're going to have the best chance of a date by suggesting the weekend.
14. Don't be too scared to get a little spicy
Look, if the conversation is heading where you think it's heading, don't be too scared to get a little bit spicy.
Most women worry that he'll think they're 'easy' and won't take them seriously enough to date.
But, if the vibe is right, by all means, allow the conversation to head that way.
If he's right for you, he's not going to find your flirtiness off-putting, he'll find it sexy.
15. Ask him to message you back
So, if the conversation is naturally dying out a bit (don't worry, it happens), rather than trying to prolong a dry conversation, end it, and allow him to make the second move.
For example, 'I'm about to have dinner with a friend, text me later?' is a perfect example. You've already made the first move, you've had a good conversation and you can sense there's a vibe there, now allow him to make a little effort. If he does, you'll know he's into you.
16. Outright ask him on a date
Be direct! After all of this flirting and getting to know each other, if he's not asked you out on a date, take the plunge and ask him.
Remember, don't be afraid of rejection. If he didn't want to message you, he wouldn't. So if he's been putting in the effort, it's most likely that he'd love to go out with you, he's probably just as nervous as you are.
17. Remember to confirm the date
If he accepts, and you now have plans for the weekend, it's up to you whether or not you want to keep up the conversation, or if you want to take a step back in order to encourage chemistry and excitement on your actual date.
Whatever you decide, remember to send a confirmation text, we all know how easy it can be to forget plans.
17 Tips on How to Make the First Move on a Guy in Real Life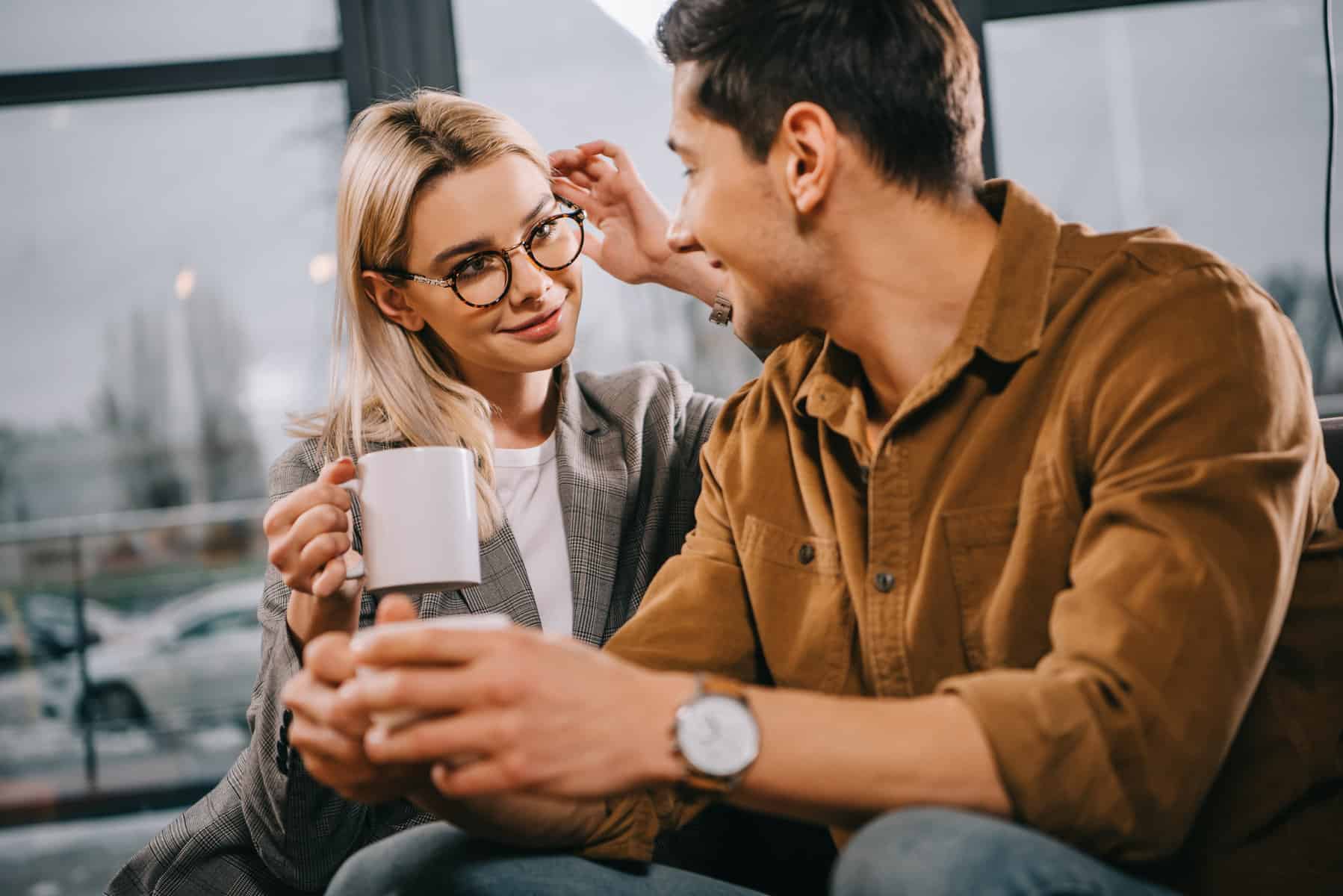 Making the first move on a guy in person can definitely be a little more difficult than over texting or social media.
There are a couple of reasons for this, mainly because it's easier to pluck up the courage over text as you almost have a protective barrier, but also because it's not just the words that you have to consider (like over text), but you have to think about everything to do with how you're portraying yourself.
For that reason, my first tip is to …
1. Calm the nerves
Take absolutely no shame in having an extra drink or two to calm the nerves. You don't want to overthink it, just have fun.
2. Get your friend to give you a pep talk
Get a friend to hype you up, sometimes, that's all we need!
3. Get your wingwoman on the case
If you want a little extra confirmation before making the first move, get your wingwoman to put in a word and to help you establish the vibe.
4. Make eye contact
When making a move on a guy, you want him to know that all attention is on him. Don't shy away from eye contact, it shows confidence and it's totally sexy.
5. Smile
When thinking about how you're portraying yourself, focus mainly on smiling. Show him that you're into him, have a laugh together, and show him that you're fun to be around.
6. Ask if he has a girlfriend
If you're making the first move on a stranger, it's usually best to ask if he has a girlfriend. It can fall into conversation, or you can outright ask him, whatever you feel more comfortable with.
If he has a girlfriend, then stick to girl code, and if not, you know you're good to go and he's already got a slight hint that you're interested; bonus!
7. Offer to buy him a drink
It's always nice when a guy buys you a drink, but let's switch it up and take control for a second. If you like a guy, and want to have a drink with him, you offer to buy him one.
It also might take him by surprise, which is always a good thing.
8. Laugh at his jokes
Unless he's not funny, then perhaps find a different guy to make the first move on.
Jokes aside, show him that you're into him, flirt and boost his ego a little.
9. Find the right moment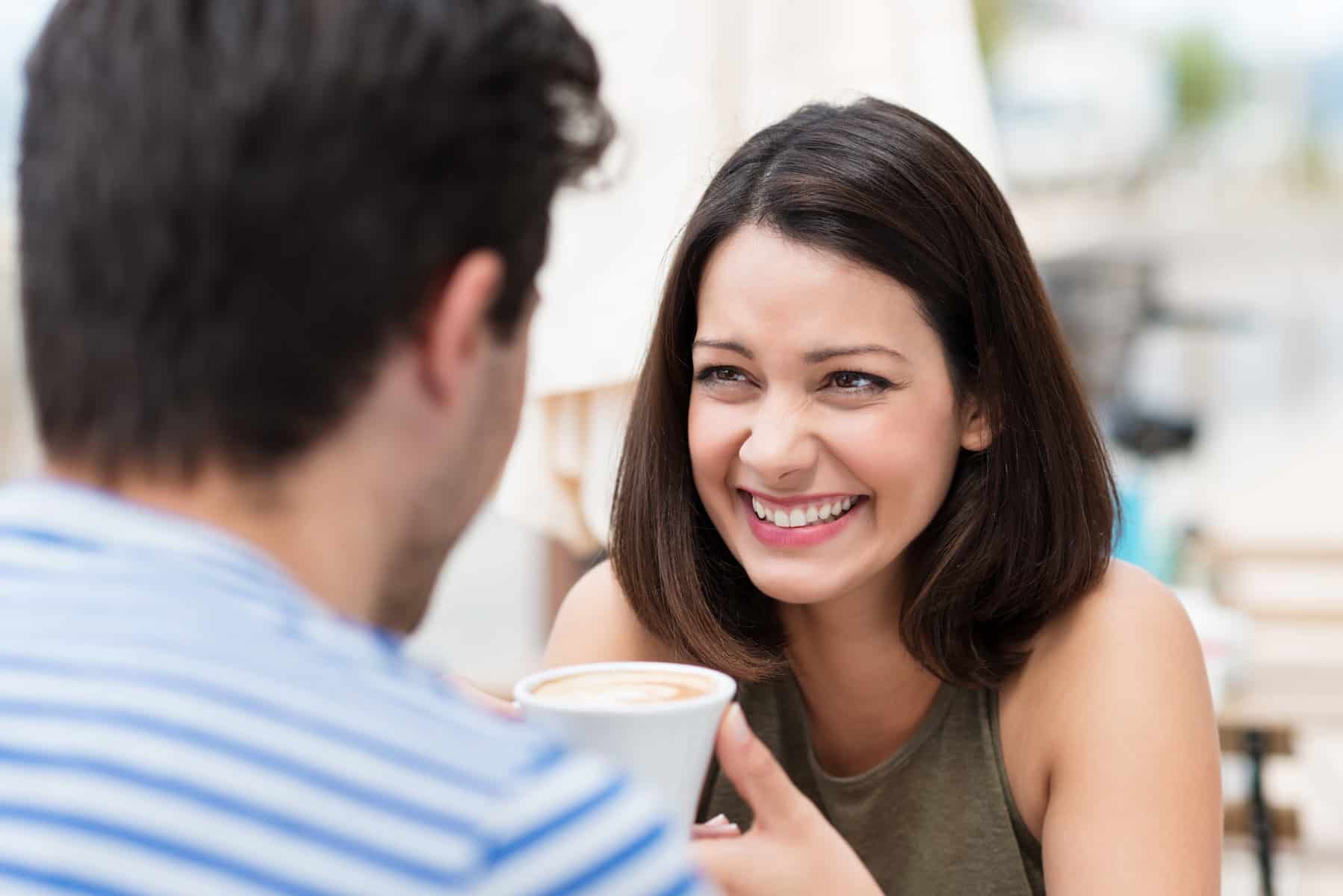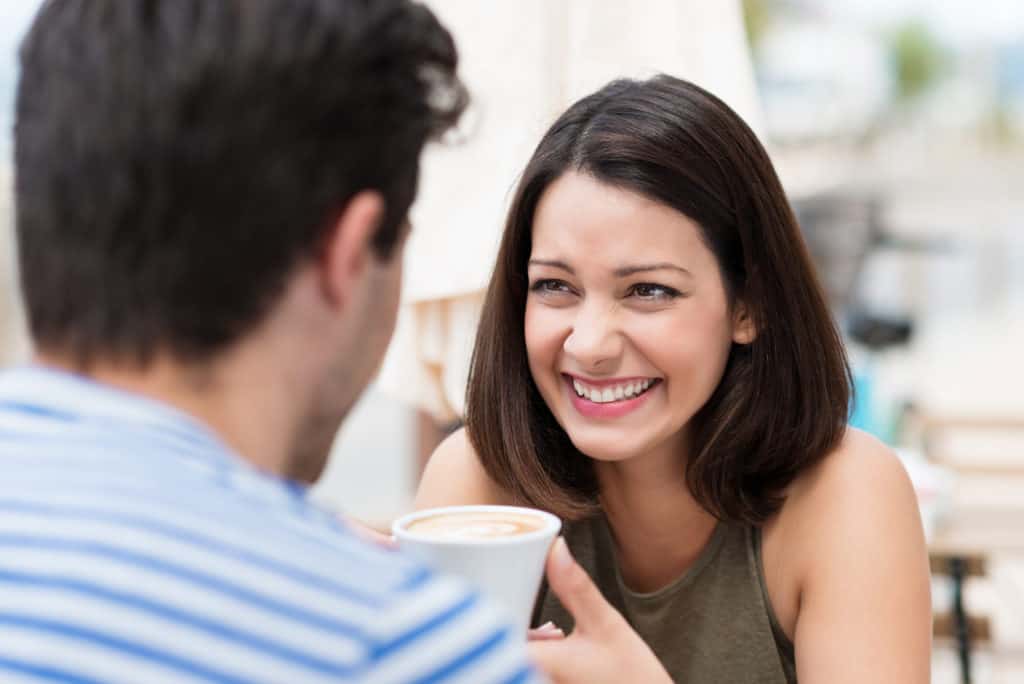 Finding the right moment is crucial when making the first move.
If you're on a night out, I think the best time is always outside or in the smoking area, when you're away from the loud music and other people. You want it to feel a little intimate.
If you're simply out and about and you've just started chatting to a guy, then perhaps end the conversation with 'Do you want to get dinner sometime?' and keep it casual with a little element of romance.
Gauge the situation, and choose your moment carefully to help your chance of success.
10. Ask him to call you
If you're too scared to directly make a move, there's no harm in settling with a simple request for him to call you.
Asking him to make a move is also making a move, kind of.
11. Tell him you're into him
Be bold. If you're struggling to gauge if there's a vibe or not, outright tell him that you like him, what's the worst that could happen.
12. Be clear with your body language
Physical contact is a must. Use your body language to help you feel confident. Hold yourself up properly (don't slouch), be flirty and comfortable around him, and try to match his body language.
13. Don't focus too much on romance
Keep it casual, remember this is just the step before the first date, don't give too much away.
14. Make it clear if you're looking for something casual
If you're only looking for a hookup and have no interest in a relationship, make these intentions known early on to save any trouble later.
15. Don't be awkward
If it's awkward between the two of you, then it's probable that the vibe isn't there, and that's okay.
You want to understand if your flirtiness is being reciprocated. If instead you're both left feeling awkward, maybe take a step back a little and tone it down.
16. Go in for a kiss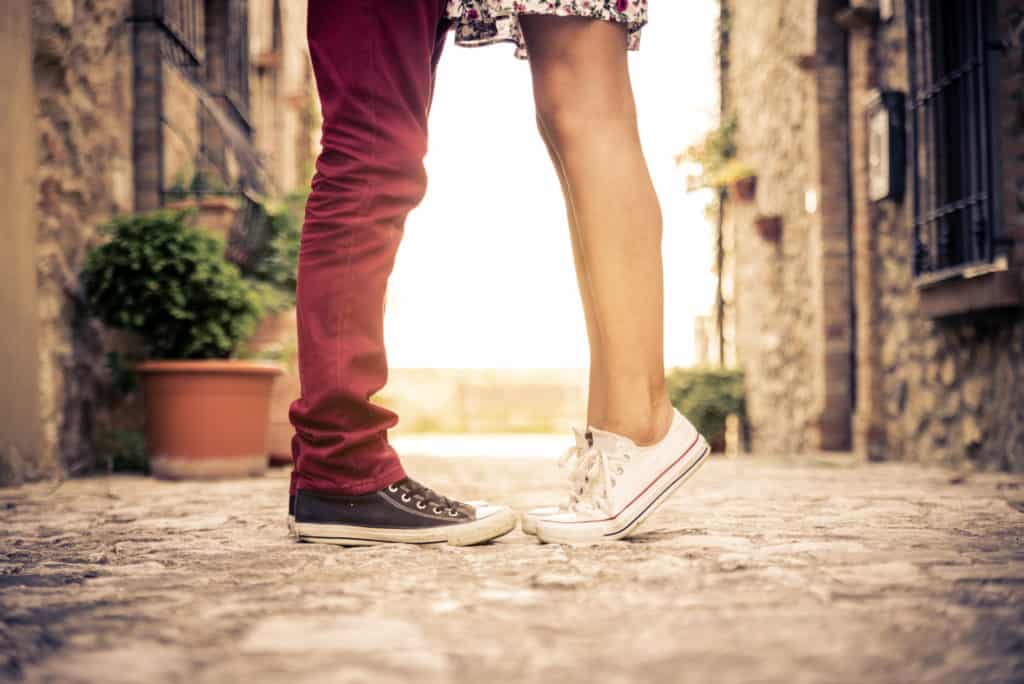 If you want to step completely out of your comfort zone and if you think it's the right moment, be confident and go in for a kiss! There is no shame in kissing or even having sex on the first meeting.
Do whatever feels right. If in the moment you want to kiss him, then kiss him. If you want to go home together, then go home together.
Just focus on having fun.
17. Don't be too sad about rejection
If you do get rejected, try not to feel too down about it.
As much as we don't like it, occasionally it can happen. You should just be proud of yourself for being confident enough to make the first move, and take everything that you've learnt from this experience and use it the next time you like a guy and want to ask him out.
FAQs
How do you flirt on the first move?
Flirting on the first move is easier than flirting with somebody you've been dating for a while because you don't have anything to lose.
He most likely doesn't know that much about you, so you can be as confident as you like, even if you're not normally confident by nature and he'll have no idea. You can kind of be whoever you want to be!
The most important thing is to not fear rejection, rejection is a normal part of life, we're not going to go through life getting absolutely everything that we want, so why not just take the plunge, what's the worst that can happen?
Think about your body language, smile a lot and encourage physical contact where possible to make it obvious that you're flirting. If you're having a laugh together, it's going well!
How do guys feel when you make the first move?
Everybody is different. Some men like it when you make the first move, others like to be dominant and do it themselves. But, at the end of the day, you're making the first move because they haven't, so…
It doesn't matter too much how a guy feels about it. If he's too nervous to do it himself, then you're not going to get anywhere unless you take the plunge yourself.
But, with that being said, most men find confident women sexy.
Do guys want you to text first?
Some guys do, and some guys might not have thought about it yet. The thing with making the first move is that unfortunately, the guy you're into might not be aware, so sometimes to give us a chance, we have to be the ones to text first.
At the end of the day, you're not texting first because you think he'll like that about. You're texting first because you're into him and you want him to know about it.
Conclusion
There are several tips that can help when figuring out how to make the first move on a guy, but what it ultimately comes down to is the ability to feel confident in yourself.
If you're struggling with confidence in dating, get yourself on a dating app or get yourself out there on a night out and have a friend guide you to help move things forward in your dating life.
We shouldn't feel intimidated by making the first move on a guy because society has taught us that we should wait for a man to make the first move. Take your love life into your own hands and, most importantly, have fun when flirting and dating.
If you have any stories from when you made the first move on a guy, feel free to comment, I'd love to hear them. Any advice for other women is, of course, always welcomed. As usual, feel free to share with a girlfriend who needs help.
Do you feel like all you think about is him, but he only thinks about himself?
This doesn't mean he doesn't like you. You have to understand how he is wired. Once you do, you'll find there is a subtle thing you can say that to him that will drastically change how he shows his emotions towards you.
Take this quick quiz that looks at whether he actually likes you or not!