Couples find ways to keep the spark going in their relationships. Some of them get bored of trying things out alone together, and this is what inspires double-date ideas.
Having different date ideas, including a date night, helps couples reconnect and renew their bond. It also allows them to meet and make platonic relationships that help in the long run. Date night ideas don't have to be perfect. The aim is to relax from your routine with your partner and enjoy your time with a different set of people.
No doubt, participating with other couples is a great way to increase love and affection between partners. And there are many double date ideas or date night ideas to try out; depending on your preferences and those of the other couple you would love to involve. On that note, here are 85 double-date ideas to help you enjoy, laugh, and improve your relationship.
85 Fun Double Date Ideas
1. You can go bowling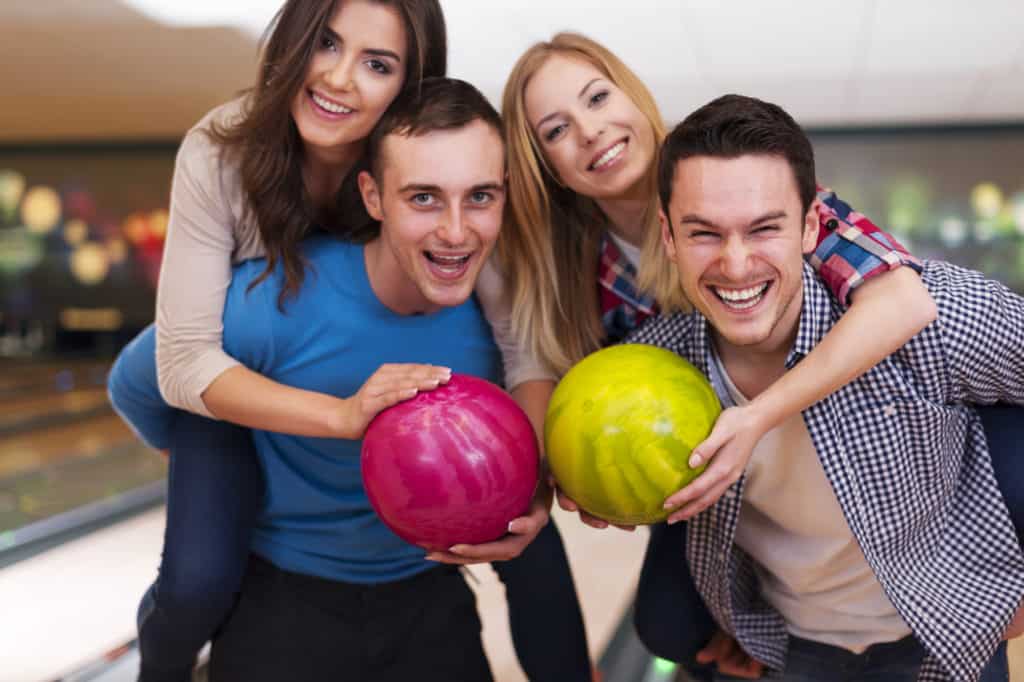 Bowling is one of the perfect ideas for couples to do together. Almost every city has a bowling alley. Don't worry; you don't need to have professional skills in it. It's something you do for fun to keep records and memories. You could learn while trying.
2. Horseback riding
Horseback riding could be a little bit expensive, but it's one of the fantastic date ideas. It's something you can try out of the blues. And it makes it more fun when one partner has to teach the other. Although it selects weather, it's worth it.
3. Water gun or balloon fight
This is one of the double date ideas that are more fun during summer. Both couples can create two teams and run around spraying water on each with guns. You can also enjoy balloon fights together, but that's if both couples are okay with it.
4. Cooking food at home
Sometimes, you could just decide to stay at home and have fun cooking. It's one of those lovely date ideas. You determine what couple's house is suitable, fix a time, and cook together. All four of you can cook the meal together.
5. Have a picnic at the beach
Picnics at the beach are romantic. They're one of those beautiful date ideas couples should try. Both couples could decide if they want to sun-tan, play water games, or sit on a spot and have fun. Some could just walk around, talk about different things and take photos.
6. Play games at home
A game night at home is one of those fantastic double date ideas for couples. Playing games at home is not only exciting, but it's also educational as well. The good thing about this is, you could mix games; sensual, political, romantic, or explicit ones because you're two couples having a good time.
7. Go for wine tasting
Wine tasting may be a bit limiting because not all couples are fans of alcohol. But if you are, you could taste wine together and discuss or argue about it. In the end, you could buy a bottle and organize another double date some other time.
8. Organize a treasure hunt
Treasure hunts are exciting. They're unique. It doesn't matter where you plan them. It could be in any location that is suitable for both couples. So, they could decide to travel out of their city to enjoy it in a different environment or simply enjoy it in a known environment.
9. Go to an ethnic restaurant
Going to an ethnic restaurant helps to spice up a double date. Based on the couples' preferences, they could pick an Italian, Mexican, or any other ethnic restaurant they're comfortable with. It's one of the double-date ideas couples should try.
10. Paintballing
If both couples don't mind soiling themselves to catch fun, paintballing can be fun for couples because you get to form teams, run around, and laugh whenever someone receives a color splash. Although, it may not be available in some cities. You could confirm.
11. Host dinner date
Hosting a dinner date is of the fun double date ideas that can help couples have a good bonding experience. They get to talk about many things like the food recipe and daily life activities. A dinner date is an excellent way for couples to get to have a quiet and private time together.
12. Go chocolate tasting
You could take a trip to a chocolate shop to try them out. This is one of those double date ideas suitable for couples who have a sweet tooth and wouldn't mind trying something unusual. The good thing about it is that it brings a sugar rush, hence, more laughter and fun.
13. Try rock climbing
Rock climbing is one of the fun ideas for double dates. It's an activity that fits couples who love adventure and wouldn't mind exercising a bit to create lovely memories and moments. However, this may not be advisable for people who are afraid of height.
14. Go for an opera show
Going to an opera show is a great activity for couples. It's calming for people who go through stress and wouldn't mind relieving it with a soothing musical performance. One great thing about opera shows is that they're set for a particular time which is flexible for a double date.
15. Sightseeing
Sightseeing is a light idea for a fun date. Couples who don't like to be seated can try this out. It's more like tourism around the desired city. So you could have a series of moments; play, jumps, laughter, and taking photos.
16. Go to the movie theater
One of the exciting double-date ideas is going to a movie theater. Dates at the movies are nothing like the rest because each couple gets to talk about the film during and after the date. It's economical and time-saving enough to allow space for other group dates.
17. Yoga class
Yoga class is one of the thoughtful date ideas for couples. It's one of the few times they get to relax and still be on a date. Yoga class does not have to be continuous. It could be a one-time thing just for the couples to have a bonding experience.
18. Hang out at amusement parks
Having double dates at amusement parks can be very fun because you get to have options of different fun ideas to choose from. Every activity is different, nothing like the other. That makes it a win-win for each partner involved in the double date.
19. Host a game night
A game night organized to be a date night is one of the best double date ideas. The couples would get to try a variety of games, including the ones for couples, and they can easily choose the ones they're comfortable with.
20. Video game marathon
A video game marathon is one of the fun ideas for group dates. The exciting part about it is that it could be very minimal depending on the couples and their preferences. They could decide to have it in any of the couples' houses, making it more private and fun.
21. Have a dinner party
Organizing a dinner party is part of a date night too. It's one of those fun double-date ideas that allows spontaneity. It makes it more fun if it's arranged to have a double date dinner party with your best friend and her boyfriend.
Use this tool to check whether he actually is who he says he is
Whether you're married or have just started seeing someone, infidelity rates are on the rise and have increased over 40% in the last 20 years, so you have all the right to be worried.
Perhaps you want to know if he's texting other women behind your back? Or whether he has active Tinder or dating profile? Or worse yet, whether he has a criminal record or is cheating on you?
This tool will do just that and pull up any hidden social media and dating profiles, photos, criminal records, and much more to hopefully help put your doubts to rest.
22. Take a road trip
Taking a road trip to a particular city is one of those fun double-date ideas. They get to spend hours together talking and laughing about funny things in their immediate environment. Road trips are refreshing for couples who barely leave their daily life routine.
23. Play board games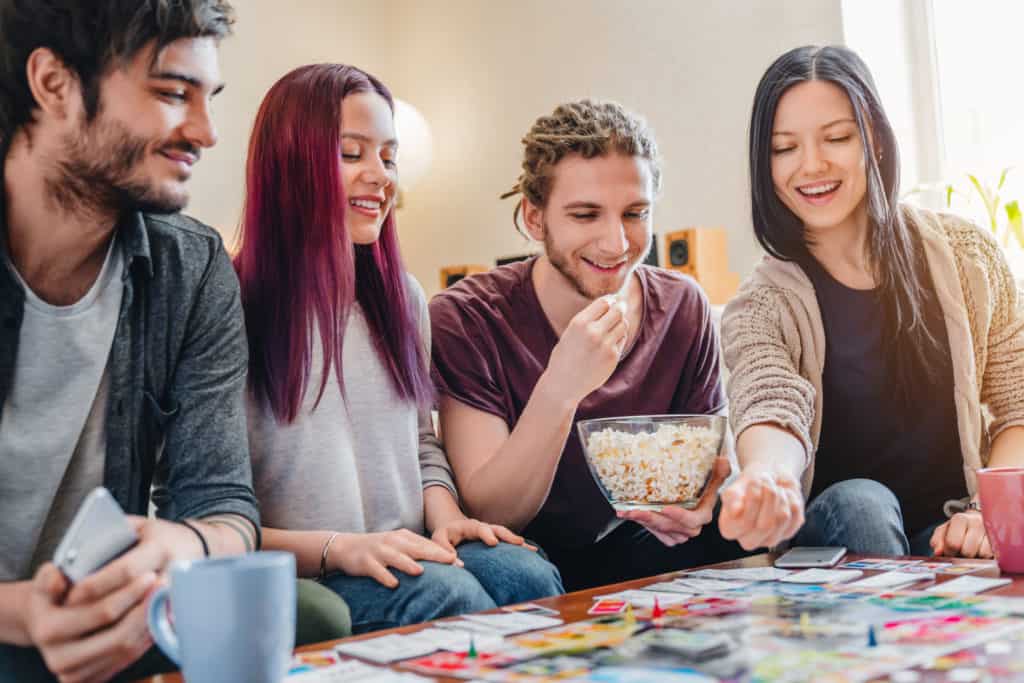 Playing a group date game like board games is one of those double date ideas. Board games are engaging and could keep couples busy for a long time. It is a way to find the best side of each partner while still having fun.
24. Karaoke
A private karaoke is one of those double-date ideas and doesn't require unique or new skills to participate in it. One partner in each relationship could sing while the other backs them up, or they both sing together. It's having fun with music.
25. Film festivals
Couples who love to enjoy their time in large crowds or are in love with films could pick film festivals as one of their double date ideas. They will talk about the film, reminisce about previous ones, and anticipate new ones.
26. Try a fitness class
Working out helps to keep the body fit and the blood flowing well. So you could try a fitness class together. Couples who love to stay fit may enjoy this double date idea more because it's something they can flow with.
27. Buy tickets to a sports game
You don't have to be a fan of sports to go to a sporting event. You will have a fun time together cheering players with a big pack of popcorn and a cup of drink beside you to make it more interesting. Buying tickets to a sports game is one of the best double date ideas.
28. Go to a museum
Visiting a museum is an excellent way to learn about cultures. Couples could pick this as one of their dates to talk about the exhibits. And they could do this either at the museum, at lunch after their visit, or over drinks.
29. Ice cream double date
Going out for ice cream is another double-date idea for couples. They can take the ice cream and still talk about other things or make plans on future double dates. Ice cream double dates are fun and most suitable during summer.
30. Go to the zoo
Another double-date idea is to go to the zoo to see the creations of mother nature that are uncommon. Couples get to take pictures with the animals. In some zoos, couples get to find out the historical aspects of some mother nature creations.
31. Dance class
Dance classes are usually fun for couples. Apart from choosing it as a double date idea, a dance could reconnect two partners. So they become refreshed by lightly moving their bodies and they also get to loosen their muscles. Every relationship should have dance class dates.
32. Go volunteer for your community
One of the thoughtful date ideas is to go and volunteer for your community. If the couples have the same passion, they could volunteer or work together to achieve it. It could be a food drive or any other volunteering service.
33. Play a laser tag game
Playing any of those laser tag games is one of the date night ideas couples should consider. It's nicer when couples team up to compete, which is what makes it an excellent double date idea. It would be best if you tried it in your relationship or with another couple whenever you can.
34. Skate
Skating is one of the best double-date ideas. It doesn't matter if it's ice or roller skating; it's always fun. It may not be available in some areas, but if it is, you should try skating on your double date. One of each couple falling is an exciting sight to see.
35. Attend a play
Ask another couple to join you in attending a theatrical play. You all get to dress up and have a fun time watching people display their drama talents. It's one of the fun ideas for couples to experience on a double date. It could be a random one in your locality or a nearby city.
36. Go hiking
Double dates could be exciting when they have to do with hiking, either on a hilly surface or not. It could be in your nearest environment, and it does not have to be hilly. You could go for a stroll or long walk in a park, talk, and catch up on many things.
37. Go to a painting fair
Painting sessions help couples to discover and embrace their creative abilities. Imagine having a double date where you invite another couple to join you in painting pottery or any other piece of art. You can either create one major work or individual pieces that could also be therapeutic to everyone.
38. Try camping together
Camping is quite romantic because you get to stay in a different place that is not your home. So both couples get to travel to another destination with their camping bags, set tents, and sleep under the stars, admiring mother nature in its purest form.
39. Book a spa session
Another great way to feel refreshed is by planning your double date to happen at the spa. Being at the spa does not mean you'll always get to be together. One partner from each relationship could spend time with another partner from the other relationship, making a unique BFF moment for each of them.
40. Attend a comedy show
Laughter opens the heart. A double date at a comedy show is one of the best moments for each relationship. They get to listen to the jokes, laugh, and talk about them at home after the show. Two couples attending a comedy show is another type of fun date night.
41. Solve puzzles in an escape room
An escape room is another group date game that is exciting for double date night. Each couple could team up together or separate to create different teams to solve puzzles or find clues in an escape room. It's suitable for a game night organized to be a double date.
42. Go to the national park
One of the best double date ideas that allow everyone to admire mother nature. Invite another couple to join you at a local, national park. It could be in the morning so the couples can enjoy the serenity of the environment and the beautiful morning sun.
43. Try a 'no power' date night
One of the ideas you could use as a double date idea is to pretend like there's no power. You turn off the lights, have candles, and have a different kind of party. You could try out other games during this period and behave like it's back in the '50s.
44. Organize an adult kids' party
Hosting a kids' party is a heartwarming idea for group dates. The couples could bake a cake, buy gifts, dress in different costumes, and pretend they're kids. They could sing songs of childhood memories, share stories, and laugh about them.
45. Make a new type of meal together
Try out new recipes as couples. It doesn't have to be successful. The fun is to pour in ingredients with an uncertainty of what it would turn out to be. If you do this on a double date, you all get to know each other, work together and discover new things.
46. Go fruits hunting
Fruit hunting is an exciting idea for a double date. So you could fix a day and go around your houses or neighborhood to pick fruits into a picnic basket, take them to a nearby park or eat them together afterward. It's healthy for both the couples in the relationship and their health as well.
47. Find some experimental videos and try them out
Watching scientific and experimental videos online can be fun for double couple dates. You can all pick something you're interested in and have always wanted to try out. The process makes it fun whether it comes successful or not.
48. Drive around your locality and look around
Sometimes all you need to do is just relax in a car, drive around, and appreciate your view. It could be a date idea. What this does is relieve the silence for couples that work from home or spend most of their time indoors all week.
49. Go window shopping
Ask your friend and their partner to join you for window shopping. You don't need to buy anything; you could just make a funny combination of outfits, make funny faces, tease each other, laugh about them, and take photos if necessary.
50. Do some arts and crafts at home
This is a unique double date idea, and it could be as simple as one couple going to help another decorate their new apartment. So they could try to create some pieces of art to decorate their house or help to refurbish some furniture.
51. Explore a flea market
It's fascinating when couples explore flea markets. They get to see things they've never seen before, talk about the goods with the vendors, and buy the ones they love and can afford. It's one of those double dating ideas that is needed for every relationship.
52. Attend an auction
There are different kinds of auctions. Look out for one in your city, invite another couple, and then you all can have fun discussing and bidding on things. You don't have to buy anything, it's just a different kind of double date, and it can be a lot of fun for couples.
53. Go on a sailing adventure
It's nice to leave the city once in a while to go on a sailing adventure. So your double date could be on a ferry, sailboat, or rowboat. You can paddle together while enjoying the beautiful water and its environs.
54. Attend a double-date cooking session
If you're not okay with inviting some other partners to your home or don't have strong cooking skills, you could arrange a cooking class at a local restaurant. It's fun getting to know other people's personalities when going through kitchen pressure.
55. Learn new skills together
One of the fun double-date ideas is to learn a new skill together. It could be something simple like knitting, kneading and molding with clay, or dancing. Being four would add to the fun while they learn a new skill together.
56. Attend a mixology class
Another way to have fun on a double date is to take a mixology class. You can invite one of your favorite couples that would like to have fun mixing drinks. Everybody gets to learn how to mix different kinds of cocktails and practice later at home.
57. Food crawl double dates
Sometimes if you don't feel like eating at home or sitting in a fancy restaurant, you could organize double dates and visit a local market around to try out new meals. You could try out the ones that have to do with other cultures for the feel of it.
58. Go clubbing
If you and your partner are both goofy in your relationship, you could invite another goofy couple out for clubbing. Sometimes it's fun to go out there, dance to loud music, take some shots, and be energetic.
59. Organize a home theater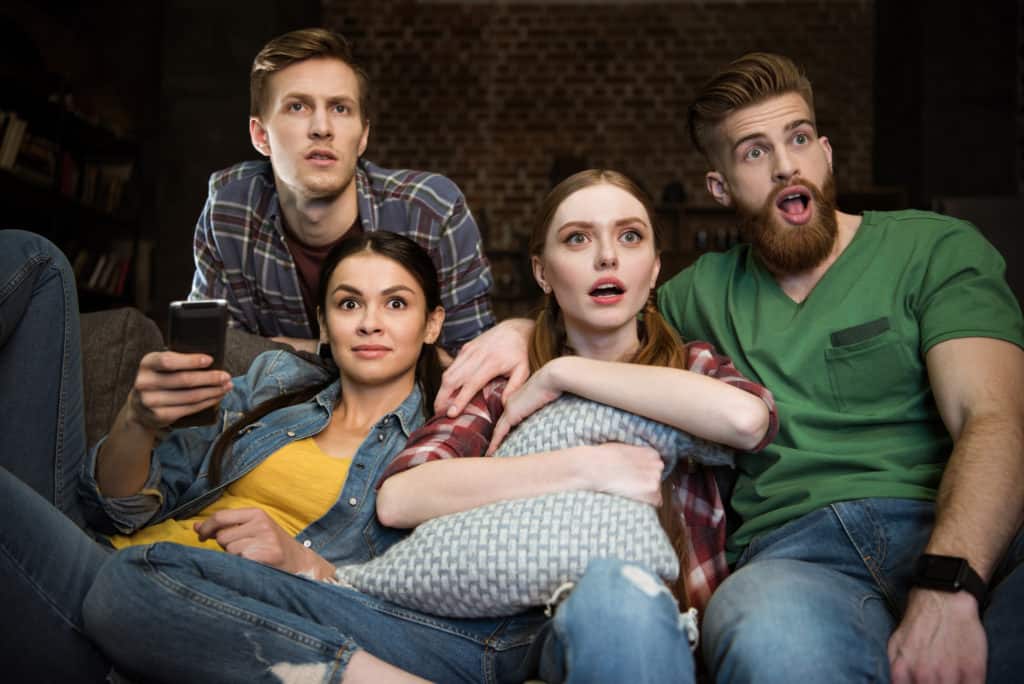 Home theater double dates are entirely private and perfect for date nights on a budget. All you may need could be a few soft drinks, packs of popcorn, or light snacks to make the moment special.
60. Try to attend a self-defense class
A self-defense class is fun when both couples are either new to it or professionals at it. They can pair up as two teams and try their skills out. It doesn't have to be a competition, but something to enjoy as a couple.
61. Visit expensive houses and fantasize
You could take a tour with some other couple around your city, visit pricey houses, and bargain for them. The aim is to go in there and talk about different fantasies you would love to have if you lived in the house.
62. Play charades
Charades are fun and are perfect for all age groups. The couples can mix and team up as two groups, as usual, and get to play it out. You can set the rules as you like and get to pick out a playful punishment for any team that loses.
63. Have an overnight double date
An overnight double date at home could have many fun ideas to play with; games, movies, karaoke, dinner, or cooking time. The couples can choose any activity to start and end with.
64. Try couple compatibility tests
Compatibility quizzes are fun with couples that have known each other for a while. So each of them gets to try the quizzes together. They're good for every relationship as you learn new things about your partner.
65. Go shopping
Shopping is one of those fantastic double date ideas if you feel you need to connect more in your relationship. So you can make it a double date with any of your favorite couples if they agree with it. You get to visit different shops and buy new things to look good.
66. Play video games at a game center
The exciting thing about playing games together outside is that you see other double dates. Each partner from a relationship can compete together while the remaining two cheer them up, or they can all team up to compete depending on the game.
67. Attend a couple of talk shows
Double dates can be educational too. You two can get tickets for a talk show about couples and attend with your favorite couple. The fun thing is you get to agree or disagree with something and get to know more about other couples.
68. Visit an aquarium
Visiting an aquarium is like seeing the beach at night; quite serene with a few pleasing sounds and a nice view of fishes swimming around in their world. It's one of those good double-date ideas that don't involve much stress.
69. Go to an art exhibition
Going to an art exhibition is exciting and classy at the same time. Couples can appreciate and critique paintings and other artworks together. They can buy an art piece if they want or commission the artist for a new art piece.
70. Celebrate Christmas
Christmas dates are fantastic, but they are limited to the period of the occasion. They're exciting because each couple gets to help the other prepare a meal or dessert. They could have dinner together or sing Christmas songs.
71. Try out Halloween costumes
Invite your favorite couple to try out Halloween costumes and make-up. It doesn't have to be the period for it. You could try them on for good laughs and photos. It doesn't have to be one costume, it can be two to three different outfits.
72 .Play-act scenes from movies
Play-acting gives you the responsibility of having to read and know your lines as an actor. So you could make it a double date with your favorite couple just to do something different and out of the blues.
73. Go book shopping
Book shopping is for couples that love reading and wouldn't mind spending the whole day doing it. They can talk about different authors and the books they have written, and their favorite books at the shop.
74. Visit a jewelry store
Jewelry stores are the right places for couples to visit. It can be a hand-made jewelry store where they make couple bracelets or BFF rings. You don't need to buy it if you don't want to, you can visit.
75. Watch funny videos
This is one of the perfect date ideas for distant couples. They could pick a specific video, watch it, talk, and laugh about it together from different locations. It could be on a video call, or they could watch it at separate times and talk about it later.
76. Plan for New Year's together
Beginning a new year can be boring if you don't have the right people or relatives around. So you can organize a double date and do fun activities to begin the year on a good note.
77. Try a virtual dinner date
A virtual dinner date is one of those creative date ideas for couples who are not in the same environment. They could pick a specific time and have dinner together. It's more relaxing because they'll stay indoors talking and playing games together.
78. Go to a wedding
If you have an invitation for a plus one couple to a wedding, you could ask your girl and her partner to come around. It expands your circle of friends at the ceremony and allows them to meet new people too.
79. Attend Thanksgiving
Thanksgiving is another activity that couples can attend together. You could express some of your feelings and be vulnerable with each other. Thanksgiving is different from parties but can be of the coolest double date ideas.
80. Go carting
Carting is one of the exciting double-date ideas for couples to try. You don't need to know how to drive to be able to do it. Go out there with another set of partners, compete and enjoy.
81. Have a barbecue party
Barbecue parties are lovely. It could be picked as one of your exciting date night ideas to organize as a double date. You could choose anything to grill; beef, pork, or chicken. It's up to you and what you want to achieve on your date night.
82. Attend a random party in your city
Spontaneity sometimes counts when it comes to date night ideas. Both couples could dress up unplanned and attend a random open party. It's exciting because you don't have to plan any activity. You go out there and do anything you're okay to do.
83. Go to strip clubs
The male or female strip club, it doesn't matter. It's one of the fascinating date night ideas you will like to have on your bucket list. You could decide on the strip club you want to visit and fix a date.
84. Travel to a different continent
Traveling to a different continent is one of those expensive double-date ideas. But it's an exciting one if you can afford it. You learn about different cultures, new traditions, try out other foods, and visit historical places.
85. Group call
Group calls are for distant couples who want to reconnect but can't for specific reasons. It's one of those date ideas couples who are far away from each other should consider. It's exciting when the couples are free and familiar with each other.
FAQs
To Sum Up
There are many date ideas out there to choose from. You could pick from the one I've mentioned, or create your own unique one. If you like this article, don't forget to drop a comment and share it with others.
Utilize this tool to verify if he's truly who he claims to be
Whether you're married or just started dating someone, infidelity rates have risen by over 40% in the past 20 years, so your concerns are justified.
Do you want to find out if he's texting other women behind your back? Or if he has an active Tinder or dating profile? Or even worse, if he has a criminal record or is cheating on you?
This tool can help by uncovering hidden social media and dating profiles, photos, criminal records, and much more, potentially putting your doubts to rest.