No matter what Miley was doing throughout her career, her name has always been on everybody's lips, from her high school romances to some serious, high-profile relationships. Miley was and always will be one of the most talked about celebrities, especially when it comes to her love life.
The superstar is not even trying to hide her romances; well, even if she tried, her fans would be more than ready to find out all the information about her possible boyfriends themselves. However, we all know the most important mark on her boyfriend's list is Mr. Liam Hemsworth.
Miley and Liam's coupe is a true definition of the American dream. Young, successful, and most importantly, in love. Their decade-long story still makes many fans confused since there are some details that are still unclear and a total mess.
We will try to understand the details of each of her relationships. So get ready to dive into the juicy and interesting details of Miley Cyrus's boyfriend's list and the drama that has excited us all over the years.
Is Miley Cyrus Dating Anyone Now?
After the latest dramas with Liam Hemsworth, there's no such information about Miley's love life. Everybody wants to know what is going on in her personal life right now. Some even make up fake romances about the singer. However, the last thing we know about her is that she started to date a young LA-based rock artist, Maxx Morando.
It seems like they started seeing each other at the end of 2022 and even announced their relationship to their families. Both Miley and Maxx never talked about their love story in front of the public eye. The fans could barely see them together.
No surprise that the two broke up not too long after the start of their mini romance. However, it is clear that Miley and Morando are still friends, letting everyone know that there's no bad blood between them.
Miley Cyrus's Exes' List: Separating Facts from Fiction
It feels like Miley never even had a real childhood. Her private life was always a hot topic for everyone. I've been a fan of Miley since the early Hannah Montana days. I have collected every piece of the drama that happened, and I have so much to spill for you today, you better keep reading. Here's the full list of Miley Cyrus's boyfriends.
The Rumors About Miley's Love Life
Justin Bieber
Miley Cyrus and Justin Bieber sound like a teenage dream, don't they? First of all, JB and Miley have been friends for years, and they were so close that a few years ago it was rumored that Justine's ex, Selena Gomez, even tried to hold him back from hanging out with Miley.
However, let's not jump to conclusions. While the world has always loved the idea of them being a couple, they are most definitely just friends. Even though their friendship is undeniable, some fans are still speculating about their possible romance and proudly making headlines with the hashtag #Juley.
Avan Jogia
As known, Avan and Miley are from the enemy channels, Nickelodeon and Disney. This means that there's no chance that the two talented actors would date each other, right?
Apparently, Miley and Avan were linked to each other by the end of 2010. Not only did the two attend the same party, but some people felt a special kind of chemistry between them. Soon enough, the photo of them hugging each other went viral among internet users.
Sadly, except for that one photo, we have no proof of Miley and Avan being a couple. Moreover, the party was the last time people ever saw them hanging out together.
Mitchel Musso
The "Hannah Montana" co-stars were working on the Disney successful project for five solid years. It is clear that due to their project, they had to spend some time together. However, some fans are still keen to believe that not only did they have to spend their time together but they are also more than friends, hiding their high-profile relationship.
Shortly thereafter, both Cyrus and Musso let fans know that they are good friends and love spending time within their friend group.
Miley's official dating history before and after Liam
Dylan Sprouse
In 2006, Miley had her first mini-romance with her Disney co-star, Dylan Sprouse. Apparently, the young stars dated each other for a few weeks. However, it was clear that nothing serious could be between them since the two were just kids.
Nick Jonas
Another Disney star was spotted with Miley in 2007, but this time, it seemed like everything was more than serious. They hung out together a lot. Miley even reported that they were in love and that not only they got an endorsement from her parents, but they had also been planning to have a trip with Nick's family members.
Sadly, the couple broke up shortly after, letting everyone know that they were just best friends and that the love between them was nothing more than platonic.
Thomas Sturges
2008 was an exciting year for the young star. Miley was linked with Thomas when she had just turned 16, and Thomas was just one year older than her. They met while working on a Disney project, and soon they fell in love and began dating.
Moreover, their families were also happy about their relationship. It was perfect for their parents. They were so excited that Thomas's mom had even written a song about their romance.
However, at the time, Miley was under the strong control of the Disney channel, and apparently, they didn't like Thomas as much as her parents did. Unfortunately, their romance ended the same year.
Justin Gaston
The story brings us back to 2009. It might seem hard to think of the time before there was Liam. However, before meeting Mr. Hemsworth, Miley was in a serious relationship with Justin Gaston.
His first public attention was after the sixth season of the talent show "Nashville Star." Miley's father, Billy Ray Cyrus, was one of the co-hosts of the season, which is most likely how he introduced the young country star to Miley. They began dating in 2008 when Miley was just 16 years old. Justin was 20 at that time, which also was quite controversial.
The couple dated each other for nine months before separating in June of the same year. Some sources say that Justin's jealousy over Miley's close relationship with one of the Jonas Brothers members, Nick Jonas, fueled their breakup.
Use this tool to check whether he actually is who he says he is
Whether you're married or have just started seeing someone, infidelity rates are on the rise and have increased over 40% in the last 20 years, so you have all the right to be worried.
Perhaps you want to know if he's texting other women behind your back? Or whether he has active Tinder or dating profile? Or worse yet, whether he has a criminal record or is cheating on you?
This tool will do just that and pull up any hidden social media and dating profiles, photos, criminal records, and much more to hopefully help put your doubts to rest.
The same source said, "She obviously has been hanging out with Nick again a lot, and Justin was cool with it at first, as long as it was just a cool, friendly thing," a source also added, "She didn't cheat, but I guess Nick was trying to get her back the whole time."
After the breakup, they got angry on Twitter. Justin tweeted, "Now I'm sitting on the couch, wondering why we as humans try to pretend everything's okay when it isn't just real."
Miley responded with several tweets immediately, saying that no matter what happened, she was truly real and that even though she couldn't change Justin's mind, she knew that he was the one who pretended to be fine.
All About Miley's Marriage to Liam, What Happened and the Number 14 Drama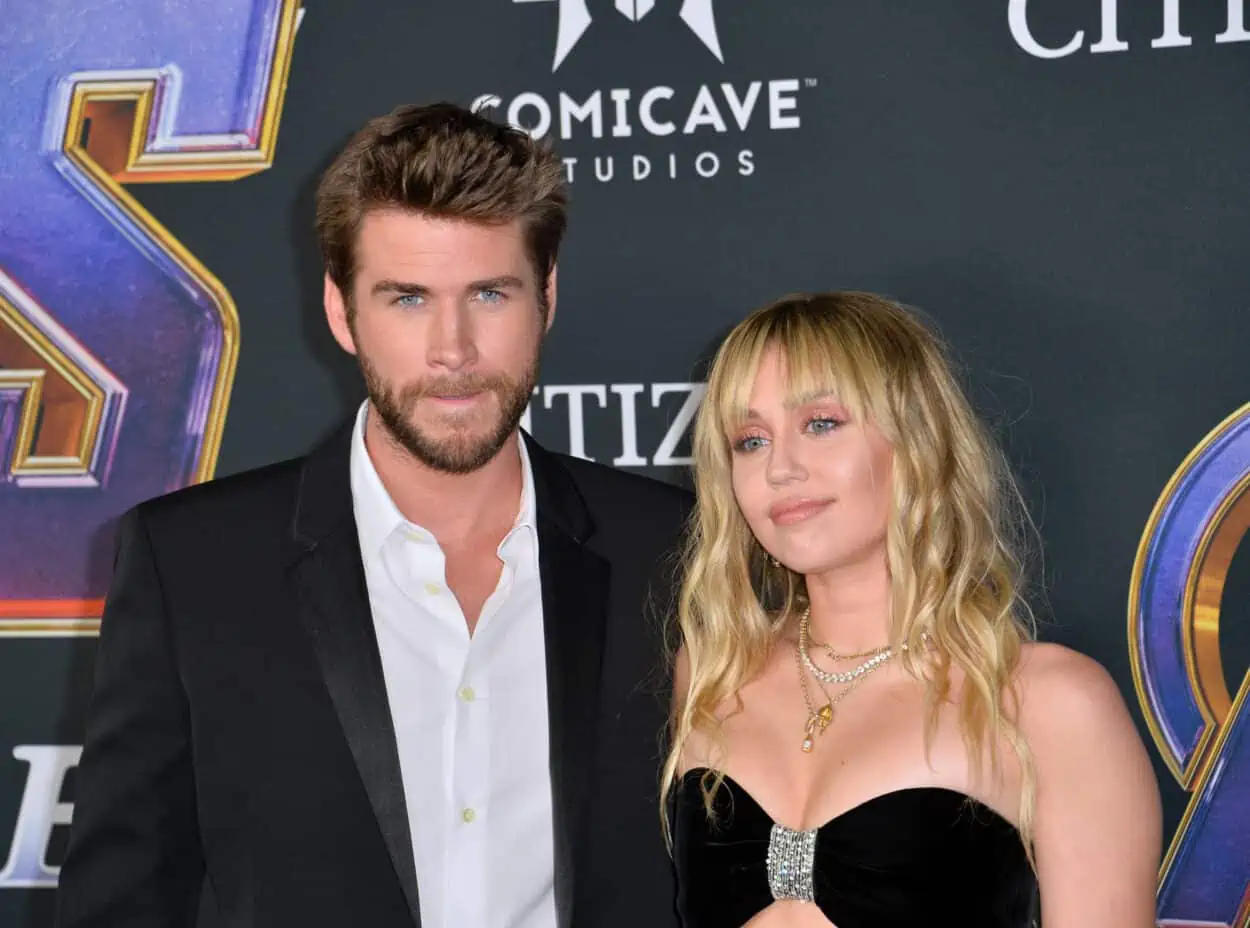 Seventeen-year-old Miley and nineteen-year-old Liam first met each other in the film adaptation of Nicolas Sparks's novel, "Last Song," in which the two play romantically connected characters, Ronnie Miller and Will Blakely.
They got along so well during the filming that Miley even introduced him on Twitter as her best friend.
She opened up about going through a tough time back then, wanting to have a break from guys and focus on her work. "But then I met him, and he opened the door for me, and I was like, I've been in L.A, three years, and I don't think any guys actually opened the door for me," said the young popstar in her interview for "The Ellen Show."
During that time, the couple had already been dating each other for ten months. However, until 2010 they played an endless on-and-off relationship.
It was pretty weird when Miley claimed on the internet that there was nothing but a strong friendship between them, and the next photos from the paparazzi were them kissing each other. Fans were more than confused, and so was Miley's relationship.
All the gossip about their breakup stopped when Miley was spotted with Liam's family in Australia on New Year's Eve. They later returned to California together, where the lovers were constantly seen riding bikes or hanging out with each other. During an interview, she said how happy she was and how lucky they were to have each other.
The year 2011 wasn't all about sunshine and butterflies for Liam. The couple officially announced that they had decided to split up. At that time, Miley was busy working on her other iconic movie, "LOL," in Detroit while Liam stayed in LA. Even though they tried, it seems like work was always Miley's biggest priority then. Shortly, Liam's team reported their breakup.
However, the single life didn't last that long. A month later, after the official breakup, the romance was back on. Sources reported that the couple decided to get back together.
This is when it gets even messier. In November of the same year, the couple split again. The headlines about them getting back together soon changed to their unfortunate breakup.
Let's move to April 2011. Another chaotic try at getting back together. The same month was super productive both for Miley and Liam. While she had her 3rd world tour, Liam got one of the leading roles in "The Hunger Games." At the end of Miley's tour, they went back to LA together, and in October, they attended their first public event since the breakup.
In 2012, during the Teen Choice Awards, both Miley and Liam attended the ceremony. Surprisingly for the fans, they were separated during the whole show. Not only they haven't sat next to each other, but they also were not seen posing on the red carpet together. Many assumed that the ceremony was their first hint to the public regarding their breakup, again.
Later her breakup with Liam was officially confirmed, which gave haters a reason to bully her even more by saying that her new "crazy" style was pretty much the main reason for their breakup. It was clear that Miley was not having the best time in her life.
Fast forward to a few years and on Dec 27, 2018, they got married in a secret ceremony in Nashville. After the wedding, they tried to keep their relationship as private as possible. According to some sources, the young couple was tired of public attention.
Unfortunately, the marriage didn't last long. Despite their numerous attempts to make family life work, they eventually realized that some things just weren't meant to be. In 2019, the couple decided to get a divorce, and shortly after the news broke, it became the number one topic everywhere.
Rumors started swirling that the true reason behind the breakup was Liam's infidelity. However, at the time, nothing was publicly announced even though rumor has it he cheated on her with 14 women.
Miley's new album and her viral songs
In January of 2023, Miley Cyrus officially destroyed her ex-husband in her latest song. She decided to release a music video called "Flowers," all about their relationship for over a decade. Liam Hemsworth degraded and criticized Miley's every move, so she decided to regain control and release a scathing single on his birthday.
Overall, there are thousands of rumors and speculations regarding the song, but at the end of the day, one thing is clear. Miley's current mental health and style of music were heavily affected by her ex husband, Liam Hemsworth.
Many fans and people, in general, are happy to see how Miley's musical career is getting back to her normal regime.
The Impact Miley's Career and Love Life Had on Her Image
Despite having gone through what can only be described as a terrible emotional rollercoaster of a relationship with Liam, Miley's still remaining strong. Many people know that her ex-husband tried to publicly ruin her image, but all of those rumors cannot deny that Miley Cyrus is an exceptional artist and, according to her supporters, a great person.
Many pop stars started their careers at the Disney Club, however, none of them had the same struggles of being labeled as a "Disney girl" as Miley did. She had to play her role for over six years before the show got canceled. From 12 to 18, she faced the world's attention and became a part of Disney's ownership, which was controlling her whole life during that time.
Miley wanted to prove to the world that she was more than just a "Disney girl." She wanted something big, something that would represent her whole creativity and unique taste in music, and that's exactly what she did with her drastic changes in style and her professional work.
As extravagant as those changes were, she touched on some deep issues like sexism, racism, and homophobia through her performances. She has donated millions of dollars to numerous shelters and LGBTQ+ help centers. That just goes to show what a kind-hearted and generous person she is.
And at the end of it all, Miley Cyrus proved that she's a fighter. After a very messy and very public scrutiny of her on-and-off relationship with Liam Hemsworth, as well as the damage done to her name by her ex, she still picked herself up and kept going.
FAQs
Has Miley Cyrus ever been engaged to any of his past partners?
Yes! Miley was engaged to her long-term partner Liam Hemsworth. The couple was officially engaged for almost a year. However, they had this decade-lasting on-and-off relationship.
After ten years of a complicated relationship, the couple decided to split up. During that time, none of them gave a clear reason for their breakup. However, in 2023 Miley released her scandalous music video "Flowers," where according to many, she is sharing all the issues and problems that Liam made her go through. 
Does Miley Cyrus have kids?
No! The young superstar hasn't announced anything regarding her being a mom yet. Despite that, Miley was always transparent regarding her child-free lifestyle.
During one of her interviews, she mentioned that even though she is now not planning to have kids any time soon, she can't be sure about the future. Who knows, maybe the pop queen will prepare a big surprise for us?
Is Miley Cyrus still with Liam Hemsworth? 
No! The Couple officially broke up on Jan. 28, 2020. Both Liam and Miley have made Instagram posts in order to let everyone know that even though they have split up, there's no bad blood between them. 
In his Instagram post, Mr. Hemswoth said, "Just a quick note to say that Miley and I have recently separated, and I wish her nothing but health and happiness going forward."
Conclusion
While being the most controversial and scandalous persona in the entertainment industry, Miley Cyrus still keeps surprising us with her talent. And while in her career, she had nothing but luck, unfortunately, we can't say the same about her Love life.
Throughout the years, Miley. has had a few high-profile relationships with both men and women. However, none of her past relationships were as dramatic as the one with her "The Last Song" movie co-star Liam Hemsworth. For over a decade, the couple had this ongoing on-and-off relationship, which clearly had a massive impact on their current lifestyle.
One thing is clear; nothing can't stop her from being one of the most prominent artists of the century. Her talent has always been a giant inspiration for all young artists, and now her love life is an excellent motivation for the ones who are struggling with their current relationships.
Utilize this tool to verify if he's truly who he claims to be
Whether you're married or just started dating someone, infidelity rates have risen by over 40% in the past 20 years, so your concerns are justified.
Do you want to find out if he's texting other women behind your back? Or if he has an active Tinder or dating profile? Or even worse, if he has a criminal record or is cheating on you?
This tool can help by uncovering hidden social media and dating profiles, photos, criminal records, and much more, potentially putting your doubts to rest.