How many women reading this article dread taking their man shopping? You ask for their opinion, and they shrug their shoulders. You try on the fifth pair of shoes, and they tell you that they will wait in the car. Why do men hate shopping so much?
Why Do Men Hate Shopping?
There are lots of differences between men and women, but one that sticks out is shopping. Men hate to shop and women love it. Of course, I am talking in general here.
One 2013 survey found that 80% of men didn't like going shopping with their partners. The survey also found that men became bored after just 26 minutes of shopping, whereas it took women 2 hours.
So are males predisposed to hate shopping? We have to look to our earliest human ancestors for answers.
What Evolution Can Tell Us About Why Men Hate Shopping
You might be surprised to learn the answer lies with our earliest ancestors. Now, I know, and you know, they didn't have Target or Walmart's hundreds of thousands of years ago. It is our ancestor's behavior I am talking about.
So what can early human life tell us about the shopping habits of modern man?
How Does Evolution Relate To Shopping Behavior?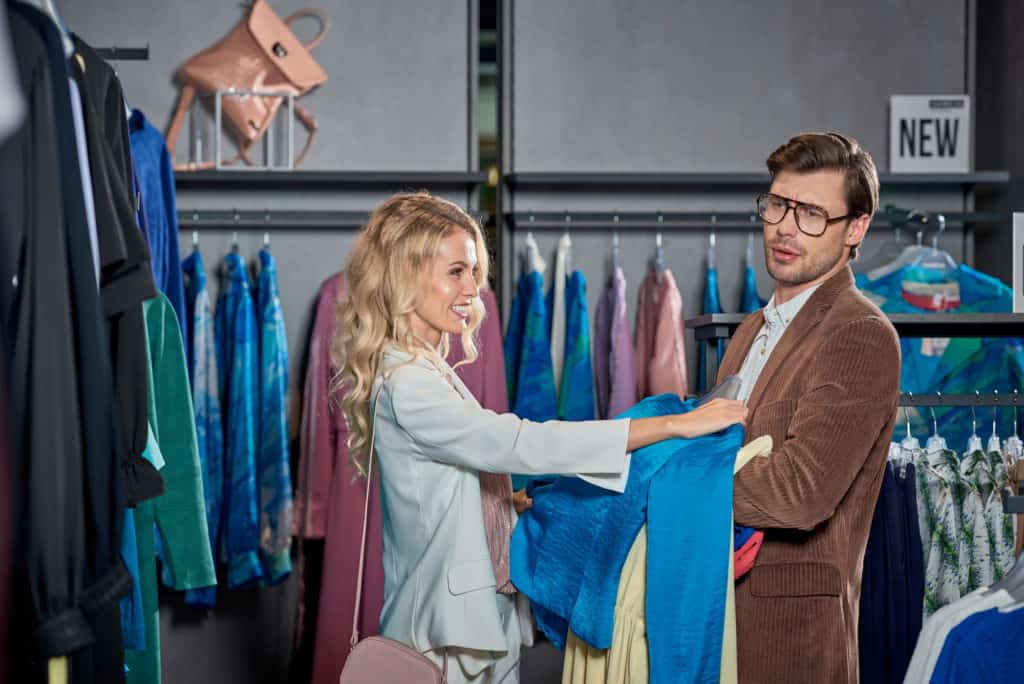 Our early ancestors only started farming for their food around 12,000 years ago. Before that, they lived for hundreds of thousands of years as hunter-gathers. Humans would go out into the wild and forage for nuts, wild plants, and berries.
Interestingly, it was the females that went out scavenging, not the males.
More to the point, hunter-gathering provided most of the food, with the occasional addition of a meat kill from the men. You could say that women were the breadwinners in the family.
Evidence also shows that this was a successful and healthy way of sourcing and providing food.
How Does This Relate To Shopping Trips? 
Let's look at the process of gathering and hunting.
When the early female ancestors went out gathering, they spent a lot of time examining, looking, and choosing what to select and what to discard.
On the other hand, you have "hunting". Hunting is more mission-orientated. There is a target – the animal – and you are going on this mission with one specific aim in mind – to kill the animal and bring it home.
It is the same with shoppers.
Women gathered – men hunted.
A woman will spend hours browsing (gathering) looking at different options to get the best products.
A woman is willing to go from store to store (shrub to shrub) to find the best item (fruits, nuts, etc.)
A guy will go shopping for one item (hunters). A man is on a mission to buy the car/fridge/grooming products (kill the animal). A man wants to get in the shop (find the animal), purchase the item (kill it) and leave.
The reason for this also dates back to early human behavior. Once a kill was made, early humans would not want to hang around for other predators to come along. They would get it back to the tribe as quickly as possible.
A guy doesn't need to have choices either. If he is hunting for bison, then most bison look pretty much the same. His strategy would be to kill one and get the heck out of there. The longer he is out in the open, the more risk he is of being attacked.
"Gathering" is social – "hunting" is solitary.
There is another difference in these methods of providing food.
Gathering food is more of social activity. Collecting fresh vegetables and plants was a frequent activity. Females would go together and talk and get to know one another.
By contrast, hunting and stalking prey is a solitary task. Males will form small groups to hunt their prey. However, once an animal is spotted, all talk will cease.
Hunting and gathering require specific skills.
Women would gather fruits and plants close to where they lived. They would stay within a local area and not venture out too far. If a fruit or berry was not ripe, they would leave it and go back to it a week later.
The hunting men would travel as far as needed to kill their prey. They would track across different terrain and then have to remember how to get back home.
This led to different skill sets in the genders. Females are better at object and location memorytasks (good for browsing). Males are better at mental rotation (good for object-orientated products).
Now that we have a deeper understanding of the evolutionary roots of men and women and shoppers, let's bring them back into the 21-century.
9 Reasons Why Men Hate Shopping And What You Can Do About It
1. Men Buy, Women Shop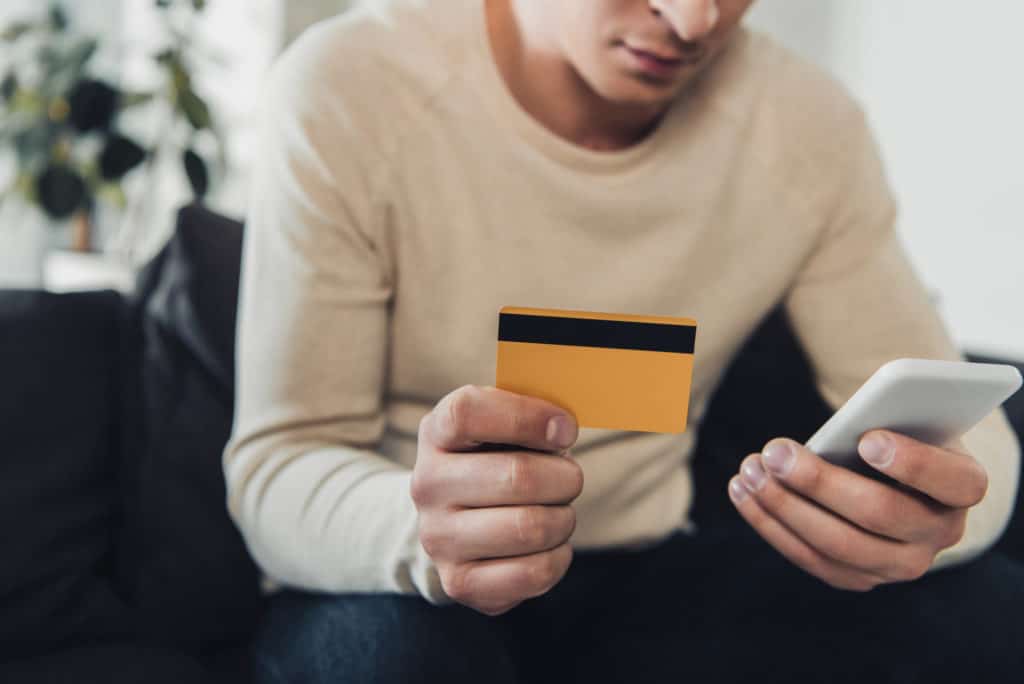 A guy will go shopping with a specific item in mind. He wants to get the item quickly and then go home. A woman will go shopping to browse different products before selecting the best ones.
2. It Is A Social Outing For Women
Women use the experience as a chance to catch up with friends. For them, it is their social time. Women will think nothing of walking the entire length of a mall, pausing to spray perfume, or some impulse buying.
3. Women Need To Socialize
As more women than men relocate to be with their partners, women need to socialize to find information. Women are resourcing knowledge now instead of berries and nuts. They want to know where the best schools, doctors, shops, etc., are.
4. There's Too Much Choice For Men
Women love choices, it means more time to browse. A guy doesn't like having a choice. Do they want that one big-ticket item remember? Men need to get in and out of the store quickly. They can't do that if they buy a new pair of shoes and have no idea what they want.
5. Men Are Used To Being Dominant
A shopping mall is familiar territory for most women. They know their way around it and usually take the lead. Men don't like being led anywhere unless it is to a bar or the game.
6. Men See Shopping As A Waste Of Time
Quite frankly, men have better things to do than shop. Prehistoric males would rush back to the cave after a big kill. Once the trip is over, men want to get on with other things.
7. Shopping Does Not Use His Best Skills
We know that a trip with a female involves a lot of looking around and traveling from store to store. This is in direct conflict with the male skill set.
8. It Is A Woman's World
Hanging around changing rooms or women's clothing stores is not a guy's idea of a fun day out. He feels out of his depth, embarrassed, and doesn't know what to say or do.
9. Men Hate A Particular Kind Of Shopping
Finally, let's recognize that men don't hate all shopping, they just don't like to browse. If you ask them to go with you to buy a big purchase, such as a sound system, HD TV or a car, they will happily go with you.
FAQs
Summary
Remember, it is the type of shopping that men hate, not the trip itself. So the next time you want your man to go with you, make it more like a hunting trip and see what happens!
How to Finally Fix Your Relationship
Since your relationship is unique, the most important thing is that you use a tailored approach to tackle your relationship issues.
A generic approach with advice you read online can often even make things even worse!
The best way to get this advice is through someone with experience that is able to listen to the issues you are facing in your relationship…
That is why I highly recommend the website Relationship Hero that gives you specialized advice for your relationship.
In fact, a few weeks ago I reached out to them when I was going through an extremely difficult patch in my relationship.
I had hit rock bottom, and couldn't even turn to my friends for advice anymore.
After speaking to Lucy (my relationship coach at Relationship Hero) and telling her of my desperate situation, she was able to give me some concrete steps to follow over the following days.
I was able to check in with her on a daily basis as I implemented her advice, and she helped me through every step.
Not only was she super helpful and empathetic, she eventually helped me solve some of the issues had been plaguing my relationship for years.
Click here to fix your relationship too!
I can't thank them enough.