Are you a busy single professional looking for the love of your life? Read my LoveStruck.com review to find whether or not this site can do for you.
Finding love in today's busy world is near impossible, especially if you're a single professional focused on success. Working odd office hours, conducting a stressful lifestyle and taking a load of extra work for when you go home can easily prevent you from getting out there and meeting people.
And when nobody in your office draws your interest, the chances of getting to know someone who lights a sparkle drop considerably.
Yet, you needn't worry. There is an online dating site built specifically for you, LoveStruck.com. Enjoying an incredible success in Europe and abroad, this site might not be one of the biggest players in the American market, but it surely is a competitive one.
Love Struck was born in London and for years it focused on matching single professionals in the UK alone. But an original matchmaking algorithm and unique matchmaking features based on geo-tagging have turned LoveStruck.com into an online dating site favored by single professionals around the globe.
The platform is currently available in 14 countries including the US, the UK, Australia, Canada, and part of Asia.
But unlike most mainstream online dating sites, LoveStruck.com doesn't come with a one-size-fits-all style. The platform runs a custom version in each available country and even if the functions and features are more or less the same, the membership options aren't.
That's why my review is going to focus on the US version of the site while highlighting the differences present in the original UK version of Love Struck.
Things To Consider Before Signing Up To LoveStruck.com
LoveStruck.com is an online dating site that stands out thanks to an original approach towards online dating. But not everyone feels at ease on the platform. Before signing up for an account, there are a few things you should consider.
Love Struck was born as a place where single professionals working in large metropolitan areas - namely in London - can find themselves and connect with each other. The idea of the site is based on the fact that the 21st century's life is so rushed that people don't have the time to go out and find a date or a partner.
But since the whole concept of the platform is of helping busy singles find a date in no time, this site might not be the right one for you if you don't want to rush things and don't mind chatting for weeks before meeting in person.
If you're traveling a lot for leisure or business and want to use your dating site or app to look for singles in the areas you're traveling to, you might also want to look elsewhere. Love Struck is quite location dependent and uses different versions of the platform in different parts of the world. Moreover, the site doesn't boost the user pool of the famous mainstream platforms like Match or Zoosk. This means you might have to create a new profile to use the local version of the platform in each country you're visiting, and this is not always possible.
Why? Because Love Struck uses a phone profile verification system and you can't register without providing a valid mobile number from that specific country.
While getting a local SIM in some parts of the world is easy, some countries could require you proof of residency or other documents to get a SIM card.
That said, if you just want to meet single professionals in the area where you work and live, Love Struck could be your best bet. Read on to find out more about this platform.
What Is LoveStruck.com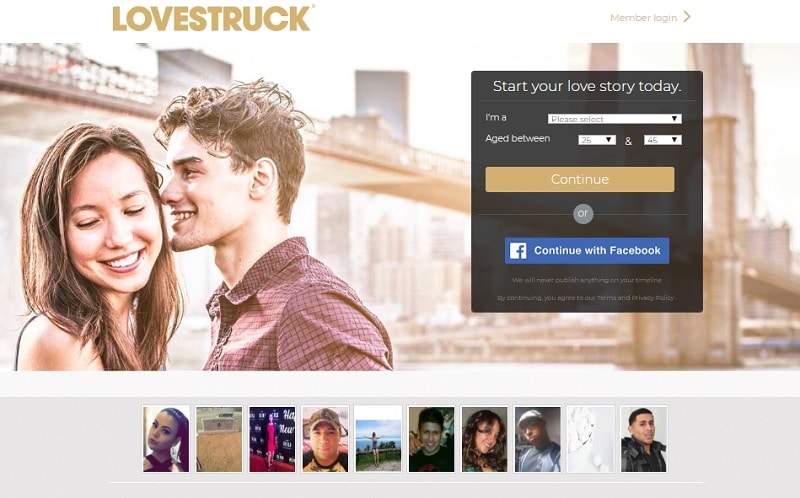 LoveStruck.com is an award-winning online dating site launched in 2010 in London, UK. Right from the start, the platform set itself apart thanks to a unique online dating approach. Designed with the single - and busy - professionals in mind, Love Struck has created a unique matchmaking system that finds people who correspond to your ideal match within, on in the proximity, of the area where you're working.
By doing so, the platform guarantees that even those who can only meet during their lunchtime hour can do so.
But the distance between your jobs isn't the only thing the platform considers when sending you a match. It also considers your online behavior and other variables to match you with members that can really interest you.
While this unique concept is truly outstanding, the platform doesn't play at a large scale. The user pool is quite restricted and you won't have any success on the platform unless you live in a large metropolitan area where the site operates.
Yet, a thing I really enjoyed is the quality of the profiles. Because the site has implemented a profile verification system, scammers are less eager to join this platform. This means a nice online dating place where you can really enjoy the company of those who're really looking for romance.
Like most dating platforms, Love Struck also comes with an app that helps you stay in touch with your matches even on the go.
In the US, Love Struck operates as a free online dating platform; you'll get a premium membership upon registration that will give you access to all functionalities. However, in other countries, the platform uses a tiered membership system with free registration but limited functionalities for the free members. To get access to all features and functionalities, you'll have to upgrade to a paid membership.
Love Struck Advantages
Free online dating site. Love Struck US presents itself as a free online dating site. The simple registration will grant you a premium membership with access to all features. I don't know if this is a temporary thing and if the platform will introduce a tiered membership system in the US too, but for now, this is one of the easiest, safest, and cheapest online dating sites to join.
Profile versatility. Love Struck is an online dating site for straight and gay singles alike. During the registration process, you'll be asked to select your gender and the gender of your potential dates.
Geo-tagging matchmaking system. Finding a date near you has never been that easy. The platform uses your position to find potential matches located within the proximity of your workplace, boosting your dating game.
Easy registration. Creating a profile on LoveStruck.com is easy; you can either choose the classic way and create an account from scratch or register with Facebook. The latter simplifies the whole registration and verification process.
App. Like most modern dating sites, Love Struck comes with an app available for Android and Apple devices.
Love Struck Disadvantages
Due to its "niche" target, LoveStruck.com doesn't enjoy the popularity of other mainstream dating sites. This is a positive trait on one side because it is a more selective place; on the other hand, you won't have many chances of finding your Mr. Right here unless you live in a large metropolitan area.
Love Struck doesn't have the same site version in all countries, therefore you'll have to create a new profile for each version of the site.
In some countries, you will have to pay for a premium membership to get access to all site functionalities. This is particularly the case of the UK and not only.
LoveStruck.com Features
Like any other dating site, Love Struck comes with pros and cons. But I thoroughly enjoyed my experience on this platform and can only recommend it. Therefore, here's a list of the main features this platform boasts.
Is it like pulling teeth getting him to spend time with you?
The key to solving is understanding men on a much deeper emotional level. The number #1 factor that causes men to behave this way is actually relatively easy to change with a few subtle things you can say to him.
Take this quick quiz to see if he actually likes you!
Easy Registration
LoveStruck.com is one of the simplest sites to register sites. Boasting a basic but very functional layout, the platform welcomes users with a minimalist homepage where you can either select to login or fill in the form to register.
Registration takes just a few minutes and in a first instance, you'll be prompted to select your gender and orientation, and the preferred age range of your potential matches. At this stage, you can also choose to sign in using Facebook.
If you choose to proceed via the classical path, the next screen will ask you for your date of birth, first name, a password, and your mobile number. Now, you needn't freak out because the site only uses the number to send you an access code via SMS, which also serves to verify your identity. However, it's impossible to proceed with the registration if you can't provide a mobile number, which is quite a pity if you want to register to Love Struck while traveling to a foreign country.
Once the registration is complete you'll be able to fill in the details of your profile, including a bio and expectations. The moderator's team will then check your profile manually and approve or reject in within 36 hours.
Free & Unlimited Interaction
Once your profile is approved - a very likely hypothesis given that only fraudulent or abusive profiles get rejected - you can start building your online presence. This includes uploading photos, creating alluring descriptions and customizing your profile.
You'll also be able to visit other user profiles in look for matches, send winks and engage in unlimited interaction with those you like.
A nice thing regarding Love Struck US is the free premium membership. You'll get to enjoy all features and functionalities including incognito usage and priority customer service without paying a dime.
There are several ways to grab the attention of users. The simplest and most discreet way is by just visiting their profiles. Each member can see who's been visiting them and can decide to send you a wink or a message. However, leaving a profile without sending at least a wink could also mean you're not interested, therefore if you truly like the member, I suggest winking them.
A wink is a sort of flirt that just lets users know you're interested in them. Due to the high number of winks members usually use, some users don't even bother to check them, though. That's why my suggestion is to use your guts and just send a message if you really like somebody.
Matchmaking System
LoveStruck.com doesn't use a matchmaking system in the traditional meaning of the word but it rather uses your behavior on the site to find compatible matches. The algorithm studies who you've been visiting and whether you chose or not to interact with those members.
Based on your behavior and on the information included on your profile, the algorithm picks daily matches in the style of eHarmony and displays these users on your homepage in the dashboard.
A peculiarity of the matchmaking system is that it also uses the distance between your job and your match's job to determine who could be a good fit. In this way, the platform tries to ensure that the members can meet in real life quickly if they are truly interested in one another.
Laissez-Faire Events
Like mentioned above, Love Struck is focused on helping busy professionals find a like-minded date. And to do this, the site doesn't rely on online matchmaking and messaging alone. The Laissez-Faire events held in all Love Struck locations include an array of activities ranging from hikes or bowling tournaments to free night-outs and parties.
App
All online dating sites that respect themselves have an app nowadays. And Love Struck has an app too. Available for Android and Apple devices, the app has an intuitive interface and is designed to let you access your profile even on the go.
Up to this point, Love Struck App is more or less like any other dating app, but this one comes with a nice extra perk.
In fact, the app is designed to signal users when a potential match is located within their proximity via a vibration signal. The app uses your geo-tagging location to determine your proximity to other users and you can deactivate this function if you don't want to be tracked.
Availability Controls
Busy professionals are usually looking to meet in person with someone they like as quickly as possible. That's why the platform gives users the possibility to arrange dates directly from their profiles, by using the availability controls.
Basically, users that set their availability as Free for Lunch or Free Tonight are ready to meet either during lunchtime or after work.
You can use your advanced search options to filter members based on their availability. Then, just contact those you like to arrange for a real meeting on the same day.
Blog & More
Another great feature of LoveStruck.com is the blog section which is packed and loaded with a wealth of interesting content. The blog comprises interesting sections dedicated to online dating and the best ways of finding a match as a busy professional.
A news section is populated with the latest updates of the platform but also with other industry-related news and informational posts about novelties, dating-related issues, and more.
Apart from the news section, the blog also contains sections dedicated to online dating advice and dating ideas and tips. These posts suggest what to do on a first date and other related information, including advice on how to stay safe.
Blog aside, Love Struck also contains a section dedicated to the success stories which aims to encourage all single professionals to give this platform a chance.
Safety
LoveStruck.com has always put user safety above anything else and this is noticed right from the registration phase. The first step in identifying its users is the request of a mobile number. An alternative is to sign up via Facebook.
After this step, each profile is checked manually and is either approved or rejected. This site is dedicated exclusively to singles and the moderators do their best to keep married people off the platform. Those under 18 years old or incarcerated people are not allowed to join either.
Apart from this verification process, the site has a 24/7 customer support which acts upon complaints, banning those users who are reported.
Fraudulent profiles are a rare occurrence but I still recommend to avoid sharing private details too soon.
Final Thoughts
LoveStruck.com is certainly not your average dating site. This platform is different and aiming to connect exclusively single professionals. This is a site built with busy people in mind and the platform doesn't promote long stories within the platform. Instead, it encourages in-person dates after work or quick encounters during lunchtime.
Aiming to help busy singles connect, the platform also organizes numerous live events, most of which are free to join.
Another thing I like is that both the desktop site and the app are free to use. Unlimited navigation and messaging come at no cost for you or your match. And talking about matches, you can easily connect with interesting people near you thanks to an advanced geo-tagging matchmaking.
Okay, you won't get to enjoy a too huge user pool but I really had loads of fun on LoveStruck.com. And would undoubtedly use it again if needed.
Do you feel like all you think about is him, but he only thinks about himself?
This doesn't mean he doesn't like you. You have to understand how he is wired. Once you do, you'll find there is a subtle thing you can say that to him that will drastically change how he shows his emotions towards you.
Take this quick quiz that looks at whether he actually likes you or not!