After years of marriage, it can often feel difficult to keep the spark alive. Regular dates are crucial for this.
Sometimes, all you need is an evening away from life's distractions, where you can fully submerge yourself into your relationship and remind yourselves of why you fell in love in the first place.
Planning dates together can also be a fun activity, as you constantly learn more about your significant others' desires, creativity, and how they want to spend their quality time with you.
Outdoor Hot Date Ideas for Married Couples
I can guarantee that after many years of marriage, there's still a thousand opportunities to try something new and to make new memories together.
1. A dinner date night
Sometimes, you can't beat a meal at your favorite restaurant. A hot date night doesn't have to be unique; if you're perfectly happy with simplicity, then a nice dinner date is all that's needed to get that spark going.
2. A fancy restaurant
Do one better than a dinner date night, and go to that fancy restaurant that you've always looked in and said "I'd love to eat there".
Treat yourself every now and again! Luxury can often make you feel sexy too.
3. A night at the theater
It's always fun to watch a live performance. Whether it's your local theater, or a bigger venue even, have a look and see what's on.
4. A night at the movies
Simple but effective.
5. A night at the opera
Dress in your finest clothes and experience a night at the opera. It really is a once in a lifetime opportunity.
6. A day at the beach
Pack your swimmers, and enjoy a nice day at the beach. The beach can be perfect regardless of the weather, and we often feel happiest when in nature, don't you think?
7. Have a picnic together
Pack a picnic, choose your favorite local spot, maybe even treat yourselves and take a bottle of wine. Simply enjoy each other's company and conversation while you snack on your favorite foods.
8. Go on a hike
Big or small, reach your goal together and spend time supporting one another on a scenic hike.
9. Enjoy a vacation together
I think it's fair to say that everybody loves a vacation. It's the perfect remedy when you feel as though you need a break from life.
As much as it can be nice to go with the entire family, maybe treat yourselves to a bit of privacy and go alone with your partner. Refresh and reset together, there is no better way to spark romance with a partner.
10. Have a weekend away
It can often be difficult to get time off work, so if you're struggling to book a vacation, simply book a weekend away. Whether it's one hour away or several, treat yourselves to a little getaway.
11. A cabin experience
Get yourselves a cute and cozy cabin in the woods with a hot tub. Enjoy the bliss of peace and quiet together, and take the time to relax.
12. A night in the city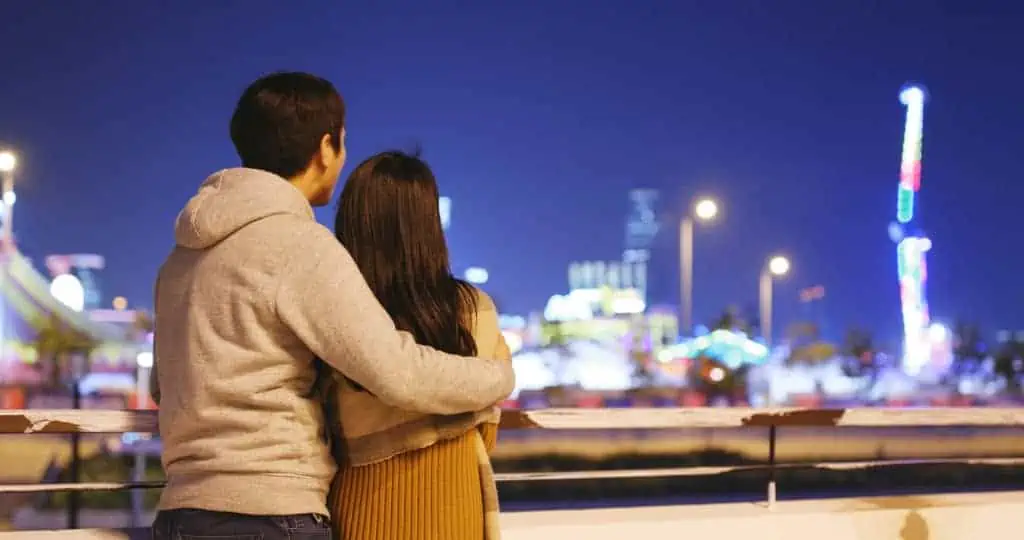 For those who aren't fond of nature, a night in the city is always a great option. Choose a hotel with a great view, and get lost in the city together.
13. Go on a road trip
Get lost together on the road.
Enjoy good music, good conversation, stop wherever you like or keep going for as long as you please. A road trip is the very best way to escape and to feel free.
14. Get yourselves to a roller rink
Always fun and a great reminder of our childhoods', don't you think?
And if you're not that great, don't worry… at least you and your husband can have a laugh.
15. Ice skating
Ice skating is perfect for a winter date night idea. It's the perfect type of date to get you excited for winter.
16. A night at the arcades
Arcades can be great when taking a trip down memory lane and are also a lot of fun.
Use this tool to check whether he actually is who he says he is
Whether you're married or have just started seeing someone, infidelity rates are on the rise and have increased over 40% in the last 20 years, so you have all the right to be worried.
Perhaps you want to know if he's texting other women behind your back? Or whether he has active Tinder or dating profile? Or worse yet, whether he has a criminal record or is cheating on you?
This tool will do just that and pull up any hidden social media and dating profiles, photos, criminal records, and much more to hopefully help put your doubts to rest.
17. A night at the casino
Take your chances and get risky at the casino with your significant other.
18. A day at the races
A day at the races is a once-in-a-lifetime opportunity.
Put on your best day dress, choose your bet wisely and live your 'Pretty Woman' moment with your husband.
19. A night at a strip club
Depending on your idea of a good night out, if you've been feeling bored sexually then a night at a strip club is a great date idea.
It can be sexy to attend with your partner, but also may give you some ideas for an afterparty at home.
20. Attend a swinger's party
If you've been considering opening up your relationship sexually, then attending a swinger's party is a perfect date night idea.
Participation is optional, you could simply go to enjoy the scenes and to test your limits with your partner.
21. Buy each other a gift from adult shops
Buying lingerie or sex toys is a perfect date idea. You get to learn of your partner's desires, and buying something new (sexually) is always a perfect solution to igniting a spark.
The perfect hot date night.
22. Book a hot air balloon ride
Take your relationship to the sky and enjoy a unique experience with your husband. A hot air balloon ride is the epitome of romance.
23. Book a skydive
If you're a thrill seeker, take your relationship to the ultimate limit.
24. Book a bungee jump
If a skydive isn't for you, consider a bungee.
25. Go to a carnival
Share some candy floss, win some carnival games and go to war on the bumper cars.
26. Take a stroll in your local park
A hot date night doesn't have to be extravagant, sometimes a walk in your local park is the perfect date.
Take an hour or so to enjoy each other's company, breathe in some fresh air, and maybe even treat yourselves to an ice cream.
27. Go wine tasting
Wine tasting is the perfect date night idea. It's educational, incredibly interesting, and you leave feeling a lot more tipsy than you did when you started.
28. Miniature golf
There's nothing better than a bit of friendly competition when it comes to mini golf.
29. Coffee date
Take it back to the basics. Remember, it's about spending quality time together. Go on a coffee date and agree to talk about nothing to do with work, or the family, or finances; simply take a break, enjoy a coffee and have a good conversation.
30. Go paint balling
It can hurt, but it's definitely something different and can be a lot of fun. Maybe you can convince him to give you a massage afterwards for the pain too.
31. Go bowling
Bowling is a perfect date idea, that's why it's so popular. There's nothing like a bit of friendly competition.
32. Go on a bike ride
Take your bikes somewhere with a scenic view, maybe even take a picnic, and enjoy quiet time together.
33. A day trip to an amusement park
If you're a thrill seeker, there are other dates that don't involve jumping out of an airplane.
Get yourselves to an amusement park, agree to pose for every picture and choose the best one to take home. Making memories is special, but it's even nicer when you have something to show for it.
34. A night of live romantic music
Romantic live music, a cozy booth with candlelit lighting, a glass of wine or two… Who knows what might happen afterwards…
35. A night at a concert
You remember that one song that you listened to over and over again when you started dating? Go to a concert that means something to your relationship.
36. Go to a festival
What's better than a concert? A festival!
37. Attend a pottery class
Recreate the iconic romantic scene from 'Ghost' with your partner.
38. Attend a painting class
Get your paint on at a painting class with your partner. It's calming, it's fun, and it's a creative way to reignite the sparks.
39. Book a photoshoot together
One of the best parts of any relationship is watching how you both grow together and as individuals. Book a photoshoot and document your relationship.
40. Try rock climbing
It's something different, a tad bit difficult, but definitely enjoyable.
41. Try water sports
Depending on the weather, there are so many different types of water sports to try. Some of them are easier than others but it's a great choice if you're looking for fun date ideas.
42. Book a boat ride on your local river
Take some champagne and some strawberries, and take in the views with your loved one. You don't have to go to Venice for this.
43. Attend a cooking class
Cooking classes aren't just for those in need of a few tricks, they're also great fun and exciting to attend with a partner.
44. Have a spa weekend
If you really need an escape from life, then treat yourselves to a weekend of massages, luxury and utter bliss.
45. Choose a book from your local library
Make reading special by sharing it with your partner.
46. Go to a sporting event
Baseball, soccer, football… Whatever it is you're into, going to a sports event together is amazing because of its contagious atmosphere.
47. Go to a comedy show
If you're getting bored of your husbands 'dad jokes', maybe take him to a comedy show to teach him a trick or two. Who knows, it could be a laugh.
48. Get your karaoke on
Get yourselves to a karaoke bar, get incredibly drunk and duet a 'Grease' medley.
49. Relive some of your favorite memories
Reenact some of your favorite memories, like your first date night, and remind yourselves of the electricity between you both. Sometimes we just need to revisit those times where love felt incredibly easy, to remind us that life should never get in the way.
50. Go to your local antique store
Antique stores are great for taking a trip down memory lane, but it's also always fun when you get to buy vintage items for your home.
51. Go to your local flea market
Taking a slow stroll through the markets is always fun. Support your local smaller businesses and enjoy each other's company whilst you shop until you drop.
52. Try an escape room
Whether you do escape or not, escape rooms can be so much fun! And, what better to ignite the spark than to be locked in with your partner for an hour?
53. Visit a famous landmark
Don't forget to take a cute picture.
54. Complete your bucket lists together
Each write your bucket lists, and give yourselves a certain amount of time before it has to be completed. Then, when it comes to your weekly or monthly date night, tick off as many items off your bucket lists together.
Make the most memorable memories.
55. Go house hunting together
Open viewings allow us to experience the joys of house hunting, even if we're not actually looking for one.
Talk about what you want for the future, talk about what you always dreamed of and live out some of those dreams in the viewings.
56. Go shopping together
Romantic date nights can be as simple as going shopping together. It's more about spending quality time together, so even if you just go shopping together you're going to have fun and get closer.
57. Buy each other a gift
Gift giving can be incredibly special and romantic – big or small.
58. Go to a garden center together
Pick out your favorite flowers and enjoy the flora.
59. Go to a museum
History and art can be fun, and so can be learning new things with your partner.
60. Have a spring clean together
A spring clean might be your perfect idea of a 'hot date night'. Although it's not for everyone, if you and your partner find cleaning therapeutic, then treat yourselves to some cleaning equipment and spend the day turning your home upside down for a thorough spring clean, listening to music and simply enjoying the time spent together while getting shit done.
61. Go to a ballroom class
Insanely romantic. Even if you step on each other's toes.
62. Go to the ballet
Going to the ballet is a once-in-a-lifetime event. It's romantic (usually), passionate and incredibly entertaining.
63. Go thrifting
Thrifting is a perfect date idea. You can slowly browse while finding some vintage goods or antiques. I personally couldn't think of anything better.
64. Buy each other a new outfit for a date night
Turn your date night into a bit of a game and surprise each other with a new outfit for your date.
65. Go on a horse ride at sunset
Not only are the views incredible, but this is just one of those moments that allows you to reflect on your happiness. That is why it's perfect for a hot date.
66. Visit a city you've never been to before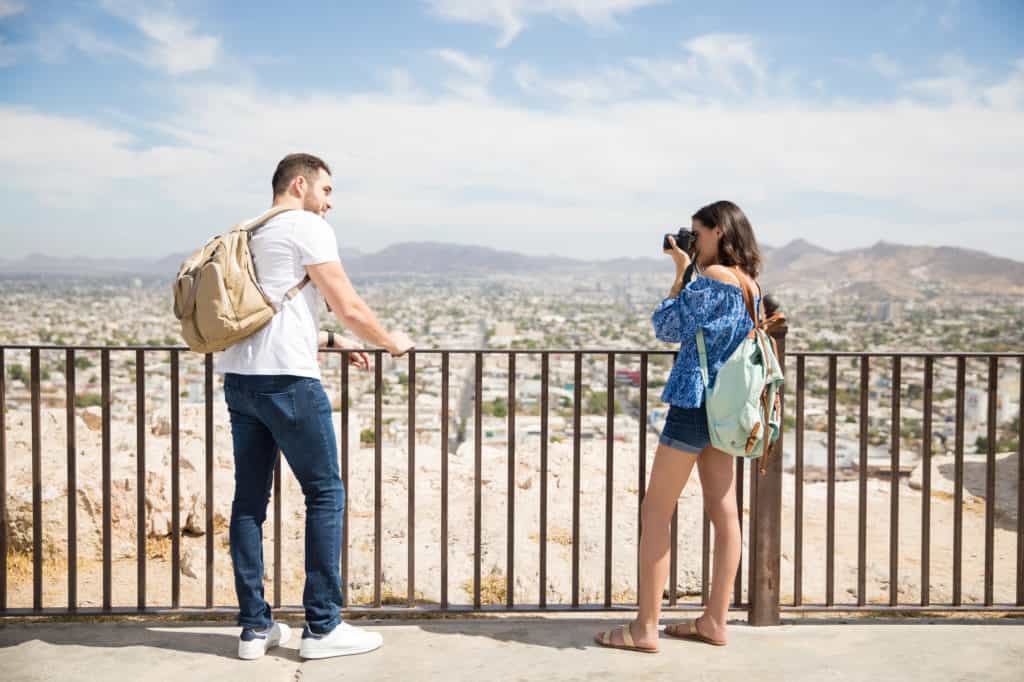 Mix it up and make new memories.
67. Visit your old family homes
Take a trip down memory lane, literally, and revisit your childhood homes.
68. Go camping
Nothing will bring you closer than being cozy in a tent, plus being outdoors is always so refreshing, don't you think?
69. Get a matching tattoo
Try this if you're looking to spice it up and do something entirely new. If neither of you have a tattoo, this can be a perfect date idea.
You could get something small, and in a place that's hidden so that only your partner knows that it's there.
Incredibly sexy.
70. Get your portrait painted
Might not be everyone's cup of tea but it's definitely different.
71. Head to the zoo
It's always a good time when there are animals involved. Make a day trip of it and head to the zoo.
72. Rescue a dog from the shelter
If you've been considering extending the family, make a date out of it and spend the day at the shelter finding the perfect puppy for you that's in need of a home.
Do something good that will make you both happy. Getting a new dog is like starting a new chapter. And rescuing one is a precious experience.
73. Hire a scooter for a day
Get on your Vespa and go wherever you feel like. Just promise us that you'll ride into the sunset.
74. Visit a botanical garden
Flowers often make us feel romantic. Do one better and visit a botanical garden.
75. Volunteer together
Doing good deeds can in turn make us feel good.
76. Chase the sunset
Taking a moment to watch the sunset, or even the sunrise (if you can wake up early enough) is the perfect time to reflect on how we feel.
Watch a sunset with your partner, grab a cold bottle of beer and simply allow yourselves to feel happy and refreshed in that small moment.
77. Go to a drive-in movie theater
Watching a movie is a great date idea; simple and effective.
But, going to a drive-in feels a lot more exciting. 
It's not something we do as often, and even though there are hundreds of people watching the same movie as you, you can enjoy your privacy and alone time.
78. Drive to a scenic viewpoint
Drive to a scenic viewpoint, take a good book, or a puzzle and relax together.
79. Go skinny dipping
If you want to spice it up, strip down to your birthday suit and make memories.
At-Home Date Ideas for Married Couples
Sometimes, what really keeps the romance alive is a bit of privacy in the comfort of your own home. Staying home for a date night can consist of many inexpensive date ideas, whereby you simply enjoy one another's company.
1. A board game night
Simple but effective. Just don't get too competitive.
2. Invent a new board game together
Board games are fun, but they can be even more fun when you make your own rules.
3. Enjoy a movie night
A movie night can be a lot more relaxing at home than at a movie theater.
Make some popcorn, cuddle up under a blanket and watch your favorite movie.
4. Binge a TV show
You may think this one is boring, but I say, not at all! Cuddling up on the couch all day watching an entire season of your favorite TV show is the perfect escape from life. It can be incredibly relaxing, and I don't know about you but there's nothing else I'd rather do than snuggle up to my man on the couch.
5. Relive your wedding
Get out the photo albums and go through the memories of your wedding. Remind yourselves of when you felt like the luckiest people in the world.
6. Re-decorate together
Getting stuff done doesn't always have to be boring, make a date night of it.
Plan the decorating together, and put your spin onto your home, having it truly reflect yourselves.
7. Get crafting together
Craft home décor or even gifts. Drink a bottle of wine and have fun being creative.
8. Write each other a story
Getting your creative juices flowing can often encourage us to express how we truly feel.
9. Write a poem for each other
Encourage romance by being romantic.
10. Have a staycation
If a vacation isn't an option right now, lock yourselves in for the weekend and have the ultimate staycation.
11. Bake together
So fun, and you get to eat something delicious (or not) together at the end of it.
12. Cook dinner together
Cooking together is one of the most romantic at-home date night ideas. If at least one of you is good at cooking, then you're good.
13. Enjoy a night of passion
The best date nights are those in the bedroom.
14. Film yourselves having sex (for your eyes only)
If you're really looking to spice things up, get a camera involved.
Watching yourselves back having sex is better than porn, and this is a perfect activity for when you're feeling bored in the bedroom.
15. Spend the night watching porn
Remind yourselves of what it used to be like when you started dating.
Naturally, as life can get in the way, we often let sex fall to the bottom of our to-do list. Allow yourselves a couple of hours to do nothing else, and reignite that spark.
16. Try using new sex toys
Trying anything new in the bedroom is always good, but using new sex toys is especially sexy.
17. Create a home spa
You might not have time to get yourselves to the spa. So, light some candles, whip out your most luxurious body lotion and enjoy a sweet massage session.
18. Play video games together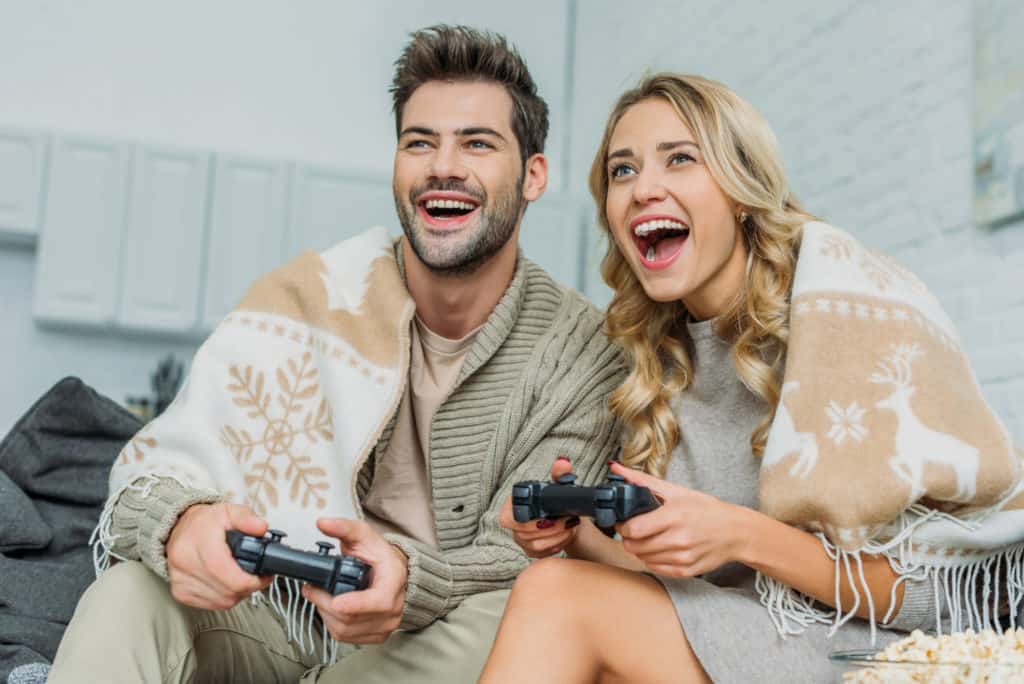 Sometimes simplicity is all you need. Play the games you loved when you were kids, get competitive and just have fun.
19. Get drunk and listen to music
Drunk in love, what else is there to add here?
20. Draw one another
So much fun, and you can even make it sexy by taking off your clothes.
21. Star gaze in the yard
It's amazing how much peace we can find by sitting in the backyard.
Take out a bottle of wine, wrap up in a blanket and watch the stars as they glisten.
22. Enjoy a BBQ
A BBQ doesn't always have to be for a group of people. Cook up your BBQ favorites, crack open a cold one and enjoy a nice quiet BBQ in the company of your significant other.
Conclusion
There are a million unique and fun date night ideas, what's important is that you try something new. Creative date night ideas can reignite the flame in your relationship and can also bring out the best version of yourselves.
Often in life we get bogged down by routine, and by doing the same thing over and over. A date night should be an escape from normal life, and what better way to spend quality time with your significant other than to do something exciting together?
Feel free to comment any date night ideas for other couples, or to share any crazy date stories that you might have. As always, share with a friend in need.
Utilize this tool to verify if he's truly who he claims to be
Whether you're married or just started dating someone, infidelity rates have risen by over 40% in the past 20 years, so your concerns are justified.
Do you want to find out if he's texting other women behind your back? Or if he has an active Tinder or dating profile? Or even worse, if he has a criminal record or is cheating on you?
This tool can help by uncovering hidden social media and dating profiles, photos, criminal records, and much more, potentially putting your doubts to rest.