Dating a blind person gives a whole new meaning to the phrase "blind date." However, dating a visually impaired person is not much different from dating a sighted person in that both people want to find love and have someone to share their life with. 
You may have some questions about dating a blind person, like, "will my date be physically attracted to me if he can't see me?" Not all blind people experience blindness in the same way. Some people see shadows, some see nothing.
In this article, I will talk about the various challenges, date suggestions, and several other tips to consider when dating a blind person.
3 Challenges of Dating a Blind Man
Although dating a blind person has many similarities to dating a sighted person, there are a few challenges that you may encounter. It's completely normal if you feel nervous before your first date. Below are three potential challenges of dating a blind man.
1. Dismantle your Biases
We may not be aware that we have some unconscious biases to bring to light before dating someone with a disability. For example, ensure you are not dating a blind person because you want to "take care of" someone. Most blind people are very independent.
Another great way to learn about the blind community before dating a blind person is to visit a blind cafe. In Colorado, there is a place called The Blind Cafe experience. It's a beautiful place where you learn about what it's like to be blind, and you can ask visually impaired people about their experiences.
At the cafe, a blind person will lead you into a pitch-black room. The blind person will take you to your dinner table. You'll listen to live music, ask questions, and eat dinner without being able to see anything.
As a sighted person, it's a fantastic opportunity to learn what it's like to rely on something other than your vision. When you can't see, the rest of your senses become heightened.
2. You may have to be in charge of transportation
Offering to drive your blind partner to various destinations may be something you'll want to offer your date, but keep in mind that many blind people are very self-sufficient. They know how to use public transportation, but you can always offer to drive if you'd like.
If you are someone who prefers your partner to do all the driving, this may be a challenge you'll need to consider or overcome.
3. You may need to accommodate their guide dog
Many blind people have a guide dog to help them get around, but not always. However, if they do, you'll need to be respectful of the relationship between a blind person and their dog.
If you're someone who doesn't like dogs or is allergic, it may not be a great relationship for you. Blind people love their dogs and want to take them everywhere.
Also, you will need to be comfortable having a furry friend around and finding date locations that accommodate dogs. Although the dog is cute, it's important not to distract the dog from its duties.
8 Tips for Dating a Blind Person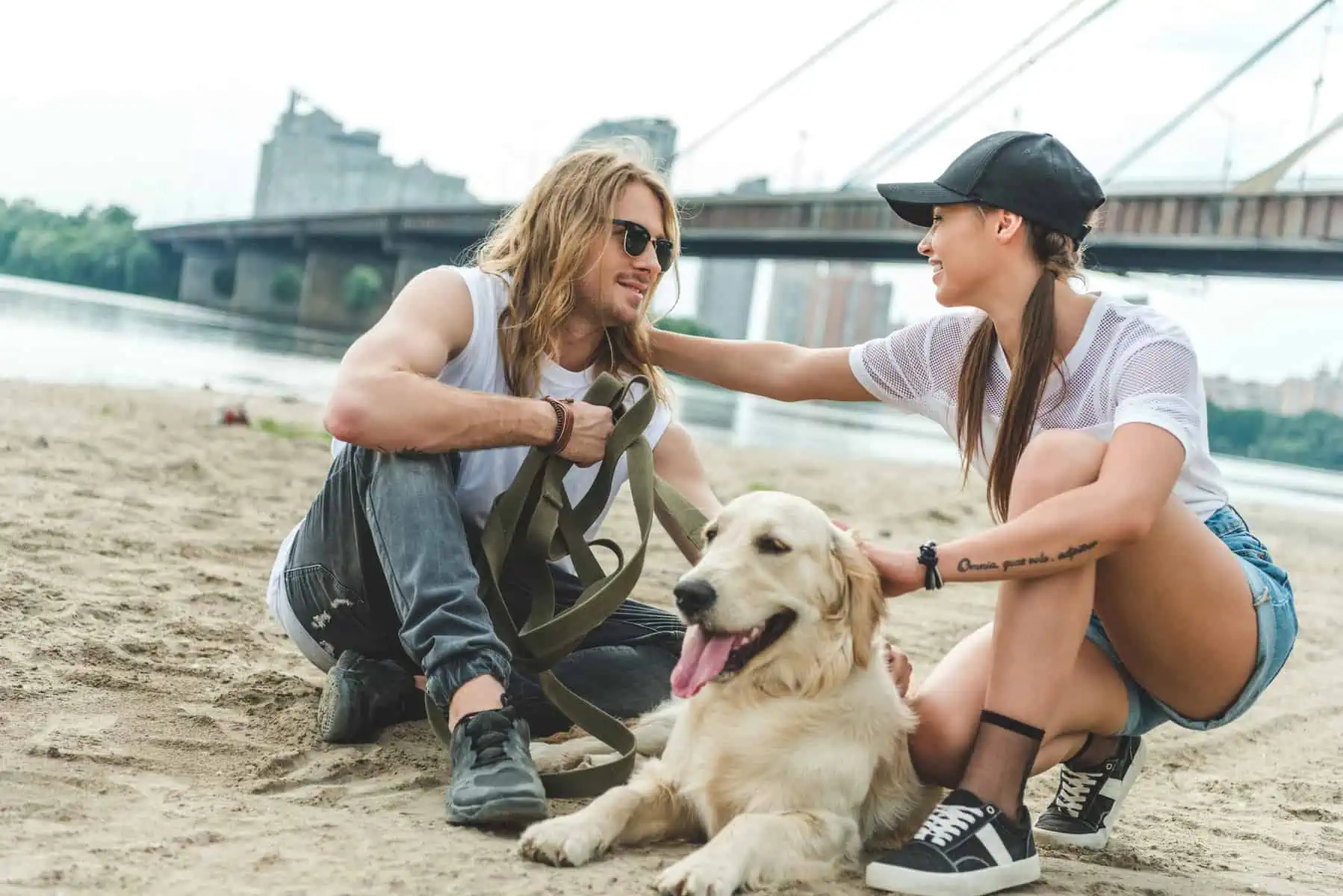 1. Choose an accessible and disabled-friendly meetup location
Dating a blind person is very much like dating a sighted person because you'll want to plan fun date ideas! However, there are a few things you may want to consider before picking a dating location.
It's true that your date may not be able to see everything you can, but there are plenty of adventures you can still do together. Adventures that will emphasize the other five senses are key. Here are a few suggestions:
Restaurants and cafes (look for places with a braille menu)
Going to a movie theater that offers audio description
Go to a concert, comedy show, or other auditory events
Relax at a park and simply talk
You can also look up "visually impaired friendly" activities in your local area. For example, in Colorado, there is a hiking trail in the mountains that has a "braille trail." Blind people can go on a hike while holding on to a braille wire. The "braille hike" is a great way to get some exercise and fresh air together.
2. First impressions matter!
People who are blind navigate and rely more strongly upon their other five senses (smell, sound, touch, and taste). A visually impaired person will not see your physical attributes, but first impressions are still important. Some blind people can sense what you "look" like by giving you a hug.
Also, to make a good impression, make sure to have good hygiene and be aware of the tone and sound of your voice. Are you monotone? Or more upbeat? These are all indicators that visually impaired people rely on to know if they are interested or not.
And be sure to ask your date questions. Asking questions shows your date that you are engaged and want to make a good impression. This will help both of you get to know each other through more than just the physical.
3. Open communication
Communication is imperative in any relationship! And so it's important you feel safe enough to talk to your date about their blindness if you have questions. There is no need to walk on eggshells and be afraid of saying or doing the wrong thing.
Most people with disabilities are open to answering your questions. The more comfortable you feel talking about it, the more comfortable they will be in sharing their experience.
It's better to ask your partner questions when you are unsure about something than to avoid it. Avoidance makes things more awkward and uncomfortable for both of you. Be sensitive and don't make jokes, and the conversation is likely to go smoothly.
"If love is blind, then maybe a blind person that loves has a greater understanding of it."- Criss Jami
4. Don't try to be their savior
Most visually impaired people are proficient at navigating the world on their own. Many are determined to be independent and love taking care of themselves. Don't assume that dating a blind person means that you get to be their savior or caretaker.
Use this tool to check whether he actually is who he says he is
Whether you're married or have just started seeing someone, infidelity rates are on the rise and have increased over 40% in the last 20 years, so you have all the right to be worried.
Perhaps you want to know if he's texting other women behind your back? Or whether he has active Tinder or dating profile? Or worse yet, whether he has a criminal record or is cheating on you?
This tool will do just that and pull up any hidden social media and dating profiles, photos, criminal records, and much more to hopefully help put your doubts to rest.
There are times they may need assistance to read menus or to get around in public areas. You can always offer your help, but appreciate the fact that they may not want or need your help.
A blind partner wants more than someone to take care of them; they want a relationship. They want someone to build a life based on shared values and interests.
5. Give lots of love and romance
Just because someone has a visual impairment doesn't mean they don't love romance as much as anyone. They want to find the right person, just like you do. If the two of you are vibing on your date, don't be afraid to shower your date with love and compliments.
We're all human and all humans want and deserve to find a lover who is compatible, shares similar values, and is a good match. We all hope to find someone to build a beautiful life with.
6. Scent is important
For blind people, smell is one of the most important senses. One way that a blind person feels physical attraction is through scent. As someone who is sighted, you may not realize how much scent plays a role in our interest in someone.
According to an article in Psychology Today, "Smell may be the most important, albeit the most subtle, factor in physical attraction because the nose can suss out complex mechanisms like sexual compatibility, although the conscious mind is unaware of it."
So, before your date, be sure to find a nice-smelling perfume and have impeccable dental hygiene! You're sure to make a lasting and positive impression on your date and drive him crazy with your scent alone.
7. Sound is also vital
The sound of someone's voice is music to a blind person. The way you smell is absolutely vital when dating a blind person, but so is sound!
Sound is another big sense that sometimes gets overlooked by a sight-heavy culture. For someone who is blind, sound significantly increases the potential attractiveness your date will feel towards you.
When talking to your date, be sure to be animated with your voice! Use different pitches and show your passions for life while talking to your date.
Blind people not only notice the sound of your voice, but they are also hyper aware of the way you breathe and your voice volume and word choice. So spurs up on your vocabulary!
According to an article by Madeline Fugere, Ph.D., "Vocal attractiveness may serve as an important cue to physical attractiveness. People independently perceive both men and women with more appealing voices as having more attractive faces."
8. Plan ahead
Spontaneity can be fun and exciting, but for someone who is visually impaired, be sure to plan ahead because many blind people need to figure out bus schedules and public transportation to get around. Spontaneity may be more stressful for them.
When you can, give them a heads-up with plenty of time to make plans to get to a location. There is always the option for you to pick them up and surprise them in the future, but get to know your person first and respect their desire for a plan.
The Most Famous Blind Dating Websites
Many visually impaired people prefer to use regular dating apps over apps designed for blind people because there is more of a selection of people on regular apps.
Unfortunately, some of the regular apps don't have the capacity to use voiceover (like Bumble and Tinder). However, there are a few apps out there that are compatible with the use of voiceover apps. Visually impaired people usually write about their disability in the "about me" section.
Below are a few online dating websites that are available for both sighted people and the visually impaired.
1. Eharmony
Eharmony is great for meeting lots of people. The app has helped over "2 million couples find real love." You're sure to find your perfect match on Eharmony. Blind people use this app because it offers the voiceover option.
2. Christian Mingle
Christian Mingle is another website that visually impaired people can use. The Christian Mingle app is known for helping people to make meaningful connections.
3. Zoosk
The final app I am going to suggest is the Zoosk dating site because it has "40 million members" and is known for being trustworthy. They prioritize safe dating and visually impaired people can also use voiceover too.
FAQs
Conclusion
In conclusion, if you are planning a date with a blind person, remember to look deeper than their disability. Blind people are looking for love as much as anyone else. You may encounter a few different challenges than in a relationship with another sighted person, but all relationships have things to overcome.
Focus on finding your shared values and interests with your partner, and you'll be sure to have a fantastic relationship.
In the comments below, we'd love to hear about your experience with dating a blind person. Also, please share with a friend if you enjoyed this article.
Utilize this tool to verify if he's truly who he claims to be
Whether you're married or just started dating someone, infidelity rates have risen by over 40% in the past 20 years, so your concerns are justified.
Do you want to find out if he's texting other women behind your back? Or if he has an active Tinder or dating profile? Or even worse, if he has a criminal record or is cheating on you?
This tool can help by uncovering hidden social media and dating profiles, photos, criminal records, and much more, potentially putting your doubts to rest.