It's always a dream come true when your man pops the big question and asks you to marry him. It's such a wonderful moment and everyone is like:" Yaaay someone's getting hooked for life."
However, the excitement comes along with anxiety. How to start planning is usually something that gets most brides anxious, so you are NOT alone. It's normal for you to get constant thoughts like; "How will that day be? I don't want anything to go wrong, I pray it goes well, I want a perfect wedding, a perfect dress, What are people going to have to say during and after the wedding?" and so on. But rest assured that good planning and preparations can help you get that wedding ceremony of your choice. I have in this article, things you need to know as soon as you start planning your wedding. Trust me, some brides wish they knew this before their wedding. You are one of the lucky ones, so keep reading.
After you have taken a few days to allow the feeling sink in, spent time spreading your engagement news, preparations are in order. Getting a wedding planner or a professional help is the ideal thing to do to avoid stress but some people still like to take the traditional DIY route of planning their own wedding which is beautiful. But planning one's wedding, I must say, involves a lot of headache, stress and pain.
Planning a wedding is extremely stressful either you are the bride or the groom as you could get so excited that you totally forget to include the essential things. As I have said, organization is very crucial to planning your own wedding. You have a lot of things to think about and consider at the same time, so I would just advise to calm down and take baby steps. You might want to get a spreadsheet or bridal management apps or even, programs to help out. The basic things you need to consider include:
Picking a DATE
​Congratulations on getting engaged! So, now you have to decide what year, month and date you are finally ready to make things official and tie the knot. After picking a date, you can proceed to sharing the date so preparations can start!
Verifying Your Budget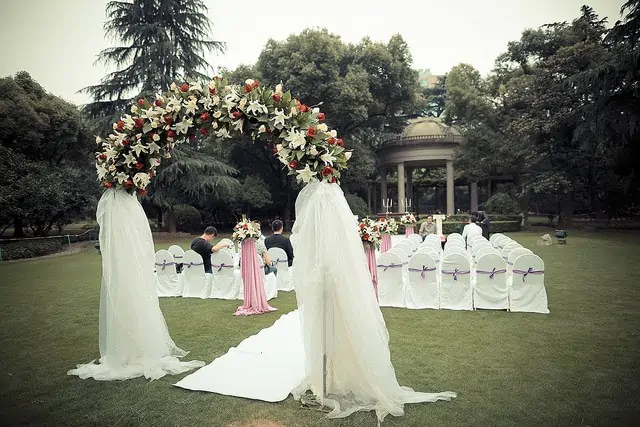 Are you footing the bill? Or is your partner picking the tabs? These are questions you should ask yourself before planning. You might want to first work out how much you or your partner have to work with for the wedding before booking the venue and the likes. Get how much you will spend and that might just save you a lot of headaches.
After you have taken a look at your finances, stick to it. Do not do more than your capacity. One thing I have learnt over the years is that the moment you begin to bite more than you can chew, the planning crashes.
The one mistake I regretted while planning my wedding was that I ignored the voice of reason and that of my fiancé, telling me to spend within budget. I wanted the wedding I had envisioned since I was fifteen, one where I would invite everyone and have a particular themed wedding. The problem was that my finance was lower than my fantasized wedding but I proceeded to getting the wedding I wanted and after a week of the wedding, we were bankrupt that my husband and I had to work extra jobs to pay off our debts. I always advise my clients to work within the amount that they have. Do not impress anyone because it is most likely they would not remember the event after a week.
The Guest List
When you have agreed with your spouse on the money you are willing to spend for the wedding, the next thing you want to consider is the GUEST LIST which I must say is one of the most difficult decisions to make. The decision on who to invite and who not to invite can be tedious. Do not be tempted to throw everyone you know into the list because with every addition you make, you are adding extra costs to your already narrowed budget. My own wedding experience is enough to make me realize that the extra amount of people you invite means you have to cater for the food, space and souvenir.
If you and your partner are footing the bill, the list should be minimal but if you have family contributions pitched there, you know the guests lists would have to grow.
​Picking A Venue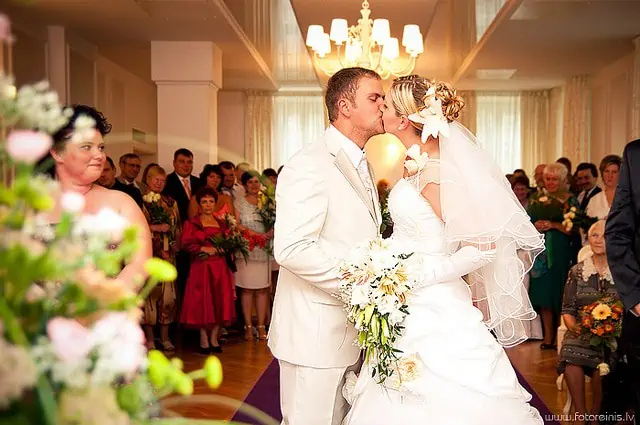 This is also very crucial in the checklist of wedding planning as it affects the overall wedding. The Venue determines who will be invited, what kind of flowers to be used, what kind theme that would be adopted and so many other things.
When getting a venue, you need to consider the proximity of access to the resources you need, your mobility and that of others. So for convenience, it is advisable for couples to book venues that are closer to their homes and families.
One mistake a lot of brides make is that they do not know how to delegate responsibilities to other, especially members of their wedding party. Never make the mistake of doing things on your own. You need to employ the help of friends and family to reduce the stress.
But while you are planning, remember to have fun. It is your wedding which comes only once so do not get hung up on tiny, irrelevant things but focus on the things that are truly important. You don't have to be tied down by certain traditions from families and friends. If you are uncomfortable with some styles and tradition, you can simply create your own traditions. After all, it is your wedding. You are allowed to give it a personal touch.
Francesca was so excited when she got engaged to Alfred the first week in September but imagine her shock and confusion when she learnt Alfred and his family wanted a quick wedding, preferably, before the end of the same month. She had already envisioned and fantasized that she would plan her own wedding right from when she was a little girl as she watched her aunt, Edna planned her own wedding. She took on everything upon herself from picking and booking the venue to shopping for gown to booking caterers, florists, musicians, photographers to designing her own websites, to travelling and researching on honeymoon destination to planning rehearsals dinner. Two days before her own wedding, Francesca felt sick and was bed-ridden that the wedding had to be postponed.
When we allow ourselves enough time to plan and sort ourselves month ahead, we save ourselves from the problem of being overly stressed before the real day. Tessa Lyn, Wedding planner and owner of Tessa Lyn Events advised that "by breaking down the year, months by month, you are taking the planning process in bit size pieces and it will be far less overwhelming". You will need a wedding checklist to keep you sane and focused.
Give yourself 12 to 14 months to plan; it will most definitely ensure that the wedding planning wouldn't come to disastrous end. The trick is to not rush into decisions. Weigh your options before taking steps. You don't want to be looking too stressed to actually enjoy your own wedding, do you?
I'll try to help out with the Wedding Checklist by dividing it into months. Here is a list of order that I feel might help you maintain your sanity while you plan:
14- 12 Months Before
​Assemble your planning team: Friends you just met or cousins you haven't seen in awhile are the best people to add to your wedding party. You should consider your childhood friends, close siblings, close cousins. Your wedding party should include your maid of honor, your bridal train, flower girls, and if you like, you could get involved with getting the groom's men for your partner.
​Another important thing to note is to not do everything yourself. After picking your maid of honor and bridesmaids, you have to delegate to reduce the burden.
​Pick a date, time and venue: So after you getting engaged, pick the date and time you would like to make things official with your partner.
​The venue should also be considered during the period. The venue that would be selected should be in line with the theme you have in mind. Some hotels have pretty courtyards that can help to fill the need or even, renting historic homes top fulfill the theme.
​Begin to visualize the color and theme you want: Have a theme in mind; would you like to have festival chic? Or have a style like a Sit-Down Dinner in a ballroom? A beach bash? Wedding in the forest? Getting a theme and style in mind makes design decisions easier and less painful.
​Start with the guest list: You already know who you want to be around for your big day, start with that. Then consult your partner for whom he would like to be attendance also.
​Remember, it is his wedding as well yours so while the excitement of planning your wedding is pumping through your veins, keep your partner in the loop.
​Start the research on what food you will make to make available on the day: Of course you have an idea of what you want to serve to the guests on the day so you might want to start researching on the percentage of your guests that might be allergic to the foods of your choice. This saves a lot of a headache of unnecessary embarrassment and having to listen to guests' complains.
11 - 9 Month before
​Start shopping for your gown: Making appointments at bridal shops are necessary at this period as it will save the headache of ill-fitted gowns. Put what you want into action. You might want to visit places like Chicago, Miami, New York city to get the perfect design you have been fantasizing about.
​Book a venue: Of course you know who you are getting married to but do you know where? Start the hunt for the venue early. It would be advisable to get a venue that would fit into your budget. Not necessarily too cheap but something classy yet affordable.
​Start thinking about the Caterers: Get professionals to do the tasks for you. Remember that the
​Get ideas for floral decorations: I would strongly advise to keep it simple yet elegant. Why waste a good amount of money on flowers that would die after the reception
​Set up meetings with photographers and videographers: Wedding albums are the best ways to relive your wedding memories so you have to really take your time to get photographers and videographers that understands what you want.
​This is also the perfect opportunity to get you familiarized in front of a camera. Get the camera shyness out of your system. Take engagement photos.
Use this tool to check whether he actually is who he says he is
Whether you're married or have just started seeing someone, infidelity rates are on the rise and have increased over 40% in the last 20 years, so you have all the right to be worried.
Perhaps you want to know if he's texting other women behind your back? Or whether he has active Tinder or dating profile? Or worse yet, whether he has a criminal record or is cheating on you?
This tool will do just that and pull up any hidden social media and dating profiles, photos, criminal records, and much more to hopefully help put your doubts to rest.
​Book who will officiate during your event: This wouldn't be necessary if you are going to be using a friend or a family member, but if you will not, you should decide who you want to officiate on your wedding day and book them on time. Know their schedule to avoid disappointments.
8 Months Before
​Get your Music Ready: Have you decided on the music that would want to be played? What song you will like to be played at the beginning of the reception? First couple dance?
​Have you decided if you are going to get a D.J to play random songs that are significant to yourself and your partner? Or would you go wild and get the band? If you would, you might want to get book them this period.
​Consider Maid of Honor and Bridesmaids dresses: Most of the brides I have been opportune to work with prefer to have their bridesmaids in not so nice attires so they wouldn't be outshined. Well, that is just some old mean trick. Your maid of honor and bridesmaids reflects your big day. Let them choose what they would like to wear.
​Book Honeymoon suites:
​Design your wedding websites, send save the dates: Getting wedding websites helps to avoid unnecessary text messages, voicemails, and emails from your guests about the details of the wedding.
​After getting your website ready, you can start by sending where and when you will like to make things formal, where they need to be and when they need to be there.
​Make up your mind about your bridal shower: Would you be having a bridal shower? What would you like to do there with your friends? Decide what you like do at this period.
​At this period, you should have been able to finalize your guest lists. Get a grip on the number of people you want as it would help to minimize the space you will need for tables, waiters and the dance floor.
​You should also have prioritized your guests. Placing family first, then the bridal party, best friends, followed by aunts, uncles, cousins and close friends that are necessary . Then parents' friends, neighbors, coworkers and more. This would help you finalize your list to the ideal number.
7 Months Before
​Research hair and makeup artists: Only the best should be employed. So take your sweet time to get professional hairstylists' and makeup artists. Make sure you carry your maid of honor and bridesmaids along in your search for hair stylists and makeup artistes.
​Book rehearsal-dinner venue: It is customary that the groom's family takes care of the rehearsal dinner but you know you can have a say. So as you are trying to impress your partner's family, don't make yourself miserable in the process. Choose a place that will be convenient to you, your family and his family.
​Order for Rental Items: Get items such as draping, linens, lounge furniture, white dance floor, and specialty chairs ready. These are necessary materials that should not be waited last minute to get. Don't take that chance
​Begin researching honeymoon destinations: Traditionally, the groom is expected to plan a surprise honeymoon trip for the bride but it doesn't matter if your partner doesn't have a surprise waiting you for because he wants to involve you in the planning. Left to me, I think it is more fun if both of you could travel together to find suitable places that you would like to visit.
6 Months Before
​Attend pre-wedding counseling: Getting counseling before marriage has worked wonders for a lot of marriages. I remember how Dave and I argued about this issue. I wanted to have pre-wedding counseling but he felt there was simply no need for it. After a lot of pressing and cajoling, he later agreed. To be candid, the first few months into marriage, we experienced some financial problems but we were able to tackle such issues, we resolve them on our own because we had initially gone for counseling and have been prepared for it.
​So it would be advisable to get the objective side of a third-party to deal with future issues that might arise in your marriage. Getting the advices of a counselor at this stage will help to be armed strategy to handle cases in the marriage.
​Get your passports ready or Renew your passports: This is very important for your where you have planned to have your honeymoon. `Do not wait for the last moment to resolve this issue, get on it right away at this period.
​Book Cake designers and Wedding cake: Go with your partner and your maid of honor to get the tasting and book the flavor that would either match your theme and style or that would suit the necessary people.
​Rehearsal dinner option: Get the cost and menu for your rehearsal dinner. Find out different venue for the rehearsal dinner.
​Start with wedding vows: Even if you have decided to say your vows in the presence of your friends and families, you would still need to have them written down to avoid stammers and blabbers.
4- 5 Months Before
​Book the Honeymoon: After getting your honeymoon location ready, get the cost and book the venue. The earlier, the better.
​Check out wedding rings: This is something you will wear for the rest of your life, so it would be advisable to go out together to look for the wedding rings.
​If you working around a tight budget, you might want to cut down on the prize of the wedding bands you will be getting. According to Trent Hamm, a Wedding Planning Strategist , "a typical wedding band can cost upwards of $1,000 and wedding websites, TheKnot says American couples tend to spend about 3% of their overall wedding cost on the rings(plus thousands more on an engagement ring)." Get something classy yet not too expensive.
​Making reservations for your wedding night: You should know by now where you would like to spend your wedding night. Get somewhere that would scream FINALLY!!!
​Have final tasting with your caterers: At this point, you should be on the way to decide which flavor you will like with your partner. You cannot please every guest so pick a flavor that is agreeable with your partner.
3 Months Before
​Get your invitation cards ready: Your invitation cards will give the guest an impression on what the day would look like so you might want to hire a professional for this. Get a Calligrapher to give a professional touch to your cards.
​Get Social Media Plan: Well this is for those that would like to broadcast their wedding to the world. Getting hashtags, photo booths are way to getting your party team or even, guests to post on social media.
​Hire a wedding day transport: Transportation is another big thing for wedding planning. A couple once forgot to make reservations for transportation. When it was the day of the wedding, there was no car to drive the bride and her party to the church. They had to go commercial which was way over their budget.
​I would strongly advise that amidst the craze for the planning, do not forget the transportation. The sooner you get to consider transportation, the better.
2 Months Before
​Get your invitations across: We understand that nobody is perfect so before you get your invitation across, you might just want to check for errors, wrong addresses and spellings. Your guests wouldn't understand the faults are not from you so check and cross check them well.
​Get your vows ready: So you have decided to go romantic and read your vows to yourselves instead of the customary one. You might have even written them out. Go over it again and read them to a third ear to get extra option. Just make sure you have them ready at this period.
​Get gifts for attendants, parents and yourselves:
​Get in touch with your stylists: You have researched and gotten the best. Get them in place and try out different wedding hairstyles to know which is best suited for you. You cannot wait till a week to your wedding to check your hair fix. Try the ones that would suit your theme as well as make you look like the bride you will become soon.
​Get a test run with your makeup artist: Just have you have gotten in touch with your hair stylist, call up your makeup artist also. This is vital in determining the right face beat that is appropriate for the theme of your wedding.
​Make sure everyone that everyone on your planning team who are doing one thing on the other are set for the wedding. If you would need to have a meeting to remind them their duties, please do so. This is your day; you have the right to go bossy on them. Ensure they have gotten all they need to get
​You might also want to add a list on what you will be packing for your honeymoon at this period. While I was going for my honeymoon, I had no idea what to pack. I was the kind of bride that did all the things myself. My friends and siblings were given little roles so it was quite difficult for me. I bought the things I didn't pack due to ignorance in the road. Get a list to guide you or get an experienced friend to help out.
1 Month Before
​Apply for a marriage license. Check with the local departments in town where you will tie the knot or state's license requirements online. Then you can go ahead to give a copy to your mom or maid of honor in case you lose yours during the buzzing of the wedding planning.
​Have a final gown fitting. Your maid of honor and bridesmaid should be included this time. This would give your maid of honor enough time to get familiarize with your dress.
​Make last minutes adjustments: These include whatever needs to be corrected, the cake, the floral designs, the transportation, and the photographers. You might change your mind along the line, so get that mind changed now. Better now than later.
​Create a wedding program to hand out to guests: Very important. You can have one of the bridesmaids do this but make sure you supervise.
​Ensure there is a sitting arrangement for the guests: Every wedding reception is arranged that way. Yours shouldn't be any different. So get the sitting arrangement ready. Table 1- bridesmaids and groomsmen, Table2- family of the couple, Table3- Close friends and so on
2 Weeks Before
​Confirmation is paramount at this stage: You need to validate with the caterers, florist, photographers, videographers, menu if everything is what you want. Cases of what the bride wants and what was delivered is always the story lots of brides tell after the wedding.
​Communicate with guests that are yet to respond in order to know how to re-strategize. Find out who will not be coming and why to know how to change the sitting arrangement
1 Week Before
​Get everything ready: Your manicure, pedicures, hairstyle should be ready
​Make final payments to delivery companies and personnel also enduring you have emergencies contact in case of unseen
​It is advisable to get a copy of your honeymoon plans across to family members in case of emergencies
3 - 2 Days Before
​Have your gown pressed and trimmed
​Make sure that the Caterer or Reception Manager are with your place cards, table cards, menus, favors and any other items for setting the table
​Cross examine final details with vendors
​Get the transportation ready: This includes the rental car or limousine for pick up time and location
A Night Before
​Rehearse Ceremony: You need to iron out the details of the wedding and what better way to do that than at the rehearse dinner. So get your wedding party, your immediate family and the person officiating together for the ceremony
​Give your marriage license to your officiant
​Rehearsal Dinner: Attend rehearsal dinner and present gifts to those in attendance
​Confirm your honeymoon transportation and flight details
​Have your vows printed or Memorized
​Have a back up: At this point you cannot wait to get it over with that you forget the necessary. We understand that you have been stressed out so have your alarm by your bedside
​Pack for your honeymoon
When you feel you are overwhelmed with planning, you need to take a break with your partner to do anything but wedding planning. Take a week off a week before the wedding to ensure last minute details are added and completed.
But over everything, have fun. Guests tend to notice a stressed bride or groom. Take your time to enjoy yourself while planning your own wedding. Also remember to Say Thank You. You can do this by getting gifts for those that helped with the planning along the way. Family, Friends and Colleagues that were supportive.
If you are putting up an event that would make everyone love your wedding, then you are in line for heartbreaks, plan an event that you and your partner will enjoy. Unless something dramatic happens on your wedding day, people will not remember so why go through the stress of planning something that your guests will forget in the next week?
Utilize this tool to verify if he's truly who he claims to be
Whether you're married or just started dating someone, infidelity rates have risen by over 40% in the past 20 years, so your concerns are justified.
Do you want to find out if he's texting other women behind your back? Or if he has an active Tinder or dating profile? Or even worse, if he has a criminal record or is cheating on you?
This tool can help by uncovering hidden social media and dating profiles, photos, criminal records, and much more, potentially putting your doubts to rest.