Only a few people are allowed to get front-row seats at a wedding. Pastors and wedding officiants get to do this a lot, and many of them love the same part; the exchange of precious wedding bands.
When the rings are handed to the pastor from the best man or maid of honor, they're placed on the Bible and blessed. Prayers are said for the husband and wife before placing the precious bands on each other's fingers.
The wedding rings are the symbol of the unity between man and woman and are ceremoniously presented at the wedding celebration. But what if the groom just doesn't want to wear jewelry and would rather do without the wedding ring? Unfortunately for some people, wearing a wedding ring sends mixed signals about their marital status.
If your husband won't wear a wedding ring, this might be the right article for you. We take a closer look at some of the reasons why your husband will opt for a free ring finger. Spoiler alert; it's not always because he's cheating!
11 Reasons He Doesn't Wear His Wedding Ring
1. He might want to be seen as single
In today's day and age, having a wedding band is the norm after a marriage. If the said wedding band isn't worn readily by the husband, it could be because he wants to be seen as a single man, to allow him to carry out some flirtatious activities. When guys don't wear their rings, they are not asked about their marital status. They're immediately thought of as single and available by other women, and in most cases, these women end up flirting and chatting the men up.
If your guy doesn't wear his wedding bands to be seen as single, you're allowed as his spouse to assume he's having an affair; it could be true. The truth, however, is that the absence of your partner's rings alone does not justify this accusation.
It must be considered in context, where other signs such as low communication, lack of affection, and emotional abuse are present. If there are other signs such as unexplained credit card receipts from shops and motels, you have more than enough reason to consider cheating.
2. Cultural difference
To you, it might mean the world, but for your husband, he might see it as just a precious band. Another great and valid reason why your husband might take off his precious band and refuse to put it back on can lie within your cultural differences. It could simply be that the practice of ring-wearing isn't common in his community or culture. Many people having these rings are originally Christian, as this is a Christian practice recognized globally by the church.
Despite how widespread this Christian act is, it still isn't common in some areas such as the Middle East and Asia. In these areas, men in a relationship don't put on bands to justify their relationship. They don't show any signs of their marital status, mainly because their culture does not require them to remain faithful to the women they marry. If your partner is from areas such as these, culture could play a huge role in their decision, and you'll only know this if you talk about it in the relationship.
3. It is more practical to have them off
Don't go running into the parking lot in tears now. This is the absolute truth. For some men, wearing their band all the time might not be the most practical thing to do. Your husband might be reluctant to put on his ring for a myriad of reasons tied to practicality. The first could be because he finds wedding bands too tight or uncomfortable. This might occur as a result of recent weight gain.
Another reason under the practicality umbrella has to do with work. Your partner might wear your wedding ring when at home but leave it behind when going to work. Don't be alarmed. This could be for good reasons. Such is that his nature of work prevents him from wearing jewelry. Those involved with harsh chemicals and radiation are often advised to keep their precious bands at home, to prevent any form of unfortunate accidents.
4. He might find it to be silly
And this might be coming from a male perspective. Some men think dressing up with jewelry is silly and should not be done by men. Most of the men with such thoughts grow up in traditional upper or middle-class homes, where they are taught to be conservative and in taste.
This stance might affect your relationship if your partner isn't made aware prior. As much as possible, men with such a perspective are to discuss with their partners the best symbol of their love and make use of that during their marriage.
As a woman, you also need to be open to the idea that your partner might not be adorning a band from you anytime soon. If that bothers you a bit too much, he might not be the one for you.
5. Insurance feels like a rip-off!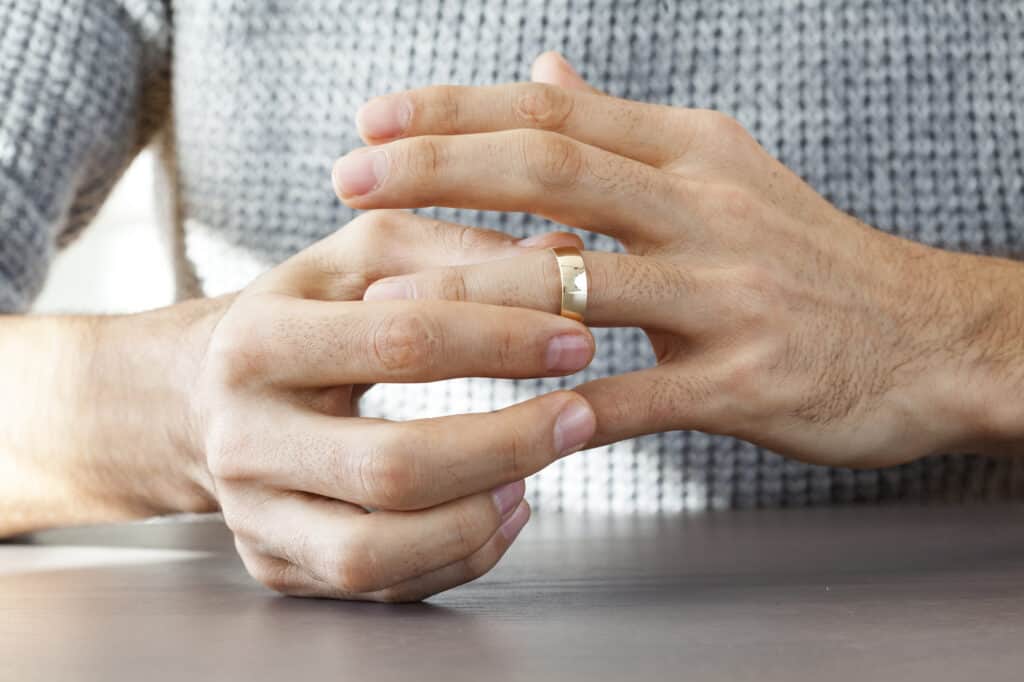 This might be funny but is a valid reason for some men. Many men simply choose to leave their bands at home because they don't have insurance. They can't risk losing such a precious item without insurance, with no way to claim it back in the event of a disaster. Their best bet? Keeping it at home, away from the prying eyes of burglars. This reason goes out the window when you do get robbed, even without taking the ring outside.
6. He's allergic to jewelry
Or a specific metal that his band was made from. Allergies can try, but they can't harm any relationship. It is possible that your man hates wearing jewelry because his body reacts to all of them. For this reason, he might avoid keeping the band on for longer periods, to save himself from endless itching and scratching.
One way to deal with this is to find out exactly what he's allergic to. If the ring can be made without it, that's great. If not it might be time to search for some other form of love symbol he can show you for the rest of your lives.
7. It's too much bling
Some people don't have a lot of room on their hands to put an extra precious band on. We all heard about it when Junebug dies from a weakness to gold chains, what makes us think your partner is going to be any different? Depending on the style and cut, your partner might find this band too shiny, too heavy, or too ostentatious.
Such people often find lighter and less imposing alternatives to serve their purpose. This point tends to affect a lot of relationships, especially when the guy wishes for something much simpler, but his woman wants him to splurge just a little. It takes a whole lot of communication and compromises to deal with this one.
8. You don't wear yours either
I'm looking at you with the side-eye, honey! Yes, you. He's been watching you long enough to realize that you don't put your wedding band on that often. He might use this point against you when you speak about it, so you must check yourself and your actions prior.
There's nothing wrong if you also don't love wearing bands, but if you take offense to his actions while you're doing the same, it might do more harm than good to your relationship, and can even affect your intimacy.
9. He doesn't understand the symbolism
Or rather, he doesn't understand why such a tiny element should wield such power, in the name of symbolism. Maybe he's not having an affair, maybe he wore it but took it off, maybe he believes marriages are better off without such symbols tying each member down.
Many haven't bought into the idea of a circle meaning that your love has no beginning and no end. They're typically atheists and as such, don't have a lot of beliefs when it comes to wearing a ring.
10. He's lost respect for you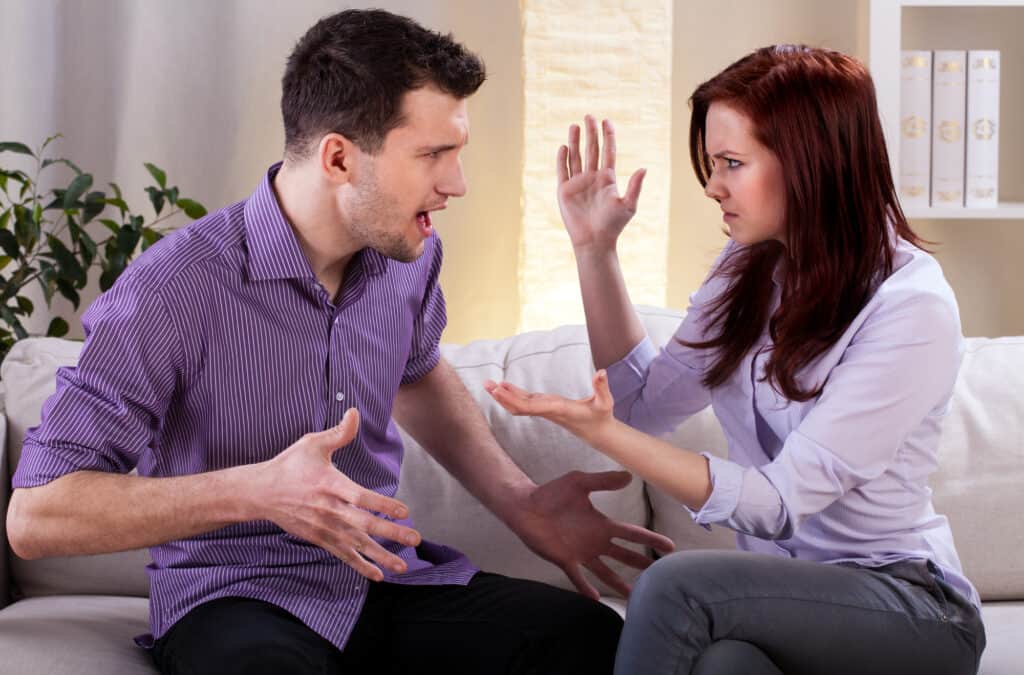 This is a harsh truth, but it is possible your partner could refuse to put on his band because he's lost most of his respect for you. He's now fed up with all your lies, all the talking badly about him behind his back and frankly, he's done with people knowing he's married.
Is it like pulling teeth getting him to spend time with you?
The key to solving is understanding men on a much deeper emotional level. The number #1 factor that causes men to behave this way is actually relatively easy to change with a few subtle things you can say to him.
Take this quick quiz to see if he actually likes you!
He'd rather keep himself sane while he works out a way to forgive you or say goodbye. Yes, such relationships might not last once respect is gone. If you're lucky, he'll talk to you. You might be unlucky and end up being served with divorce papers.
11. Wearing a ring phobia?
Phobias are extreme fears of particular items or instances. Just as people are afraid of needles, others are afraid of rings. Some believe their fingers might get stuck in a bandsaw or in the body of someone you're operating on. The fear attached to possibly losing this ring can cause them to stop wearing it altogether. This not only releases them from their phobia but also improves their mental health a great deal and allows them to live a relaxed life.
FAQs
In Conclusion
To all married men who read our article, we love you. We love you more than you know. To the ladies who engaged in this piece, we're even more grateful that you shared it with your husband, friends, and family.
There's nothing bad about wearing a wedding ring in relationships, and there's also nothing negative about not wearing a wedding ring. It all depends on the reasons, and if they are sound and acceptable. If your husband isn't wearing his wedding band, find out why by communicating clearly with him. 
Do you feel like all you think about is him, but he only thinks about himself?
This doesn't mean he doesn't like you. You have to understand how he is wired. Once you do, you'll find there is a subtle thing you can say that to him that will drastically change how he shows his emotions towards you.
Take this quick quiz that looks at whether he actually likes you or not!