I assume that you are reading this because you've met someone new and you want him to be crazy for you.
You want to rev his engine up so much that he rips your clothes off in your kitchen and takes you right then and there.
The key here is to understand male psychology, and more specifically, a thing called the 'hero instinct'. This is what makes men tick.
In fact, not only can understanding this principle help in the bedroom, but it can affect your relationship as a whole.
Applying this principle is how I was able to make my man pretty much obsessed with me both sexually and overall.
In fact, it helped turn around my whole relationship.
You can read about that story by clicking here and learn how you can make your man sexually addicted to you as well.
Having said that, it goes without saying that this man does have to feel some kind of sexual attraction towards you in the first place. These tips are just to make him addicted to you sexually.
1. Tease him.
This is probably the biggest way to not only keep a man interested in you but keep him coming back for more. Men like to work at things, and if you're one of them, he will love that. You can tease your new man in many ways.
Firstly, you could wait a while until you allow him to have sex with you. This does not mean that you have to act frigid. You can still do a lot of things but not have sex. It might be a good idea to spend time making out with him and then perhaps spend a whole evening practicing foreplay on each other. You should keep it playful and tease him that he's not going to be getting inside of you anytime soon.
You could also take it further and wind him up so much that just before he climaxes, you stop. However, I would make sure that you don't do this too many times because he might start to get frustrated. Tease him just enough so that he enjoys it.
Another way you could tease him would be by texting him naughty texts and cheeky photos – he won't be able to stop thinking about you after receiving them. However, I'm going to speak more about communication later, so let's keep this juicy tip until then.
Also, it's important for me to say that even if you have already had sex with him, you can still tease him. He will still feel the chase, even if he has already had you before.
2. Flirt with him.
Flirting is one of the many ways that we not only attract people, but we keep people attracted to us. You shouldn't stop the flirting – ever. In the early stages of a budding relationship, whether it be emotional or sexual, you need to keep flirting with each other, otherwise, he might just move you to the friend zone.
You need to show him outwardly that you are interested in him. If your main aim is to make him sexually desire you, then you can also flirt dirty. A lot of people love to be spoken to in a dirty way or speak in innuendos. For example, maybe if you are on a date, you could lean over and whisper in his ear that you thought about him while you were in bed this morning. Instantly, you will make his body go crazy for you.
You can also be flirty with your body language. For example, if you are having dinner or drinks, you could slip your shoes off and rub up against his leg. Another idea could be to say something and get really close to him. You can put your face really close to his gently, and your lips could almost be touching. He will be able to feel your hot breath on his face and his penis will most likely wake up.
3. Keep in touch.
Obviously, if you like this man, you will be in contact with him. But it is important that you keep talking to him regularly. When I say this, I say it with caution. I do not recommend bombarding him with messages, because this will just make him feel like you're too attached and maybe even a little bit obsessed. Also, as a general rule, you should never double text.
You need to make him feel like he is having fun while he is speaking to you, even though he isn't with you. In terms of sexual addiction, you need to be sending him messages that make him think of you naked. Your aim is to make his thoughts about you uncontrollable. So, there are a few ways you can do this.
Sext him.
The first thing you can do is sext him. Send him naughty texts. For example, you could say something along the lines of, "I can't stop thinking about making out with you the other night." This will then make him automatically think about making out with you.
You could also send him texts that flatter his appearance and his sexual energy. For example, if he is at work you could say something like, "I bet you look so damn hot in your suit." He will not only love this because it is a compliment, but he will then know that you are thinking about him.
Send him pictures.
You could keep him sexually addicted to you by reminding him of what he is missing. You could send him a few naughty photographs. The best idea is to keep it quite innocent and tease him with it. You could send a photo of some new underwear with a comment like, "new undies, what do you think?". You haven't actually said or sent anything overly inappropriate, but you've made him think about you in your underwear. Within 30 seconds of seeing this, he will be thinking about what is under those panties and that bra.
You could also send him a brief, cheeky video of you rolling around in your bed, and telling him that you miss his hands all over you. Anything like this will send him into a daydream about having sex with you.
Be comfortable.
When I speak about anything like this, I always have to say that unless you feel comfortable sending these kinds of messages and photos, do not do it. There is a level of trust you should have with this person, especially when sending photos. You should know that whatever you send is only ever going to be between the two of you. If you have any hesitations or you feel uncomfortable, do not do this.
4. Find out what turns him on.
Just like women, all men are different. Some men might be more sexually stimulated by visual things, and some men might just want to get spoken dirty to. Some men like to be dominant and some like to be dominated.
Use this tool to check whether he actually is who he says he is
Whether you're married or have just started seeing someone, infidelity rates are on the rise and have increased over 40% in the last 20 years, so you have all the right to be worried.
Perhaps you want to know if he's texting other women behind your back? Or whether he has active Tinder or dating profile? Or worse yet, whether he has a criminal record or is cheating on you?
This tool will do just that and pull up any hidden social media and dating profiles, photos, criminal records, and much more to hopefully help put your doubts to rest.
You need to figure out what it really is that your man likes and what turns him on. This might not actually be too hard to uncover. You can do it very easily by simply instigating a conversation with him and what he likes and what he doesn't like. More couples should have this kind of openness in their relationships anyway, so if you have this conversation early on, you will be doing great things for your relationship further down the line.
You can also experiment with him. When you are getting down to it, try new things with him. Try a variety of things with him. I'm sure that he will be vocal about what he likes and what he doesn't like. He will also love it if you are open to things in the bedroom. Who knows, maybe he has a fantasy that he has never felt comfortable speaking to anyone else about. However, know you're with him and you've shown him that you are open about sex and pleasure, he might feel comfortable to express his desires.
The reason that you are finding out what turns him on will make him sexually addicted to you is because he knows that you are trying to please him to the best of your ability. If he feels like you would have a strong and vibrant sex life together, he is obviously going to be interested.
5. Flaunt it.
Let's be honest, we have all heard the saying, "If you've got it, flaunt it." If you are trying to make a man sexually addicted to you, then this rule definitely applies. This doesn't mean that you have to go out in skimpy clothing all the time or change the way you dress. In fact, this is a definite no-no. Your man is obviously sexually attracted to you in the first place for who you are, so don't start changing the way you look or dress. What I'm trying to say is that if you know he is sexually attracted to you, and perhaps to some parts of your body more than others – flaunt them.
For example, if you know he is a boob man and you have a great pair of breasts, there is no harm in wearing a low-cut top to a date with him. He might not be able to take your eyes off them, but you will definitely have him wondering what they look and feel like under that top. The same applies to if you know he loves your ass. If you are wondering whether to wear a tight skirt or baggy jeans the next time you see him – wear the skirt.
You are not changing yourself. You are simply accentuating the sexual parts of you so that you draw him in. And if you do have it, why the hell should you not flaunt it anyway?
6. Make sure he knows that you are attractive to other men.
Your man will probably realize pretty early on that he is not the only one that has eyes for you. You should embrace this and make sure he knows that a lot of people are interested in you. For example, if you walk into a bar and a few guys smile at you or say hello, then reciprocate this. You don't want him to think that you are exclusively his just yet.
Jealousy most of the time can be a really negative thing. However, in this context, it can be a positive one. If he sees that men are checking you out and you aren't shutting them down straight away, he might realize that you are not one hundred percent his yet. Strangely, it could make him a lot more attracted to you because he knows that other men want you too.
Of course, if you do like him and only want him, don't go around sleeping with or talking to other people. Even though he might be able to handle a little bit of jealousy, I'm sure he wouldn't like to know that you have been getting it on with other people.
7. Surprise him.
The worst thing you can do if you are trying to make your man sexually addicted to you is to make your relationship monotonous and boring. You need to keep surprising this man to keep him interested, both in and out of the bedroom.
You need to keep things as spicy as the moment you met him. It needs to get better and better for him, otherwise, he will go somewhere else. There are many ways in which you can keep surprising him. One example could be that you could surprise him sexually, by having sex with him or giving him some pleasure in a public place. This will make him feel bowled over. All men want to have a woman who wants to have sex with them all the time because ultimately, they like to feel needed and wanted. By wanting to get it on in public, it shows that neither of you can resist each other and you just need him now.
In addition to this, if you are having sex with him, basic and boring sex positions just won't cut it. Try something new. Maybe even try something you have never done before and tell him that you want to experiment something new him. If you want some ideas of new positions to try, check out my article, "43 Sex Moves to Surprise Your Man".
As well as this, you can keep surprising him emotionally by keeping information about yourself to yourself for a while. Every so often you can impress him with a new fact that he didn't know about yourself or show him that you can be endearing in a different and new way. If you tell him everything about yourself or show all of your cutest parts, he won't need to keep exploring your mind. He will already know everything and get bored quickly.
---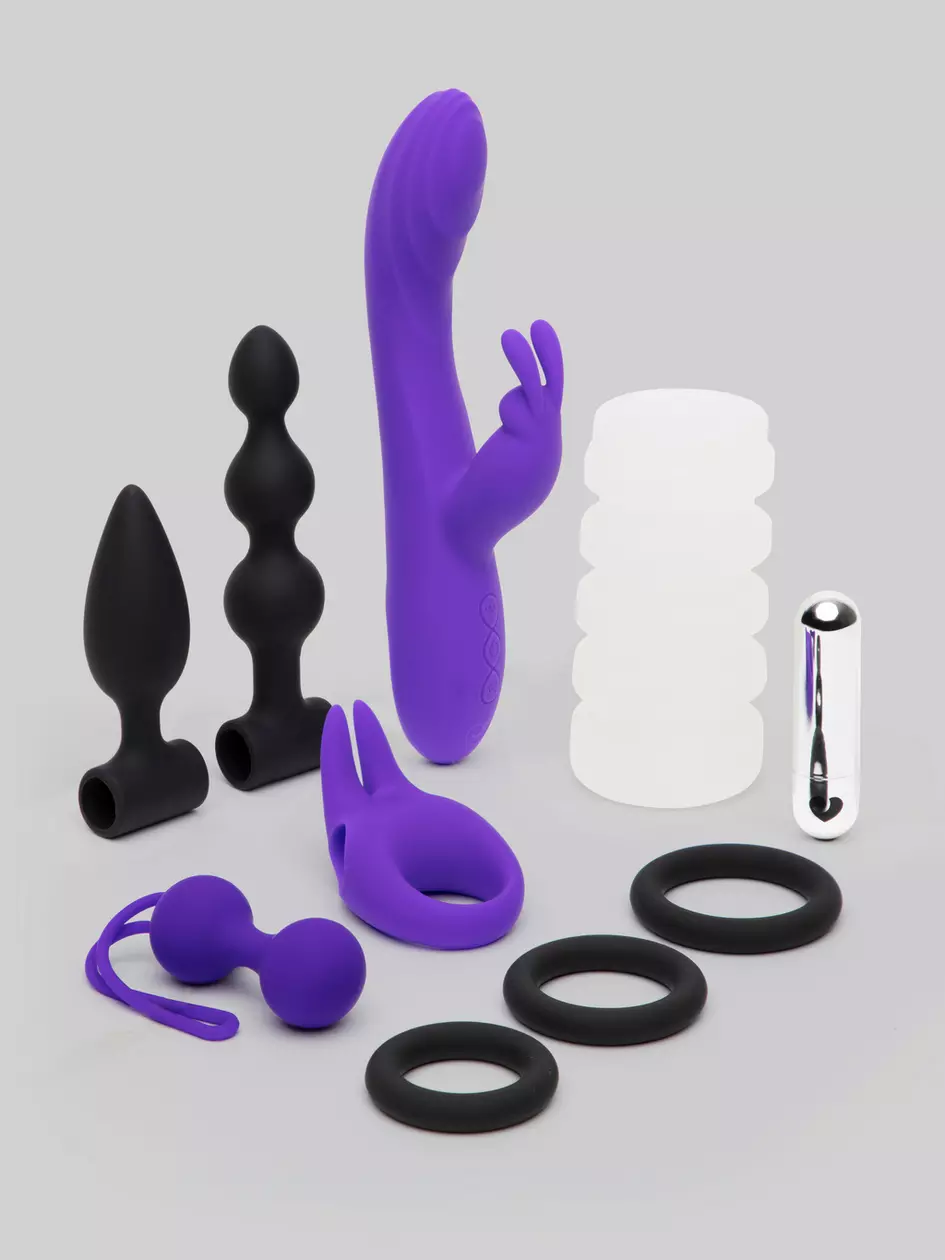 Wilder Weekend Rechargeable Couple's Sex Toy Kit
Customer Review
Wilder weekendss
Loving the rabbit dildo and butt plugs 🔌 extremely powerful bullet …vibration strength and variability are really good 👍 recommend 👌
Credit: Lovehoney.com
8. Be confident and maybe even a little bit bossy.
Even though a lot of these points I have written seem to be completely focused on him and his pleasure, he will love it if you are confident and maybe even a little bit bossy with you.
Let's talk about confidence first.
Men find confident women sexy. If you know what you want and what you don't want both in the bedroom and in life, this is a real turn on to a man. You can show him that you are confident in many ways. In real life outside of the bedroom, you can just exude confidence. When you walk down the street, be confident. When you are working, be confident. Whatever you do, do it with confidence. People can tell if you have confident energy.
You can also show your man confidence in the bedroom by introducing a woman on top positions or doing likes such as sitting on his face. This way, he knows that you are not only taking control of him but also of your own pleasure.
When I say, 'be bossy' I don't mean that you have to be aggressive or rude towards him - this will not work. But he might find it a turn on if you take control and tell him what to do in situations. In real life, you could be the boss at work and therefore speaking to him about this might turn him on because he is speaking to an authority figure with control.
However, when you will be a little bit bossy will most likely occur when you are in the bedroom. Some men actually love to be dominated. So, if he does, dominate him and boss him around. Show him how much your passion burns inside for him.
FAQs
Conclusion
I really hope that with the help of this article and the eight tips I have given you, you will be able to make your man sexually addicted to you. I am sure you will, and he won't be able to keep his hands off you.
I wish you the best of luck with this task and have fun with it! You are in control now, even if he might not realize that.
Did this article help you at all? If it did and you liked what you read, please let us know in the comments. We would love to hear from you.
Utilize this tool to verify if he's truly who he claims to be
Whether you're married or just started dating someone, infidelity rates have risen by over 40% in the past 20 years, so your concerns are justified.
Do you want to find out if he's texting other women behind your back? Or if he has an active Tinder or dating profile? Or even worse, if he has a criminal record or is cheating on you?
This tool can help by uncovering hidden social media and dating profiles, photos, criminal records, and much more, potentially putting your doubts to rest.