Launched in 2007 as a Facebook application, Zoosk.com is now a global dating site. It has millions of registered users all over the world and the company's mission is to integrate online dating and social networking.
This makes Zoosk more than a dating site. This platform can also be used to find new friends, although most users tend to use it to find casual dates.
Some of the members are definitely interested in long-term relationships, but can you use the site to find your Mr. Right?
Counting fairly young single members, Zoosk.com is a fun online environment to use if you're interested in socializing or in casual online dating. This unbiased review should help you decide whether this platform is the right one for you.
Things To Consider Before Signing Up To Zoosk.com
Zoosk.com is one of the most popular dating sites, counting over 40 million members around the world. But this doesn't mean this is the right platform for everyone. Although Zoosk has knocked out competition such as Match.com and eHarmony thanks to its simple interface, the platform is centered more on occasional dating and socializing than on long-term relationships.
This is explained by the age of the members. Most Zoosk users are under their forties, with a large part of members under their thirties.
Due to the age group, most members are looking for fun, not commitment. This doesn't mean you can't find the love of your life on Zoosk. In the end, it's just a matter of luck.
However, if you're specifically looking for "the one", eHarmony may be a better choice.
The fees are another downside. There are various subscription plans to choose from and they are moderately priced, but the platform requires you to make a one-off registration payment to use its services. In my opinion, this is frustrating.
Yet, if you don't mind paying a registration fee and are looking for relaxed fun, Zoosk.com could be the right dating site for you. The platform is populated by real profiles and there is an excellent ratio between men and women.
This dating site is also ideal for those looking for a simple and intuitive interface. The award-winning site and app feature a playful interface that is easy to navigate – ideal for beginners.
What Is Zoosk.com?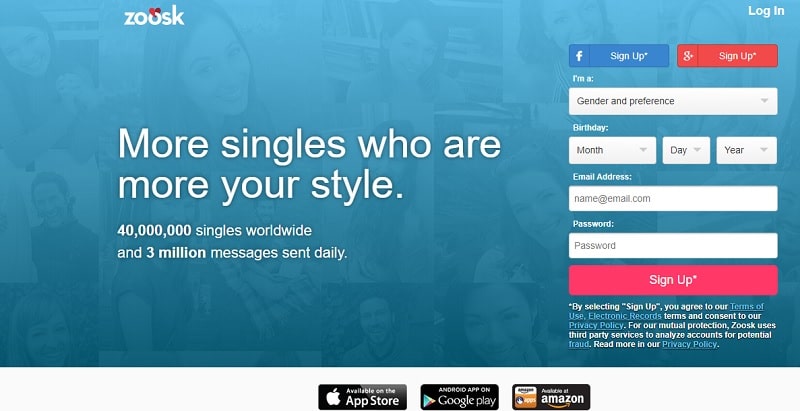 Zoosk.com is one of the largest dating sites launched over a decade ago as a Facebook app. Since its launch on the market in December 2007, the platform has attracted millions of users with its intuitive interface, exceptional features, and quality members.
Today, Zoosk is both an online dating site and an app and impresses users with impeccable aesthetics and award-winning features.
What makes Zoosk different is the transparent data-driven policy that is part of the platform's marketing tactic while providing daters with valuable information about the other members, such as preferences, lifestyle, and more.
Using Zoosk is easy. The platform has clear search and matching tools and attracts users with a simple signup process.
Born as a Facebook app, the dating site still gives members the possibility to register through the famous social portal. Simpler than Match.com and eHarmony, Zoosk doesn't require users to fill in their profile before browsing through profiles.
This can be either good or bad. On the bright side, you'll be able to roam through profiles and see who's using the platform without revealing too much about you. On the downside, you won't see how compatible you are with a certain member due to the lack of information.
Apart from this, Zoosk has a bunch of advantages but also a few drawbacks.
Zoosk.com Advantages
Impressive user base. Zoosk.com is a platform designed for people of all ages, backgrounds, and sexual orientations. It counts millions of users and increases its base each day with new subscribers. The network is very active and members send over 3 million messages per day.
Verified dating profiles. Many dating platforms have fake profiles but Zoosk helps members sort them out through a simple verification system. In this way, you'll know whether it's worth investing time and effort in chatting with someone or not.
Availability. Zoosk.com is available in 80 countries and is translated into 25 languages. In other words, the platform is ideal for those looking for international romance.
Live support. Another great feature of Zoosk is the live support available by phone or email to subscribers. Newcomers, on the other side, benefit from an online dating safety guide that explains the basics of online dating and helps beginners stay safe.
Successful stories. Although Zoosk isn't oriented towards long-term relationships, many happy couples share their success stories on the platform's blog. This is encouraging for those looking for more than a short romance.
Zoosk.com Disadvantages
Limited search options. Despite the intuitive interface, searching members based on interests or keywords is impossible. This leaves you with few options when it comes to finding someone who could be a potential match.
Auto-Reply system. This feature is actually awesome but it has a drawback. It can mislead users into thinking they have a real message despite having received an automatic greeting.
​Fees and cancellation policies. Another thing I don't particularly like is related to fees and cancellation policies. Subscribing to a paid plan won't make you break the bank but you won't have an option to cancel your subscription until the term is over. In addition, Zoosk also charges a one-off activation fee in addition to the subscription costs.
Zoosk.com Features
Entertaining and fun, Zoosk.com comes with a bunch of features designed to improve user experience and to ease navigation. Here's an overview of the most important specs.
Behavioral Matchmaking System
The most important feature of a dating site is the matching system. Whether you're looking for the love of your life or for uncommitted fun, when subscribing to a dating platform you have expectations. Those expectations are finding someone who matches you.
That's why Zoosk has put a lot of thought into creating a stellar matching system based on user behavior. The system analyzes the way you use the site and tries to find matching profiles based on profiles you have previously clicked.
Called SmartPicks, these suggestions usually include profiles that best meet your expectations. The algorithm uses your browsing history to pick relevant profiles, so the more you use the site the better the matches.
Besides the behavioral matchmaking system, members can also search relevant profiles based on location, age, education, beliefs, and more.
Is it like pulling teeth getting him to spend time with you?
The key to solving is understanding men on a much deeper emotional level. The number #1 factor that causes men to behave this way is actually relatively easy to change with a few subtle things you can say to him.
Take this quick quiz to see if he actually likes you!
Matching Game
Like most dating sites, Zoosk comes with a matching game of its own. The game is called the Carousel and gives users the possibility to vote members based on their profile picture. Carousel is a game based on aesthetic preference and you'll be able to vote yes, no, or maybe to express your interest in a particular member.
Obviously, the platform uses the results to select relevant profiles for you to see.
Auto-Reply
Controversial yet useful, auto-reply is a nice feature at the end of the day. It allows members to send a predefined message as a response to all likes and smiles. Yet, as stated above, this function can create false hopes in users believing to have received a real message instead of an automatic reply.
The nice thing is that all users can benefit from this feature for free. And that's awesome for free members who have limited communication options.
In fact, free members can only send smiles and likes; they can't access mail and can't send messages to other members.
Zoosk Coins
Most dating sites monetize themselves through paid memberships. Zoosk takes website monetizing further with the introduction of Zoosk Coins. Yes, they'll cost you more but give access to nice perks you can use to impress the members you like or to navigate the site anonymously.
For instance, you can use the coins to access premium features such as boosting your profile in the search results. Sending virtual gifts to potential matches is another perk you can access with the coins.
If you care about your privacy, use the coins to navigate in invisible mode for half an hour. Moreover, you can even use the coins to see if someone has read your messages.
Profile Verification
Profile verification is a useful feature that allows members to check if a profile is real or not. All members can verify their phone numbers and social accounts, including Facebook and Twitter.
Photo verification is a premium service that allows paid subscribers to verify their photos. This provides a further guarantee that members are using their real photos, therefore you'll date the one in the photos.
Responsive Dating App
I already mentioned that Zoosk is an online dating site and app. The app comes as an extension of the site and allows users to take their online dating experience on all mobile devices. You can use it on all operative systems so you can talk to your online crushes from anywhere.
Customizable Profiles
Zoosk.com is centered on highlighting personality over looks and allows members to customize their profiles with personal stories and interests, what they look for in a date, and more.
The dashboard also allows the users to answer five simple matching questions that express the true interests of the member. The answers to these questions are then used by the matching algorithm to determine dating preferences.
In this way, the platform recommends each user relevant profiles.
Subscription
Like most dating sites, Zoosk has several subscription plans that allow users to pick the most suitable option. Subscribing to a plan opens a chest of dating opportunities, as only paid subscribers can reply to messages, contact other members, and engage in communication.
However, both free and paid members can buy or earn Zoosk coins. As mentioned above, the coins unlock a range premium features that can be used by whoever owns the coins.
The only drawback of the subscription plans is that you can't opt out until the subscription ends. While not being reimbursed is acceptable, the platform also prevents you from hiding or deactivating your account until the period is over.
Canceling the subscription is otherwise easy and you'll only have to turn off the automatic renewal settings before the expiration date.
Safety
Zoosk.com does its best to keep its members safe. A function thought to increase member safety is the profile verification. Apart from this, the platform also uses standard safety precautions which include the encryption of the personal data.
The Online Dating Safety Guide is a useful tool that explains how to create a profile, how to meet in person, and generally how to stay safe when connecting with strangers.
Zoosk also encourages users to report false profiles and to block all those members who are violating the rules.
What I like about Zoosk's safety is that it educates members to take care of themselves rather than monitoring and checking new subscribers, which is near impossible due to the high volume of members.
Final Thoughts
Zoosk.com is an awesome online dating site dedicated to users of all backgrounds, ages, and sexual preferences.
My favorite characteristic is the wide base of users. Counting members from 80 countries and translated into 25 languages, Zoosk is an ideal platform for international dating. A customized yet easy to use search option allows you to browse through profiles and pick the ones that interest you.
Like the vast majority of the dating sites, Zoosk offers limited options to free members. Yet, the subscription plans are affordable. If you just want to give this platform a go, the one-month plan may be the right one for you. However, this plan is also the costlier.
So, if you're serious about online dating and like the platform, the six-month plan brings the most value for money.
The only drawback is that you won't be able to opt out of the plan earlier than six months if you're lucky enough to find your better half quicker. But in the end, who cares as long as the site helped you find your Mr. Right?
After using Zoosk.com for a while I can say the website is awesome as long as you're aware of its limitations and don't have high expectations. A young base of members means the platform is geared more towards temporary romance.
So, subscribe, connect with those you like, meet new people and have fun. Love happens when you expect it the least and the numerous success stories shared on the platform's blog are proof that Zoosk really serves its purpose. Therefore, you should really give it a try!
Do you feel like all you think about is him, but he only thinks about himself?
This doesn't mean he doesn't like you. You have to understand how he is wired. Once you do, you'll find there is a subtle thing you can say that to him that will drastically change how he shows his emotions towards you.
Take this quick quiz that looks at whether he actually likes you or not!