One of the things I'm pretty sure we all wish we were taught is how to ride a man; it really is something that you eventually figure out through much trial and error.
But there are certainly a lot of tips that will help you to find your way.
Riding a mancan feel pretty daunting. It's completely normal to feel conscious about your body weight, how you look, your performance… These are all very common concerns.
However, taking the time to learn about women-on-top tips will help you to overcome these concerns and to simply have a good time; after all, that's what sex is all about!
Sexual Riding: Is This the Right Sex Position for You?
There are many different sex positions where a woman is on top. The simplest and most common is the cowgirl position and reverse cowgirl, if you get these positions right then you're basically a pro already.
You might consider yourself somewhat of a pillow princess, meaning that you're happy to let your partner do most (or all) of the work, and I mean, that's not exactly a bad thing, but you might find that you're missing out on a lot of potential pleasure at your own control.
According to PleasureBetter, only 18.4% of women orgasm from vaginal sex alone, and although this is a kind of sad statistic, it's usually not something that particularly bothers us as women as clitorial stimulation can be really effective.
But, did you know that riding your man is likely to increase your chance at orgasming through penetrative sex?
Penetrative sex doesn't always hit the spot, literally, as in theg-spot. However, woman-on-top positions allow easier access to the g-spot, which can encourage both orgasm(s) and even squirting.
You're also in complete control meaning that if a certain angle feels good, you're in a position where you can keep it there, mixing up the pace atyour own leisure.
With that being said, sexual riding isn't for everyone. It can sometimes be physically difficult as a lot of work is required; I do have a tip to help resolve this one but we'll get to that later. It also allows for a really deep penetration, which for some is great, but for some this can feel sensitive and even painful.
If you're unsure about if you're up to the challenge physically, try riding a pillow to see how you hold up; this is also a really effective masturbation technique as the pillow rubs against your clitoris providing clitoral stimulation.
If you're concerned about the pain or sensitivity then it's always best to start slow, or to practice easier positions that allow for deep penetration. A great position to try when easing into deep penetration is doggy style.
Communicate with your partner and ensure that they take it slowly, if you encounter no problems then riding your man might just be for you after all.
17 Tips and Positions to Get on Top and Ride Him
1. Take the time for foreplay
Whenever you are going to try and have sex, the first thing you have to do is get down to foreplay.
It's understandable that you might want to rush into things, but for many women, it takes a longer time to get physically prepared for penetration. If you are going to be riding your man, you need to make sure that you are entirely wet, and he is fully hard, for it to work properly.
It's also a lot of fun and can take your entire sexual experience to the next level, prolonging pleasure and encouraging intimacy.
2. Tie up your hair
Believe me when I tell you there is nothing worse than having your hair dangling in your partner's face. You might prefer how you look with your hair down, but trust me on this one, it's not worth it.
Tie up your hair so it's out of the way of both your face and your partner's.
3. Get comfortable
This point is really important. Not only do you need to be comfortable so you can get maximum pleasure, but you need to make sure you don't hurt him.
When you climb on top, take good care of the position of your hips and make sure that you place your legs in a position that you will feel comfortable in for a while.
You also don't want to press all your body weight on him, so consider being light in your movement to avoid any heavy hands (this is something that my boyfriend is often a victim of, so learn from my mistakes and be gentle with your man).
While you climb on top, you can enjoy being in control and tease his penis against your wet vagina. Once he is inside you, and you can tell that you are both feeling comfortable, you are good to start riding – you go, cowgirl!
4. Use lube
My top tip in any sexual scenario is to use lube. Lube just makes everything better!
Looking to spicen up your sex life and build your connection with him?
One of the best ways to increase your connection with your partner is to spice up your sex life. An awesome way to do this is to bring some excitement into the mix by using toys that will drive both of you crazy.

We've partnered with LoveHoney to give you exclusive access to some of the best toys on the market. Click here to check them out, completely anonymously of course! Your relationship will thank you for it.
I will say, be careful not to use too much lube as you don't want him to slip out of you, but, using the right amount will allow for easy gliding and will enhance the experience for both you and your partner.
You can even mix it up with a tingling lube or a warming lube; a personal favorite of mine.
5. Maintain eye contact
Once you are riding your man, there are still a few things that you need to be thinking about. The first one is the fact that you should keep eye contact with him. Whether you are having sex with someone you are deeply in love with or you are having a one-night stand, sex is an intimate act.
Intense eye contact makes everything sexier.
Men are very visual creatures, they want to see everything. Watch him watch you enjoy yourself.
It can also be really satisfying to watch how your movements can control the way your man looks at you. For example, if you're bringing him to climax, he might stare into your eyes deeply, or his eyes might even roll backwards. Whatever happens, eye contact is key.
6. Take time for kissing
Throughout having sex, you should still be kissing him. As much as he will be enjoying you bouncing up and down on him, if he can feel your lips on his from time to time, it will give him such an amazing sensation.
You never want to rush things, you want to prolong the pleasure without having to stop entirely. Taking a break from riding him to kiss him passionately will keep you both turned on, while prolonging the pleasure. It's small things like this that turn good sex into great sex.
Kissing is also really romantic, so it can turn the act of having sex into a passionate act of lovemaking.
7. Use dirty talk
Use your power for good and talk dirty to him.
While you lean down to be closer to him, you can whisper things in his ear. Tell him how good it feels to be on top of him or tell him what you want to do to him. You will be stimulating his mind as well as his penis.
8. Engage his erogenous zones (and yours)
You should also caress his body while you are riding him. If he can feel you all over his body, he will go crazy. This can be anything from running your hands up his chest, or gently grabbing his thighs. If you hold his thighs, it can also be useful for your balance or will give you a little bit more strength if you start to feel tired.
Paying attention to your own body is just as important as paying attention to his. It also might help to guide him in understanding how to stimulate you. Raise yourself upright and caress your breasts, allowing him to watch. Rub your hands all over your body, whatever feels good, and show him exactly how you're doing it.
You can even take his hands and guide them where you want them to go.
---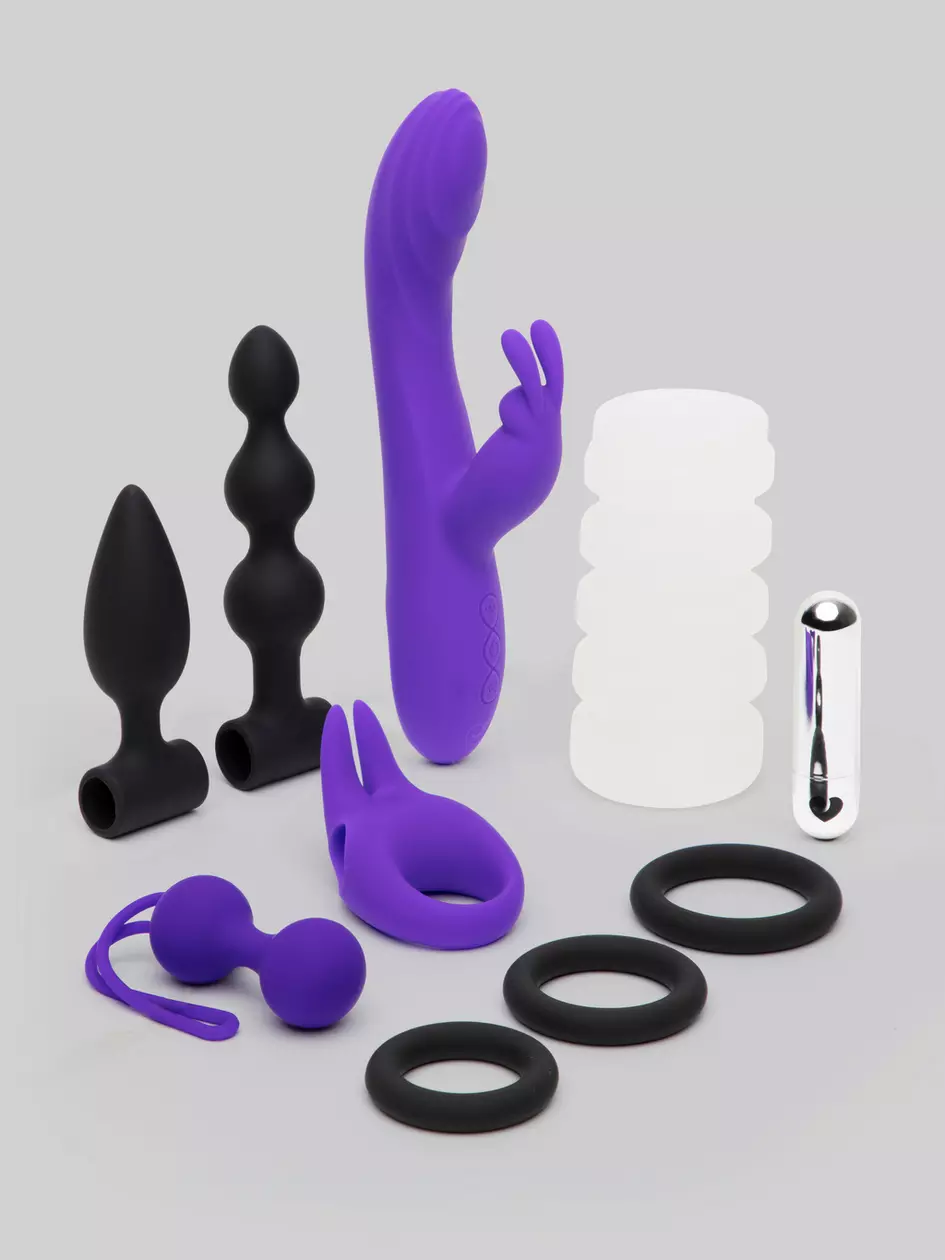 Wilder Weekend Rechargeable Couple's Sex Toy Kit
Customer Review
Wilder weekendss
Loving the rabbit dildo and butt plugs 🔌 extremely powerful bullet …vibration strength and variability are really good 👍 recommend 👌
Credit: Lovehoney.com
9. Bounce
Okay, let's talk about technique.
The most obvious and popular technique is to bounce on him, riding him up and down. You can even lean forward to help stimulate your g-spot.
There are two ways to achieve this technique, and that's by using your knees to help prop you up or to essentially twerk on his penis.
10. Move your hips in a circular motion
Don't get me wrong, the in-and-out motion is great, but it can get pretty tiring. There's also no harm in mixing things up.
Start to circle your hips round and round. Imagine that you are trying to feel his penis in every single corner of you. Really grind all over him.
Enjoy it, slowly use circular motions with your hips. He will be able to feel that he is going deep inside of you, and it will probably bring him to climax faster than before. It will also probably feel better for you as it should apply constant pressure to your g-spot.
11. Rub back and forth
Arguably the laziest of the techniques, but in my opinion the most pleasurable.
I do have to say, this technique isn't exactly a favorite for men, unless what gets them going is watching you bring yourself to orgasm.
Rather than bouncing up and down, you essentially want to grind into him, rubbing back and forth against his penis. If you really take your time with foreplay, it should bring him to the brink of orgasm allowing you to be somewhat selfish when choosing the technique, because this will have you collapse on top of him in minutes.
The reason this isn't a favorite for men as it doesn't exactly provide them with a lot of stimulation, as you're essentially forcing his penis against your g-spot until you reach climax. With that being said, you can mix up the technique and really take your time with it.
12. Rub your clitoris
Clitoral stimulation is key.
Pairing clitoral stimulation (which we know to be a success in most women) withgood penetrative stimulation, you're basically guaranteed to have the best orgasm of your life.
13. Try the reverse cowgirl position
If he is a man who appreciates ass, this position will turn him on. You can choose whether you want to go straight into this position, or you want to ride him frontwards first.
I would recommend riding your man facing him at first, just so you can sustain good eye contact and start to feel more confident and comfortable with each other. Once you are having a great time, you can get off. He might look upset that you've got off him – but he doesn't know what is happening next.
Then, turn around and lower yourself on to him (always using your hand to guide his penis into you). Just start riding him like you were before. This position might be really helpful to you if you are a little bit self-conscious about showing facial expressions or letting your breasts jiggle around.
You can also rub your clit while bouncing around on him. As well as this, he will most likely grab your ass while you ride and it will feel great.
14. Focus on your own pleasure
As selfish as this sounds, it must be said.
Not only are you going to be feeling confident and empowered during this position, but it is probably one of the only positions that places the woman in power. You can use your body and make yourself feel good.
I sometimes tease my partner that I'm basically using his penis to masturbate, but it's kind of true!
It might be a good idea to just think of it like they're just an object of your pleasure. If you feel like you need to, you can climax before he does, and then work on him afterwards.
Why shouldn't you get to enjoy your orgasm when it's typically so easy for men to reach climax anyway? He will probably take more time to climax as it is, so you'll most likely be able to orgasm more than once.
The chances are that whatever makes you feel good, will also make him feel good, so it's a win-win.
15. Consider adding toys
Adding sex toys to your sex life can level it up entirely. There's no harm in admitting that sex toys allow us to feel so much pleasure that's not easily felt otherwise.
You're at the perfect natural angle to use anything clitorally stimulating such as vibrators or suction toys. Cock rings are a great toy for penetrative sex, but, for me, the best addition would be a nice and simple vibrating butt plug. If you're into double penetration, this one is perfect for you.
---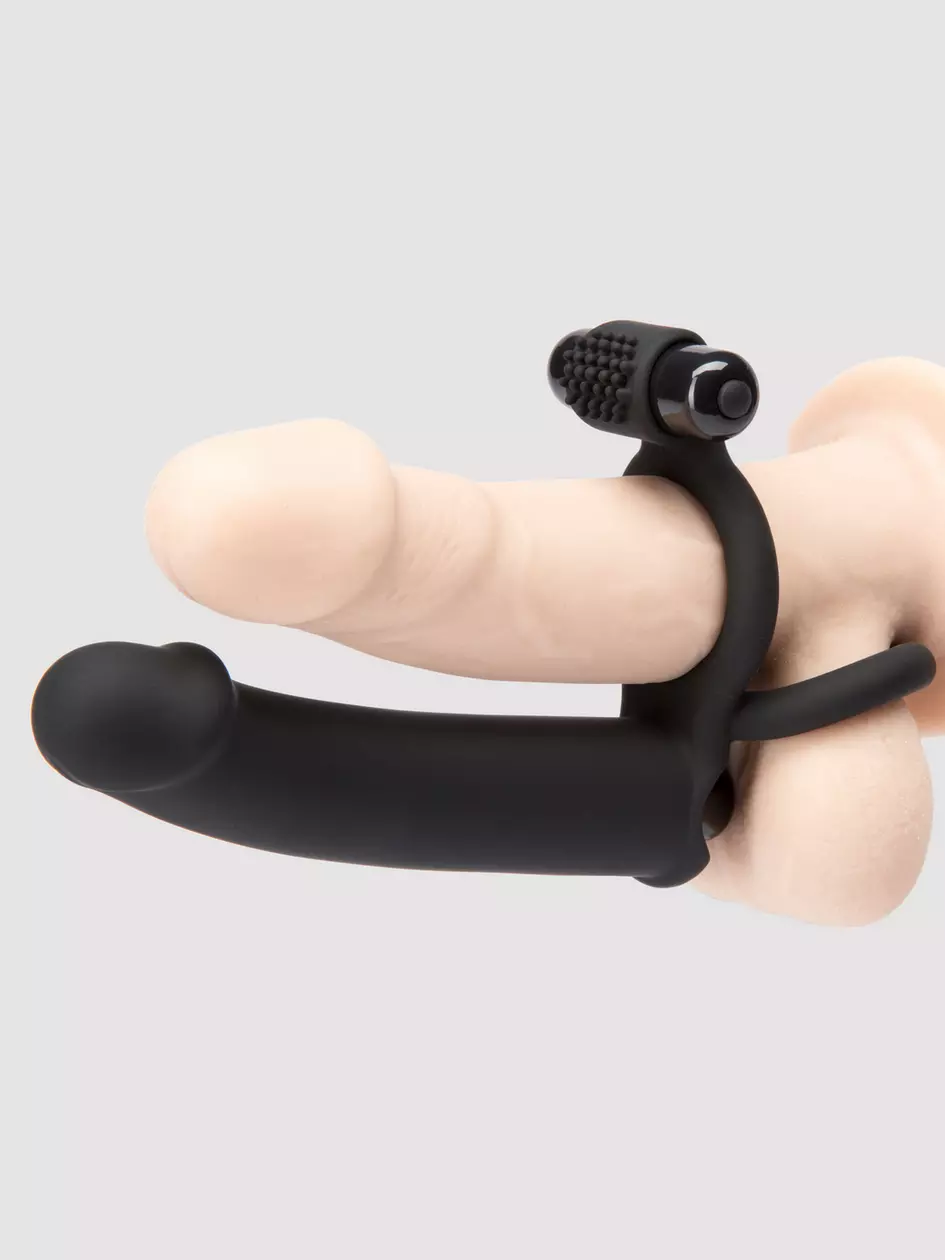 Double Fun Vibrating Double Penetration Strap-On
Customer Review
Double Fun Indeed
The design is great we really liked that this comes with two attachable bullets and spare batteries. The bullets are great and in the right spots to be useful.
Credit: Lovehoney.com
16. Communicate
Everyone is different when it comes to sex, so it's important to understand what works for you both when you are together. You can simply ask him what makes him feel good, and be vocal about your own pleasure too.
Communication and consent are always important; safety comes first. If something doesn't feel good, then it's important that you feel confident enough to say so.
Communicating how you feel can also be super sexy, it's basically a form of dirty talk! Tell him that you love how his penis feels inside you, tell him that you're close to coming, and just have fun with it, being as open and honest as possible.
17. Enjoy yourself
One of the most important things when it comes to sex is that you should both be having fun.
There should always be some giggles and mess-ups. Nothing in life is perfect, and so sex shouldn't have to be either.
Don't beat yourself up if things go wrong or neither of you are feeling the way that you want to be feeling. Sex is always a learning curve, and it can take time for certain positions to feel good sometimes, and that's okay.
Men often find it a real turn-on when women take control and know what they want in the bedroom. Of course, you want to ride your man well, but it shouldn't be your main focus. Your focus should be on pleasing yourself and having a good time with your partner.
FAQs
How can my workout improve my riding skills?
Any sex position where the woman is on top will require a certain level of physical ability, to help with stamina and endurance. There's nothing worse than reaching climax when riding your man but having to stop because you're tired.

Firstly, if you don't want to work out you can always consider easier positions and techniques that don't require bouncing. But, if you do want to get better at bouncing on your man then any leg workout or cardio will help you to strengthen your legs and help you to be able to last longer.
How can I make the cowgirl position more pleasurable?
There are many ways to make this sex position more pleasurable. Firstly, taking the time for foreplay is important because it sets the tone for the rest of your sexual time together. Secondly, you could add toys that provide stimulation outside of penetration.

Most importantly it's about communicating with your partner. Vocalize what feels good and what doesn't in order to learn how to maximize pleasure.
Why do men love cowgirl so much?
There are many reasons why cowgirl or any woman-on-top position, for that matter, is pleasurable for a man. Of course, all men are different but, it's less work, it's sexy, it's different, you get to see breasts bouncing around, you get to watch your woman experience pleasure like never before. I mean, what's not to love?
Conclusion
Riding your man shouldn't be as daunting as you think it might be. Many tips can help you, but you won't actually know what feels good for the both of you until you're actually up there riding him.
The most important thing is that you take your time with it and enjoy yourselves.
Some men will really enjoy being dominated, and if they do, this position is great to make him feel in submission. It's also nice to be able to experience power in the bedroom when typically men tend to dominate.
Remember that if you ever begin to feel self-conscious, taking full control will enable you to experience pleasure like you never have before during penetrative sex, and if this doesn't turn on your sexual partner then you're sleeping with the wrong guy.
Communicate, take your time and simply have fun; not much can go wrong with that.
If you have any further tips or stories then please feel free to comment, and as always, share with a friend in need of some riding advice.
Want to add some excitement to your sex life and create a stronger connection with him?
One of the most effective ways to enhance your intimacy with your partner is by spicing up your sex life. Using toys can be an amazing way to bring some extra thrill to your love-making sessions.
At Hernorm, we've collaborated with LoveHoney to offer you access to some of the best toys in the market.
Check them out here
in complete anonymity. Your relationship will definitely benefit from it!