When you're a teen, you can't exactly head to the bar. You can only go to the movies so many times, and the last thing you want is to be boring. If you cringe at the thought of lame date ideas, these awesome date ideas will guarantee that you both have a great time!
Awesome Date Ideas For Every Teenage Couple
If you're trying to avoid lame date ideas, you've come to the right place. This list has a little bit of everything. It doesn't matter if you're broke, don't have a car, or are simply looking for something different to do, there's something on this list for you and your babe.
1. Amusement parks
Heading off for a day at the closest amusement park is going to be a blast, making this one of the more fun date ideas. Make sure to talk to your date so you know that the two of you like the same things. It's not going to be fun if one of you is waiting in line, and the other rides every roller coaster possible.
It'll be even worse if you try to surprise them, but then find out they don't like amusement parks when you get there. (Save the surprise date ideas for ones that you know they will like.)
2. The movies
If you haven't exhausted this date idea yet, go check out what is playing. This is a great first or second date idea for a teenager that's feeling nervous. You don't have to talk during the movie, but you can if you want to. It instantly relieves any pressure to talk to each other, so you won't feel as anxious. 
If there is something playing that you are both dying to see, this is a great date idea. It's one of those ideas that you can surprise your partner with, too!
3. School dances
A school dance isn't something you can do whenever you want to go for a date, but if there's one coming up this weekend it's a great date idea. Keep in mind that everyone will know you're a couple once you show up together and spend the whole night slow dancing.
Make sure that you're ready to let the school know you're together, or at least agree to tell people that you're there as friends before going to school dances.
If this is a new date idea, make sure that you consider what you want to do for the dance. Some teenagers opt to wear coordinating outfits. Formal dances usually call for a corsage for the girl. You can go out to dinner before the dance too! Most teenagers do all of the above for formal dances like Homecoming.
4. Have a picnic
There is something so sweet and wholesome about a picnic. As a bonus, it's pretty cheap. You can use a book bag if you don't have a basket. Raid the fridge and see what you can come up with, or ask your parents to pick up picnic supplies on their weekly grocery shopping trip.
Teenagers can use this date idea to celebrate an important anniversary. If you have a favorite hiking spot, it's the perfect place for a romantic picnic. Pack a couple of candles to make it memorable.
5. Go out for a dinner date
This gives you two the chance to talk and enjoy some good food. If you're feeling nervous, invite some friends along and make it a group thing. Teenagers can also go on a double date with a couple that they know. Dates don't always have to be just two people!
6. Go for a hike
Hiking is peaceful, relaxing, and requires no money. State parks usually have hiking trails that are packed with beautiful scenery, like waterfalls and creeks. If you're looking for teen date ideas that won't cost money, add this to your mental list.
7. Make ice cream sundaes
Just because you're having a date doesn't mean that you have to go out. This is another great idea that won't cost you any money. If your boyfriend or girlfriend has already met your family, ask them to come over and make ice cream sundaes. Then, create your own ice cream sundae bar with all the toppings! This is the perfect teen date idea for one of those hot summer days!
8. Browse local thrift stores
At first, this might seem like a cheap teen date idea because you don't have money. However, there are a lot of teenagers that would rather shop at a thrift store for unique finds, instead of going to a local department store.
9. Water gunfight
Don't tell them that you have a super soaker fight waiting for them, or that this is one of your favorite date ideas. Instead, ask them if they want to come to hang out. Once they get there, surprise them with a big bucket of water and plenty of water guns. Finish the fun off with some ice cream.
10. Mini golf
Mini golf is a fun way to bring out that playful, competitive streak that you know you have. It's pretty affordable, so you don't have to have a lot of money. This is a great date idea for couples but will work out wonderfully if you're just friends or want to bring some friends along. Mini golf dates are a bit cliche, but that doesn't mean that these dates are not fun!
11. Bike riding
Get your bikes and head to the local park for a ride. Most of the time, a park will already have trails. If you don't see any at the neighborhood park, do a quick search online. Most states have trails specifically for those that want to go on a long bike ride.
12. Spend the afternoon at the park
This is another great teen date idea. You can feed the ducks. Enjoy the swings. (Plenty of teenagers still love the swings, even if they don't admit it.) Couples can enjoy the things that are offered at the park, like tennis courts. There's plenty of room too, making it a great activity for a group of friends. Dates at the park also won't cost couples any money.
13. Local movie night
Sometimes, a local park will put on a local movie night. The movie is played on a giant projector screen while you sit in lawn chairs or on a blanket. It's a nice way to spend a summer date night. This is the perfect teen date if you want to be budget-friendly!
14. Bowling
This is one of the best date ideas for teens, and there's plenty of room to expand on the idea. Most bowling alleys have arcades or game areas. They offer food so you can turn it into having dinner together, too. Bowling alleys are awesome if you want to bring along friends, making this one of the good first date ideas for teens.
15. Go grab ice cream together
This can be as elaborate or cheap as you want this date idea to be. Chase down the ice cream truck to add some fun to this date idea. Another great idea is to head to your favorite ice cream shop and grab a sundae. It's not as expensive as a dinner, and it's more fun. Dates that are fun make the best memories.
16. Plant seeds together
If you're looking for cute date ideas, you've just found the perfect one. This is great for a date night or an afternoon together. Go grab a packet of seeds. It doesn't matter what kind. Then, go somewhere where you know the seeds will not be disturbed and plant them. Visit the spot to watch the seeds grow and blossom as your relationship blooms at the same time. Dates as cute as this one are worthy of taking pictures and making a scrapbook.
17. Laser tag
If you're looking for fun, this is one of the dates you should put on your list of fun dates. It can be full of laughter, competitive fun and you'll both have a blast. Invite plenty of friends along so that you guys have enough for two teams. Then, after the activity is over, head to a local coffee shop to relax. Dates don't have to end once the activity you planned is over!
Is it like pulling teeth getting him to spend time with you?
The key to solving is understanding men on a much deeper emotional level. The number #1 factor that causes men to behave this way is actually relatively easy to change with a few subtle things you can say to him.
Take this quick quiz to see if he actually likes you!
18. Have a video party
Watch parties came out years ago, but they're still pretty popular. If your boyfriend is out of town, this is the perfect date night activity. You can watch a video together, and both of you can comment on it. This is a fun date idea for those that want to include mutual friends, too. Everyone that has the link can watch and comment.
19. Food festivals
Most places will have at least one food festival every year. Enjoy sampling new food, and all of the attractions that food festivals are known for. Most offer free samples too! Even if you don't get free samples, you can usually try some new food at a great price. Dates are always nice when they have food!
20. Workout together
Get your adrenaline pumping with an amazing workout session. If both you and your boyfriend are into fitness, this is an awesome idea. It doesn't make for the best first date, though. You're both going to be getting pretty sweaty. There also isn't a lot of room in the middle of an intense run for conversation.
21. Go to a concert
If the two of you love the same band, this is a golden first date idea for teenagers. It's a great idea for a group if you don't want to go see a movie or go bowling, too. (Bowling seems to be the go-to choice for a group activity, but you have to think outside the box sometimes.)
22. Go sledding
Summer date ideas for teens are cute, but that doesn't mean that there aren't plenty of date ideas for teens that need something to do during those cold winter months. Head out to the biggest hill that you can find with a sled for some fun in the snow.
23. Have more fun in the snow
Sledding is the only option, either! You can turn anything you love to do in the snow into one of the best date ideas for teens. Get some friends together and have a massive snowball fight. You can have a one on one snowball fight with the teen you're dating too!
If snowball fights aren't your idea of fun date ideas for teens, you can still have fun in the snow. Build a snowman together. Stray away from carrot noses and have fun being creative when dressing up your snowman. Make snow angels together. Build snow sculptures! There are plenty of things you can do in the snow that are great date ideas for teens.
24. Pick fruit together
When it comes to cute date ideas for teens, this one definitely has earned a spot on the list. Most apple orchards offer a per basket flat rate, so you don't have to worry about spending too much money on this date idea.
There are a few other benefits that you can get when you opt for visiting a local orchard. Out of all of these date ideas for teens, this is the one that has the best backdrop for taking adorable pictures together. There's also instantly room for date number two! You won't even have to search for date ideas for teens. Instead, get the apples that you picked and get together to have fun baking an apple pie.
25. Walk the mall
Spend the day at the mall together. Visit the food court and grab something to eat. Check out some of your favorite stores together. Bonus if the mall has a Build A Bear.
26. Explore a nearby city
There's a little town in Ohio called Yellow Springs. It's known for being the home of Dave Chappelle. However, this town is packed with cool shops. I used to spend afternoons simply walking around exploring every inch until it was time to go home.
You might not live near Yellow Springs, Ohio but that doesn't mean that this date night is out of the question. Head over to a nearby city or town. Park the car, and walk around downtown. You're bound to find at least one hidden gem that you won't forget about!
27. DIY arts and crafts
This is an amazingly fun date idea for teens. Find a DIY tutorial on YouTube or Pinterest. It can be anything that the two of you will enjoy. For example, painting a chair, making your own keychain, or cooking. Then, enjoy the afternoon together. This is another fun idea if you'd like to invite some friends. Some awesome DIY craft ideas that won't break the bank include:
Make a braided rug out of old clothes
Decorate phone cases
Decorate your shoes
Make your own custom clothing with scissors and safety pins
Make jewelry
Paint coffee cups
Make cool rocks with paint and beads
These are just the tip of the iceberg. A quick search online and you'll find hundreds of cheap DIY crafts that will make great date ideas for teens that love to get crafty.
28. Basketball
Head outside on a warm summer day and shoot some hoops. You can play regular basketball or a game like PIG. If you're not particularly athletic, suggest a game of PIG or HORSE so you can both have fun.
29. Binge-watch your favorite show
This has never been a planned date night for me, but it always turns into an awesome time. That's why it deserves a spot on this list of dates for teenage couples.
Usually, this starts out as one person saying that they haven't seen one of my favorite shows. Then, we wind up with snacks and me insisting that they binge-watch the show with me if they're interested in it.
You can also make this a planned date. If your parents have Netflix, you're good to go! Pick a show that the two of you want to binge-watch together, pick up some snacks, and settle down for a long, relaxing night on the couch.
30. Watch the sunset
This is one of the most romantic date night ideas. It won't cost you a single thing, either. Lay in the backyard or head over to your favorite romantic spot to watch the sun slowly sink beneath the clouds. Then, cuddle on the hood while you watch the stars come out.
After that, you can count stars together. Another great option is to try to find constellations together. If you and your boyfriend are into astrology, this is a great time to talk about your zodiac signs. You can learn a lot of interesting things about one another based on your zodiac signs.
31. Visit the zoo
The zoo never gets old! Head to your local zoo to check out the adorable animals. Some zoos also have a petting zoo so you can enjoy the adorable animals up close.
32. Volunteer at an animal shelter
If your girlfriend or boyfriend is an animal lover, consider spending an afternoon at an animal shelter together. This will give you both the chance to spend time together, cuddle with adorable animals, and really bond with one another. As a bonus, this is one of the best cute date ideas for teens because it involves puppies and kittens.
33. Make a time capsule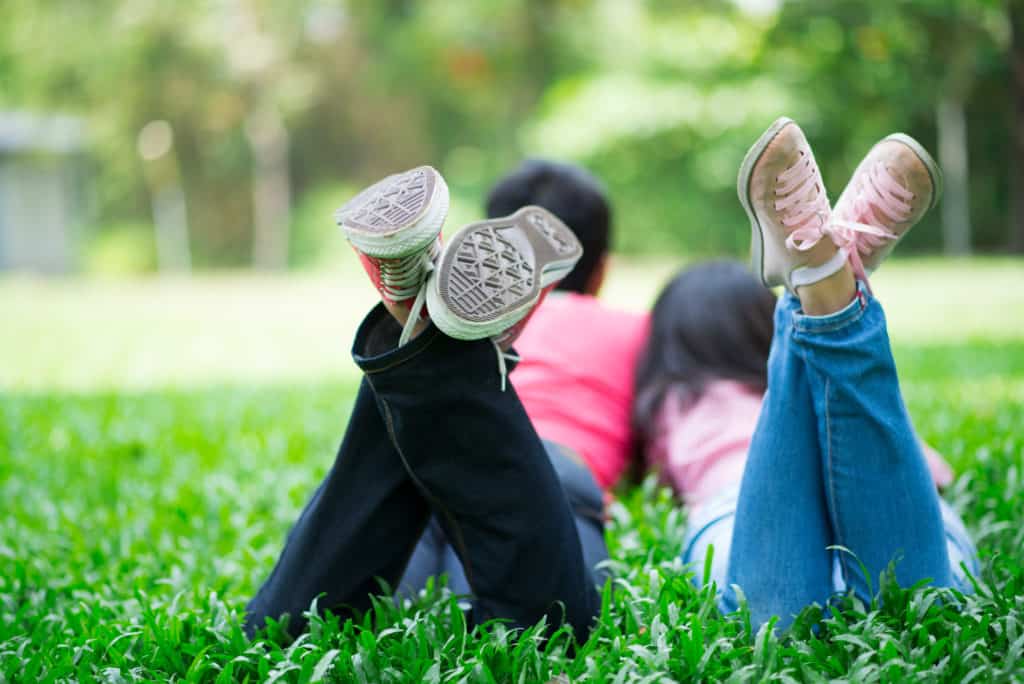 If you and your partner have been dating for months, freeze your relationship in time with this date idea. Take some of your favorite memories and keepsake items. Then, carefully preserve them in a time capsule. Don't forget to set a date to open it in the future!
34. Spa day
Spa days are one of the most relaxing date ideas for teens. Get out the face masks. Slice some cucumbers. You can do each other's nails, too! This might not sound like one of the best date ideas for teens to everyone, though, so make sure you ask your date if they like the idea.
35. Paint together
This is one of the best date ideas for teens. Even if you're not artistic, you can paint some circles for a cool abstract painting. Pick up some canvas at your local hobby store. Then, all you need is each other and some paint for this fun dating idea.
You can also turn this into a cute couple idea if you've been dating for a while. All you need is one canvas, two colors of paint, and each other. The person with the bigger hand, which is usually the boyfriend, puts their handprint on the canvas first. Then, wait on it to dry. After it's dry, the other person puts their handprint on top of it.
The end result is one painting with both handprints. Write the date in the middle with a heart.
36. Explore your town
Every town has a downtown area that is packed with unique shops and things to do. Take the time to explore the city that you live in. Act like tourists for a day. Eat at a new restaurant. This is a great idea for a date night, a first date idea, or if you just want to have fun with friends for a day.
37. Have fun baking together
Teenage couples don't have to have tons of experience in the kitchen to bake something delicious together. You can find a recipe for homemade cookies or pick up some pre-made cookie batter that you just need to pop in the oven. As long as you enjoy each other's company, you're going to have a blast!
38. Game night
Fun date ideas don't always mean that you have to go out and do something, especially if it's winter and the roads are covered in ice. Instead, plan for an evening of fun with some friends and a few of your favorite board games. All you'll need to do is grab some snacks and text people the invite!
39. Hangout sesh
We spend so much time trying to find something adorable to do with each other or thinking of fun date ideas that we forget how important it is to just kick back and relax. A nice evening can be fun. Having a good, old-fashioned heart to heart is seriously underrated, and they're an important part of every relationship.
40. Candlelight dinner for two
Plan the perfect dinner for both of you. This could be a home-cooked meal or a picnic. Then, pick a secluded spot and light some candles. You don't have to be at a fancy restaurant to enjoy the perfect evening together!
41. Have a photoshoot
We all know of at least a few spots that would make the perfect background for Insta-worthy pictures with our babe! Get out your camera and enjoy the afternoon at your favorite place taking pictures.
Teenage couples can do a couple of things with this idea. Turn it into several dates, with each new date at a new location. Or, you can spend the afternoon traveling from place to place taking pictures together.
42. Haunted houses
If you and your babe love spooky season, you should celebrate it! Haunted houses are one of the best teenager date ideas during the Halloween season. Most cities have at least one local haunted house. If you've got a car, visit a new haunted house every Friday night for the season!
43. Visit a museum
It doesn't matter what you're into, there's a museum for it! That's part of what makes a museum one of the perfect date ideas for any teenager. There are art museums. Quirky museums are full of cool facts. Castles that have been transformed into museums. (Castles are another one of the fun date ideas teens should remember.) There are museums to celebrate every portion of history, from serial killers to rock music.
44. Backyard camping
If your parents let you spend the night together, pitch a tent in the backyard to enjoy your own personal camping experience. This date idea isn't complete without a cozy sleeping bag. Teens can make s'mores inside using the microwave and then take them outside for a midnight snack.
Take some flashlights for spooky stories and shadow puppets. You can finish off the night with stargazing.
45. Go to a sports game
Every Friday night is all about football games every fall! Teens can have some fun rooting for their favorite team. Then, meet up with some friends to grab something to eat.
If you're one of the teens that aren't a fan of your high school, that doesn't mean that you can't enjoy the game! Go watch a football game at another local high school together. You'll still love the energy.
46. Drive some go-karts
If you've never driven a go-cart before, add this to your bucket list. Not only are they fun, but you can also race each other! Teens are guaranteed to have fun with this date idea, but keep in mind that these only seat one person so you won't be able to talk to each other except for when you're standing in line together.
47. Flea markets are an awesome date idea
If you think thrifting sounds like fun, you have to check out the local flea market. It's similar to thrifting, but so much better. The individual stalls are packed with cool finds. You'll come across brand new items, like Yeti cups. There will also be people selling antiques, used clothing, unique items, homemade items, and everything in between.
48. Cool science experiments
Remember the volcanoes that every kid used to make at the science fair? Or how about those paper mache planets? You never seem to outgrow cool science experiments. Look up science experiments for teens on YouTube and spend the afternoon having fun with science experiments together!
49. Ice skating
You don't have to cancel date night because it's winter. You're also not instantly stuck with going to see a movie every Friday night because a movie is the only thing to do when it's cold outside. If your city doesn't have an ice skating rink, check out nearby cities to see if you can find one.
Most places will offer ice skating lessons so the two of you can enjoy learning the basics of ice skating together! Keep in mind that there is a little bit of a learning curve involved if neither of you knows how to skate. However, if you both do, you'll be holding hands while skating in no time.
FAQs
In Conclusion
Movies and cliche things make great date ideas, but those aren't the date ideas that you're stuck with. Have some fun with these awesome ideas! What are some things that you would add to the list?
Do you feel like all you think about is him, but he only thinks about himself?
This doesn't mean he doesn't like you. You have to understand how he is wired. Once you do, you'll find there is a subtle thing you can say that to him that will drastically change how he shows his emotions towards you.
Take this quick quiz that looks at whether he actually likes you or not!