Are you tired of all traditional dating sites? Coffee Meets Bagel may take your online dating game to the next level. Curious to find out more? Read my unbiased CoffeeMeetsBagel.com review.
Coffee Meets Bagel was launched rather recently, in 2012 and enjoyed a huge success right from the start. More than an online dating site, we're talking about an app that appeals to a young user pool. In fact, CMB counts members mostly aged between 25 and 34.
This outstanding dating app impresses with a unique matchmaking system that doesn't use your preferences but rather your Facebook friends to find you the right matches.
Not everyone is a fan of this feature but to be honest, I think it's rather exceptional. You'll get a unique online dating experience exactly because the app searches friends of your friends to match you with.
But by using your Facebook account, CoffeeMeetsBagel.com also ensures a higher degree of safety, at least up to an extent.
Apart from this, Coffee Meets Bagel comes with an array of unique and interesting features that make using the app exciting and fun at the same time. Yet, CMB is not for everyone. Here are a few things to consider before signing up.
Things To Consider Before Signing Up To CoffeeMeetsBagel.com
CoffeeMeetsBagel.com is one of the most popular dating apps and even though the platform has a desktop version, the full advantages of CMB can only be enjoyed from mobile. While most users find this awesome, CMB might not be for you if you're kind of a traditionalist and prefer desktop to mobile.
Geared towards women, Coffee Meets Bagel has a peculiar online dating system that only allows ladies to choose who they want to talk with. Men have little control over things and that could be annoying if you're an alpha type looking for your perfect lady.
Another thing to know is that you can only set up a profile on Coffee Meets Bagel if you own a Facebook profile. If you don't like socials or just don't want to set up a Facebook account, say goodbye to CoffeeMeetsBagel.com.
Yet, if you don't mind any of the things above, CMB could be the best online dating app to use. With an intuitive interface, attractive graphics, loads of fun features for women and men alike, Coffee Meets Bagel is designed for those who want to take their online dating game to the next level.
Here's what you should know before signing up.
What Is CoffeeMeetsBagel.com?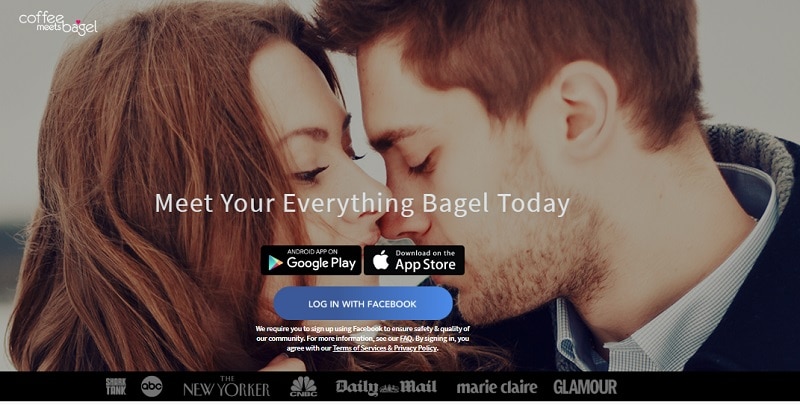 Unlike the most traditional online dating sites we've talked about in the past, Coffee Meets Bagel is actually a dating app. Yet, it is the online dating platform most similar to eHarmony.com.
In fact, CMB doesn't allow you to search through profiles. The matching system will send you a preset number of potential matches on a daily basis. You'll be able to see these profiles, read members bio, and decide whether or not you like the user.
The actual number of potential matches varies between genders. Men receive 21 matches a day while women are presented with a hand-picked selection of 5 or 6 matches.
Do you find it unfair? There is a good reason behind it which I'll highlight below.
This unique matching algorithm uses more than personal preferences and personality questionnaires. It uses your real-life friends and the friends of the friends to find someone you could potentially date. Whether you're looking for one night stands or long-term commitment, the platform could be the right one for you.
However, statistics suggest that CMB caters more to those who are interested in long-term relationships. And this explains the 60:40 women to men ratio.
A great thing to know is that Coffee Meets Bagel is free. Just download the app from the Apple or Google store depending on the device you're using, sign up with Facebook, fill in the details of your profile, and start enjoying the benefits of the platform.
Most of the basic features are free and you'll be able to like or dislike profiles, engage in conversation once the system connected you with a potential match and send gifts using the in-app currency called Beans.
Like most online dating platforms, CMB also offers access to a Premium membership, which is a rather new function added in 2017.
Coffee Meets Bagel Advantages
Unique dating app. CoffeeMeetsBagel.com is an ideal platform for those tired of the traditional dating sites. Coming as an app, the platform uses your Facebook profile to find potential matches and to connect you with people.
Free to use. Launched in 2012, Coffee Meets Bagel is one of the few dating apps that has only made a revenue exclusively through its in-app currency since 2017. Today, CMB offers a Premium version but most of the basic features are still free to all members.
Lady-oriented. Counting more female than male users, Coffee Meets Bagel is a very women-oriented platform. Don't get me wrong, you still have plenty of chances to find your better half here. But only you will have the power to start a potential love story.
Interaction. Unlike some online dating sites like Plenty of Fish, Coffee Meets Bagel impresses with a quick and straightforward interaction. There are icebreakers on user's profiles you can only see after you liked the user, there is a chat room, and you'll receive all notifications on your mobile device.
Interface. CMB has a fresh look, is intuitive and easy to use. Catering to a generally young user pool, this is one of the most engaging dating apps to consider.
Coffee Meets Bagel Disadvantages
The matching algorithm is interesting but not one of the most sophisticated. By matching you with friends of your Facebook friends, the platform increases the odds to match you with an ex or with someone you already know you don't like.
There is little control over things. Browsing through profiles is impossible and you'll have to settle with whatever CMB throws at you.
You can only sign up to CMB through Facebook, which is quite limiting. On the other hand, this ensures a greater safety for all users.
CoffeeMeetsBagel.com Features
As you've seen by now, Coffee Meets Bagel is a unique dating app that uses a simple yet effective algorithm to find you the perfect date. But what are the features and benefits of this platform? Check them out below.
Matching Algorithm
What sets CoffeeMeetsBagel.com apart from other dating sites, eHarmony included is the unique matching algorithm that uses your real-life friends to find and send potential matches.
The algorithm is quite simple and uses your Facebook information for the stated purpose.
Is it like pulling teeth getting him to spend time with you?
The key to solving is understanding men on a much deeper emotional level. The number #1 factor that causes men to behave this way is actually relatively easy to change with a few subtle things you can say to him.
Take this quick quiz to see if he actually likes you!
By doing so, CMB focuses on helping members find long-term relationships rather than occasional hookups. In fact, your friend's friends will most likely live within a manageable distance from you. Moreover, you'll also already have a common social circle in case things work out for you two.
Yet, it's not all milk and honey about this matching algorithm. By matching you with a friend of your friend, CMB could match you with an ex you just deleted from your Facebook. Or with someone you already know.
Despite this minor flaw, the algorithm enjoys a huge success, especially amongst young professionals who don't have the time to spend too much time searching for a date.
If the system can't find potential matches through your Facebook connections, it uses the information from your profile to still show you interesting profiles.
The information includes your age, religion, and location among other things.
Ladies Choice
Designed by three women and popular mostly among women, Coffee Meets Bagel boasts another unique feature, called Ladies Choice. This feature defines the characteristics of the platform and also the matching algorithm.
Ladies Choice is based on the idea that men like to pick, while women are picky. To satisfy both genders, the system sends men 21 bagels (or matches) each day. They can either Like or Pass each user - to determine compatibility, the users can see the profile or their bagels, including any profile images.
Women, on the other hand, receive five or six bagels each day, which seems unfair but the truth is that women receive only bagels that already liked their profile. In other words, all potential matches you see as a woman are already interested in dating you.
Just like men, you can like or pass; if you do like the profile, you two will have the opportunity to engage in conversation.
Messaging is free for all members, but you'll have a limited time to contact your bagel, which is another exciting part of the game.
Once you've sent a message, the bagel has 24 hours-time to reply. If he doesn't, you won't be able to communicate any further. And both of you have a maximum of seven days to talk, after which all interaction will be interrupted.
By feeling the pressure, users are more motivated to exchange contact information or decide to go on a first date.
Free Services
As mentioned above, most services are free for all users. You can sign up, check potential matches, like or dislike profiles, and interact with members without paying. The app doesn't even use excessive ads.
In fact, up to 2017, CMB based its revenues on the in-app currency, the Beans that unlock special features.
By using Beans, you can unlock the identity of mutual Facebook friends, but can also ask the system to rematch you with someone who didn't answer within the 24-hour limit. Moreover, you'll be able to see your own ranking within the app and send express delivery messages to a match.
Premium Membership
The Premium membership is a rather new thing and most users are not yet accustomed to it. Nevertheless, it unlocks special features that make the whole dating experience more engaging.
The foremost important Premium feature is the access to an activity report on your matches that will tell you how active the user is, the number of active chats, how many times they've sent the first message and the average response time.
With a Premium membership, you'll also get 6,000 free Beans each month plus 15% more Beans on all purchases.
You won't have to use the Beans anymore to check the mutual friends you have with your matches and will receive unlimited Woos, another special feature I'll describe in the section below.
Special Features
Like most dating sites and apps, CoffeeMeetsBagel.com comes with a few special features.
One of the most important is Discover. Available for all members, the Discover function allows you to browse through a small selection of profiles, usually no more than 20, different from your matches. This is the only section where you can have some control on choosing your own potential match.
In a way similar to the matching algorithm, Discover lets you Like or Pass a profile and shows your profile as a potential match to the users you liked.
Another special feature is Give; this functionality lets you be the matchmaker of your friends by giving any of your past potential matches or any of your Discovery matches to a friend. By doing so, you're not only acting like Cupid but if your friend likes the match you earn free Beans.
The Woos are another special feature that is similar to sending a Like or a Flirt on other sites, such as on Match.com.
By Wooing a profile you let the user know that you have an elevated interest in connecting. Not only you'll be more visible in the list of potential matches, but the Woos also cost Beans, so your potential match will just know you've put effort into getting their attention.
Take is another interesting perk that lets you maximize your exposure. When you take a match, your profile will appear in their Discovery section and they won't be charged Beans to connect with you. With a Premium subscription, you'll get five free Takes.
Safety
Using Facebook profiles to create user profiles on the platform, CoffeeMeetsBagel.com enhances security. Fake profiles happen, more or less like anywhere, but there are higher chances to like genuine profiles. By checking your mutual friends, you'll also be able to tell whether or not the match is genuine.
Final Thoughts
Coffee Meets Bagel might have its flaws and some could see it as a worthless dating app. But not me. And statistics show that a huge user pool actually enjoys the innovative dating platform.
At a first glance, CMB may seem a bit like eHarmony. But the platform has revamped all these features with unique perks. This isn't an app to use if you're looking for a hookup. Instead, it is a great app if you're a young and busy professional looking for long-term romance.
What I liked most about CoffeeMeetsBagel.com is the relaxed and friendly environment but also the fact that there is a limited time to connect with your matches. You'll also have a limited time to exchange contact numbers or to go on a first date.
As a woman, it's also easier to choose a match because all potential matches are already interested in dating you. As a man, you get to choose who can like you but have no influence on their choice, which is also awesome.
What to say? This dating platform is one of the most engaging I have tried. Nice graphics, intuitive interface, a fun matching system and an engaging interaction. Essential ingredients for a fun and potentially fruitful online dating experience.
Do you feel like all you think about is him, but he only thinks about himself?
This doesn't mean he doesn't like you. You have to understand how he is wired. Once you do, you'll find there is a subtle thing you can say that to him that will drastically change how he shows his emotions towards you.
Take this quick quiz that looks at whether he actually likes you or not!